This Coconut Spiced Carrot Soup is vegan, and so unbelievably rich and creamy, that it's hard to believe it's cream-free. Full of warming spices, it's a delicious option for a fall or winter first course or meal.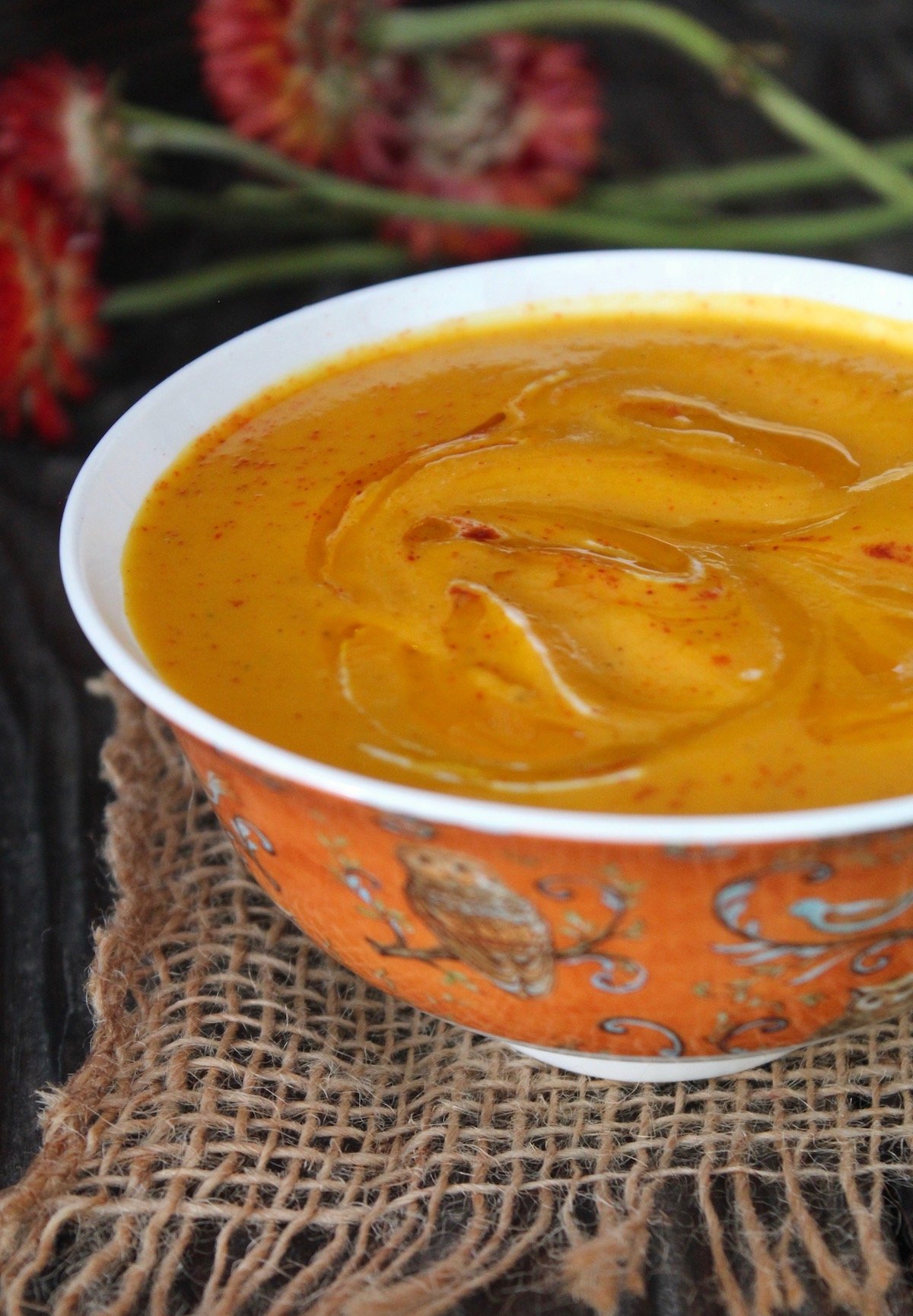 Going out to restaurants is fun, social and great research.
This Coconut Spiced Carrot Soup recipe was inspired from a carrot soup I had at one of my favorite restaurants, Milo & Olive in Santa Monica.
The soup in the restaurant was rich, creamy, subtly spiced, and vegan -- and it was one of the best soups I'd ever had. Carrot or otherwise.
It was so incredibly delicious that I did my best to replicate it. Knowing only two of the ingredients (carrots and coconut milk), and guessing on the rest, I think it turned out pretty close, and it's fantastic!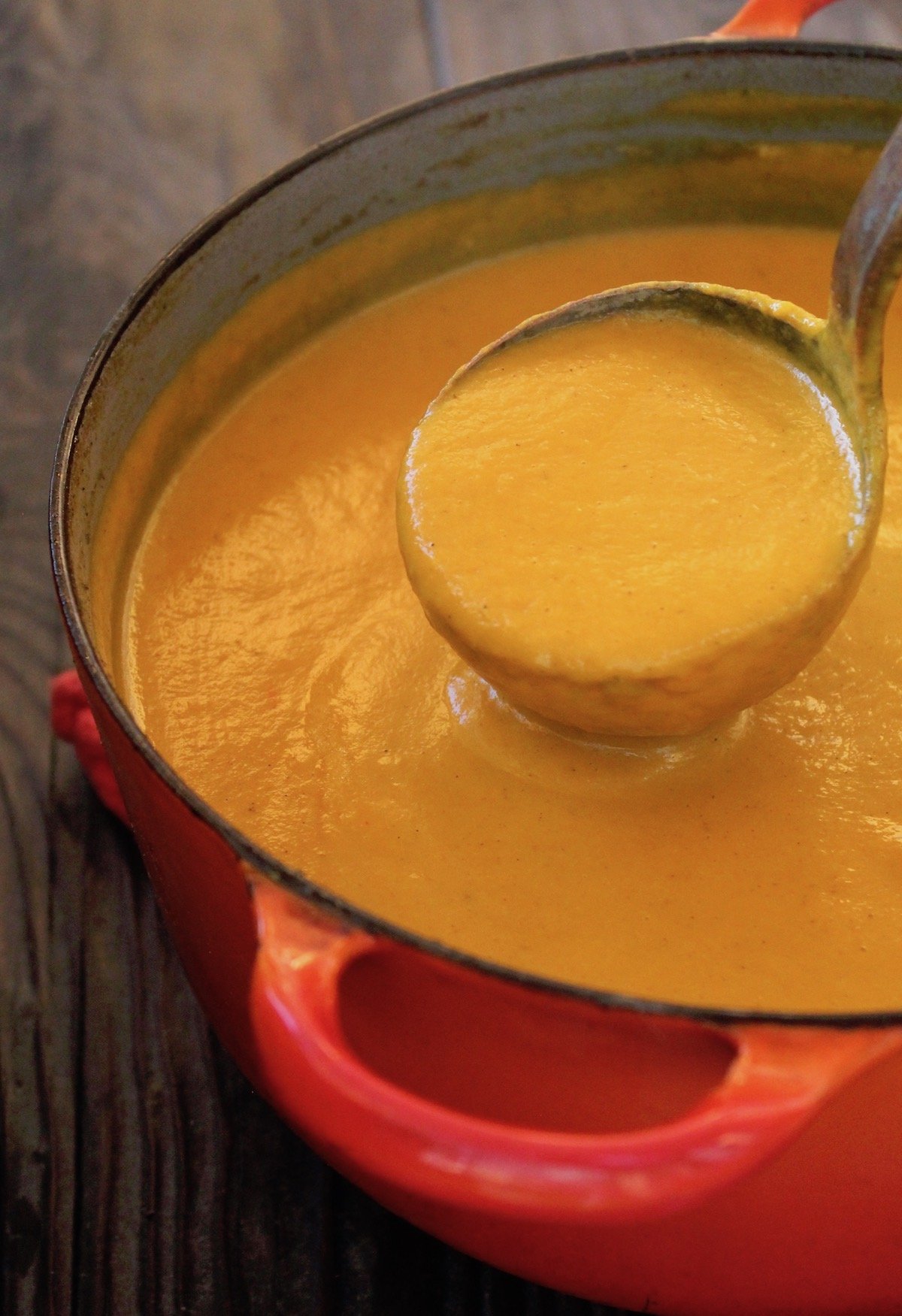 Without cream, what makes the soup so creamy?
A couple things make this vegan soup so creamy: a small amount of potato, and the cooking technique.
Adding potato, even a small amount, can make most puréed soups thick, rich and creamy. (Rice works in a similar way.)
This Coconut Carrot Soup is made with a simple three-step cooking technique that I use for most of my vegan soup recipes. The result is a super rich and creamy soup that's dairy-free.
The vegetables are gently sautéed.
Then they simmer in a liquid until they're tender.
And finally, the mixture is puréed in a powerful blender until smooth.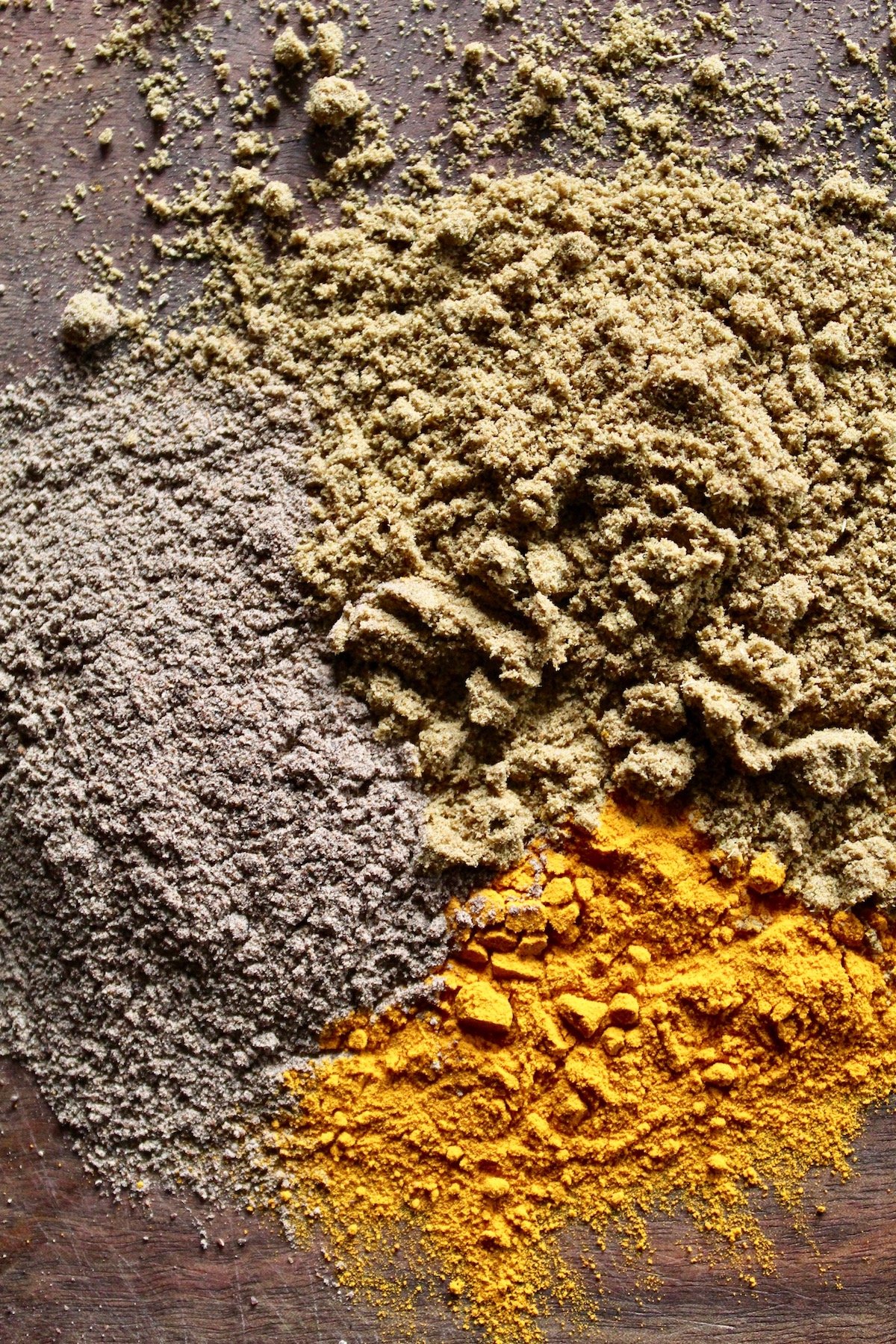 The warming spices in the soup are cardamom, turmeric and cumin.
Recipe Tips and Substitutions
Soups can vary in consistency -- if this comes out thicker than you'd like, just add more water, or a bit of vegetable stock.
If you want to intensify the coconut flavor, you can use coconut water instead of regular water. You can also use vegetable stock instead of the water. I find that this soup has a lot of depth even with the water.
The vegetables in the recipe are all roughly chopped. They should however, all be more or less the same size so they cook evenly (about

½

to 1 inch).
After the vegetables simmer in coconut milk, it might not look very appetizing -- but, do not worry, when it purées in the blender, it turns into a beautiful smooth and silky soup.
After the vegetables have simmered, test their tenderness with a fork. It should slide out easily. They must be soft enough before they're puréed in the blender, or you won't get the smooth texture we're going for.
The recipe calls for a pinch of cayenne pepper. I love the touch of heat with the subtle sweetness of the carrots. Add as much or as little as you like -- or skip it all together if you prefer.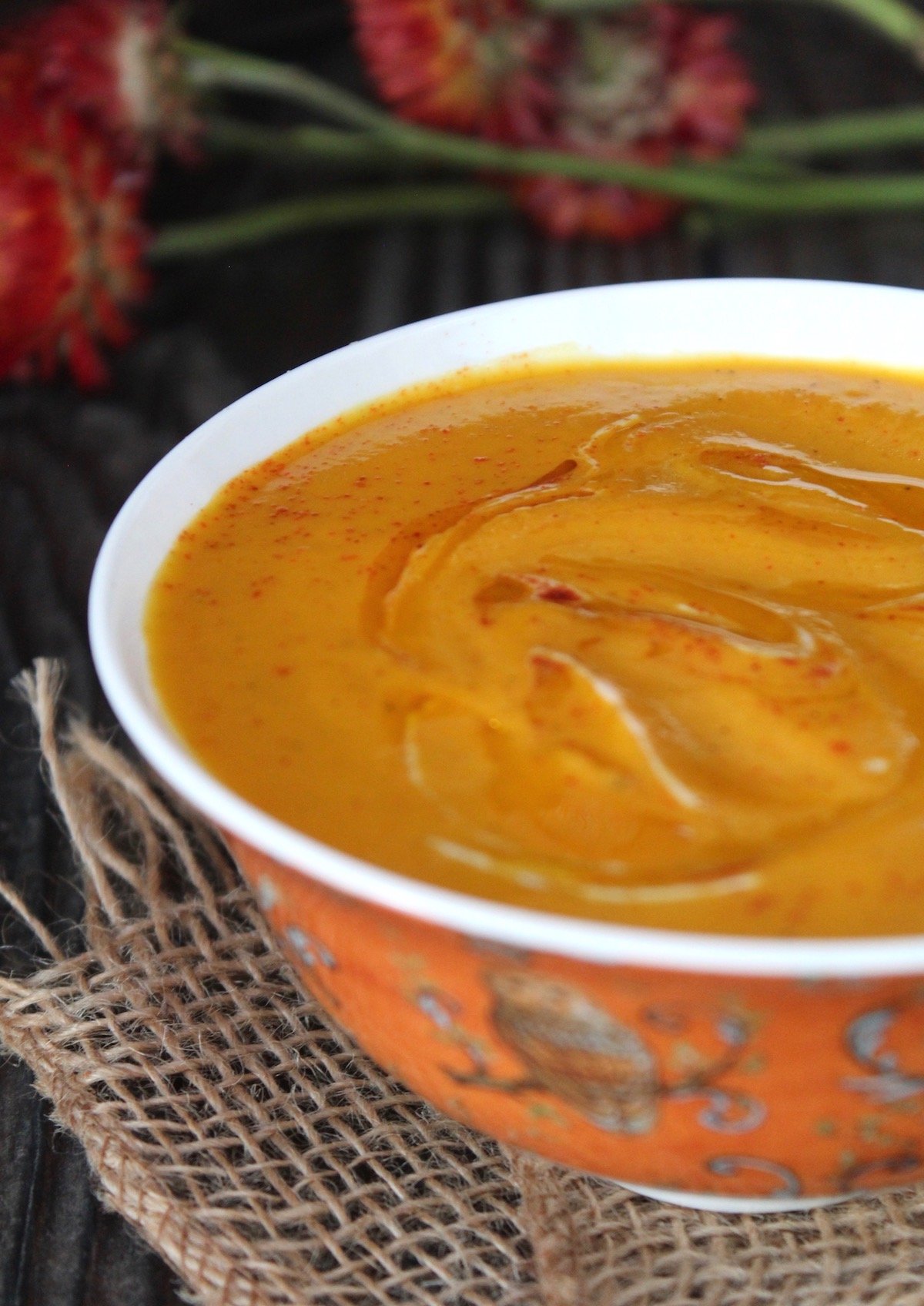 I like to drizzle a little bit of chili oil on top of this soup. It's pretty and complements the touch of cayenne in the recipe.
I hope you enjoy every last spoonful of this Vegan Coconut Spiced Carrot Soup!
More creamy vegan soup recipes:
Vegan Coconut Spiced Carrot Soup Recipe
This soup is so rich and creamy, that it's hard to believe it's cream-free. The three main ingredients in this luscious comforting soup are carrots, potato and coconut milk.The "roughly chopped" vegetables should be about ½ to 1 inch pieces.
Ingredients
1

cup

roughly chopped yellow onion

6

cups

peeled, roughly chopped carrots

1

cup

peeled, roughly chopped Yukon Gold Potatoes

2

teaspoons

ground cumin

1½

teaspoons

ground cardamom

½

teaspoon

turmeric

4

cups

water

2

cups

light coconut milk

salt and granulated sugar to taste

pinch

cayenne pepper
Instructions
Cook the onions. Coat the bottom of a large soup pot with grapeseed oil and place it over medium heat. Add the onions and cook until they're soft and translucent, about 10 minutes.

Add carrots and potatoes. Add the carrots, potatoes and spices and cook for about 5 minutes, stirring from time to time.

Add coconut milk and water and simmer. Pour in the water and coconut milk, turn the heat to high and bring to a boil. Cover, reduce the heat to low and let the soup simmer until the carrots and potatoes are tender, about 25 minutes.

Blend. In two batches, so it's not too full, pour the soup into a powerful blender, and blend on high until it's completely smooth. Please note that when you blend hot liquids in the blender, you have to hold down the lid very firmly. If you don't, the hot liquid, vibration, and steam can force the lid off.

Season and serve. Once the soup is blended, return it to the pot. Add the cayenne pepper, and then the salt and sugar to taste, and serve. (Here's How to Season to Taste.)
NOTES
Calorie count is only an estimate.
NUTRITION
Have you tried this recipe?
I'd love to see it on Instagram! Tag me at @cookingontheweekends or leave a comment & rating below.
Cooking On The Weekends is a participant in the Amazon Services LLC Associates Program, an affiliate advertising program designed to provide a means for sites to earn advertising fees by advertising and linking to Amazon.com.