This Vegan Coconut Spiced Carrot Soup Recipe is so unbelievably rich and creamy, that it's hard to believe it's cream-free. The three main ingredients in this luscious comforting soup are carrots, potato and coconut milk.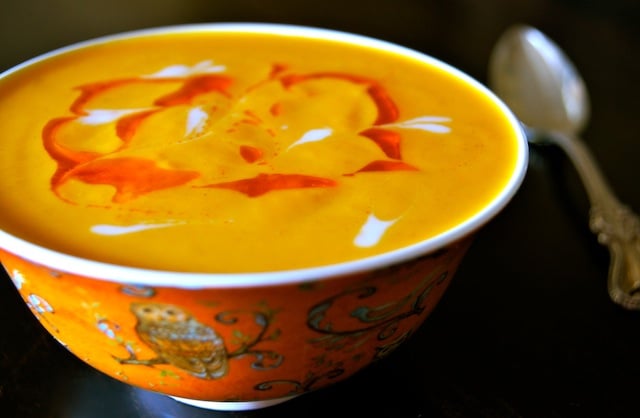 People often ask me for restaurant suggestions.  And I always laugh because I have no idea where to send anybody!  (I guess people think I should know since I'm all about food and cooking.  Go figure.)
I'd like to say it's my two young boys that keep me and my husband from getting out much, but the truth is, by the time evening rolls around, I yearn to lay down on the sofa, in my sweats, under a blanket with a good TV show.  So glamorous, I know.
All of that said, I truly love going out to eat.  It's of course fun and social, and it's also great research!  When I do motivate to call a babysitter and get out of my sweats, I ask the friends who ask me where to go, where they've been, and where I should go!  A couple of weeks ago, a friend suggested that my husband and I try Milo & Olive in Santa Monica.  (I was feeling pretty cool, because I had actually been there before — never mind that is was for a quick cup of coffee).
We ordered a bunch of things, but what stood out the most was a vegan carrot soup.  I can't quite remember the name of the menu, but I'm calling it Vegan Coconut Spiced Carrot Soup.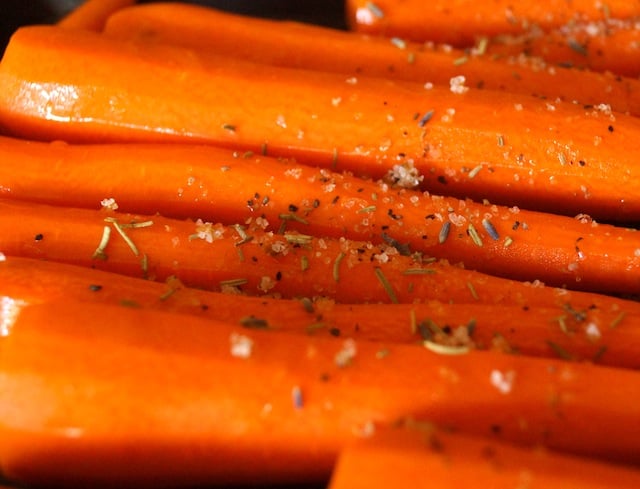 Oh my gosh, could I get to the point already!?
The point:  Milo & Olive serves the best carrot soup I've ever had.  (And yes, I've had many!)   It was so incredibly delicious that I've tried to replicate it for you (& me).   Knowing only two of the ingredients (carrots and coconut milk), and guessing on the rest, I think it turned out pretty close.  In a word — YUM!
Enjoy every last spoonful of this Vegan Coconut Spiced Carrot Soup!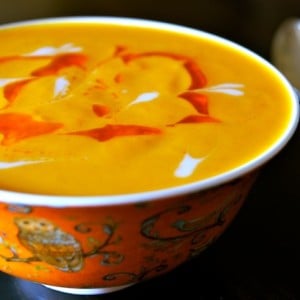 Vegan Coconut Spiced Carrot Soup Recipe
All of the ingredients that say "roughly chopped," should be about ½ to 1-inch pieces.
Ingredients
Grape seed oil for the pan

1

cup

roughly chopped brown onion

6 ¼

cup

roughly chopped, peeled carrots

1

cup

roughly chopped, peeled Yukon Gold Potatoes

2

teaspoons

ground cumin

1 ½

teaspoons

ground cardamom

½

teaspoon

turmeric

4 ½

cups

water

2 ¾

cups

light coconut milk

salt and granulated sugar to taste

Pinch

cayenne pepper
Instructions
Coat the bottom of a large soup pot with grape seed oil and place it over medium heat.

Add the onions and cook until they're soft and translucent, about 10 minutes.

Add the carrots, potatoes and spices and cook for about 5 minutes, stirring from time to time to blend the flavors.

Pour in the water and coconut milk, turn the heat to high and bring to a boil.

Cover, reduce the heat to low and let the soup simmer until the carrots and potatoes are tender, about 25 minutes.

Pour the soup into a powerful blender and blend on high until it's completely smooth. (I use the blender for this soup because I love it super, silky smooth -- however, you can also use an immersion blender, and get close to the same effect.) Please note that when you blend hot liquids in the blender, you have to hold down the lid very firmly. If you don't, the hot liquid, vibration, and steam can force the lid off. If this makes you at all nervous, let the soup cool to room temperature, and then blend. It depends on the size of your blender, but you will likely need to blend the soup in two batches. Don't worry if the batches are uneven, as it will all be mixed together in the end.
Recipe Notes
Soups can vary in consistency -- if this comes out thicker than you'd like, just add more water, or a bit of vegetable stock.
I drizzled a bit of annato seed oil and coconut milk on top -- just because it's pretty.
Save