Potato Crusted Prosciutto Eggs Florentine is one of those brunch recipes you will make again and again. It's bursting with fresh flavors and is everything you love about breakfast food in one pan. And you can make it ahead!
Brunch happens all too rarely, and I think taking a break late morning to share a meal with people we care about is lovely and relaxing.
This is one of my all time favorite brunch recipes! I've made it for Mother's Day, Easter, and just-for-fun brunches, and it's always a huge hit.

What does Florentine mean when it comes to food?
Florentine, or à la Florentine, generally refers to a recipe that features spinach. A Florentine dish usually has a main ingredient such as fish, chicken or eggs, that is served on a bed of spinach.
Many people believe the name Florentine, or à la Florentine, comes from the Italian region of Florence. However, it is in fact French, and is only named after someone Italian — Catherine de' Medici. She was the great-granddaughter of Florence's Renaissance ruler, Lorenzo the Magnificent, and she married Henry II of France in 1533. It is said that she brought her Florentine cooks with her to Paris, along with spinach, which was one of her favorite vegetables.
On menus, eggs Florentine often refers to spinach as being a substitution for ham, in Eggs Benedict. (In this Potato Crusted Prosciutto Eggs Florentine recipe we're using all of it.)
How to Make it

This is not a difficult recipe! I would classify it as a breakfast casserole, and it has four layers.
The first layer is made up of grated potatoes mixed with eggs, Parmesan cheese and fresh thyme.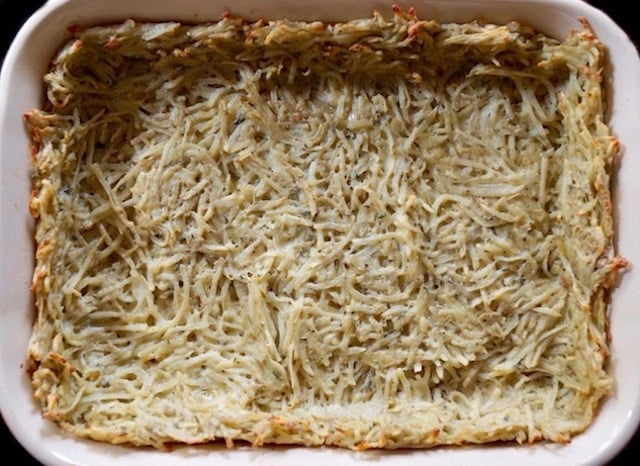 The second layer is slices of prosciutto.
The third layer is sautéed spinach that's been cooked with onion and garlic, and mixed with grated Gruyère cheese.
And the final layer is of course made up of the eggs.
Make-Ahead Brunch Recipes
Good news! You can make Potato-Crusted Prosciutto Eggs Florentine ahead. You would do everything the day before except the eggs, and about 30 minutes before you're ready to eat the next day, you would crack the eggs on top and bake.
More delicious make-ahead brunch recipes:
You can also make individual portions of this breakfast casserole in a muffin pan.
When I made it for Mother's Day, I used a heart-shaped muffin pan. So fun!
I hope you'll think about inviting a few friends or family over for a casual brunch, and making this scrumptious Potato-Crusted Prosciutto Eggs Florentine.
Potato Crusted Prosciutto Eggs Florentine
This recipe is bursting with fresh flavors and it's everything you love about breakfast food in one pan.

Ingredients
1/4

cup

olive oil

8

cups

grated Idaho Russet Potatoes

(about 4 pounds)

11

large

eggs,

divided

1/2

cup

Parmesan cheese,

finely grated

2

tablespoons

fresh thyme,

finely chopped

1 1/2

teaspoons

salt

1 1/2

cups

yellow onion,

thinly sliced

1

tablespoon

garlic,

minced

12

cups

packed spinach leaves,

washed and dried

1

cup

Gruyère cheese,

grated

4

ounces

prosciutto,

thinly sliced

salt and freshly ground black pepper
Instructions
Use a

food processor

fitted with the grater attachment -- or a

hand held grater

-- to grate the potatoes. (The former is easier if you have it!) Then use your hands to squeeze as much liquid as possible out of the potatoes, and add them to a large mixing bowl. Combine with 2 of the eggs, Parmesan, thyme, salt and a few grinds of black pepper.

Add 2 tablespoons of the olive oil to a large sauté pan, place it over medium heat and add the potato mixture. Cook, stirring often, just enough to make the potatoes slightly tender, about 5 minutes. (Don't wash this pan - you'll need it again!)

Add the sautéed potato mixture to the greased baking pan, and use your fingers, or a small metal spatula, to mold it along the bottom and sides.


Place the pan in the preheated 375°F oven and bake until the potato crust it's golden brown along the edges, about 25 minutes. (Keep the oven set to 375°F after you remove the pan.)

While the crust is baking, coat the same large sauté pan you used for the potatoes, with the remaining tablespoon of olive oil and place it over medium heat. Add the onion and garlic and cook until the onions are soft, about 7 minutes. Then add the spinach, in two batches, cooking it just until it's wilted. Mix in the Gruyère and season generously to taste with salt and pepper. (Here's How to Season to Taste.) Set aside.

When the crust is done, add an even layer of the thinly sliced prosciutto directly on top. Follow this with the spinach mixture, spreading it out evenly. Then use a spoon to make 9 evenly spaced, shallow indentations, and crack an egg into each one.


Bake in the preheated 375°F oven just until the eggs are cooked, about 25 minutes.

Let it rest for about 10 minutes before serving.

Have you tried this recipe?
I'd love to see it on Instagram! Tag me at @cookingontheweekends or leave a comment & rating below.
Cooking On The Weekends is a participant in the Amazon Services LLC Associates Program, an affiliate advertising program designed to provide a means for sites to earn advertising fees by advertising and linking to Amazon.com.