This picturesque cake will wow your guests — it's gorgeous and packed with delicious fresh flavors and buttery goodness!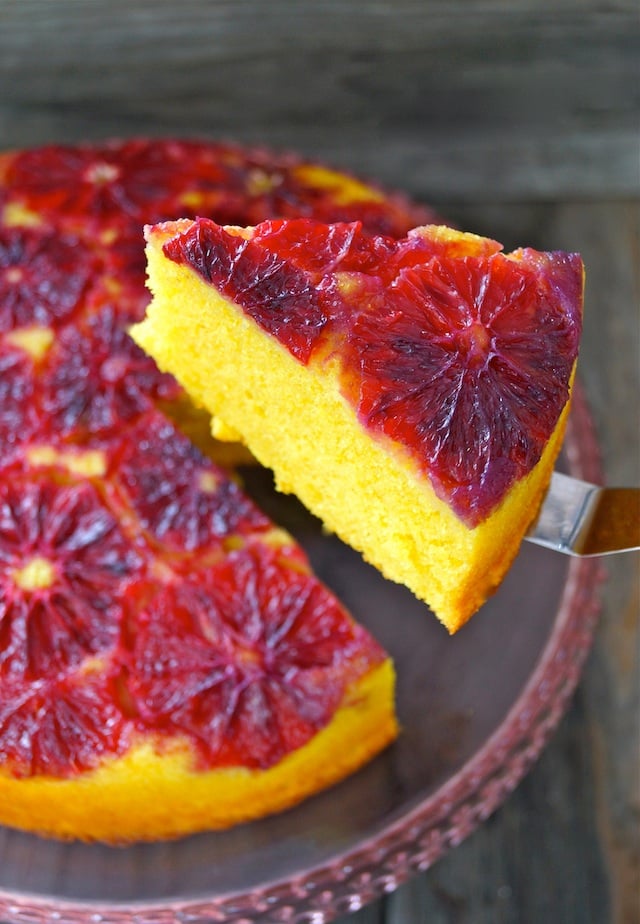 Inspiration for my recipes comes from all over the place.
Inside, outside, books, magazines, mood, weather . . . .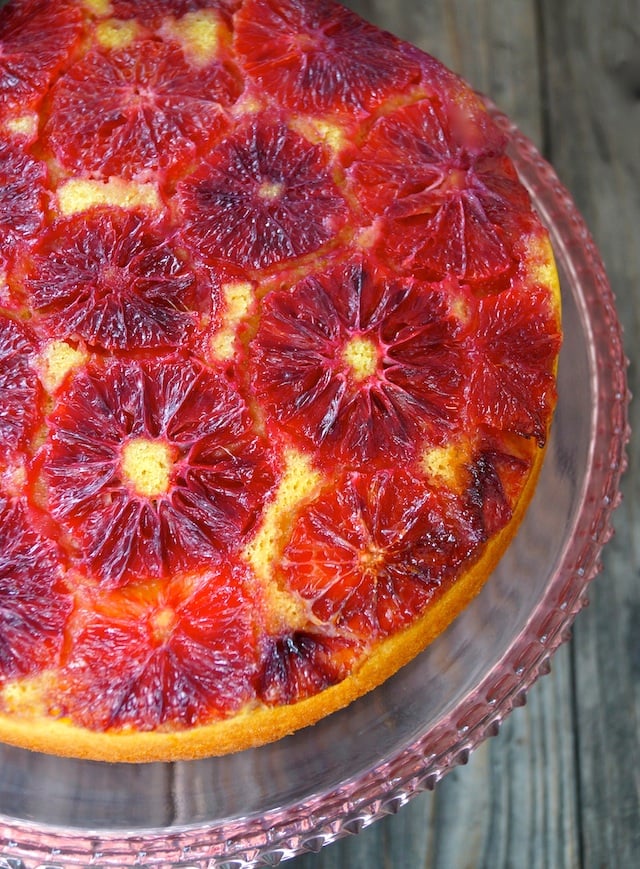 It can be anything from the produce that's in season and the temperature outside, to the mood I'm in and flavors I'm craving.
It can also be pictures in magazines, aromas in the air, what's in my pantry, and a million things in between.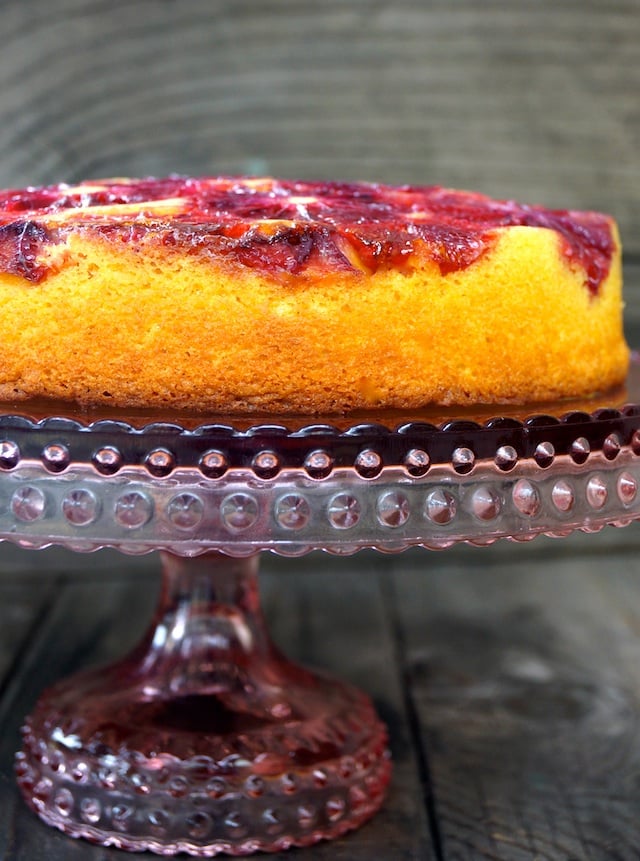 For this recipe my inspiration was color.
I wanted to paint a picture, if you will — of the fiery red of blood oranges and the brilliant gold of turmeric.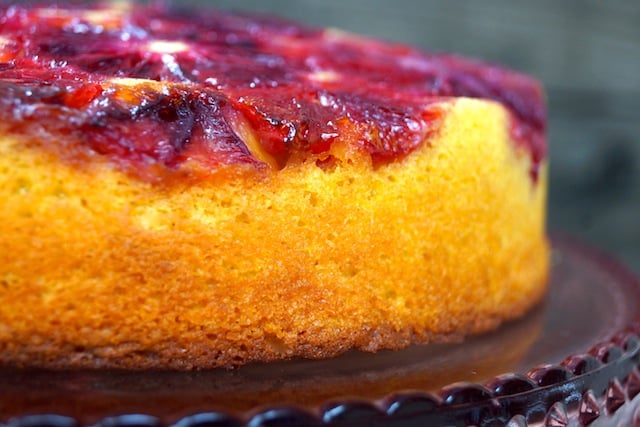 I knew the flavors would marry beautifully, and I just had to see those deep, rich colors together — in a cake!
Sometimes a vision must be realized!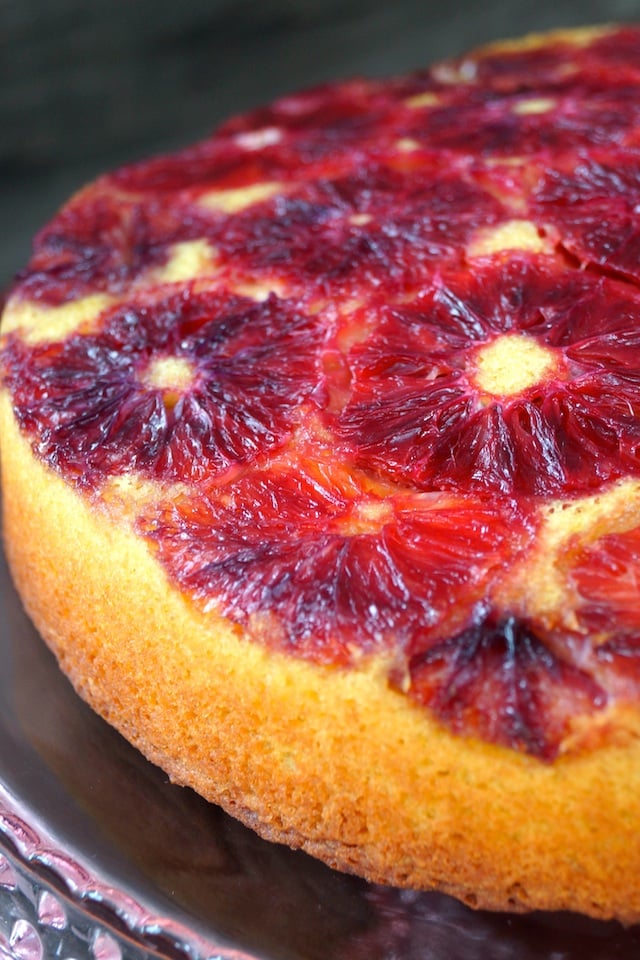 You will be a star when you serve this at your next get together.
It's beautiful inside and out!
Enjoy!
Blood Orange-Turmeric Upside Down Pound Cake Recipe
Ingredients
1

tablespoon

unsalted butter

softened

2 to 3

blood oranges

1/4

cup

low or full-fat milk

2

tablespoons

freshly grated turmeric

here's How to Use Fresh Turmeric

1 1/2

cups

all-purpose flour

1

teaspoon

baking powder

1

teaspoon

ground cardamom

½

teaspoon

sea salt

4

large eggs

1

cup

granulated sugar

1

teaspoon

pure vanilla

1

cup

2 sticks unsalted butter, melted
Instructions
Preheat the oven to 350 degrees F, and adjust a rack to the center. Use a pastry brush, or a bit of the butter wrapper, to coat the bottom and sides of a 9-inch cake pan with the tablespoon of softened butter. Set aside.

On a clean, dry surface, use a paring knife to cut about 1/2-inch off the top and bottom of each blood orange. Then to remove the skin, set them down on one of their flat surfaces and use a the knife, moving downwards, just inside the skin, cutting only slightly into the flesh. (

Here's a photographic guide for cutting citrus this way

.) Now, cutting horizontally into the blood oranges, create round slices that are about 1/4-inch thick. Place them on the bottom surface of the buttered cake pan, covering as much of the space as possible. The edges of the orange slices should be touching each other. Set aside.

In a small saucepan, combine the milk with the freshly grated turmeric. (

Here's How to Use Fresh Turmeric.

) Place the pan over medium-high heat and bring to a strong simmer. Then turn off the heat, cover, and set aside.

In a large mixing bowl, combine the flour with the baking powder, cardamom and salt. Set aside.

In a medium-sized mixing bowl, whisk the eggs with the sugar and vanilla.

Now strain the turmeric milk. Use the bottom of a spoon to gently press on the grated turmeric to get as much liquid out as possible. Set aside.

Make a well in the center of the dry ingredients, and pour in the egg mixture and the strained turmeric milk. Once it's blended in, fold in the melted butter. Continue to fold the batter until it's smooth.

Pour the batter into the prepared cake pan with the blood oranges and place it on a baking sheet, and then into the preheated 350 degree F oven. Bake until it's golden and set, about 30 minutes.

Let the cake cool in the pan for at least 10 minutes, and then invert it onto a a serving plate or platter. (The cake is best served at room temperature.)
Save