Sweet potato and chicken recipes are a delicious combination, and this Skillet Sweet Potato Chicken is hearty and comforting and full of rich and deep flavors.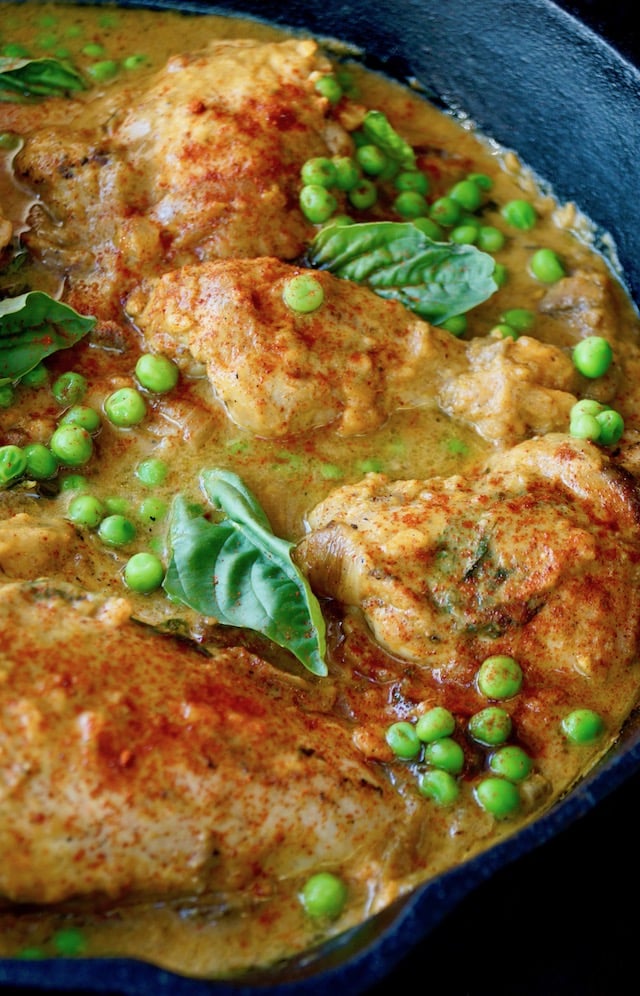 Inspiration
I've never forgotten a delicious soup I once had at a Japanese restaurant years ago. It was a warmly spiced, slightly spicy, noodle soup -- it was when my love of sweet potato and chicken recipes came to be.
It was also my third date with my now husband. (Irrelevant, but fun fact.)
It was more than fifteen years ago that I fell in love with this flavor combination that would one day become this Skillet Sweet Potato Chicken. I thought is was a divine soup and I've often imagined it in many other forms.
I've imagined it in casseroles, stews, and as a sauce for this chicken dish, and so on.
The broth was creamy and thick and blended with deep, rich spices, and an overtone of sweetness from potatoes. Truly, it was somewhere between a soup and a stew, which is my favorite kind of soup. Hearty!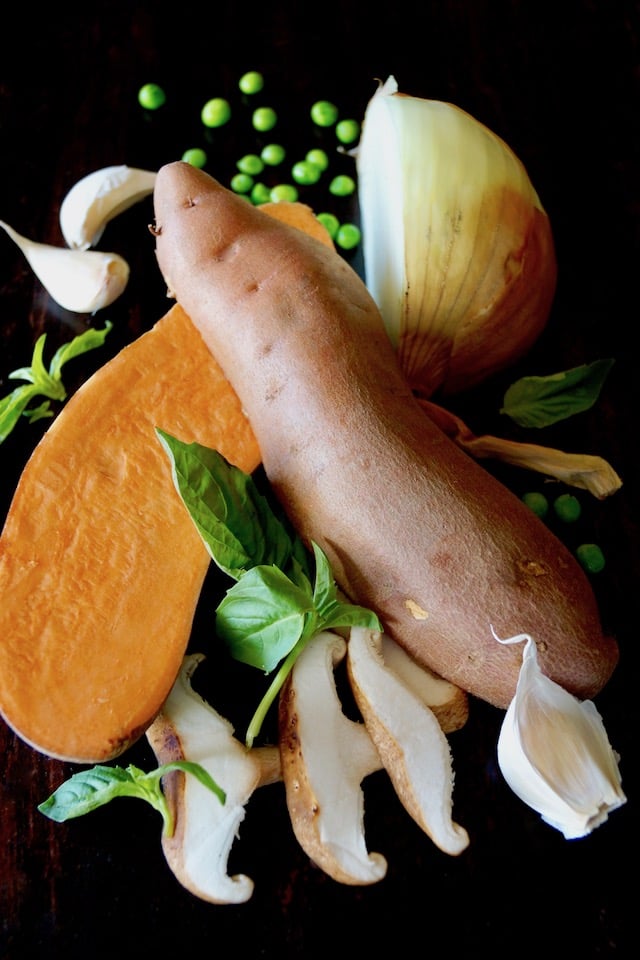 And here's an opportunity for a reminder to pause while you're cooking to admire the beauty of the raw ingredients. Between their colors and textures, they often paint a picture before your eyes.
Truth is, other than the sweet potato, which I'm guessing was a Japanese variety, I'm not sure what was in it. I suppose I could really try to dissect it in my mind, but it was really mostly about was the vibe.
Yes it was really delicious, but it was more about the feeling derived from the flavors, than the flavors themselves.
So rather than try to recreate the exact flavors, I've tried to recreate the vibe . . . .
In a skillet with super succulent chicken and a few vegetables and fresh herbs.

What's in this recipe?
sweet potato
chicken
onion
garlic
shiitake mushrooms
vermouth
warming spices (see below)
coconut milk
honey
fresh basil
peas
What are warming spices?
Generally, warming spices are those that have a deep aroma and strong flavor. They can make any dish richer.
The warming spices in this recipe make it one of the most comforting chicken dishes of all time. It includes turmeric, cardamom, cinnamon and cayenne pepper.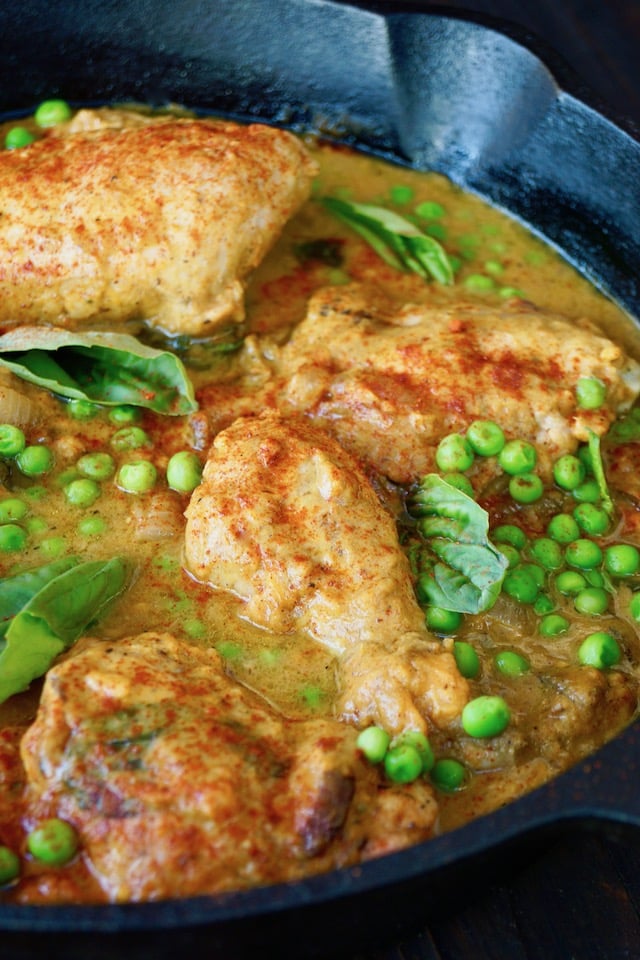 Skillet Sweet Potato Chicken is definitely impressive enough for guests, and at the same time, it's easy enough for a weeknight dinner. It's delicious over rice, pasta, rustic bread, or simply on its own.
Please don't be daunted by the long ingredient list for the Skillet Sweet Potato Chicken. If you read through the recipe, and follow the steps, you'll cruise right through it.
Enjoy every last comforting, cozy, super delicious bite! And I hope this becomes one of your favorite sweet potato and chicken recipes!
More delicious and comforting chicken recipes:
What is exactly is a comfort food? Read this article to find out!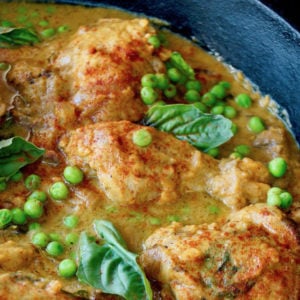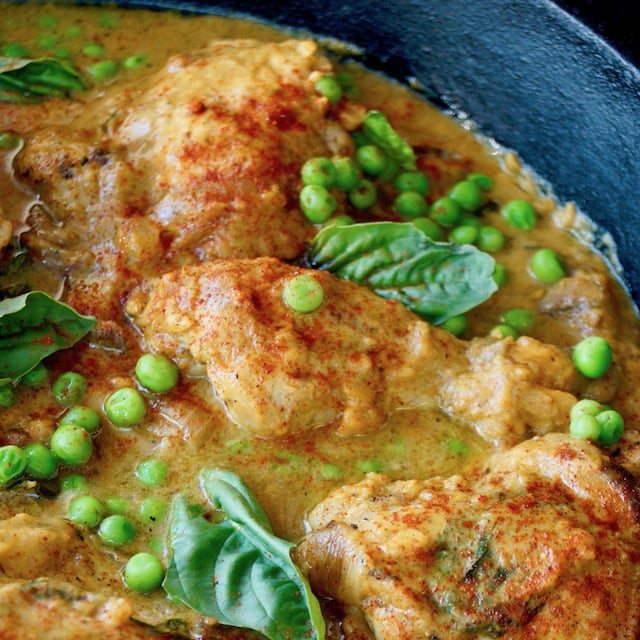 Skillet Sweet Potato Braised Chicken Recipe
A hearty and comforting dish, full of rich and deep flavors, this one pan chicken meal is ideal this time of year.
Ingredients
1

pound

sweet potato,

baked (see notes)

olive oil for the pan

1

approximately (3-pound)

whole cut up chicken, skinless, bone-in

2

cups

yellow onion,

thinly sliced

1½

tablespoons

garlic,

minced

3

cups

Shiitake,

thinly sliced (about 5-ounces)

¼

cup

vermouth

¾

teaspoon

ground cardamom

¾

teaspoon

ground cinnamon

½

teaspoon

ground turmeric

pinch

of cayenne pepper

13½

ounces

coconut milk

(1 can should be 13½-ounces)

1

tablespoon

honey

1

handful

fresh basil leaves,

washed and dried

1

cup

green peas

frozen and thawed

salt and freshly ground black pepper
Instructions
Cut the baked sweet potato in half and use a spoon to gently scrape out the potato. Add it to a small mixing bowl and then use a fork to mash it. Set aside.

Coat the bottom of a large skillet (at least 12-inches) with olive oil and place it over medium-high heat. Season both sides of the chicken pieces with salt and pepper. Once the pan is very hot, place them, presentation side down, in the pan. Use kitchen tongs to flip the pieces over once they've browned, after about 2 minutes. Cook for another minute. (This gives the chicken a nice caramelization, and will speed up the overall cooking time.) Remove the chicken form the pan and place it on a plate. Set aside. The chicken will finish cooking with the sauce later in the recipe.

With the medium-high heat still under the pan, add the onions and garlic and sauté, stirring often, until soft and golden, about 10 minutes.

Add a bit more oil to the pan and add the mushrooms. Sauté until they begin to brown, about 5 minutes.

Turn the heat to low to add the vermouth, and then turn it up to medium. Use a flat-edged wooden spatula, to scrape the bottom of the pan to loosen any bits of food that are stuck. Once the vermouth has almost completely cooked off, turn the heat to low again and add cardamon, cinnamon and turmeric. Stir and cook just until it's aromatic, about 30 seconds.

Then add the mashed sweet potato, coconut milk and honey. Mix until it's as smooth as possible, and season to taste with salt and pepper. (Here's How to Season to Taste°.)

Return the chicken to the pan, presentation side up, and spoon some of the sauce over each piece.°

Add the basil leaves between the pieces of chicken and cover. Braise just until the chicken is cooked through, about 25 minutes.

Add the peas and mix them into the sauce.

Serve! (You can gently "shred" the chicken off the bones and mix it into the sauce to serve, or keep it as is.)
Notes
You can either bake the sweet potato in the oven or much more quickly in the microwave. For the oven: Preheat oven to 400

°

F. Pierce the potato with a fork a few times and place it on a baking sheet. Bake until tender, about 45 minutes. For the microwave: Pierce the potato with a fork a few times and place in on a double layer of paper towels in the microwave. Cook on high for about 2

½

minutes per side.
Have you tried this recipe?
I'd love to see it on Instagram! Tag me at @cookingontheweekends or leave a comment & rating below.
Cooking On The Weekends is a participant in the Amazon Services LLC Associates Program, an affiliate advertising program designed to provide a means for sites to earn advertising fees by advertising and linking to Amazon.com.