With sweet, creamy peanut butter, a touch of salt and melting chocolate in every bite, these wildly delicious gluten-free cookies will be the new favorite for all of the peanut butter lovers out there!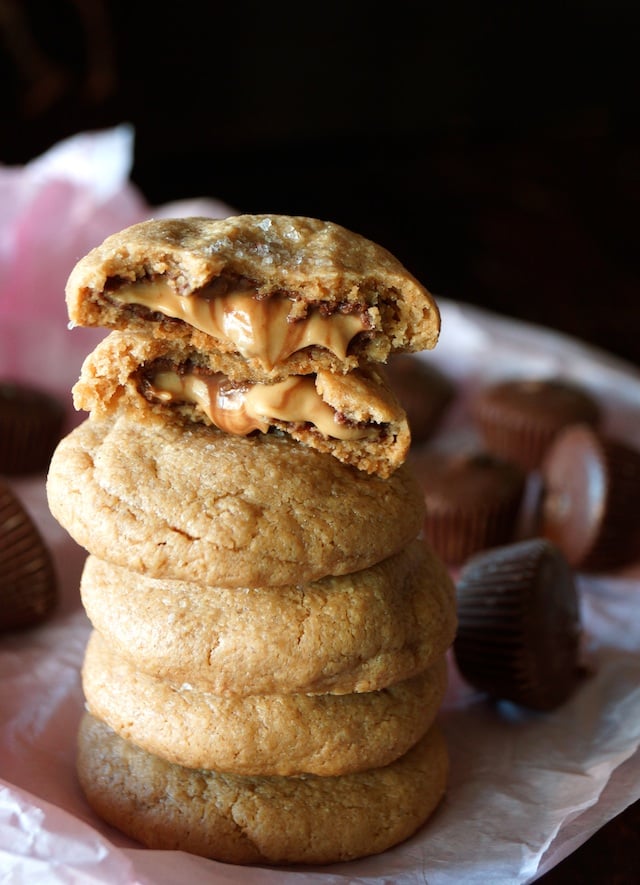 Once upon a time, there were the best peanut butter cookies ever.
This story is really over, because all these cookies really need is that introduction — but, I'll go on a bit . . .
A soft and chewy peanut butter cookie dough perfectly surrounds melting chocolate and peanut butter, in the form of a mini peanut butter cup.
That's right.  A peanut butter cup.
I think they're as dreamy as can be a few minutes out of the oven, when the candy oozes from its equally delicious cookie casing.
Don't you just want to reach into the screen for yours!?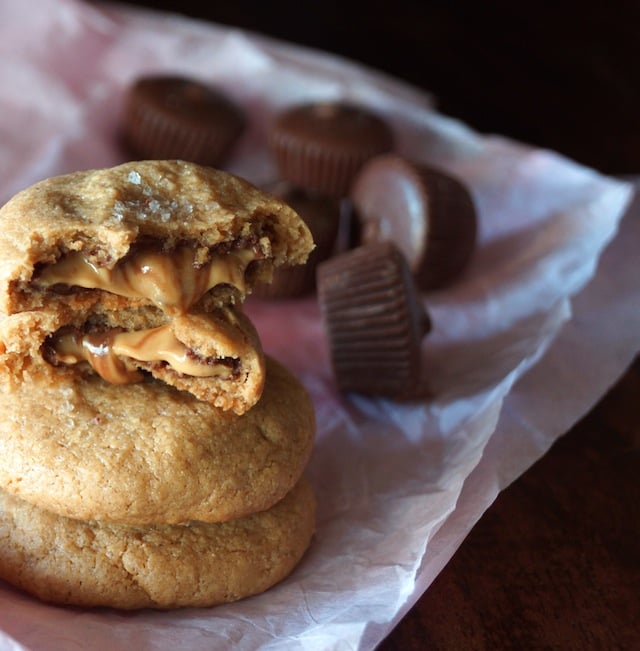 My husband thinks they're even dreamier the next day, when the candy has cooled and re-solidified.
Personally, I think both ways are amazing!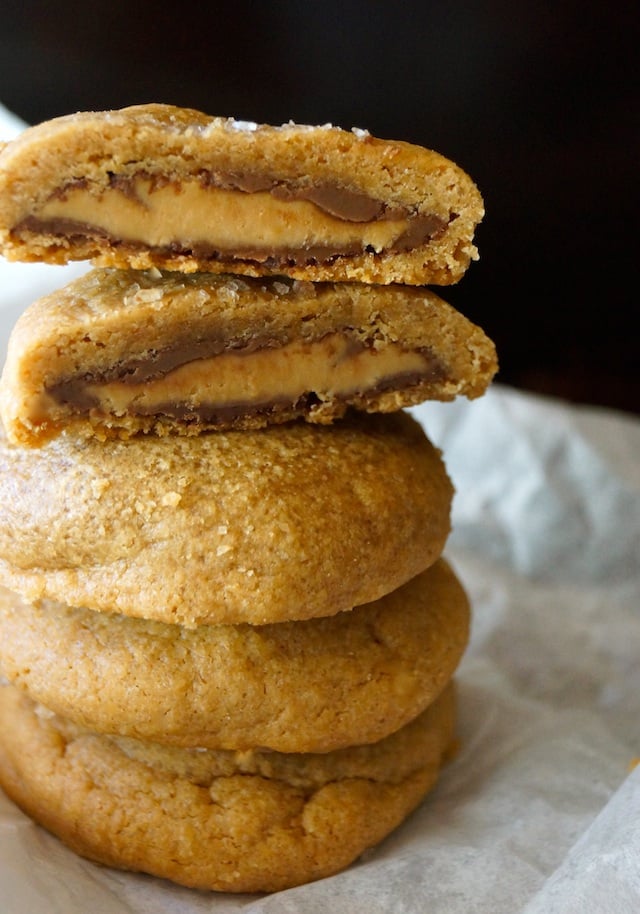 I hope you'll try these unbelievably divine cookies, and then let me know which way suits you — dreamy or dreamier?
It's a win-win, for sure!
Enjoy!!!

Double Peanut Butter Cup Cookies Recipe
Makes 2½-dozen cookies
Ingredients
30 mini peanut butter cups (see notes)
1 cup granulated sugar
2 large egg whites
1 (15-ounce) container creamy, salted peanut butter
coarse sea salt for garnish
Instructions
Preheat the oven to 350 degrees F, adjust two racks towards the center, and line two baking sheets with parchment paper. Set aside.
Unwrap the (30) mini peanut butter cups and set aside.
Add the sugar and egg whites to a medium-sized mixing bowl and use a fork to blend the two together. Add the peanut butter and stir until the mixture is very smooth.
Use a 1-inch cookie scoop (or a teaspoon), to add dollops of dough, a few inches apart, on one of the parchment-lined baking sheets.
Gently press 1 mini peanut butter cup onto each dollop of dough -- with enough pressure so that it pushes the dough up around it, but not so much that goes though to the bottom.
Now, using the same 1-inch cookie scoop (or a teaspoon), add another dollop of the dough on top of the peanut butter cup.
Now pick up each bundle and gently roll it between your hands, just until the sides of dough seal themselves and the peanut butter cup is totally hidden. Try to keep track of the peanut butter cup, so that you know when you place the ball down on the baking sheet, either the top or bottom is up -- the candy should not be sideways! Continue until both baking sheets are filled.
Sprinkle each one with the coarse sea salt and then bake in the preheated oven for approximately 10 minutes, just until the cookies have flattened out and no longer look wet.
Let them cool on the baking sheet for at least 15 minutes.
If you don't eat them right away, once they have completely cooled, you can store them in a tightly sealed container in a cool, dark place for a few days. (They also freeze very well.)
Save
Save