Little Gem Lettuce leaves hold all the classic flavors of a traditional Caesar salad with a kick of heat to bring it over the top.
It's a mixed rustic salad in a large serving bowl to share with friends.
It's a lovely, elegant plated appetizer at a small dinner party.
It's a beautiful platter of hors d'oeuvres being passed at a cocktail party.
It's all of these things — no matter what you call it, how you serve it, or how you toss it — these Little Gem lettuce leaves are a mouthful of umami deliciousness!  
And how sweet is Little Gem Lettuce!?  I know, right?
Little Gem lettuce can be described as a combination of Butter lettuce and Romaine lettuce —  it's crisp like Romaine and subtly sweet and tender like Butter.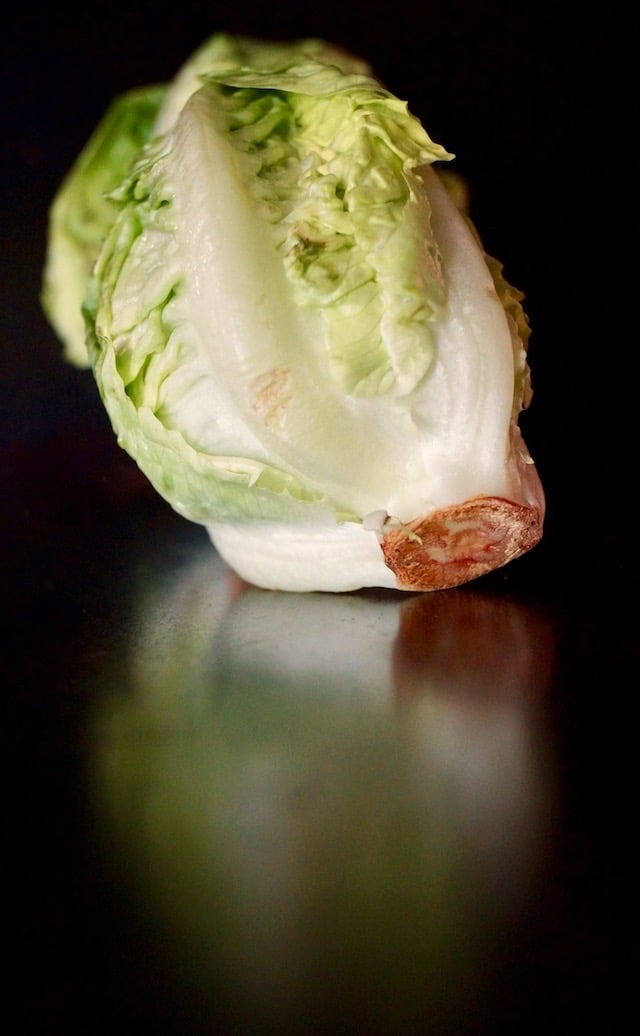 Just one or two bites each, the tender leaves are the the perfect vehicle to hold a few tasty, light ingredients.
The fresh lettuce drizzled with a homemade Caesar-esque dressing, with a punch of heat, and a sprinkling of crisp breadcrumbs, is a treat that will wow your guests . . . and you!
I've seen Little Gem lettuce at several major grocery stores, and Trader Joe's.  Keep you eyes open!

Spicy Caesar Little Gems Recipe
Serves:
6 as an appetizer
Ingredients
approximately 3 dozen Little Gem Lettuce leaves (about 4 heads), washed and dried
approximately ½ of a large egg yolk (see notes)
2 teaspoons fresh lemon juice
½ teaspoon anchovy paste
¾ teaspoon honey
½ teaspoon Dijon mustard
½ teaspoon minced garlic
⅛ teaspoon cayenne pepper (use less if you don't want too much heat)
¼ cup extra virgin olive oil
1½ tablespoons finely grated Parmesan cheese
sea salt and freshly ground black pepper to taste (Here's How to Season to Taste)
approximately ½ cup toasted breadcrumbs (see notes)
red pepper flakes
thinly sliced lemon for garnish
Instructions
Spread the leaves out on a serving platter or small plates. Set aside.
In a small bowl, combine the ½ egg yolk (don't worry about being exact!), with the lemon juice, anchovy paste, honey, mustard, garlic and cayenne. Whisk until smooth.
Then whisking constantly, very slowly, in a steady stream, add the oil. Whisk until smooth and then add the Parmesan cheese. Season to taste with salt and pepper. (Here's How to Season to Taste.) Set aside.
Add the bread crumbs to a small sauté pan and place it over medium-low heat. Shaking the pan every minute or so, cook just until they're golden, about 4 minutes. Set aside.
Drizzle the leaves with the amount of dressing you like — I use a bit more than 1 tablespoon per dozen. Now sprinkle them with the bread crumbs evenly over the leaves. Finish with a sprinkling of the red pepper flakes — I only use a small amount as it will add a lot of heat.
Garnish the platter with lemon slices and serve!
Notes
When using raw eggs, make sure they're pasteurized -- I used
Safest Choice® Pasteurized Eggs
.
I used gluten-free breadcrumbs for my son with Celiac -- you can use any breadcrumbs you like.