Pickled Shallots with Lime are incredibly easy to make, and are an amazingly delicious condiment. The addition of these tangy, tasty shallots will enhance sandwiches, stir-fries, pizzas, and the list goes on!
Inspiration for Pickled Shallots with Lime
My husband is a producer/editor for TV.
Sometimes he produces and edits shows about relationships. Sometimes his work is car or beer commercials, and sometimes it's really bad (and by really bad, I mean really good) reality TV, but his current project is a show about pizza restaurants in Brooklyn.
Awesome, right?!
I hear snippets here and there about how each restaurant makes their "pies," and the ingredients they pride themselves on. I was immediately inspired upon hearing that one of these pizza joints' most prized toppings is red onions pickled in lime juice. Yum!
I changed it up a bit and marinated shallots in lime juice, and I took the marinating time about a week further!
That's right, a whole week! Well, at least 24 hours, and a week for even more intense flavor.
How to Make Pickled Shallots with Lime Juice
It's so easy, you'll be doing it all the time!
Add thinly sliced shallots to a jar and pour lime juice over them.
Let the shallots marinate for at least 24 hours and up to a week.
That's it!
What does the lime juice do to the onions?
The acidity of the citrus adds a tangy flavor, takes the bite out of the onion, softens them a bit, and creates a pretty, pinkish hue.
How to Use Pickled Shallots
They are delicious in salads and sandwiches and on pizzas. They will kick anything up a notch they're added to. In the best, most delicious way possible! Imagine how over the top guacamole would be if you added a few of these!?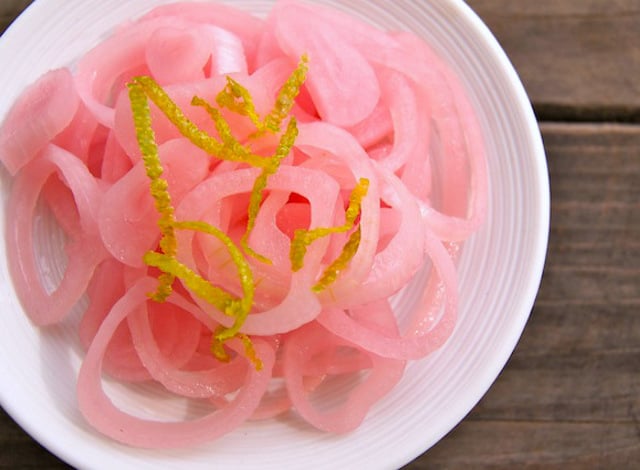 What can you substitute for shallots?
I love shallots, but lime pickled onions of almost any sort are great. Below I used red onions which are my first choice after shallots (below).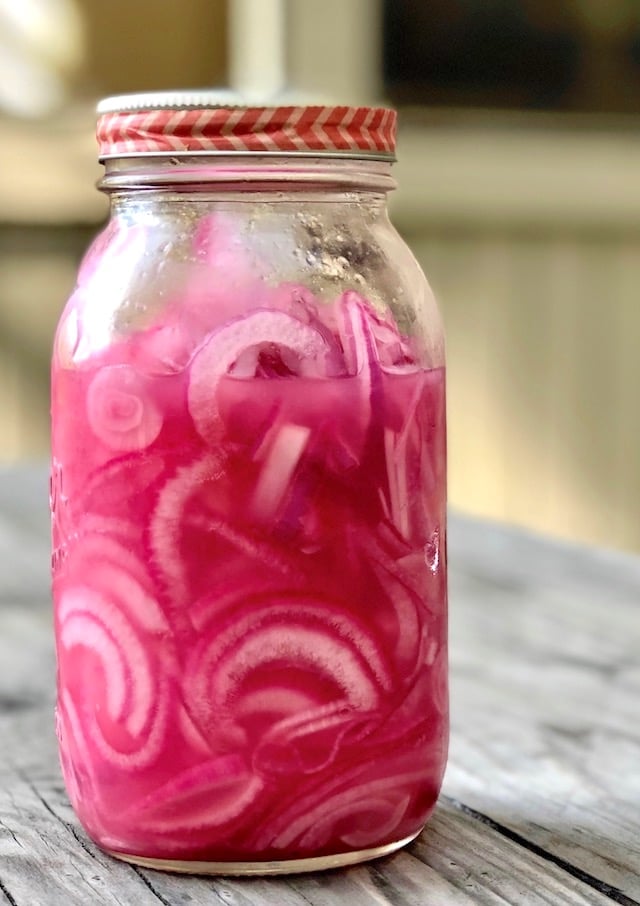 Recipes to add lime pickled onions to:
Parmesan Asparagus Salad Recipe
Fried Plantain Toast with Pickled Onion
And here's another great recipe: Roasted Broccoli with Pickled Shallots and Peanuts.
Squeeze your limes and slice your shallots today, and they'll be perfect in a few days.
Enjoy!
Pickled Shallots with Lime
The addition of these tangy, tasty shallots will enhance sandwiches, stir-fries, pizzas, and the list goes on!*Makes about 2 cups

Ingredients
2

cups

shallots,

thinly sliced

about 1

dozen

limes,

juiced
Instructions
Add the listed amount, or as many sliced shallots as you'd like, to a jar and pour in the lime juice. Use enough to cover them by at least ¼ inch.

Let the shallots marinate for at least four hours, and up to a week.
Have you tried this recipe?
I'd love to see it on Instagram! Tag me at @cookingontheweekends or leave a comment & rating below.
Cooking On The Weekends is a participant in the Amazon Services LLC Associates Program, an affiliate advertising program designed to provide a means for sites to earn advertising fees by advertising and linking to Amazon.com.