Mango-Manchego Basil Salad recipe is a simple combination of a few ingredients that combine to create a ton of delicious flavor into a beautiful plate.
Mango-Manchego! It sounds like a Spanish dance, doesn't it?  I love it.
That's really what this salad is. Well, I suppose it's more of a worldly dance — a dance with a few wonderful flavors from different areas of the world. Mangoes from the tropics, Manchego from Spain, and basil with origins in India.
This is a super simple recipe that can be put together in just minutes. The variety of flavors and textures of the three main ingredients is over the top delicious! It's fresh, sweet and spicy — all at once!
You can arrange the ingredients artfully, or just throw them together in a bowl. Your call. 🙂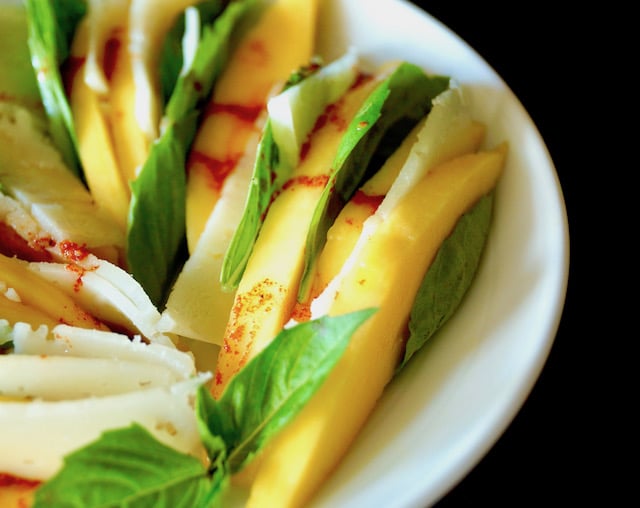 While you can probably find mangoes year round, they're far superior during the summer months.
Like many summer fruits, I can't seem to get enough of them. I guess that's part of what makes them so special each time they come back around.
You can check out tons of mango varieties and their availability here.
So let's have fun with mangoes this weekend and do the Mango-Manchego, shall we?
And here are a handful more delicious mango recipes to tempt you . . .
Mango-Manchego Basil Salad
Mango-Manchego Basil Salad recipe is a simple combination of a few fresh ingredients that pack a lot of delicious flavor, and create a beautiful plate.
Keyword:
fruit salads, good for summer bbq
Ingredients
1/4

teaspoon

Spanish paprika

1/8

teaspoon

sugar

pinch

sea salt

a few turns freshly ground black pepper

1 1/2

teaspoons

sherry vinegar

1 1/2

teaspoons

extra virgin olive oil

about 1 1/2

dozen

large basil leaves,

washed and dried

2

ounces

Manchego cheese,

shaved
Instructions
In a very small dish, combine the paprika, sugar, salt, pepper and vinegar. Gradually whisk in the oil and set this aside.

Arrange the mango, basil and Manchego on one or two serving plates. Then drizzle with the dressing. (For a more casual, quicker prep time, you can also mix everything together in a serving bowl.)

Save