These Grilled Mediterranean Burgers are easy to whip up and are packed with fresh, delicious flavors. Perfect for indoor or outdoor grilling, this burger can be served on a bun, in a lettuce wrap, over rice, or solo.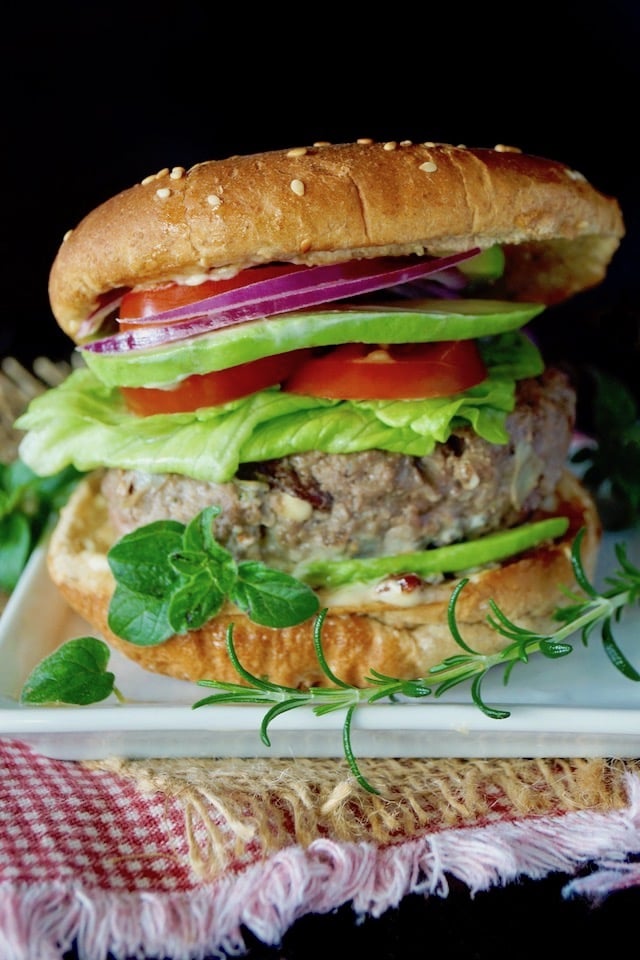 As much as I have fun at an outdoor grill in the summer, I love grilling indoors all year long. I've been using my stove-top grill for years. In fact, I use it almost as much as I use my cast iron skillet. Both of them live on my stove burners all the time. Seriously, that's their home.
I don't think dinner can get more fun than a creative and delicious burger!

How to Serve Mediterranean Burgers
My family loves burger nights at our house — and we all do our own thing with them. My husband wraps his in crisp iceberg lettuce, one of my sons prefers his with rice or sliced avocado, and my other boy and I go traditional with a soft hamburger bun.
(Now if it were a Sunday, my oh-so-healthy husband would have the bun, too. And everything else under the sun because it's his "cheat day." :-))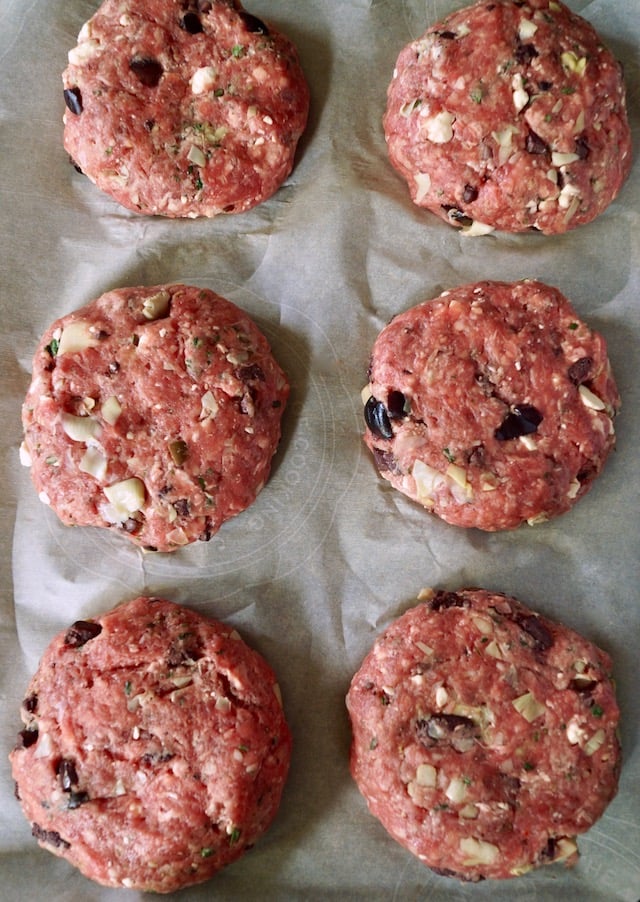 These are big, juicy burgers, packed with wonderful, big flavors! They're full of rich, Mediterranean flavors that are only made better with the smoky char the grill will give them.
What's in this Grilled Mediterranean Burger recipe?
beef
Feta cheese
marinated artichoke hearts
marinated sun-dried tomatoes
Kalamata olives
rosemary and oregano
almond meal
garlic
avocado mayonnaise
What if I don't have a grill?
I'm so happy you asked! You can achieve a similar char from a cast iron skillet. You will at least get great caramelization that will form a "crust" of sorts. So that would be my second choice. And of course these burgers would also be delicious if you sauté them in whatever your favorite sauté pan is — they just might not develop a "crust" on the outside.
A grill however, isn't just a cooking tool, it acts almost as an ingredient, as it adds its own unique flavor. The aforementioned smoky, char flavor, that is.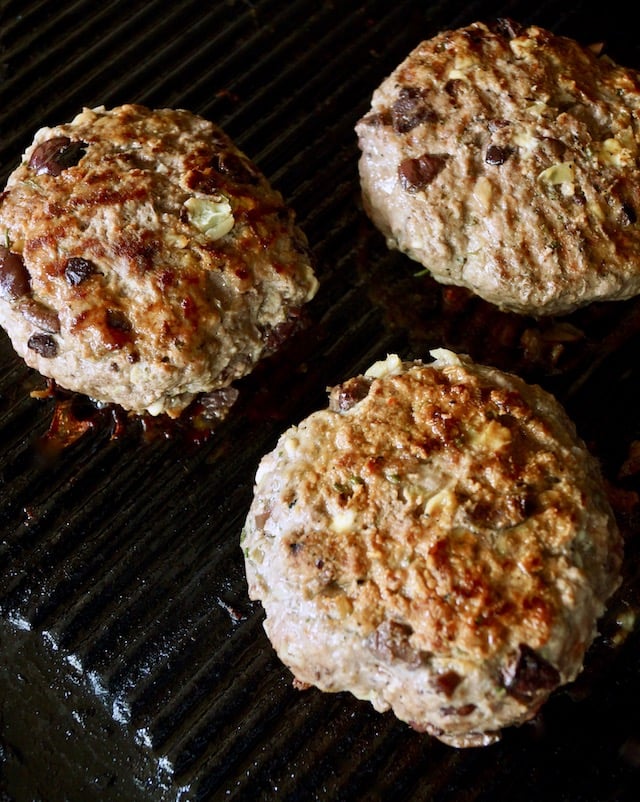 The grilled Mediterranean burgers are quick and easy to make — you can even make and shape them the night before you plan to serve them. Just wrap them tightly in plastic and keep them refrigerated until you're ready for them to hit the grill (or the pan).
Oh, and I make a very easy Sun-Dried Tomato-Lemon Mayonnaise to go with these burgers. It's so good that you just might want to eat it with a spoon! (It's included in the recipe below.)
What to serve with Mediterranean Burgers
Any salad or potato side is always great with burgers. Here are a few of my favorites: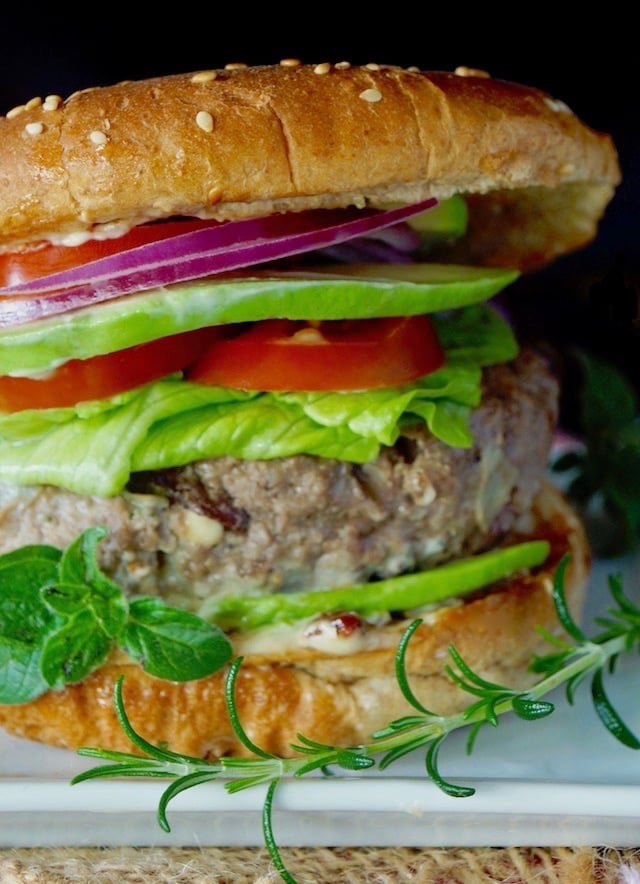 Enjoy every last bite!
A few more unique burger recipes you'll love:
Grilled Mediterranean Burger Recipe
This is easy to whip up and is packed with fresh, delicious flavors.

Cuisine:
Mediterranean, American
Keyword:
summer grilling, gourmet burger recipes, indoor grilling recipes
Ingredients
2

pounds

lean ground beef (grass fed is preferable)

1/2

cup

Feta cheese,

crumbled

1/2

cup

artichoke hearts marinated in olive oil,

drained, finely chopped

1/2

cup

Kalamata olives,

pitted, finely chopped

1/4

cup

almond meal

1

tablespoon

garlic,

minced

1

tablespoon

fresh oregano,

finely chopped

1

tablespoon

fresh rosemary,

finely chopped

3/4

teaspoon

salt

a few turns

freshly ground black pepper

olive oil

for the grill
Sun-Dried Tomato-Lemon Mayonnaise
Instructions
In a large mixing bowl, use your hands to evenly combine all of the ingredients.

Shape the mixture into 6 evenly-sized burgers -- each one should be about 3/4 cup to 1 cup, and they should at least an inch thick.


When the grill or pan is very hot, put on your burgers. You should hear a sizzling sound -- if you don't, wait! You won't get a nice caramelization and "crust" on the burger if it's not hot enough.

Grill or sauté for about 4 minutes, then flip the burgers over and reduce the heat to medium-low. For medium rare, grill for another 4 minutes or until desired doneness.

Sun-Dried Tomato-Lemon Mayonnaise
Mix the three ingredients together.


Serve the burgers with the Sun-Dried Tomato-Lemon Mayonnaise, along with buns, lettuce, tomato, avocado, etc.
Cooking On The Weekends is a participant in the Amazon Services LLC Associates Program, an affiliate advertising program designed to provide a means for sites to earn advertising fees by advertising and linking to Amazon.com.