Blueberry Balsamic Braised Brisket is a must-try, unique brisket recipe for the holidays! If you've never had blueberries with brisket, you're missing out, and you won't believe how amazing it is! This recipe was featured in the August 2015 issue of Gluten-Free Living Magazine!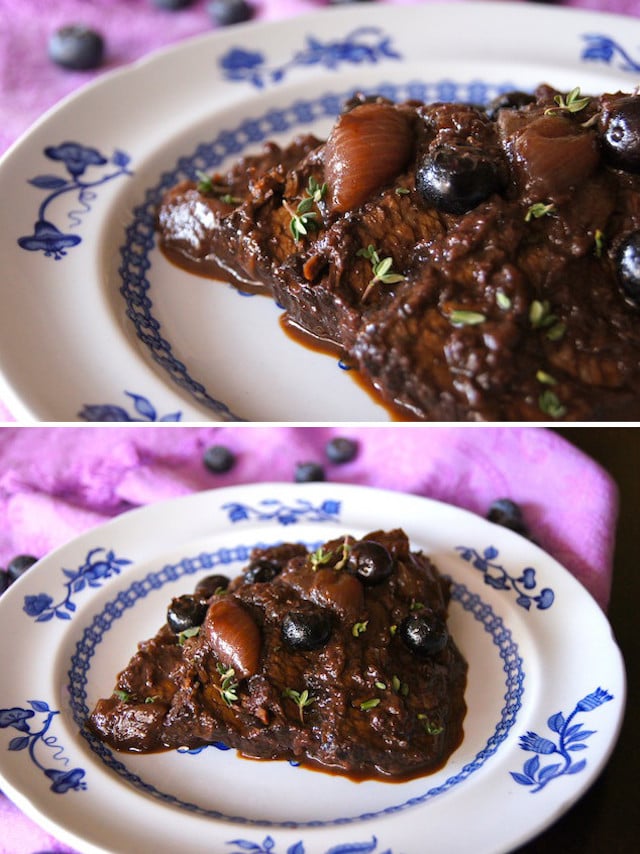 There's a reason blueberries are being called "little blue dynamos." Blueberries can enhance much more than a bowl of granola, my friends!
Inspiration
These dynamos have a place at breakfast, lunch, dinner and everything in-between. From grilled cheese sandwiches, to sparkling cocktails and cookies -- these wonderfully sweet berries, chock full of nutrients, are finding their way into all sorts of dishes.
Enter my Blueberry Balsamic Braised Brisket.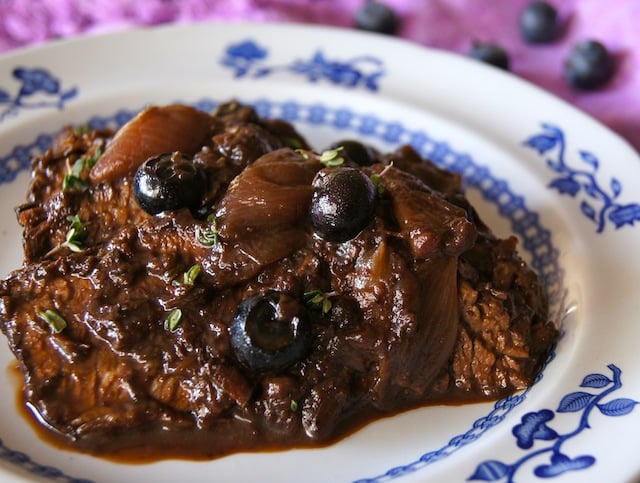 And believe it or not, there's no better place for blueberries than melding into the delicious, rich juices of a braising brisket and the tangy, sweetness of balsamic vinegar.
A perfect match!
What's in this recipe?
blueberries, brisket and balsamic vinegar, of course 😉
pearl onions
garlic
thyme
beef stock
red wine
butter
brown sugar
Can you just imagine all of those delicious flavors, being slow cooked together in one pot? It's amazing!
A True Comfort Food
This unique brisket recipe is a true comfort food dish! It's absolutely divine for a cool fall or winter evening. And of course it would be the star of a Hanukkah table. And/or Christmas!
You'll savor each and every bite.
Just look at how tender the meat is! And the sauce -- oh my, the sauce!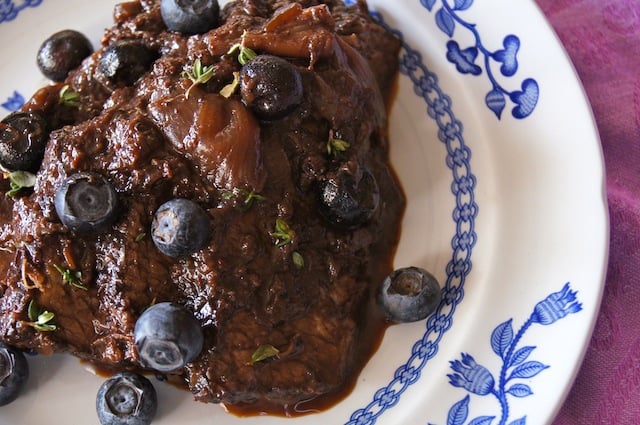 Enjoy every last bite!
Can you it ahead?
Yes! In fact, this is a recipe that actually gets better and better with time. I usually make it at least one day before I want to serve it.
More brisket recipes you'll love: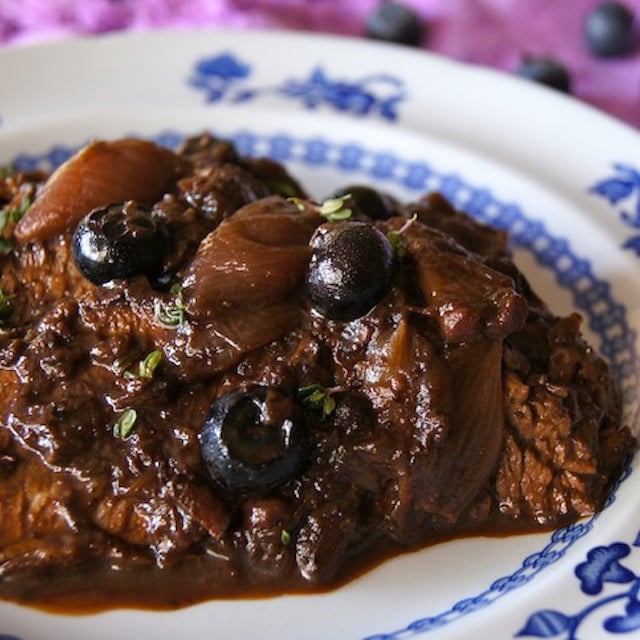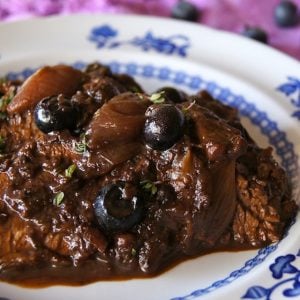 Blueberry Balsamic Braised Brisket Recipe
This is a must-try, unique brisket recipe for the holidays! If you've never had blueberries with brisket, you're missing out, and you won't believe how amazing it is!

Ingredients
1

approximately (1 ¾-pound)

beef brisket

olive oil for the pan

2

teaspoons

garlic,

minced

1

tablespoons

fresh thyme leaves

1½

cups

beef stock

1½

cups

frozen blueberries,

thawed to room temperature

¼

cup

dry red wine,

such as Cabernet, Merlot, Shiraz

⅓

cup

balsamic vinegar

1½

teaspoons

unsalted butter

1½

teaspoons

brown sugar

salt and freshly ground black pepper

½

cup

fresh blueberries

a few sprigs fresh thyme for garnish
Instructions
Preheat the oven to 325°F.

To peel the pearl onions, bring a few inches of water to a boil in a medium-sized pot. Fill a medium-sized bowl with ice water and set it aside. Add the onions and turn off the heat. Let them sit for about two minutes, drain them, and then add them to the bowl of ice water. Once they are cool enough to touch, use a paring knife to cut a sliver off where the root is. Then use your hands to gently slide the skin off. Set the peeled onions aside.

Trim the fat off the brisket and season both sides with salt and pepper. Set aside.

Coat the bottom of a large, oven proof pot with a fitted lid, with olive oil. (A Dutch oven in perfect.) Place the pot over medium-high heat.

Once the pot is very hot, add the brisket. You should hear a sizzling sound when it hits the pan -- if you don't, wait until it's hotter. Sear the brisket until it's nicely browned, 1 to 2 minutes per side.

Remove the brisket from the pot and place it on a large plate. Set aside.

Turn the heat under the pot to medium and add the peeled onions and garlic. Sauté, stirring periodically, until the onions are beginning to brown, about 5 minutes. Add the thyme and continue to cook for another 30 seconds or so, until it's very aromatic.

To deglaze, add the stock, frozen (thawed) blueberries and red wine. Use a wooden, flat-edged spatula to scrape off any bits of brisket, onion and garlic that may be stuck to the bottom of the pot.

Return the brisket to the pot and bring to a boil.

Cover and place in the preheated 325°F oven to braise for 1-½ hours, gently braising any portion of the brisket that's not submerged in the liquid.

Remove the pot from the oven, add the balsamic vinegar, and gently mix it in evenly around the brisket.

Cover the pot again and return it to the oven. Continue to braise until the brisket is very tender, about 1 more hour. (You can test it with a fork to see how easily it comes apart -- you want it to be able to pull apart, but still be firm enough to slice.)

Remove the brisket and place it on a large plate to cool.

Place the pot over low heat and simmer until it's reduced by at least half, and has thickened into a rich sauce, about 30 minutes. As it's simmering, you can use a large soup spoon to remove any grease that rises to the top.

While the sauce is simmering, slice the brisket against the grain, into thin slices, about ¼to ½-inch.

Just before you're ready to serve, fold the fresh blueberries into the sauce.

To serve, either add the brisket slices to the sauce, or arrange the slices on serving platter and drizzle the sauce over them.

Garnish with fresh thyme sprigs.
NOTES
If you want to make sure you remove as much grease as possible, before reducing the sauce, bring the pot to room temperature, place it in the refrigerator overnight, and then you can easily scrape it off the top. (Since you will be trimming the fat from the brisket before you begin, there shouldn't be too much grease.)
You can make this up to 4 days ahead -- it only gets better.
NUTRITION
Have you tried this recipe?
I'd love to see it on Instagram! Tag me at @cookingontheweekends or leave a comment & rating below.
Save
Save
Save
Save