Packed with the sweet flavors of summer, this Creamy Avocado Gazpacho recipe delivers an unforgettable rich, tangy deliciousness in every spoonful!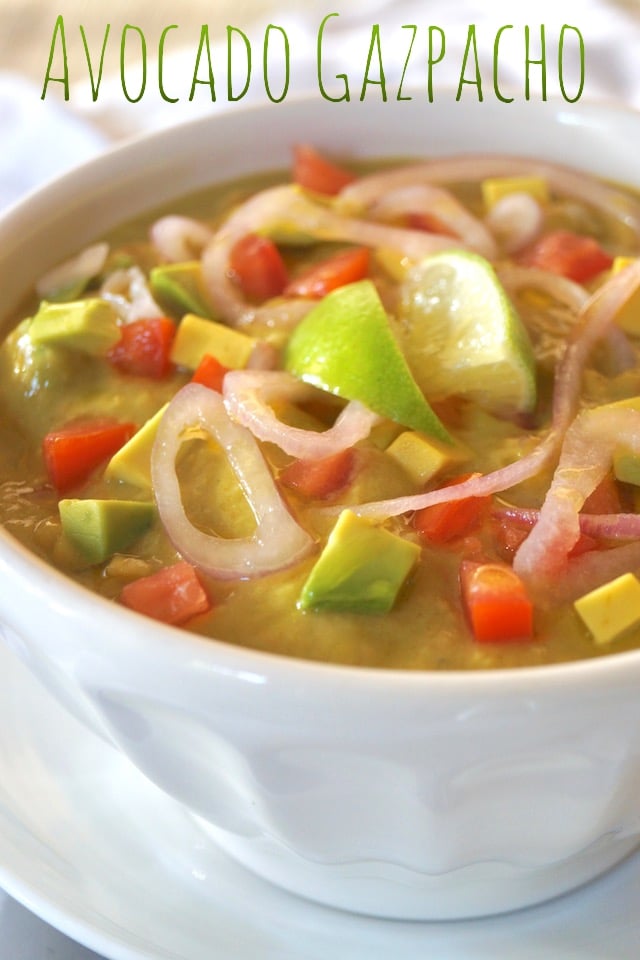 I'll never forget the first time my Spanish "sister," Pilar, came to visit and made gazpacho in my mom's kitchen.
Pilar literally added "a little of this and a little of that." At the time I didn't know what the "this" or the "that" was, but the kitchen smelled amazing — like a ripe vegetable garden — and what she created was a traditional Andalusian tomato Gazpacho. It was beautiful and delicious.
(Turns out, most of the "little of this and a little of that" was raw onion, raw garlic, extra virgin olive oil, and vinegar.)
Though a summer tomato gazpacho holds a special place in my heart, I love making gazpacho with other fruits in the summertime, too.
My Creamy Avocado Gazpacho recipe, was inspired by traditional Gazpacho — fresh, seasonal vegetables and fruit, balanced with acid and salt.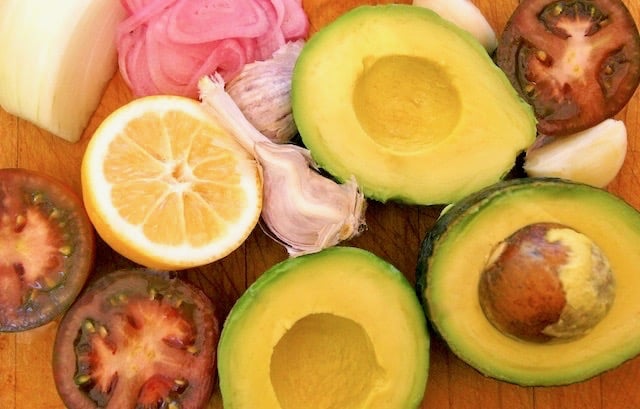 What exactly is Gazpacho?
Gazpacho is a popular raw, tomato based soup from the Andalusian region of southern Spain, that's typically served cold.
Originally the soup was a blend of bread, olive oil, garlic and a liquid — usually water or vinegar.  It was mixed together in a mortar, and sometimes various vegetables and nuts were added.
Over time, Gazpacho evolved into different varieties. The most common is tomato based.
Now in most of the world, "Gazpacho" has become a generic name for cold soups that have a vegetable or fruit base, with similar spices to the traditional Andalusian version.
Gazpacho is usually served as an appetizer, and can be made a day or even two ahead of time. Much like a

braised stew

, the flavor can get even better with time.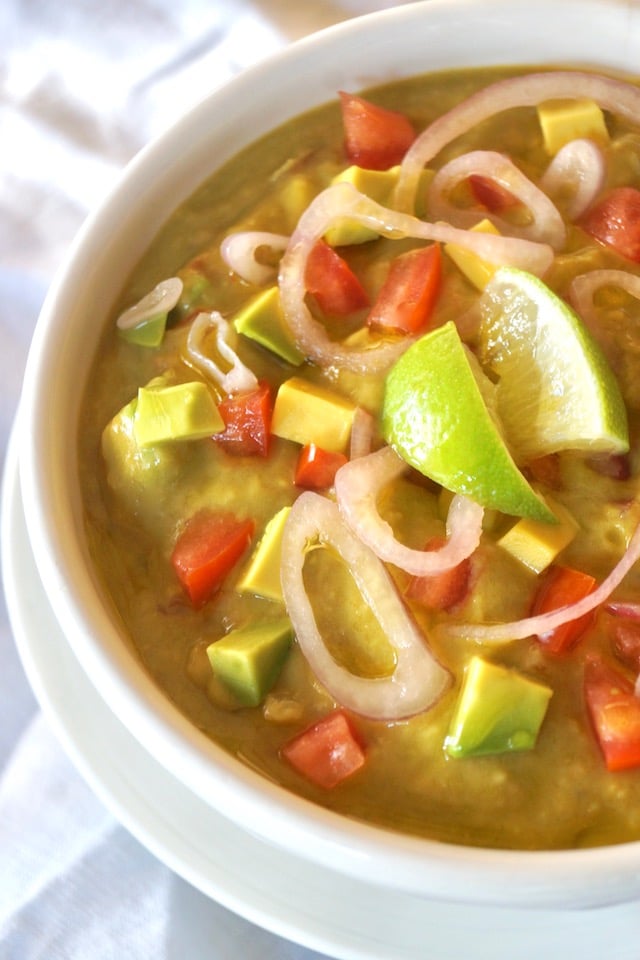 Here are a couple more of my favorite, unique Gazpacho recipes:
My Avocado Gazpacho is perfect for a summer garden party, or really, any lunch or dinner when the weather is warm.
Though nobody would turn it down in cold weather, I'm sure. 😉
Enjoy every last spoonful. 🙂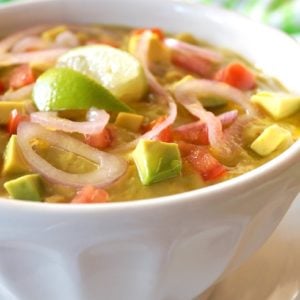 Creamy Avocado Gazpacho
Packed with the sweet flavors of summer, this Creamy Avocado Gazpacho recipe delivers an unforgettable rich, tangy deliciousness in every spoonful!

*This serves 12 as first course appetizer, and would also be a great main course that would serve 6

Course:
Appetizer, Main Course
Keyword:
cold soups, good for summer dinner parties
Ingredients
For the soup
4

cups

avocado

2

cups

tomato,

seeded, roughly chopped

1 1/2

cups

yellow onion,

roughly chopped

3

tablespoons

garlic,

roughly chopped

1/4

cup

lime juice

1/2

cup

red wine vinegar

1/2

cup plus 2 tablespoons

extra virgin olive oil

2

teaspoons

ground cumin

1 1/2

teaspoons

salt

about 1

cup

water
Instructions
For the soup:
Add all of the ingredients, except for the water, into the blender or a food processor fitted with the blade attachment. Blend until the mixture is very smooth.

Add the water, 1/4 cup at a time, to the desired consistency. (If you're having any difficulty getting a smooth texture in the previous step, you can add the bit by bit with the other ingredients.)
For the mix-ins:
Combine the avocado, tomato and onion and mix-in all but about 1/4 cup to the soup. When you serve the soup, add the remaining mix-ins to the top of each bowl for a garnish. Drizzle a little extra virgin olive oil on top and sprinkle with a bit of coarse sea salt.
Recipe Notes
I love the tangy punch of flavor the vinegar give this gazpacho. If you prefer less of a "bite" you should use a bit less. Likewise, I love the kick from the raw garlic and onion -- here too, feel free to adjust the amount to suit your taste.
Save
Save