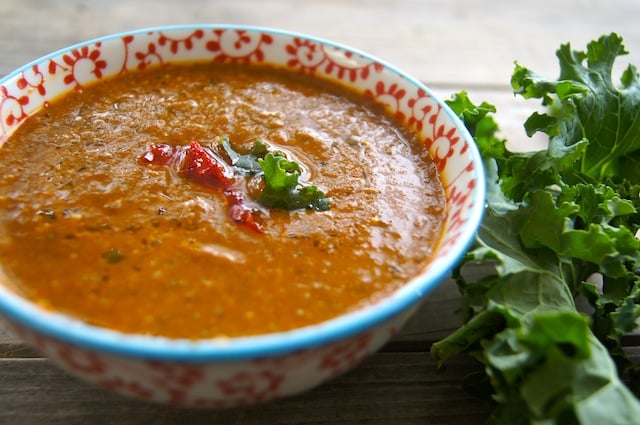 Yesterday when I went to buy some of my favorite chocolate bars, I was a bit distracted because of the "health food faire," the grocery store was hosting. Not exactly what I want around me when I'm buying my chocolate!
I did however manage to squeeze past the throng of fitness trainers, vitamin reps, and all sorts of "healthy" salespeople.  In the end, my mission was a success: I walked out with three giant bars of chocolate and no business cards.
Later, having eaten quite a bit of the delicious chocolate, I decided to whip up my own version of health food.  Yes, this is healthy, but flavor comes first!
My spicy kale soup is vegan, packed with nutrients and flavor — and it's unbelievably hearty and beautiful!
I love having a pot of soup simmering on the stove on a weekend afternoon. It's comforting (and makes the whole house smell good)!
Please make sure you read my instructions about blending the soup!
Spicy Kale Soup with Roasted Pepper and Tomato
Ingredients
olive oil for the pan

1

cup

roughly chopped red onion

2

medium-sized roughly chopped garlic cloves

roots and stems removed

1-1/2

cups

peeled and roughly chopped Idaho Russet potatoes

1/2

cup

marinated and drained sun-dried tomatoes

divided

1

cup

roughly chopped

roasted red pepper (here's how to roast a pepper)

1

teaspoon

smoked paprika

1/4

teaspoon

cayenne pepper

2

large bunches curly kale

washed, dried, center stems removed and roughly chopped

1/2

cup

dry sherry

6

cups

vegetable stock

1

tablespoon

red wine vinegar

2

teaspoons

granulated sugar
Instructions
Coat a large stock pot with olive oil and place it over medium heat. Add the onion and garlic and cook until the onion is soft and beginning to brown, about 7 minutes.

Add the potato, 1/4 cup of the sun-dried tomatoes, roasted red pepper, paprika, cayenne, and the kale. Cook this mixture until the kale has wilted. All of the ingredients should be starting to brown and to sticking to the bottom of the pan -- it will take about 10 minutes. Then deglaze the pan with the sherry. Use a straight edged, wooden spatula to scrape any bits of food off the bottom of the pan and back into the mixture.

Once the sherry has evaporated completely, add the vegetable stock. Bring to a boil, cover the pot, and then reduce to a very low simmer. Simmer the soup for about 30 minutes. (At this point the potatoes should be very tender.)

Pour the soup into a blender and blend on high until it's completely smooth. (This particular soup is much better blended this way than with an immersion blender, because kale can be quite fibrous. Please note that when you blend hot liquids in the blender, you have to hold down the lid very, very firmly! If you don't do this, the hot liquid, the vibration, and the steam will force the lid off! Also, use a folded towel to protect your hands from the possibility of hot liquid seeping out of the lid during blending. If this makes you at all nervous, let the soup cool to room temperature, and then blend.)

Once the soup blended, return it to the stock pot. Add the vinegar and sugar and season very generously to taste with salt and pepper.

Drizzle a bit of the extra virgin olive oil over each served bowl of soup and top each one with a few of the remaining sun-dried tomatoes.
Timeline:
1 hour ahead: Chop all the ingredients and begin making the soup.
If you make the soup ahead of time, let it cool to room temp and store it in the refrigerator in an air-tight container.  Reheat it on the stove by brining it to a quick boil and then reducing it to a simmer.  (You might need to add a bit more stock to thin it a bit.)
Save
Save
Save