Peppermint Ice Cream Mud Pie, with layers of chocolate and vanilla, is easy, fun and can be made ahead. It's so pretty and perfect for small dinner parties!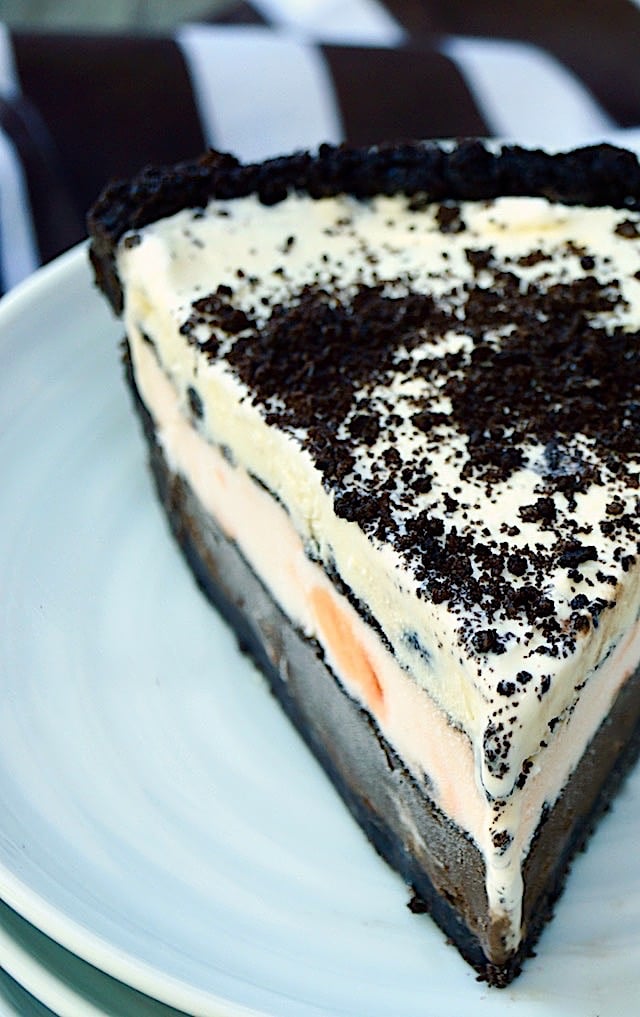 Of the countless desserts I love, I seem to keep going back to my ice cream mud pie recipe whenever I host a dinner. Yep, a mud pie.
I love making mud pies for dinner parties because they're super easy and fun. They present beautifully and everyone loves them. Everyone! Oh, and you can make them well in advance.

Here's the deal, I like to make a bunch of different things when we have people over, so some of them have to be kept simple. My Peppermint Ice Cream Mud Pie is indeed simple to put together. It's essentially three layers of ice-cream and an Oreo cookie crust.
And as simple as it is to make, it tastes complex and amazing!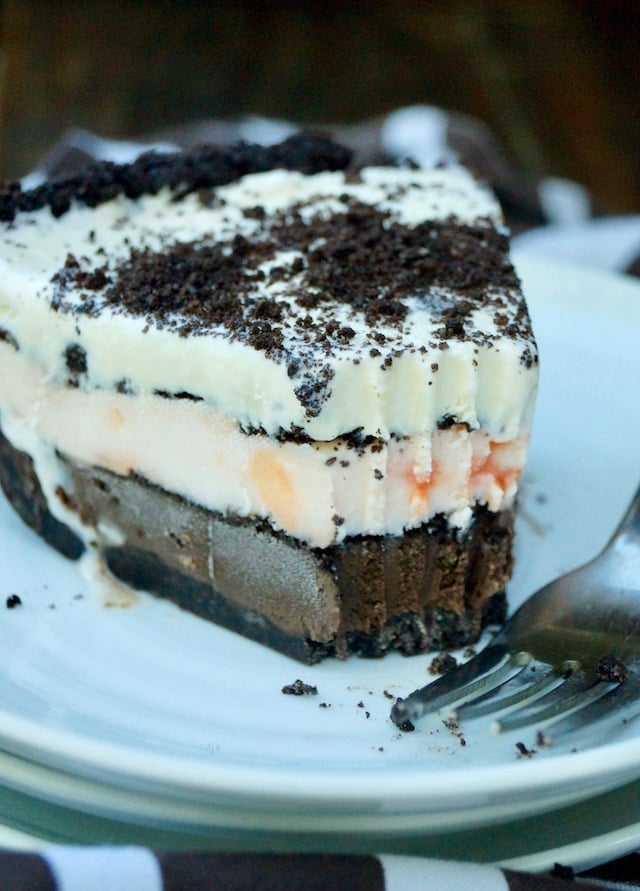 What is Mud Pie?
The name Mud Pie comes from Mississippi Mud Pie, which isn't specifically an ice cream pie. I started calling my ice cream pies mud pies because that's what my mom called them. Reason enough for me. 😉
So what is a Mississippi Mud Pie?
Though there are many variations, Mississippi mud pie is a very rich chocolate dessert typically that typically includes pudding, cake, biscuits, ice cream, whipped cream, marshmallows, and liqueur — all in a cookie crust.
So either my mom thought the ice cream and Oreo cookie crust were enough to merit the name mud pie, or she got it from someone else.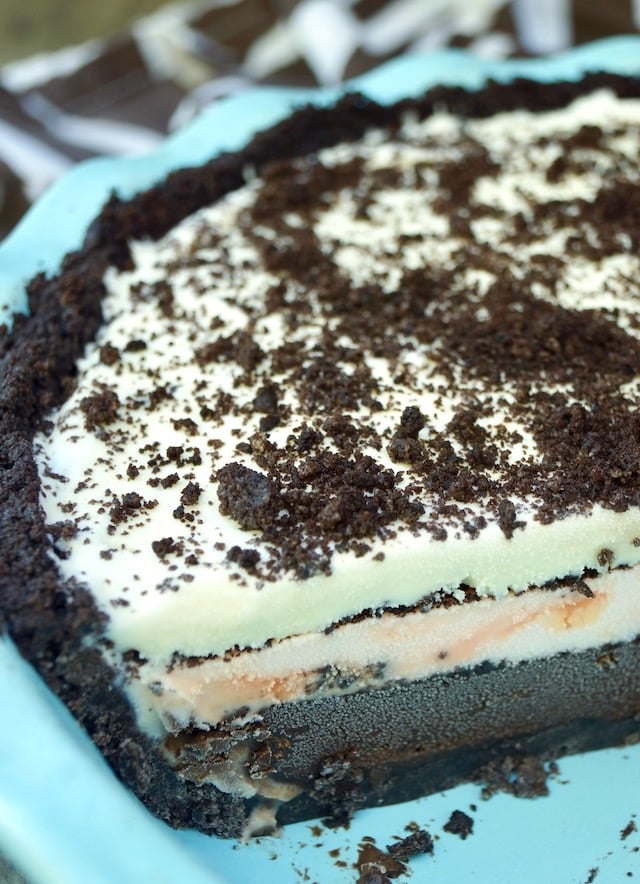 How far ahead can you make it?
You can make Frozen Chocolate Peppermint Pie at least one day ahead of time. Imagine, your dessert for your dinner party being totally ready to serve a whole day before your guests arrive. Brilliant.
It will obviously keep for a long time because it's frozen, but the fresher the better for a party, so I don't usually make it more than two days ahead.
What are the Best Flavors of Ice Cream for Mud Pies?
You can choose any flavors of ice cream you like!
I have two favorite flavor combinations.
Chocolate and Peppermint. When you make the Peppermint Ice Cream Pie, you'll understand why.
Chocolate and Coffee. Who can resist mocha?
And McConnell's is my brand of choice. My favorite flavors? Dark Chocolate Chips & Nibs, Turkish Coffee and Peppermint Stick.
I almost always add vanilla in the mix. It goes with most other flavors and the additional layer is pretty.
(This is not a sponsored post, I just love McConnell's and it's my favorite for mud pies.)

Tips for making the perfect mud pie . . .
Choose a very good quality of ice cream.
Choose flavors that compliment each other, and that vary in color.
Have the time and patience to wait until each layer of ice cream is 100% frozen before adding the next.
Make sure the ice creams are the proper consistency — they should be soft but not at all melted when you add them to the pie.
Can you make it gluten-free?
Yes! You can use Glutino Chocolate Vanilla Creme Cookies or Gluten-Free Joe Joe's from Trader Joes.
I really hope you try this Peppermint Ice Cream Mud Pie recipe and love it as much as my family and I do.
If you make it with other flavors, I would love to hear about your delicious creations. Please let me know.
You also might be interested in my Individual Mud Pies with Espresso Chocolate Sauce. 🙂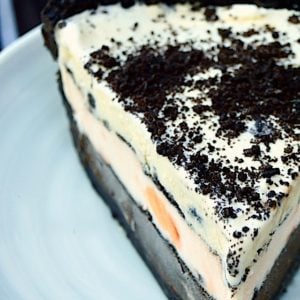 Peppermint Ice Cream Mud Pie
Peppermint Ice Cream Mud Pie, with layers of chocolate and vanilla, is easy, fun and can be made ahead. It's so pretty and perfect for dinner parties!
Ingredients
approximately 40

Oreo cookies

(or other band of chocolate sandwich cookies you like — gluten-free is okay too!)

½

cup

unsalted butter,

melted

1

pint

chocolate ice cream

(I use McConnell's Dark Chocolate Chips & Nibs)

1

pint

peppermint ice cream

(I use McConnell's Peppermint Stick)

1

pint

vanilla bean ice cream

(I used McConnell's Vanilla Bean)
Instructions
Set the chocolate ice cream out to soften while you make the crust.

To make the crust, use a food processor to finely grind the Oreos until they're smooth and without large cookie chunks. Pour the ground Oreos into a large mixing bowl and remove about 1 cup. From that 1 cup, remove 2 tablespoons, and set both aside. Then add the melted butter to what's remaining in the mixing bowl and stir to combine.


Add the butter-Oreo mixture to a 9 ½ inch pie plate. Using your hands, gently press the mixture to evenly coat the inside of the plate (bottom and all the way up the sides) to form the crust. It should be about ¼ inch thick. Put the plate in the freezer until firm, about 10 minutes.

Spread the pint of chocolate ice-cream evenly on the crust. Use a small, flat- bottomed spreader to make the layer smooth. Sprinkle about half of the reserved 1 cup of Oreo crumbs evenly over the ice-cream and return the pie plate to the freezer for at least 40 minutes. After about 20 minutes of freezing time, set the peppermint ice-cream out to soften.


Being sure the chocolate layer is frozen solid, spread the peppermint on top and sprinkle it evenly with the rest of the Oreo crumbs. Again, freeze for about 40 minutes and now set the vanilla ice-cream out to soften about 20 minutes in. Being sure the peppermint layer is frozen solid, spread the vanilla ice-cream on top and this time, followed by a sprinkling of the last 2 tablespoons of the Oreo crumbs.


The pie should be kept in the freezer for at least 1 hour before serving, and for easier slicing, remove it from the freezer about 10 minutes before serving. 

Have you tried this recipe?
I'd love to see it on Instagram! Tag me at @cookingontheweekends or leave a comment & rating below.
Cooking On The Weekends is a participant in the Amazon Services LLC Associates Program, an affiliate advertising program designed to provide a means for sites to earn advertising fees by advertising and linking to Amazon.com.