Citrus Whole Roasted Cauliflower is basted with fresh and smoky flavors that work their way through the vegetable as it slowly cooks. Served whole, sliced, or in flowerets, this scrumptious dish can be a vegetarian side or entrée.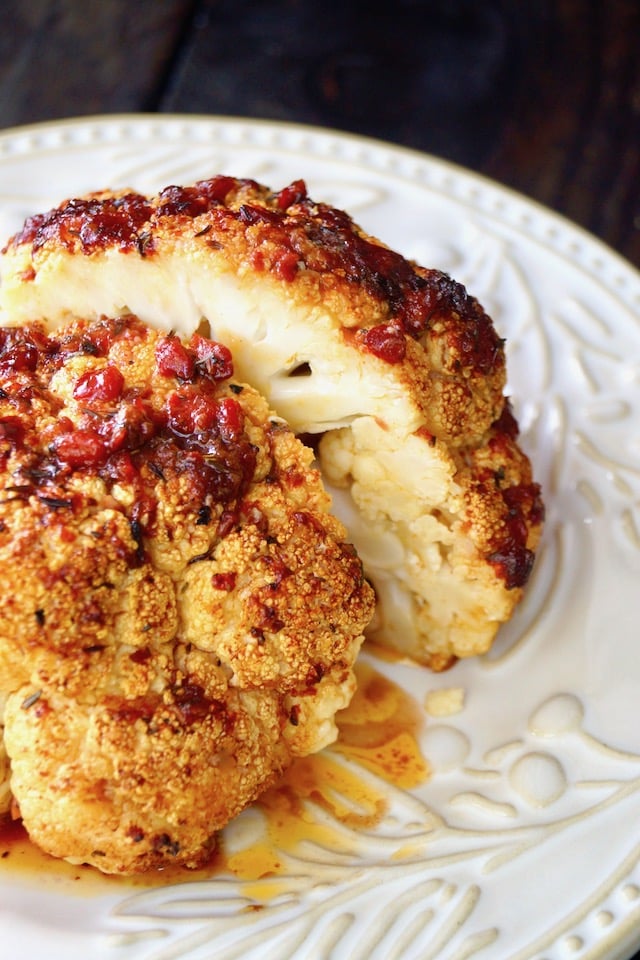 On occasion I get some time to myself in the car, without my kids in tow. That's when I have a chance to listen to food related podcasts, instead of rap music. 😉
One of my favorites is Good Food with Evan Klieman. Evan always has super interesting guests on her show — restaurant chefs, cookbook authors, food critics, farmers, and so on.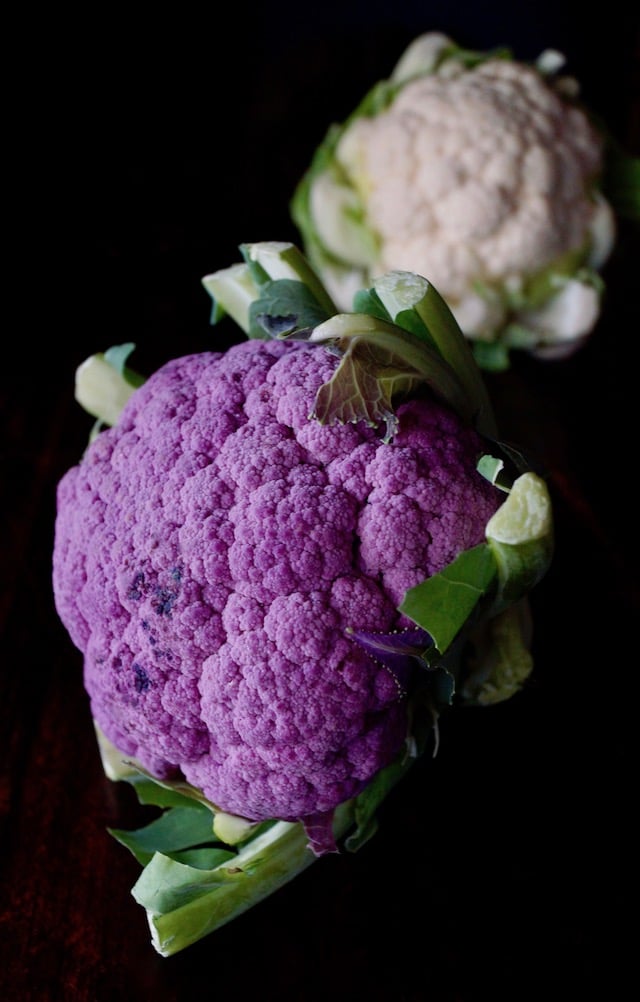 I love the Market Report portion of the show .
They chat with local restaurant chefs about seasonal produce, and how they're using it on their menus.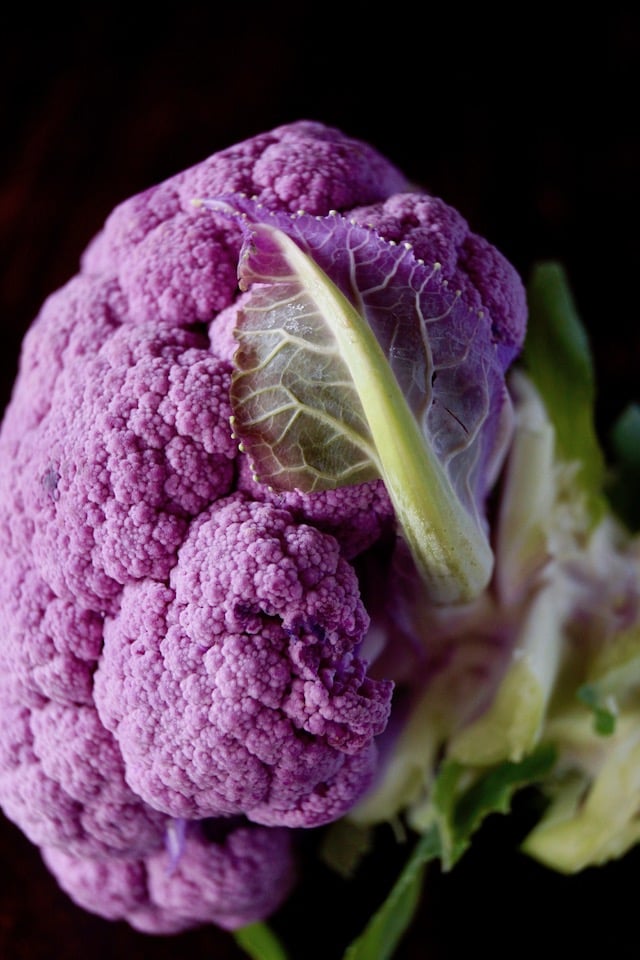 Last week they talked about cauliflower with chef-owners Heather Sperling and Emily Fiffer of Botanica in Silver Lake.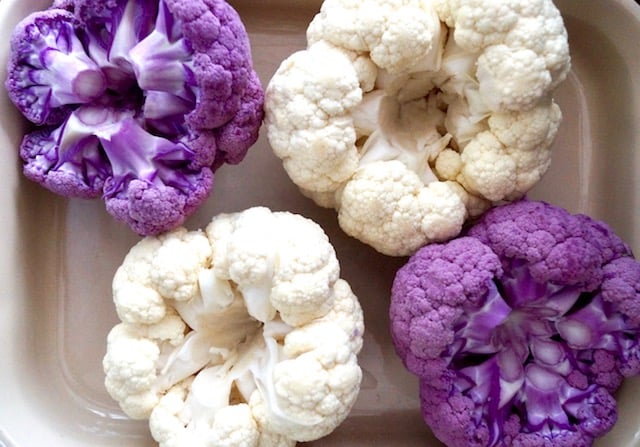 What color cauliflower varieties are there?
In the winter you can typically find white, purple, green and yellow cauliflower. You probably won't see all of these colors at larger grocery stores, but your local Farmers' Market should have at least a couple.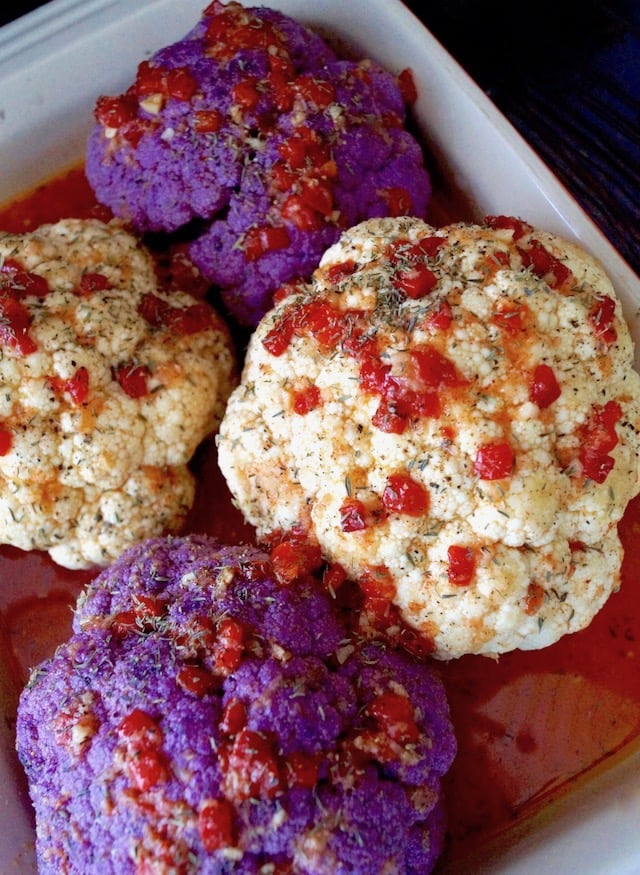 The aforementioned chefs say getting them at the Farmers' Market makes a huge difference— their nutty and subtly sweet flavor is much more pronounced. They say, so much so, that they adore eating it raw, shaved finely on a mandolin, and added to salads.

Whole Roasted Cauliflower
As they described a particular cauliflower dish they were getting ready to put on their menu, I had to pull over to listen to what it was twice, because it sounded so amazing.
And from their description, I created this scrumptious, Citrus Whole Roasted Cauliflower recipe.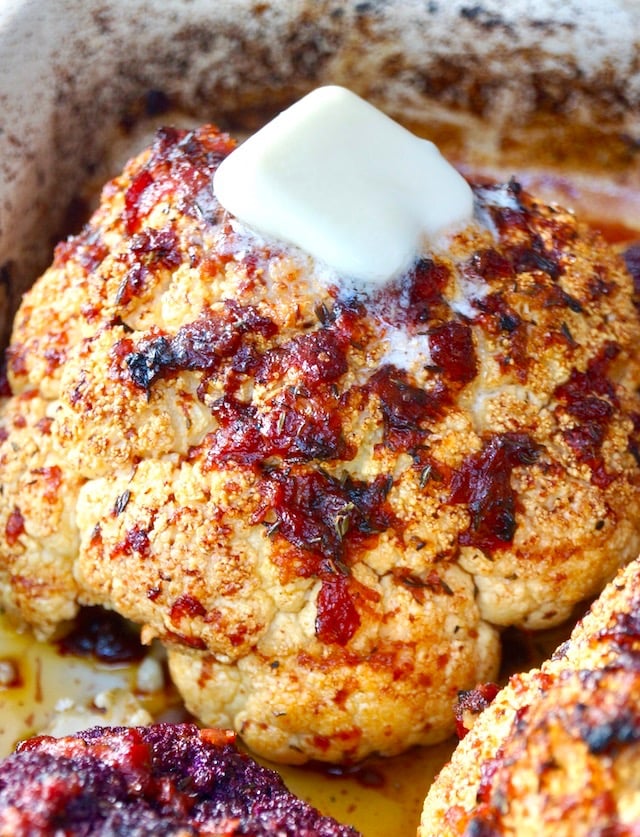 I imagined the cooking process and end result as I listened to the chefs describe the dish.
I'm not sure what theirs looks or tastes like, but I'm guessing there are some similarities. Now I must go to Botanica and try it!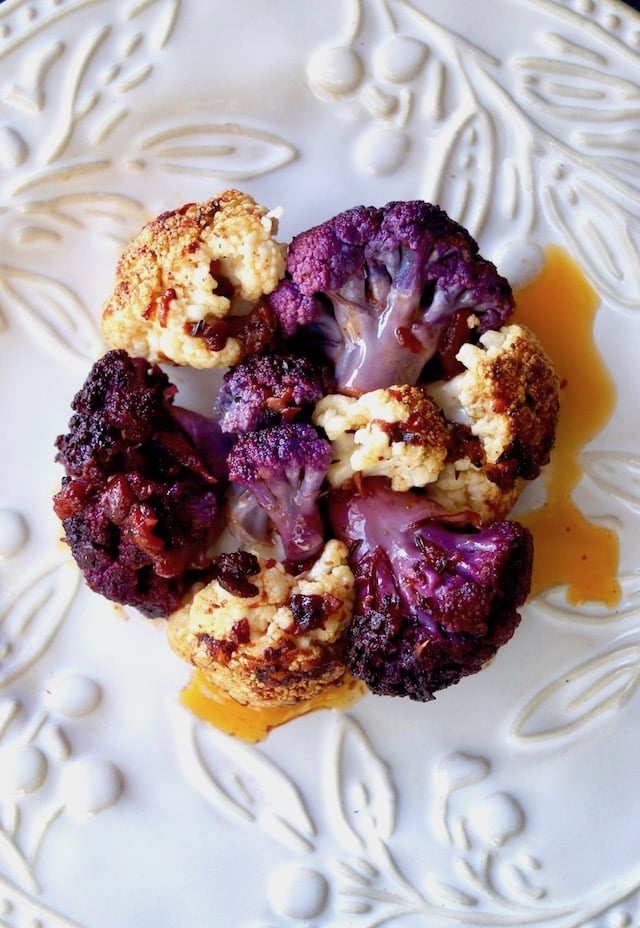 At the risk of bragging, I think this is a truly stunning and unbelievably delicious cauliflower dish.
The entire process was beautiful -- from removing the leaves and coring them, to basting and roasting, I loved every minute.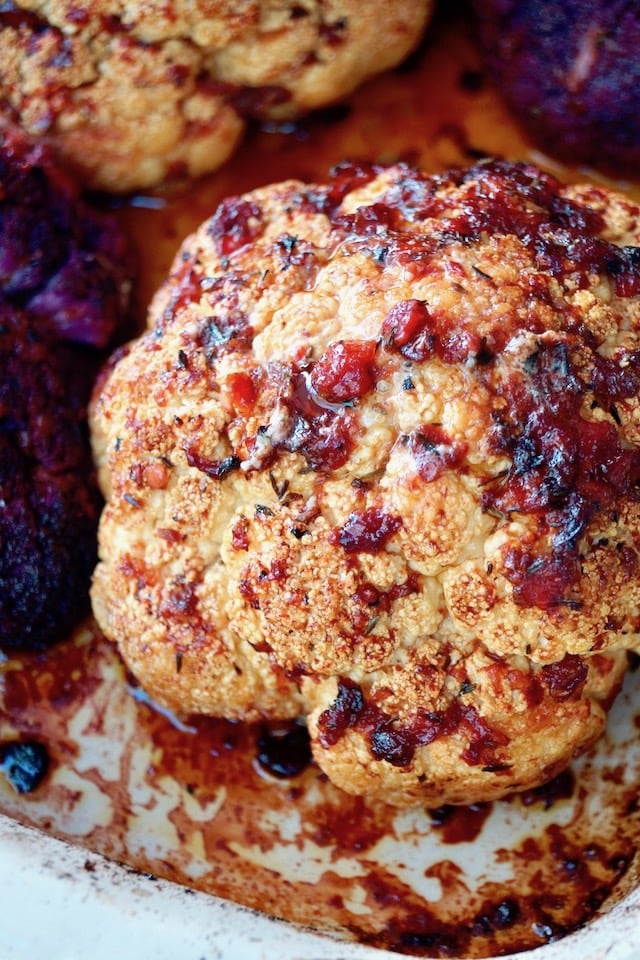 Making this Citrus Whole Roasted Cauliflower will keep you in the kitchen for about an hour, and it's worth every minute!
That said, at least 90% of the time is inactive, but you must be there to baste the cauliflower every 10 minutes or so. This is crucial to maximize the flavor of the dish.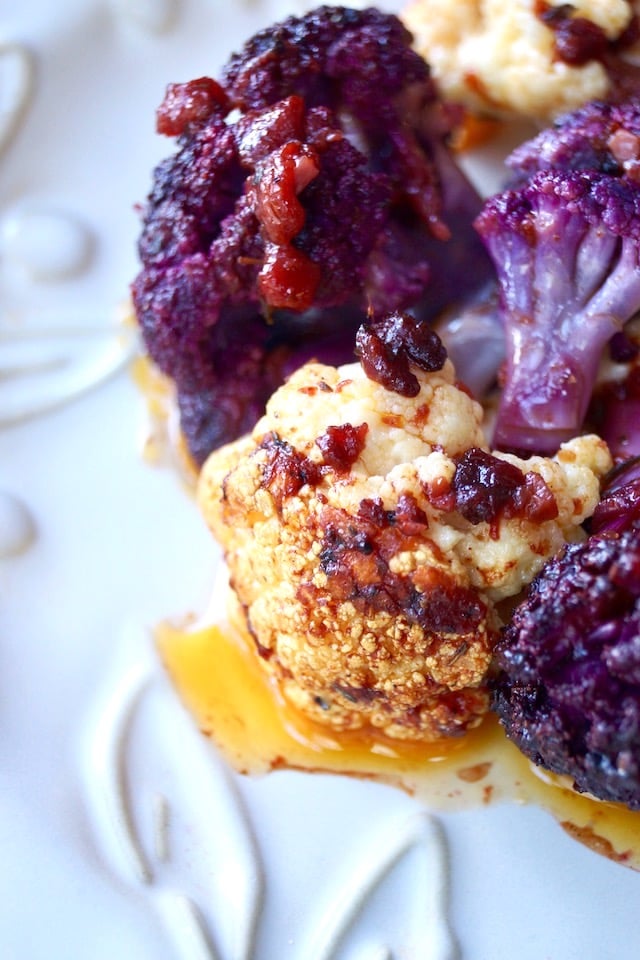 Maybe you can try it this weekend?
Love the sound of Citrus Whole Roasted Cauliflower?
A few more cauliflower recipes . . .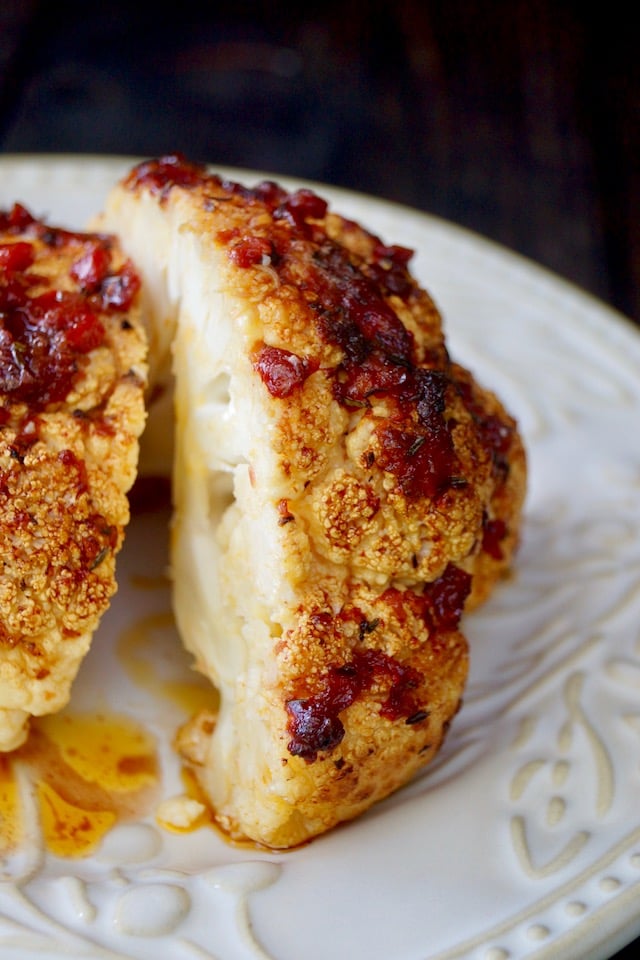 Enjoy!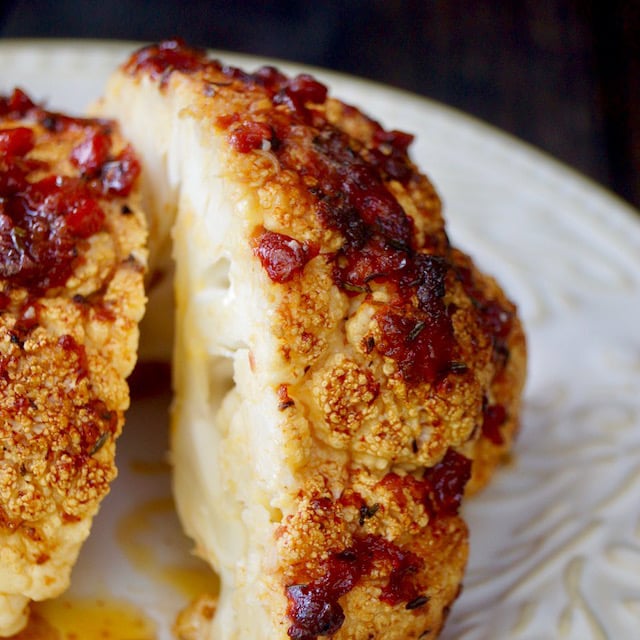 Citrus Whole Roasted Cauliflower Recipe
Cauliflower is basted with fresh and smoky flavors that work their way through the vegetable as it slowly cooks. Served whole, sliced, or in flowerets, this scrumptious dish can be a vegetarian side or entrée. (If serving as a main course, it serves about 4 to 6.)

Ingredients
½

cup

dry white wine

¼

cup plus 2 tablespoons

orange juice,

freshly squeezed if possible

¼

cup

lemon juice,

freshly squeezed if possible

½

cup

jarred, diced pimientos,

drained

2

tablespoons

garlic,

minced

1¾

teaspoon

smoked paprika

1

teaspoon

dried thyme

¾

cup

olive oil

4

approximately (1-pound)

whole cauliflower

salt and freshly ground black pepper

4

tablespoons

unsalted butter
Instructions
Preheat the oven to 450°F, and adjust a rack to the top third of the oven.

Combine the wine, orange juice, lemon juice, pimientos, garlic, paprika and thyme, in a medium-sized bowl. Stir to blend all of the ingredients together. Gradually add the oil, whisking as you do so. Set aside.

Gently remove the leaves from each cauliflower. Then use a paring knife to core them — just enough to remove the center, without cutting through the cauliflower. The goal is to keep them totally intact, but don't worry if a couple of the flowerets come off.

Place all four of the cauliflower in a 9 x 13-inch baking dish, round sides up. They should all fit, rather snugly — but, if it's too tight, use two baking dishes.

Now drizzle some of the citrus mixture over each cauliflower, and pour the rest into the baking dish around them. Then spoon more on each cauliflower to be sure they are well coated all over, and sprinkle with salt and pepper.

Place in the preheated 450°F oven and roast until the surface of each cauliflower is golden, and the inside is tender. (You can check by piercing it with a fork or knife — it should be effortless.) This should take about 50 minutes — and, they must be basted approximately every 10 minutes. Simply spoon the liquid from the bottom of the pan over every inch of each cauliflower — you want to saturate them as much as possible. *If at any time during this process, any of the surface of the cauliflower is becoming too dark, cover that part with foil — and uncover it just to baste it, until it's done.

When they're done, add one tablespoon of the butter to the top of each one. Return them to the oven just long enough for the butter to melt, about 1 minute.

Spoon any remaining liquid from the pan over each cauliflower and then sprinkle with a bit more salt.

They can be sliced, or gently broken apart into flowerets, depending how you want to present the dish.
NUTRITION
Have you tried this recipe?
I'd love to see it on Instagram! Tag me at @cookingontheweekends or leave a comment & rating below.