Roasted Acorn Squash with Pecans and Crispy Sage Leaves is the ideal Thanksgiving side dish. It's full of comforting fall flavors, and it will be a beautiful addition to your holiday table. Pecans and acorn squash are a spectacular combination!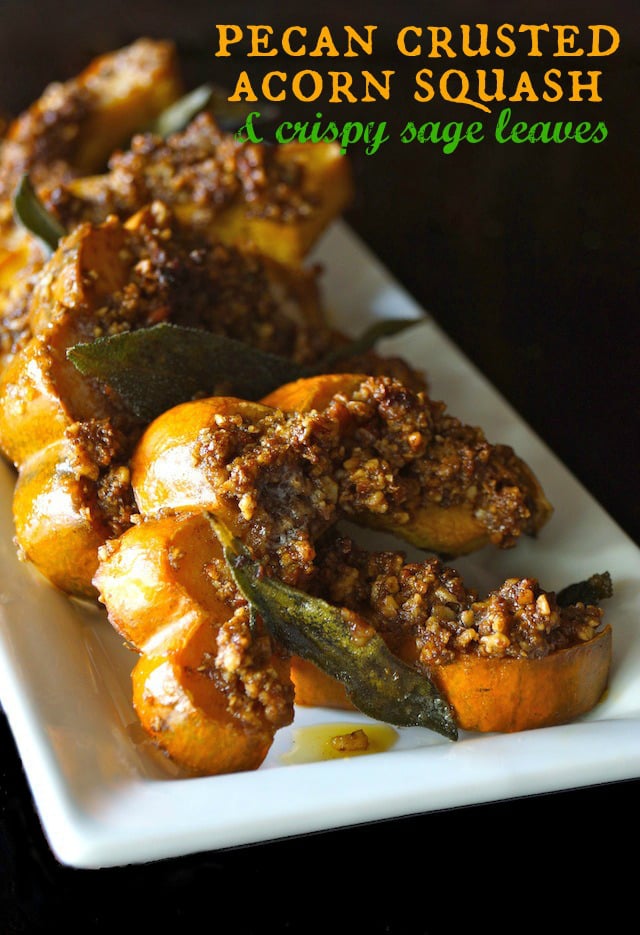 When people ask me to describe my site, I typically say that Cooking On The Weekends celebrates the beauty of whole ingredients, and it's a collection of creative, comforting recipes for casual entertaining.
Today's Roasted Acorn Squash with Pecans and Crispy Sage Leaves recipe is the perfect example of both of those things.
Let's examine an acorn squash, shall we?
Have you ever stopped to look at one? I mean, really look at it? It's like stopping to smell the roses. I always try to take moments to pause during the cooking process to do this — actually, it's not planned, it's really when the beauty of an ingredient grabs my eye.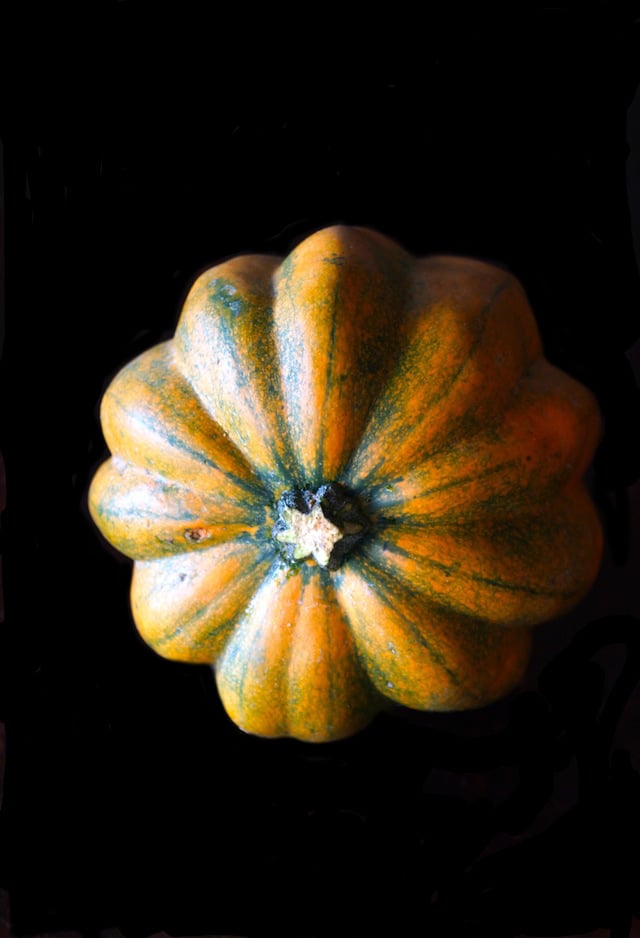 Just look at the bottom of this acorn squash — it's simply stunning. The colors, the textures, the imperfections . . . .
Pause whenever you can while you're cooking with pretty ingredients.  Always try to take your time so you don't miss out on any of the beauty.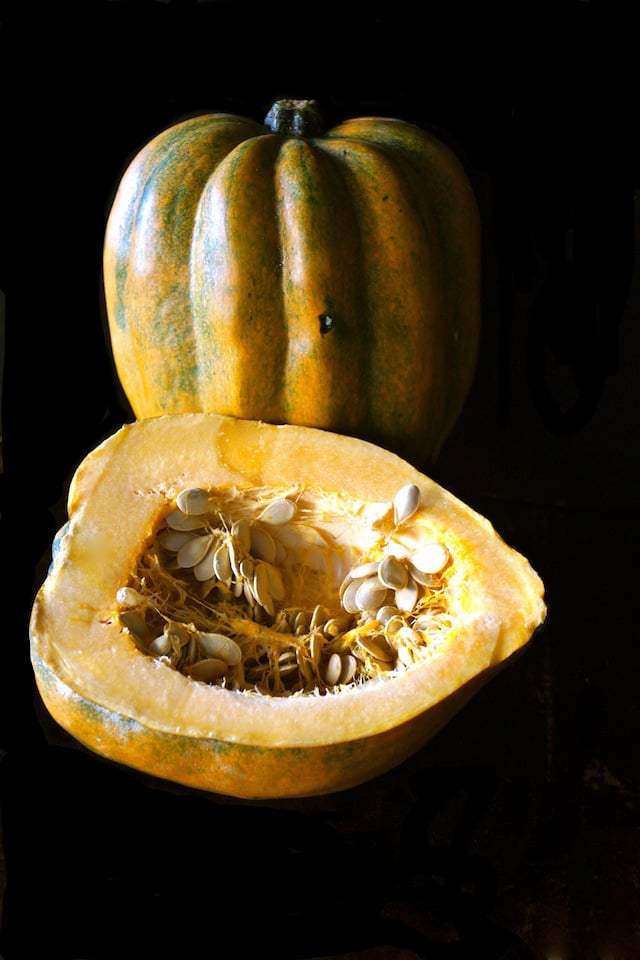 Every stage of the cooking process can be beautiful.
Acorn Squash with Pecans and Crispy Sage Leaves would be fantastic served alongside my Smoky Paprika Bacon Roasted Turkey on Thanksgiving!
Pecans and acorn squash are two things that scream fall and Thanksgiving. And together they're brilliant. Pecans have a subtle maple flavor that is perfect with the sweetness of the squash.
You can also cut the squash into bite-sized pieces and mix it with brown rice and sautéed spinach for a hearty vegetarian dish.
Can I eat acorn squash skin?
Acorn squash skin is perfectly edible when it's roasted. I love how it looks with the skin for presentation — if it's not to your taste, though, it easily comes off as you eat around it.
Enjoy it any however you'd like to. Either way, it's pecans and acorn squash, and will therefore be fabulous.
I must mention before I go, I would not advise skipping the crispy sage leaves. They are incredibly delicious, and are sort of like "the icing on the cake."
Oh, and you can follow this recipe using butternut squash too!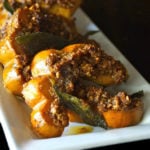 Pecan Crusted Acorn Squash Recipe with Crispy Sage Leaves
This is the ideal Thanksgiving side dish, as it's full of comforting fall flavors, and it will be a beautiful addition to your holiday table.

Keyword:
gluten-free Thanksgiving recipes, great for Thanksgiving
Ingredients
1

approximately 2 3/4 -pound

Acorn squash

3/4

cup

raw pecans,

finely ground (see notes)

1

tablespoon

brown sugar

2

teaspoons

chili paste

(I like Sambal Oelek)

1

teaspoon

ground cinnamon

1

teaspoon

ground cumin

1/2

teaspoon

sea salt

3

tablespoons

olive oil

2

dozen

fresh sage leaves,

washed and dried

2

tablespoons

unsalted butter,

softened room temperature
Instructions
Preheat the oven to 425 degrees F, adjust a rack to the center and line a baking sheet with foil and set it aside.

Wash and dry the squash well. Then cut it in half, lengthwise, and use a spoon to remove the seeds and any stringy membranes.

Now cut each half into approximately 1-inch slices, horizontally. Set aside on a plate.

In a small bowl, mix the pecans with the brown sugar, chili paste, cinnamon, cumin, salt and olive oil.

Rub one side of each squash slice with the pecan mixture and then place them on the foil-lined baking sheet, rubbed side down. (Not much will stick, and that's ok.) Then using all of the rest of it, add a thin layer to the top of each slice, about 1/8-inch thick.

Place one or two sage leaves under each slice, and then place the pan in the preheated 425 degree F oven for 15 minutes.

Remove the pan from the oven and cover it loosely with foil and roast for another 15 minutes.

Remove the pan from the oven again, and evenly distribute the butter between the top surfaces of each slice, directly on top of the pecan mixture.

Place the pan back in the oven for another 5 minutes or so -- when it's done, the squash should be very soft, the pecan crust should be golden, and the butter should be bubbling a bit.

Let it cool a bit on the pan and then arrange on a serving platter, and as you do so, gently remove the sage leaves from the bottom of each squash slice and use them as a delicious garnish.
Recipe Notes
You can grind the pecans in a food processor, but be careful not to let it go any longer than it takes for them to become tiny pieces. If you do it too long, it'll turn into a paste. You can also chop them very finely with a Chef's knife.