Idaho Potatoes Through the Seasons is a collection of recipes from top Food Bloggers. From bright, summer potato salads to creamy, winter mashed potatoes -- they're all mouth-watering and delicious!

Four years ago, just before I launched Cooking On The Weekends, I went to Camp Blogaway for the first time. Patti Londre, the founder and leader, describes her camp as a "little slice of food blogging heaven."  It's a weekend in the mountains in Southern California that's full of workshops, panels, and really all things food blogging.
Inspiration for Idaho Potatoes Through the Seasons
Camp Blogaway is where I met Don Odiorne (AKA Dr. Potato), VP-Food Service for the Idaho Potato Commission. He has since opened up the potato world to me, and he also happens to be one of the kindest people you'd ever want to meet.
I've always loved Idaho potatoes, but since then, my love affair with them really took off.  I've written over two dozen potato recipes, been fortunate enough to go on a Potato Harvest Tour in Idaho, and to share some of my recipes via the Idaho Potato Commission.
Unlike strawberries in the summer or butternut squash in the fall,  there's no one time of year potatoes are best.  They're fantastic all year long!  Every season!  Every month!  Every day, really.
And this is a very special post because a dozen top food bloggers are sharing their favorite original potato recipes with us.  Each blogger is sharing one recipe for a specific time of year, and their thoughts about why it's the perfect recipe for that season.  I'm thrilled not only to share their delicious recipes and beautiful photographs with you, but also to introduce their food blogs to you.  They are all absolutely fabulous!  Enjoy!
Idaho Potatoes Through the Seasons
*

S U M M E R

*

Grilled Potato Salad, for June.
This recipe and image are from Dorothy Reinhold of Shockingly Delicious.
Grilled Potato Salad is my favorite potato recipe for summer.  We usually have the grill going, and it's easy enough to slap a few spuds on there to get some charring and grill marks.  Mixed with fresh herbs like dill, which just screams summer to me, this is a beguiling, no-mayo, summer-friendly potato salad that can be tweaked endlessly, until you run out of culinary creativity. -- Dorothy

The Fully Loaded Baked Potato, for July.
This recipe and image are from Priscilla Willis of She's Cookin'.
My favorite potato recipe for summer is the Fully Loaded Baked Potato because in the summer you can wrap the potato in heavy duty foil and grill it - so no oven required! It seems like such a no-brainer "recipe," but it's one of my most popular potato recipe posts, probably because its really all up to you, the eater, to customize your potato. I include cauliflower and other vegetables which could also be grilled in a vegetable basket if it's too hot to turn the oven on! -- Priscilla

Serbian Potato Salad, for August.
This recipe and image are from Lana Watkins of A Hungry Pen . . . .
My family enjoys this salad all year long, but especially during summer months, as it is light and refreshing, and also very simple and fast to prepare. -- Lana


*

F A L L

*

Potato Gratin with Green Chile, for September.
This recipe and image are from Lynn Gray of Bijouxs.
My favorite potato recipe for fall is my take on the classic Potato Dauphinois, with a touch of the Southwest.  Potato Gratin, piping hot from the oven, with layers of creamy potatoes, a crispy cheese topping and inside a surprise  of roasted green chile.  It's a taste combination that is hard to resist.  Now living in the beautiful desert Southwest, fall brings the aroma of fresh Hatch chiles being roasted outside the markets, and this potato dish is a perfect little jewel to celebrate the season. -- Lynn
Deviled Potatoes, for October.
This recipe and image are from Jeanne Fratello of The Jolly Tomato.
Once the fall rolls around I'm always ready to go right ahead and get started with comfort foods. It seems like in the fall we tend to have more evening/indoor gatherings like movie nights and soccer team dinners. That's why I love these Deviled Potatoes - they're tasty, easy for kids to grab, and everyone always wants to come back for seconds. If you're really lucky, you can get the kids to help make them too! -- Jeanne
Rosemary Potatoes Confit, for November.
I couldn't very well leave myself out, so this recipe and image are from me. 🙂
With essentially three ingredients, cooked for a long time with low heat, this dish is the epotime of comfort food.  It screams fall with it's creamy, smooth texture and the scent of rosemary filling the house. -- Valentina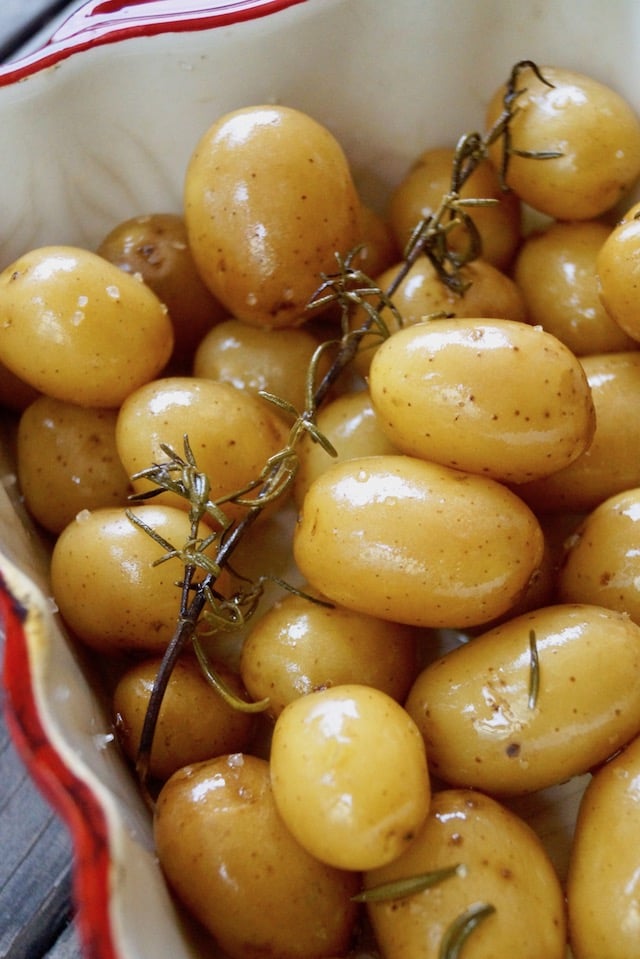 *

W I N T E R

*

Creamy Mashed Potatoes Three Ways, for December.
This recipe and image are from Gerry Speirs of Foodness Gracious.
This is such an awesome side dish that can go with almost anything!  I love this dish in the winter because it's super comforting, creamy and delicious. The perfect side for some slow cooked roast. 🙂 -- Gerry
Potato Leek Soup with Celery, for January.
This recipe and image are from Deborah Ryan of East of Eden.
Potato Leek Soup is a favorite dinner at our house. This soup is a bowl of comfort on a cold winter day. The recipe goes together quickly and everyone has a second bowl.  -- Deborah
Sour Cream and Onion Mashed Potatoes, for February.
This recipe and image are from Diane Foster Schmidt of Created by Diane.
I love mashed potatoes and don't seem to make them until the cold weather hits, and this is my favorite way to enjoy them. -- Diane
*

S P R I N G

*
Grilled Potato Recipe, for March.
This recipe and video are from Sara O'Donnell of Average Betty.  (Sara is the queen of potato recipes, and has worked with the Idaho Potato Commission for a few years, creating dozens of amazing potato recipes and sharing them via her awesome videos!)
We are pretty spoiled in Southern California.  And spring signifies the official start to the outdoor living season. So, anything that can be prepared on the grill makes me think of springtime. These Grilled Potatoes are super crowd pleasing and can be served as an appetizer or side. Even better? They require no pre-boiling or baking in the kitchen -- these Grilled Potatoes are made entirely on the grill.  So you can get outside and get spoiled. -- Sara

Springtime Green Garlic Potato Salad, for April.
This recipe and image are from Christina Conte of Christina's Cucina.
This is my favorite potato recipe for springtime because the green garlic adds such a fresh taste to the potatoes, and it's such a light dish to look forward to after a winter of heavy dishes. Everyone has had garlic that begins to sprout, and this is such a wonderful way to make use of that situation; within a week, the garlic will have grown enough that this salad can be made. -- Christina
Idaho Hash Brown Baskets with Baked Quail Eggs, for May.
This recipe and image are from Cathy Arkle of She Paused 4 Thought.
Baskets make me think of spring. They are perfect for collecting eggs and gathering fresh herbs from the garden. Making potato hash brown baskets cooked with eggs and pesto is one my favorite potato recipes because it says Spring is here and we are ready to celebrate.  -- Cathy
And there you have it . . . .
Idaho potatoes through the seasons!
There's a potato recipe for everyone, for every time of the year!
Enjoy!
Save