Potato Pavé with Rosemary is a unique and incredibly delicious potato recipe that will totally wow your guests. It's rich, creamy and crispy — all at once.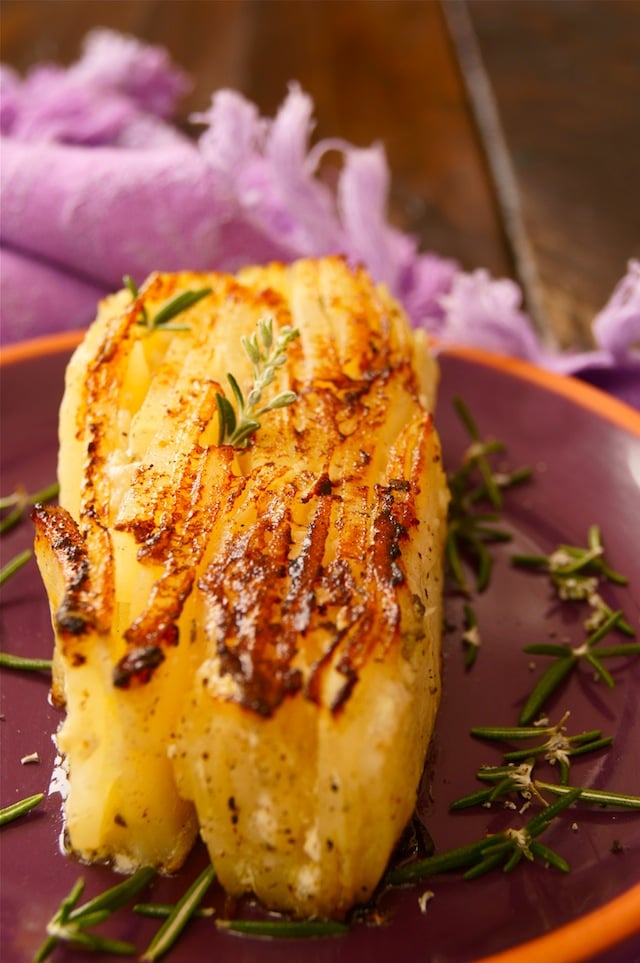 Inspiration
I made Potato Pavé for the first time years ago when I saw this image on my friend Sara's food blog, Average Betty.
What is Potato Pavé?
Potato Pavé is essentially scalloped potatoes that are shaped like a brick, pressed, chilled, sliced and then sautéed.
Pavé is the French word for "paving stone," and it's the word that Chef Thomas Keller uses to describe any such rectangular or square food preparation.
The specific preparation of Potato Pavé results in multiple textures, which is what makes it so delicious. The inside remains soft and creamy, when the outside surfaces are slightly crispy.
Typically this dish is quite refined. My version however, is served as a rustic comfort food dish.
What's in this Potato Pavé recipe?
Russet potatoes
fresh rosemary
buttermilk
cream
butter
garlic
salt, pepper
olive oil
This is well worth the preparation time and I find it as satisfying to make as it is to eat.
This video is very helpful when you're set to make the recipe.
Can you make Potato Pavé ahead?
Yes! Up to two days ahead of time, you can make the recipe through the chilling and pressing stage. This will leave only the sautéing to do the day you want to serve it.
This incredibly delicious potato dish would be an unforgettable side dish to add to your holiday table — or any table!
I hope you enjoy this Potato Pavé with Rosemary as much as I do.
More delectable potato recipes: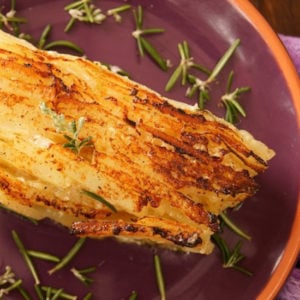 Potato Pavé with Rosemary
Potato Pavé with Rosemary is a unique and incredibly delicious potato recipe that will totally wow your guests!
Ingredients
1

cup

buttermilk

¼

cup

heavy cream

2

tablespoons

fresh rosemary,

washed and dried, finely chopped

2

teaspoons

garlic,

minced

1⅛

teaspoon

salt

4½

pounds

Idaho Russet potatoes

(about 5 medium-sized potatoes)

3

tablespoons

unsalted butter,

melted

freshly ground black pepper

olive oil for the pan

a few sprigs fresh rosemary for garnish
Instructions
Preheat the oven to 350°F.

Line an approximately 11-inch loaf pan with parchment paper. (It should be at least 3-inches deep.) Use a wide enough piece of parchment, so that it will cover and rise a few inches above the sides of the pan. Use scissors to cut a diagonal slit in each corner, so that the paper lies flat in all areas. Set aside.

In a large mixing bowl, combine the buttermilk, cream, rosemary, garlic and salt. Set aside.

Cut about ½-inch off each side and each end of the potatoes, to form a rectangle. Use a peeler to trim off any skin that might remain.

Slice the rectangular potatoes as thinly as possible. The best way to do this is with a mandolin. Add the slices to the buttermilk mixture as you go, being sure to separate them so they all become well coated.

Add the coated potato slices to form two even layers in the bottom of the prepared pan. Season with a bit of salt and pepper and drizzle with about 1 tablespoon of the melted butter. Continue layering potatoes with a bit of salt and pepper and melted butter after every two layers of potato slices until pan is filled.

Fold the sides of parchment paper over potatoes, directly on top of them. If there isn't enough excess to cover them, add an additional piece on top. Then cover the pan tightly with foil. Bake in the preheated 350°F oven until the potatoes are completely tender, about 1 hour and 15 minutes. You can test with fork or the tip of a sharp knife for tenderness.

After you remove the pan from the oven, cut a piece of cardboard slightly smaller than the size of pan, wrap it with foil, and place it directly on top of the parchment-covered potatoes. Then weigh it down with heavy cans -- as many as you can fit snugly on the surface. (Cans of beans, tomatoes, etc. are perfect -- the heavier, the better.) Let the potatoes cool to room temperature this way, about 1 hour. Then place them (with cans and all), in the refrigerator for at least 4 hours and ideally overnight.

Remove the pan from the refrigerator and take off the cans and foil-wrapped cardboard.


Use an offset spatula between the parchment and pan to gently release the potatoes. Use the parchment paper overhang, to carefully lift it out of the pan and onto a cutting board.

Cut the loaf of potatoes into about 12 equal slices.

Coat the bottom of a large sauté pan with olive oil and place it over medium-high heat. When it's hot, add a few of the Potato Pavé slices to the pan. (If the pan doesn't sizzle when you add them, it's not hot enough -- wait until it is so it browns nicely!)

Sauté until bottom is golden brown, after about 3 minutes, carefully turn and brown the other side.

Arrange the slices on a serving platter with the browned side up, garnished with fresh rosemary.
Notes
Calorie count is only an estimate.
Have you tried this recipe?
I'd love to see it on Instagram! Tag me at @cookingontheweekends or leave a comment & rating below.
Cooking On The Weekends is a participant in the Amazon Services LLC Associates Program, an affiliate advertising program designed to provide a means for sites to earn advertising fees by advertising and linking