Crispy Fingerling Potatoes are easy and fairly quick to get on the table. They're the perfect combination of crispy on the outside and soft on the inside, and they're an ideal side for almost anything!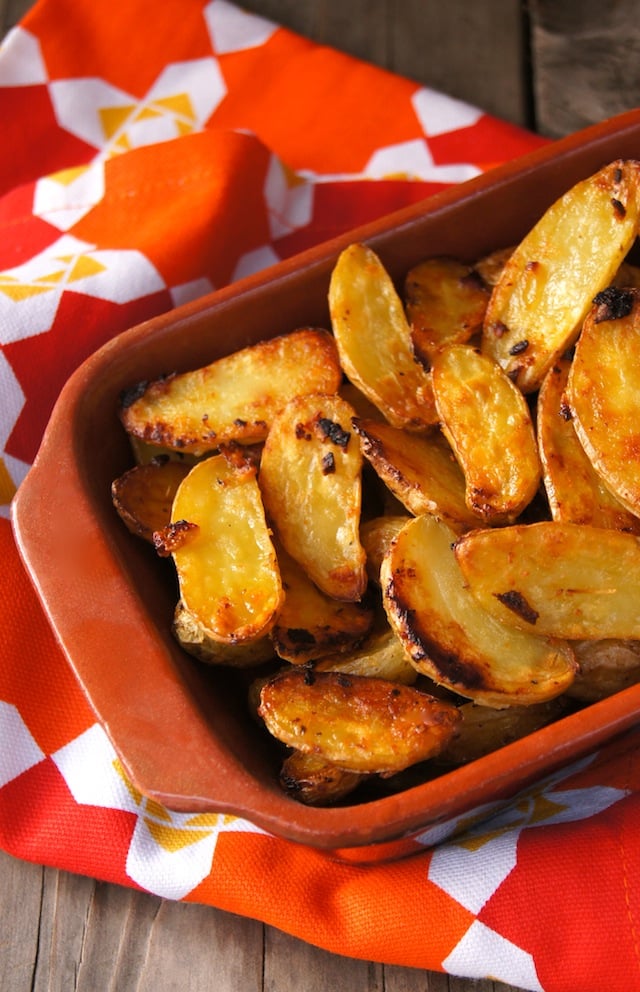 We all typically have potatoes in our kitchens, since they're a hearty comfort food, and are the perfect side dish for practically anything.
So it's always good to have a handful of ways to cook and flavor them on hand. This recipe is one of my favorites.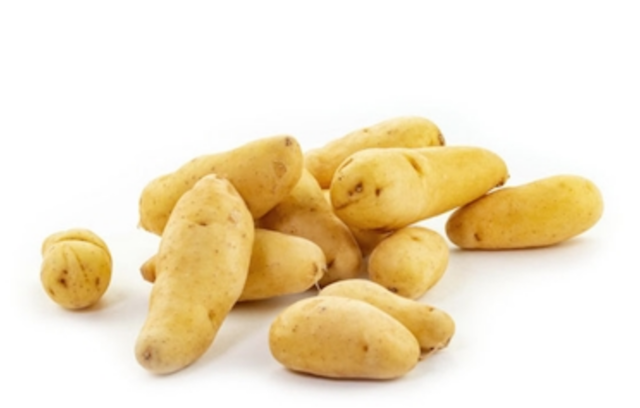 photo credit: melissas.com
What are Fingerling Potatoes?
Fingerling potatoes are small, skinny and thin-skinned. They sort of resemble fingers, which is how they got their name.
They're a low starch, dense potato, and their shape holds well when cooked. This makes them great for a variety of cooking techniques, including roasting, sautéing, steaming and braising.
Fingerlings come in a variety of colors -- beige, red and purple, and variations thereof.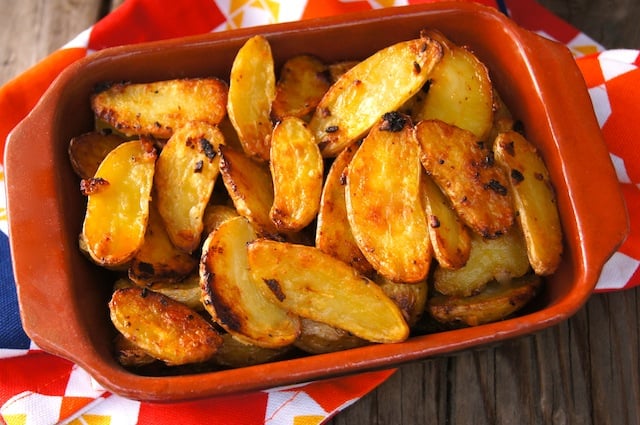 Substitutions for Crispy Fingerling Potatoes
Even though this recipe is called Crispy Onion Fingerling Potatoes, it's okay to use another potato variety. My first choice would be Yukon Golds, but you can also use Dutch Yellow or

Baby Dutch Yellow

, Russets and Baby Red or White potatoes. If you're using larger potatoes, cut them into approximately 2 x 1-inch pieces. Please note that cooking times might vary, depending on the variety of potato used.
Don't have dried chopped onion? Use the same amount of onion powder, or about ⅓ cup finely chopped, fresh onion.
Don't have fresh garlic? Use 2 teaspoons garlic powder or dried garlic.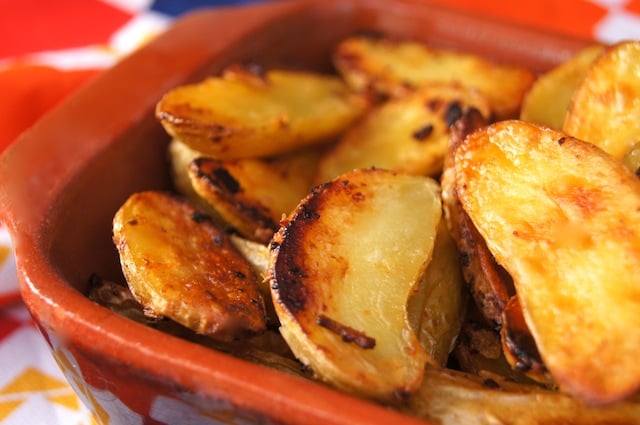 I love that these Crispy Onion Fingerlings are creamy on the inside, crispy on the outside, and packed with flavor all over.
What to Serve Them With
They'd be delicious with Lemon-Herb Chicken Under a Brick or any of my steak recipes. And I actually think they'd be fabulous tossed into a hearty main course salad, too.
I hope you enjoy every last Crispy Onion Fingerling Potato!
More Fingerling Potato Recipes: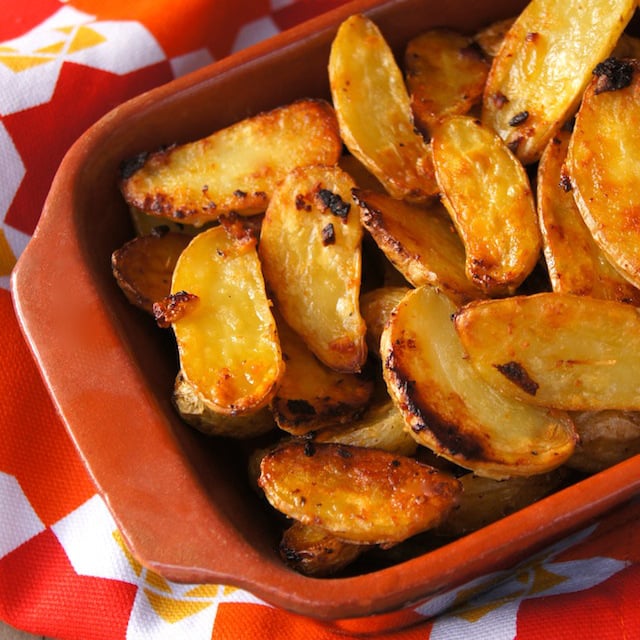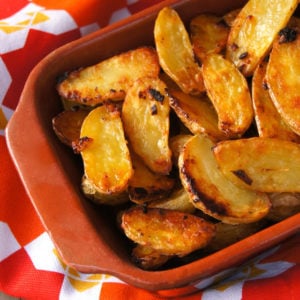 Crispy Fingerling Potatoes with Onion
This is an easy and fairly quick recipe to get on the table. It's the perfect combination of crispy on the outside and soft on the inside, and is the perfect side dish for almost anything!
Ingredients
1

pound

Idaho Fingerling potatoes,

washed and dried, sliced in half, lengthwise

¼

cup

olive oil

3

tablespoons

dried chopped onion

1

tablespoon

garlic,

minced

½

teaspoon

salt

freshly ground black pepper
Instructions
Set oven and prep pan. Preheat the oven to 400°F and line a baking sheet with foil.

Prep potatoes. Add the potatoes to the center of the foil. Drizzle them with the oil and sprinkle with the onion, garlic and salt. Use your hands to toss together until all of the potatoes are well coated. Spread the potatoes out so they are in one even layer and then crack a bit of black pepper over them.

Add a second piece of foil very lightly on top. Fold the edges of the bottom piece over the edges of the top piece, being sure it puffs up a bit, like a bag. (In other words, do not place the top sheet of foil directly on the potatoes -- you want a good couple of inches of space between the potatoes and the top sheet.)

Steam. Place in the preheated 400°F oven and steam the potatoes for 15 minutes. Then remove the potatoes from the oven and turn the heat up to 500°F.

Take off the top sheet of foil -- very carefully because the steam that will release will be very hot!

Roast. Once the oven has heated to 500°F, return the now uncovered potatoes. Roast them until the bottoms of them are golden brown, about 10 minutes. Gently flip them over and continue to roast until the other side is golden brown, about another 10 minutes. (During the roasting process, some of the bits of onion and garlic will likely blacken on the foil. That's okay -- just discard it when the potatoes are done.)

Season, cool and serve. Taste and season with more salt if necessary. Let them cool for about 5 minutes on the baking sheet before serving.
NOTES
Calorie count is only an estimate.
NUTRITION
Have you tried this recipe?
I'd love to see it on Instagram! Tag me at @cookingontheweekends or leave a comment & rating below.
Cooking On The Weekends is a participant in the Amazon Services LLC Associates Program, an affiliate advertising program designed to provide a means for sites to earn advertising fees by advertising and linking to Amazon.com.