Potato-Pickled Tomato Bites are a show-stopping hors d'oeuvre. The varying textures, and the smoky, tangy flavors come together to create incredible deliciousness!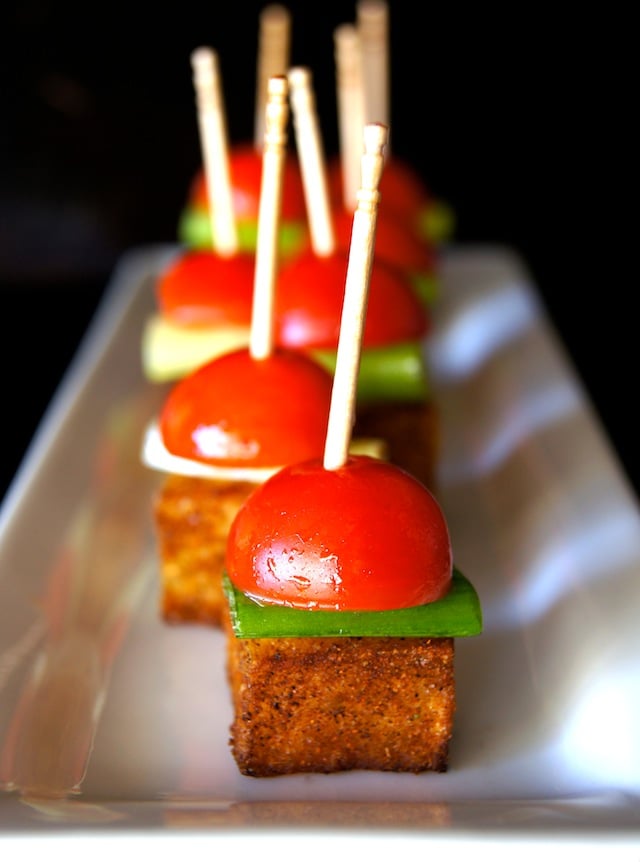 Greg Henry of SippitySup was one of the first people who welcomed me into the food blogging community a couple of years ago, just before I started Cooking On The Weekends.
I loved SippitySup immediately, and it's no wonder that since I met Greg, he's had his first two cookbooks published: Savory Pies and Savory Cocktails.  I love them both — like his blog, the books are full with stunning photography, incredibly creative recipes and magnificent writing.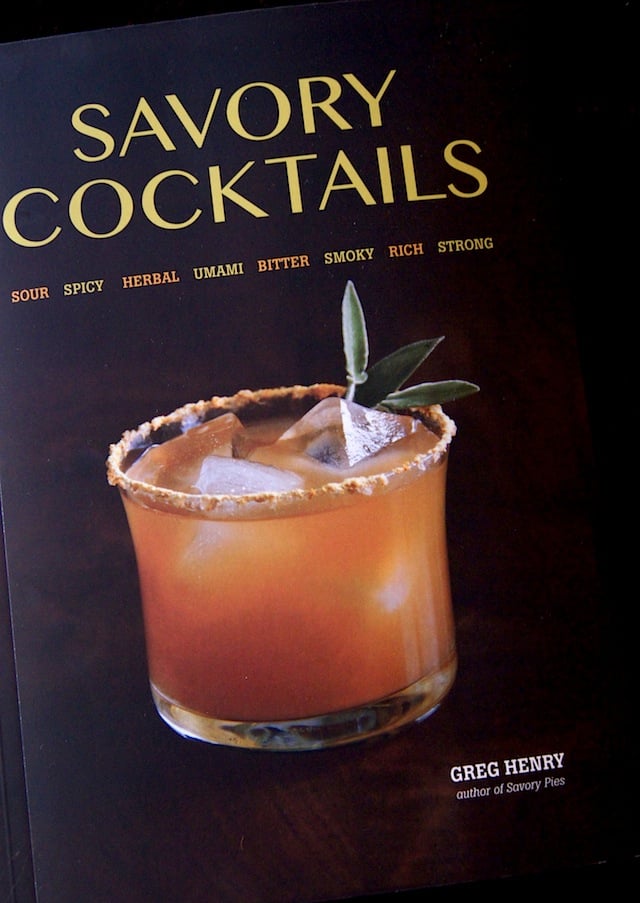 I will quickly admit that I'm no mixologist, and I'm not a big drinker.  That said, Savory Cocktails really caught my attention, because the recipes inside this book are all brilliant blends of flavors, ranging from sour, to spicy, to smoky, to rich, and the list goes on. My favorite recipe in Savory Cocktails?  Page 77 — the Bullshot!
What is a Bullshot cocktail?
A Bullshot was my mom's drink of choice back in the day.  And it was the only cocktail I ever really knew about growing up, because it was the only one ever made in our house — I even thought my parents made up the name. Whenever we had guests, and on special occasions, my dad would make my mom a Bullshot.  I never thought for a moment it was unusual that he'd pour beef broth and hot sauce into the glass. And on those rare occasions when I was allowed a sip, I quite liked this savory concoction, one that Greg puts in umami category of his book.
One could equate this drink to a Bloody Mary, without the tomato juice and with the beef broth instead. It's usually the broth, Worcestershire sauce, celery salt, and vodka.
Naturally, I had to make an hors d'oeuvre to go with a Bullshot.  After all, we can't have cocktail hour without delicious bites!
While a Bullshot is in the umami category, I'd put this hors d'oeuvre recipe for Potato-Pickled Tomato Bites in the smoky, spicy, sour, and sweet categories.
Crispy spiced potatoes, fresh tangy, pickled tomatoes . . . it sounds like a rhyme!  And all of that deliciousness is in one bite! The perfect bite to start a party!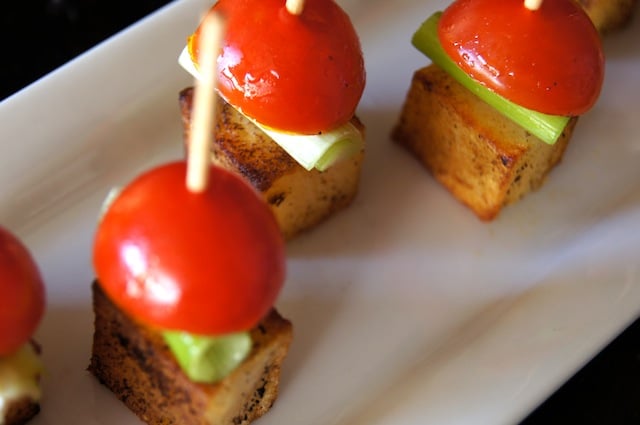 For the Bullshot recipe and 99 other superb Savory Cocktail recipes, you can get a copy of Greg's book here.
Enjoy these Potato-Pickled Tomato Bites. Perhaps with a Bullshot.
Smoky Potato-Pickled Tomato Bites
Potato-Pickled Tomato Bites are a show-stopping hors d'oeuvre. The varying textures, and the smoky, tangy flavors come together to create incredible deliciousness!
Makes 2 dozen
Keyword:
appetizers for parties, party food
Ingredients
1

large

scallion,

sliced in half lenghtwise, and then into 2 dozen bite-sized pieces
For the tomatoes
1

dozen

cherry tomatoes,

sliced in half

2

tablespoons

apple cider vinegar

1

teaspoon

olive oil

1 1/2

teaspoons

brown sugar

1/8

teaspoon

salt
For the potatoes
1

approximately (3/4-pound)

Russet Potato,

peeled and cut into fourths

2

tablespoons

olive oil

2

teaspoons

smoked paprika

1

teaspoon

ground cumin

1/8 to 1/4

teaspoon

salt

freshly ground black pepper

you will also need 2 dozen sturdy toothpicks
Instructions
For the tomatoes:
Add the sliced tomatoes to a small bowl and set aside.

In a small sauté pan, combine the vinegar, oil, sugar and salt, and place it over low-medium heat. Cook just long enough for the sugar to dissolve. Remove this from the stove and pour it over the tomatoes. They should marinate for at least 45 minutes and up to 24 hours. (I know, it's a huge range -- they're very good at 45 minutes, but they get better and better with time. I'd make the a day ahead if possible.) Stir them every now and then to be sure they're all well coated.
For the potatoes:
Add the peeled and cut potato to a small pot with cold water, place it over high heat, and bring to a boil. Then reduce the heat to low and simmer just until the potato is tender. It should still be slightly firm, but a if you stick a fork into the thickest part, it should come out with ease. (It's important not to cut the potato into more than 4 large chunks.)

Once the potato is done and it's cool enough to touch, cut it into 2 dozen small squares (some will be oddly shaped).

Coat the bottom of a medium-sized sauté pan with the olive oil, and place it over high heat.

In a medium-sized bowl, combine the paprika, cumin and salt and set aside.

Once the pan is very hot, add the potato squares. You should hear a strong sizzling sound when they hit the pan -- if you don't, wait until the pan is hotter. Brown each side of each potato square, using a fork to turn them every minute or so.

As soon as they're done, pour them into the bowl with the spices. (I say "pour," because your want any oil that remains in the pan as well.) Gently toss the browned potatoes with the spices until they are well coated, and if necessary, season with a bit more salt and a few turns of freshly ground black pepper.
Assembly:
Place the spiced potato squares on a serving plate or platter, and top each one with a scallion piece. Now stick a toothpick through the round side of the pickled tomato halves and then insert them, with the toothpick through the scallion, and into the potato.

Voilà!
Recipe Notes
These are best when the potatoes are still warm!
Save
Save