Smoky Chipotle Parmesan French Fries are a scrumptious snack, appetizer or side. They're subtly spicy, wonderfully smoky, and are crisped to perfection with cheese.
I made these Smoky Chipotle Parmesan French Fries on a whim. Turns out it was the best whim ever.
Inspiration
I was craving French fries — not just any French fries, though. I was craving spicy, cheesy fries, that would be soft and mild on the inside, and golden and crispy on the outside. (Really, that's how every good French fry should be!)
One of my absolute favorite flavors in the world (right up there with Nutella and mangoes) is Chipotle Peppers in Adobo Sauce. Spicy, smoky, and oh-so-yummy! I tend to add them to all sorts of delicious, savory recipes.
No Dip Necessary!
This french fry recipe is so flavorful that you really don't need to dip them in anything. But if you can't imagine eating fries without a sauce, they're fabulous with something cool and refreshing, like Raita.
Raita is an Indian yogurt sauce, usually made with cucumber. My friend Amee of Rabbit Food Rocks makes a Pomegranate-Squash Raita that is so interesting and delicious — it would be lovely with the heat of the fries.

Here are a couple of recipes that were derived from these Smoky Chipotle Parmesan French Fries:
French Fry Frittata with Chipotle Chorizo Sauce
Just imagine all of the flavors of the French fries, mixed into soft eggs with fresh herbs and tomatoes.
Roasted Pepper Potato Soup
Comfort in a bowl. This soup is rich, creamy and has the best garnish in the world: Smoky Chipotle Parmesan French Fries!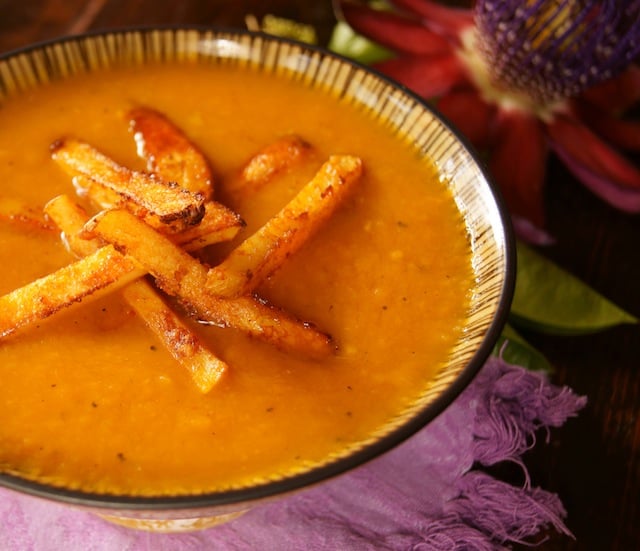 Exactly what are chipotle peppers in adobo sauce?
They're smoked jalapeño chiles that are canned in a sauce that typically contains tomato puree, paprika, salt, onions, oil, vinegar, garlic, bay leaves and oregano.
A little goes a long way. It's hot! For less heat, you can just use the sauce and for extra heat be sure you use one of the peppers, and keep a few seeds in there!
I suggest you make a double batch of the fries, as there never seem to be enough. Enjoy!
Smoky Chipotle Parmesan French Fries
Subtly spicy, wonderfully smoky, and crisped to perfection with cheese, these fries are a knock out!

Keyword:
appetizers for sharing, best potato sides, great side dishes for meats and stews
Ingredients
3 1/2

tablespoons

olive oil

1

tablespoon

chipotle peppers in adobo sauce,

finely chopped

2

tablespoons

Parmesan cheese,

finely grated

1

teaspoon

smoked paprika

1/2

teaspoon

lemon juice

1 1/2

teaspoons

sea salt

1 1/3

pounds

Idaho Russet Potatoes
Instructions
Preheat the oven to 425°F.

In a large mixing bowl, combine the oil with the chipotles, Parmesan, paprika, lemon juice and salt, and set it aside.

Peel, wash, and dry the potatoes. Then, cut them into french fry-sized pieces, about 1/4-inch sticks. Add the potatoes to the bowl with the chipotle mixture and toss them until they're completely coated.

Spread the sauced potato sticks on a baking sheet in a single layer, and place them in the preheated oven for approximately 45 minutes, or until both sides are golden brown and crispy. They should be flipped about half way through the cooking process, with a flat-bottomed metal spatula. Leave them on the baking sheet to cool.
Cooking On The Weekends is a participant in the Amazon Services LLC Associates Program, an affiliate advertising program designed to provide a means for sites to earn advertising fees by advertising and linking to Amazon.com.