Kimchi Fried Rice with Bacon is the end-all comfort food! With both creamy and crispy textures, this fried rice overflows with delicious flavors -- from spicy and tart to smoky and rich, it'll absolutely knock your socks off!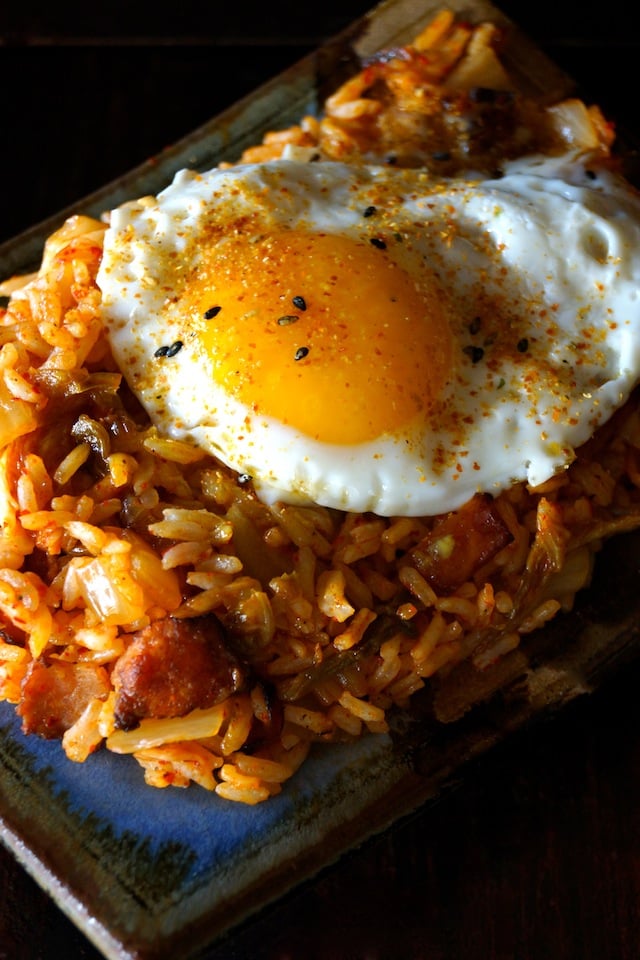 "With rice at your house at all times, you can always find a way to cook for yourself or others."  -- Roy Choi
This is one of the many things Roy said when I watched his cooking demo at the LA Times-The Taste.  If you don't know him — and you'll want to, because he's a culinary hero— you can read about him here.  (And find out so much more in his book, L.A. SON: My Life, My City, My Food.)
Inspiration for Kimchi Fried Rice Recipe
Roy's comment about rice really resonated with me. I want my home to feel inviting and comforting -- and I think part of achieving this goal is to always have food at the ready.  Ready to eat, and/or ready to be prepared into something delicious.
I think an inviting, comforting home is a happy home. 🙂
Having Cooked Rice on Hand
The possibilities are truly endless if you have cooked rice on hand. You can turn light vegetables into a hearty meal, add it beneath saucy meats to get every last bit of flavor, make creamy and rich desserts, and so on.
I mean, are you kidding me!?
Do you see what's going on here? The crispy bacon, the shiny grains of rice, the sparkles of spicy red chile, the soft onions and cabbage, the perfectly fried egg -- it's almost too much to take in.
This is not one of Roy Choi's recipes -- it's a recipe I was inspired to create.
Oh, and just in case you want to make Homemade Kimchi . . .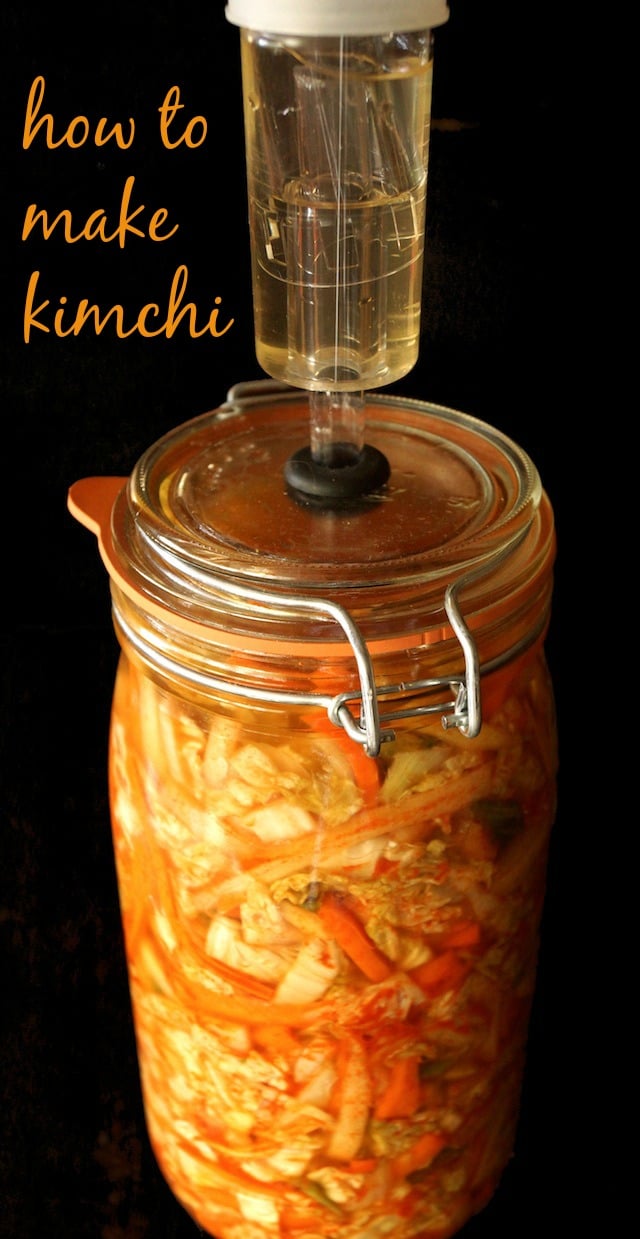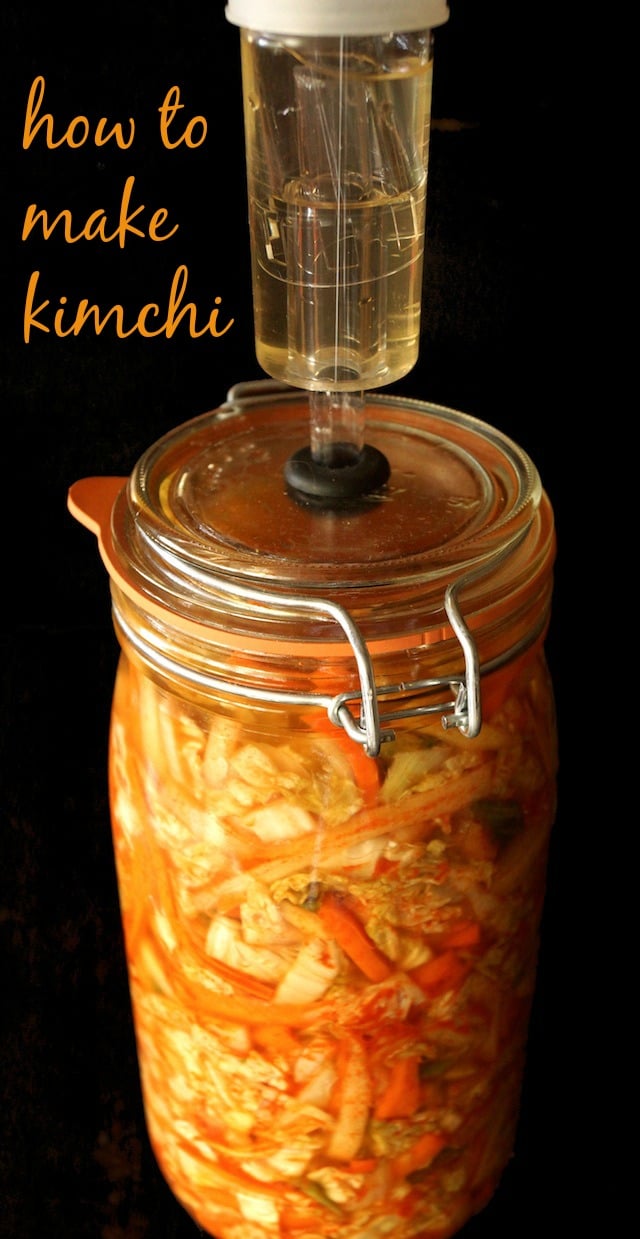 I hope you love this Kimchi Fried Rice with Bacon as much as I do!
More recipes using kimchi:
Kimchi Fried Rice with Bacon
Kimchi Fried Rice with Bacon is the end-all comfort food! With both creamy and crispy textures, this fried rice overflows with delicious flavors.
*The prep time doesn't include cooking the rice or making the Kimchi. The rice takes about 20 minutes, and can be made up to 4 days ahead.
Kimchi
takes about 1 to 3 weeks to ferment, and can be done way ahead.
You can also buy jarred Kimchi.
Instructions
Cut the bacon into bite-sized pieces and add it to a large sauté pan over medium heat. Cook until it's brown and crisp, about 6 minutes.

Add the onions to the same pan, and stirring often, sauté them until they're soft and golden, about 7 minutes. (There should be enough grease from the bacon, but if not, you can add a little grapeseed oil.)

Add the rice and a bit more oil if it seems to be sticking. Turn the heat to medium-high and sauté for a couple of minutes. Once the rice is hot and nicely blended with the onions, add the Kimchi and extra brining liquid.

Stirring periodically, continue to sauté until you start to see some of the grains of rice becoming crispy, about 5 minutes.

During the last few minutes of cooking the rice, fry the eggs. Coat the bottom of another large sauté pan with oil and place it over medium-low heat. Crack the eggs into the pan, sprinkle them with salt and pepper and cook to the the desired doneness.

Either on a platter, or four individual serving plates, add the eggs on top of the rice and sprinkle with a bit of Togarashi.

Serve!
NOTES
Togarashi is the Japanese word for red chili peppers and a general name for a group of condiments that blend chili pepper with other ingredients such as black pepper, sesame seeds, dried mandarin orange peel, seaweed flakes, and poppy seeds. You can get Togarashi at most Asian markets or here.
NUTRITION
Have you tried this recipe?
I'd love to see it on Instagram! Tag me at @cookingontheweekends or leave a comment & rating below.
Cooking On The Weekends is a participant in the Amazon Services LLC Associates Program, an affiliate advertising program designed to provide a means for sites to earn advertising fees by advertising and linking to Amazon.com.