Flowering cauliflower, known as Fioretto, is a fun, delicious new cauliflower variety in town. I made this Lemon Marinated Fioretto recipe to introduce it to you, and to show off its good looks and mild, sweet flavor. This is one of the first Fioretto cauliflower recipes, and we'll be seeing a lot more of them.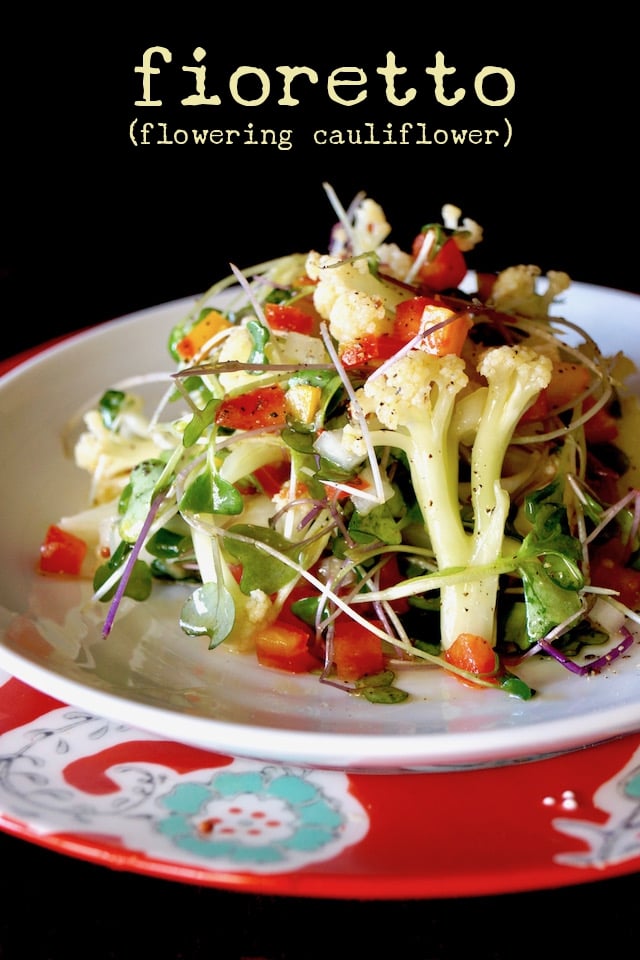 So remember just after the first of the year, when I told you I'd learned from Melissa's Produce what would be "in" this year? In the world of produce, that is?
I started with the popular Kohlrabi when we made the Coconut Kohlrabi Lemon Soup. Have you made it yet? Better get on board while it's in fashion. 😉
Next up: Fioretto!
Ever heard of it?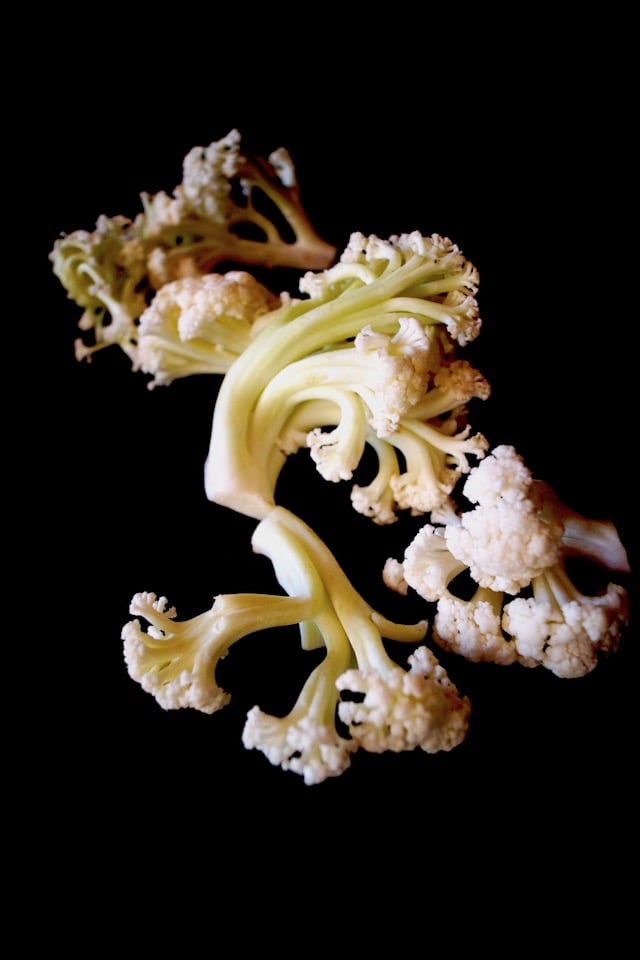 What is Fioretto?
Fioretto, which means "little flower" in Italian, is flowering cauliflower.
Fioretto is a hybrid of cauliflower and broccoli that was created by the Tokita Seed Company, in Japan. It was first introduced to stores in 2012.
The color of the stems is often green, but can vary from creamy white to yellowish-green.
Fioretto or flowering cauliflower, is also known as Biancoli, Sweet Sprouting Cauliflower, Karifurore and Stick Cauliflower.

I was so excited to make this Fioretto recipe for you!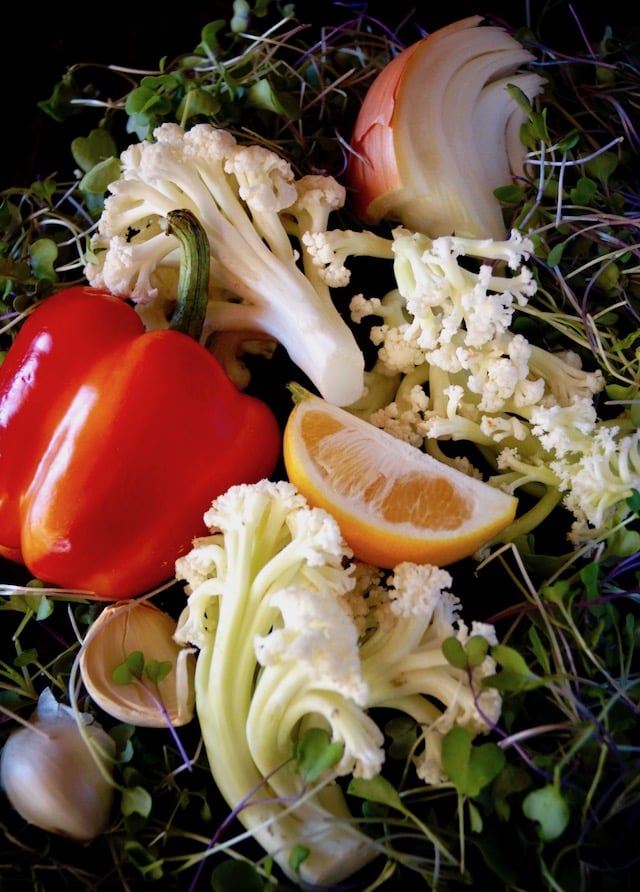 How to Use Fioretto?
This beautiful, flowering cauliflower can be eaten raw, grilled, sautéed, roasted, and the list goes on.
It's lovely mixed into salads and stir-fries, and fabulous simply served with a dip as an appetizer.
I love roasting it, just as I would a whole head of cauliflower, until it's super caramelized.
This new cauliflower variety would also be the perfect vegetable to pickle.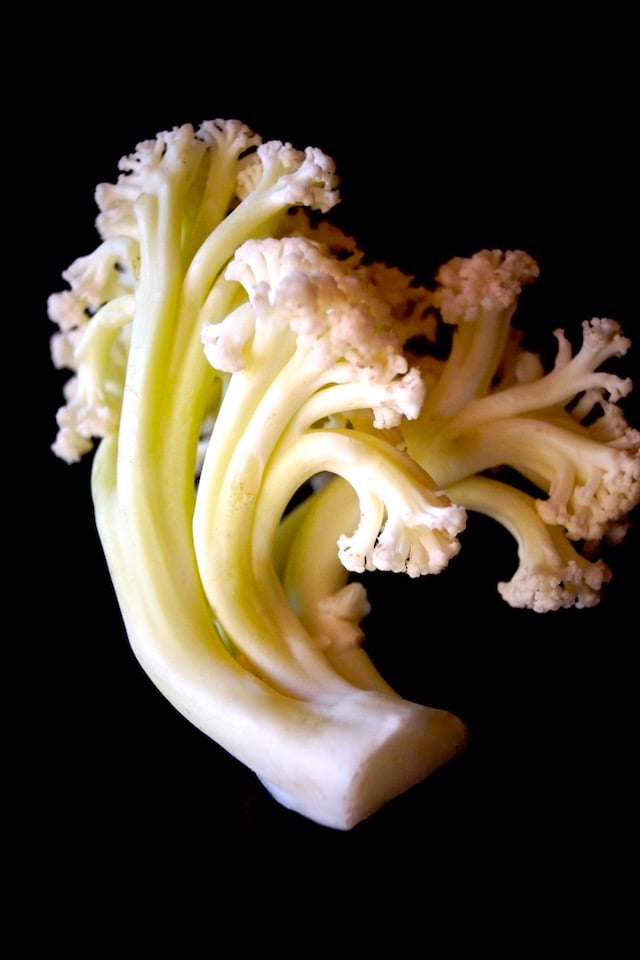 What does Fioretto taste like?
Fioretto has a subtle nut-like flavor and is generally sweeter than large heads cauliflower.
While this flowering cauliflower variety is tender enough to enjoy raw, it also tends to remain crunchy through cooking.
Typically, when I use a head of cauliflower, my favorite thing to do is roast it at a very high temperature, making it incredibly sweet and soft. (I hope you didn't miss my over-the-top, Citrus Whole Roasted Cauliflower.)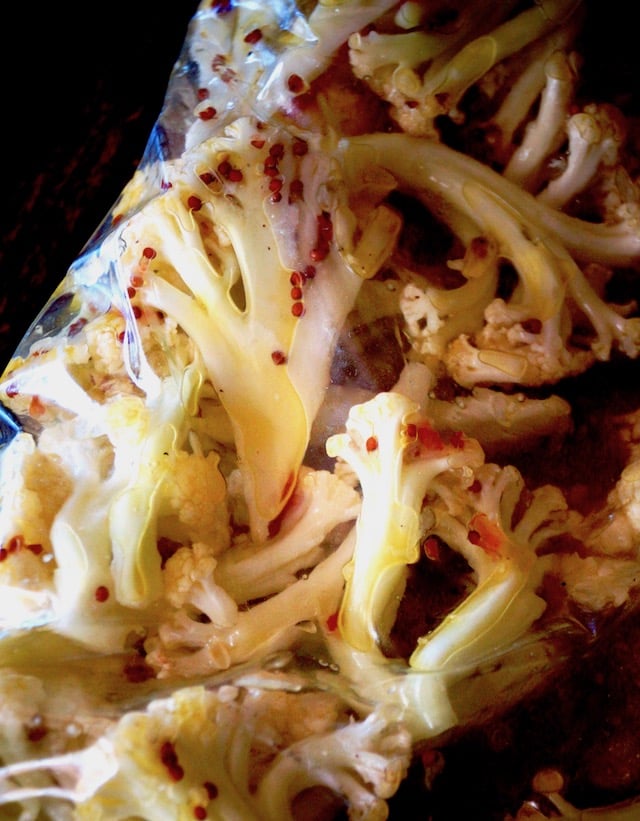 However, my first instinct with the Fioretta however, was to use it raw. When I took it out of the package, it was just so pretty and delicate that I didn't want to change it too much.
Letting it hang out in a lemon marinade for a few hours turned out to be the perfect choice. It beautifully took on the citrus and softened just slightly.
It's a beautiful, light appetizer, or can also be a gorgeous vegan entrée salad.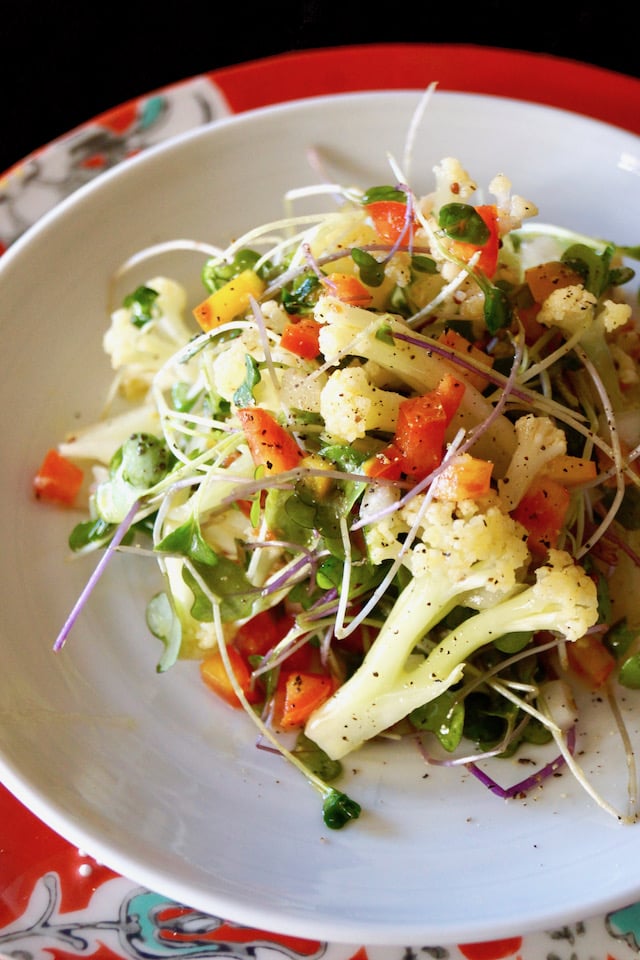 I served it on one of our Thursday night dinners with my dad, and everyone loved it. (Okay fine, the 12-year-old loved it, and the 14-year-old sort of liked it.)
Never mind the kids, this Lemon Marinated Salad with flowering cauliflower was a huge hit!
Fioretto is being introduced to the U.S. by Melissa's Produce, and is in season year round. You can find this new cauliflower variety at Bristol Farms, Gelson's, and other upscale markets. Since it's very new, if you don't see it, you can ask the produce manager at your market about it, or you can order it here.
This is not a sponsored post. Melissa's sent me Fioretto for recipe testing. I only write about foods I truly like.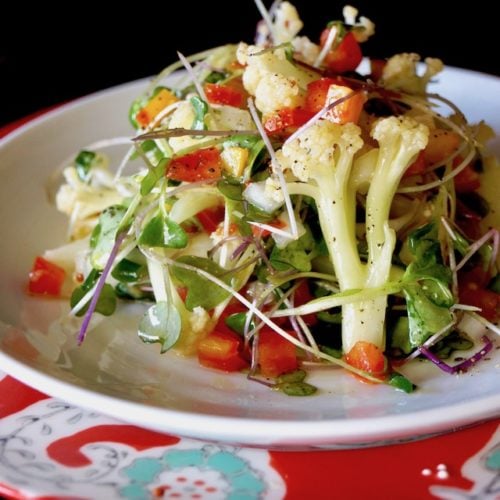 Lemon Marinated Fioretto Salad
Light, crisp, sweet, tangy -- this lovely vegan salad will wow your palate as an appetizer or entrée.
*Serves 4 as an appetizer and 2 as an entrée.

Course:
Appetizer, Salad, Main Course
Keyword:
light and healthy
Ingredients
⅔

cup

lemon juice,

freshly squeezed

½

cup

extra virgin olive oil

1

teaspoon

garlic,

minced

2

teaspoons

granulated sugar

1

teaspoon

whole grain mustard

½

teaspoon

chile paste

(I like Samabl Oelek)

½

teaspoon

salt

a few turns freshly ground black pepper

½

pound

Fioretto (flowering cauliflower),

washed and dried

2

cups

micro greens,

washed and dried

¾

cup

red bell pepper,

small dice

3

tablespoons

yellow onion,

small dice
Instructions
In a medium-sized mixing bowl, whisk the lemon juice with the olive oil, garlic, sugar, mustard, chile paste and salt. Pour this into a large, zip-lock bag and add the Fioretto. (If the Fioretto isn't already in bite-sized pieces, you can slice the florets lengthwise, in half or in fourths.) Remove the air form the bag, seal it, and move the Fioretto around to be sure it's all well coated. Let it marinate in the refrigerator for at least 3 hours and up to overnight.


Drain the marinated Fioretto, SAVING the marinade. Then, in a large mixing bowl, combine it with the micro greens, bell pepper and onion. Add as much of the marinade back as desired, and save the rest for another time.