Purple Sweet Potato Fries are roasted and are an amazingly delicious and crispy, with the scent of lemon and a touch of spice. They're a great vegetarian snack or side dish.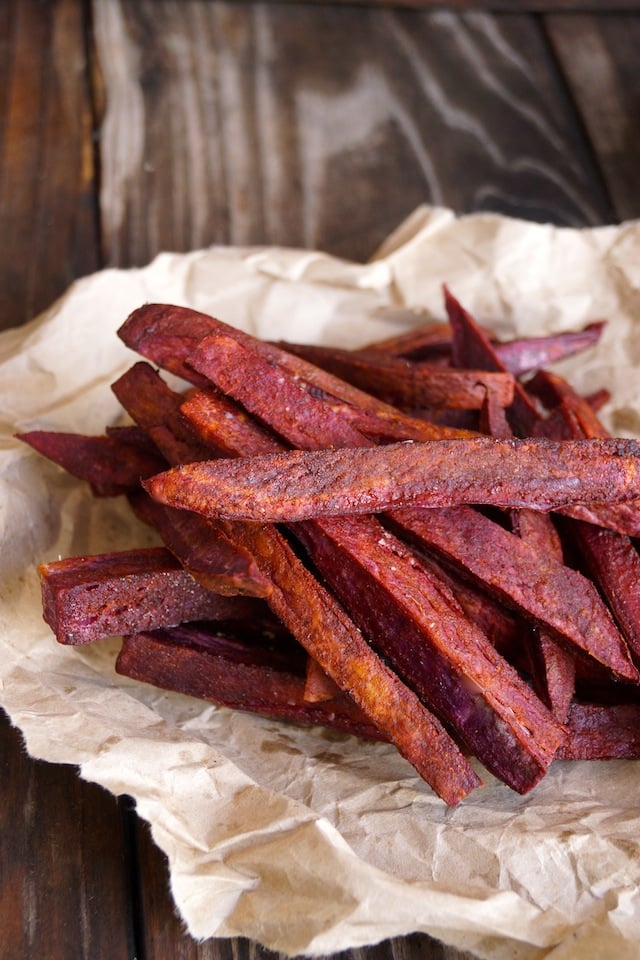 I love strolling through a Farmer's Market or the produce section in stores to see all of the stunning colors. Everything from broccoli and mangoes to Dragon fruit and apples -- and there are so many gorgeous shades of purple in fresh produce these days.
A couple of years ago I was introduced to -- and proceeded to fall in love with -- the beautiful Okinawan Sweet Potato, which is a beautiful dark lavender color. And I was recently introduced to another outstanding purple sweet potato, only this one is more of a magenta color.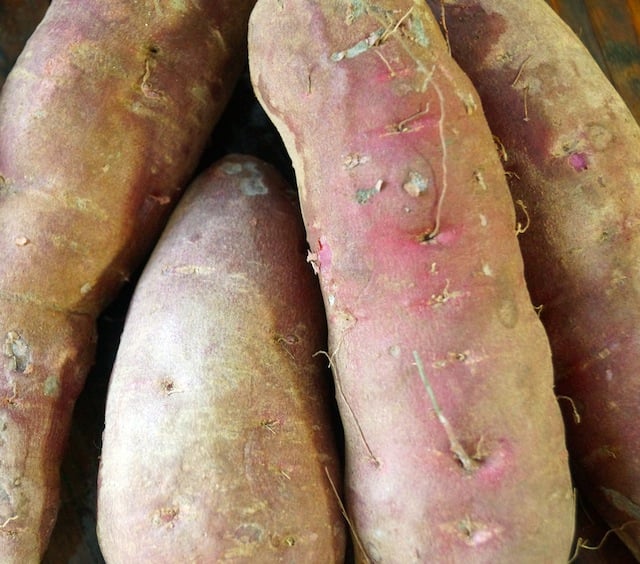 Meet the Stokes Purple Sweet Potato from Frieda's.
And check out that bright magenta flesh. t's so vibrant! And these pretty spuds are packed with antioxidants, by the way.
What do Stokes Purple Sweet Potatoes taste like?
A bit less sweet than orange sweet potatoes, they're especially tasty with the hint of fresh lemon and the subtle spice of the chili powder. It has that delicious sweet n' spicy vibe.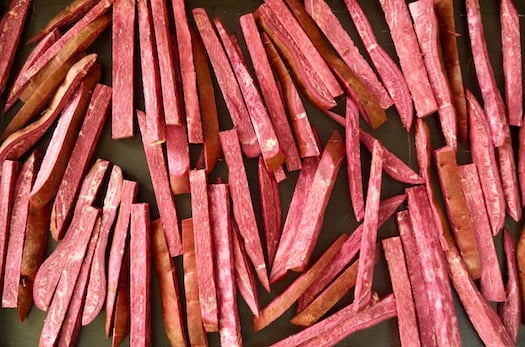 The purple potatoes become a deep, rich burgundy-like color once cooked.This is not a sponsored post. Frieda's sent me samples of Stokes Sweet Potatoes for recipe testing.
I'm writing about them because they're delicious and so pretty. Oh, and because I made these oh-so-delicious Purple Sweet Potato Fries with chili and lemon!
You can learn more about them and where to get them here.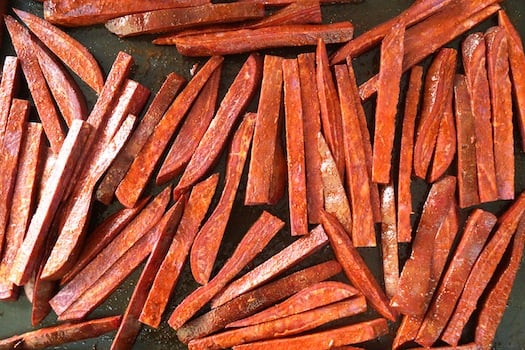 Enjoy every last crispy, sweet, spicy, and tangy one of these Roasted Purple Sweet Potato Fries!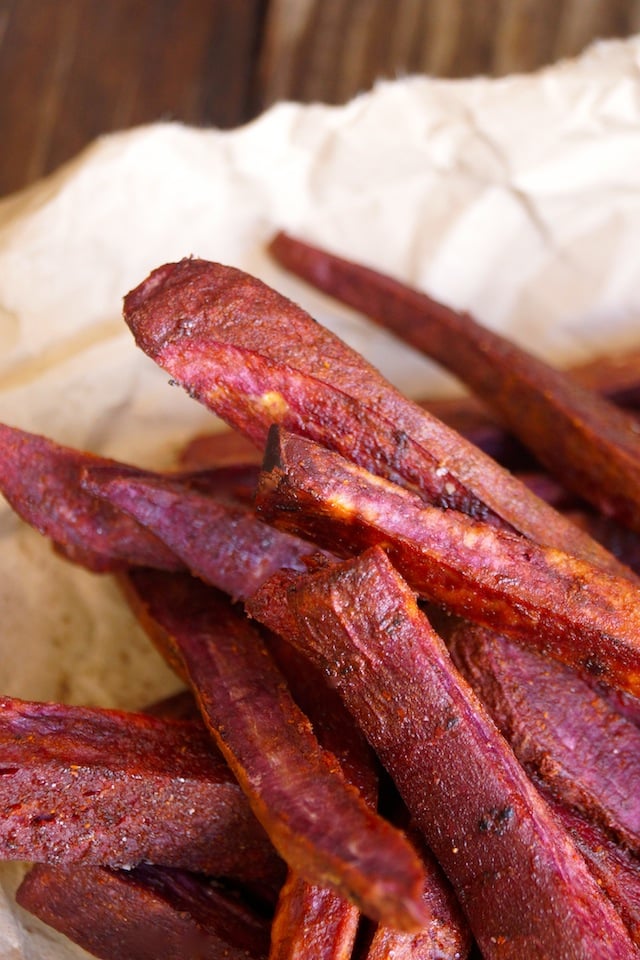 More unique French Fry recipes: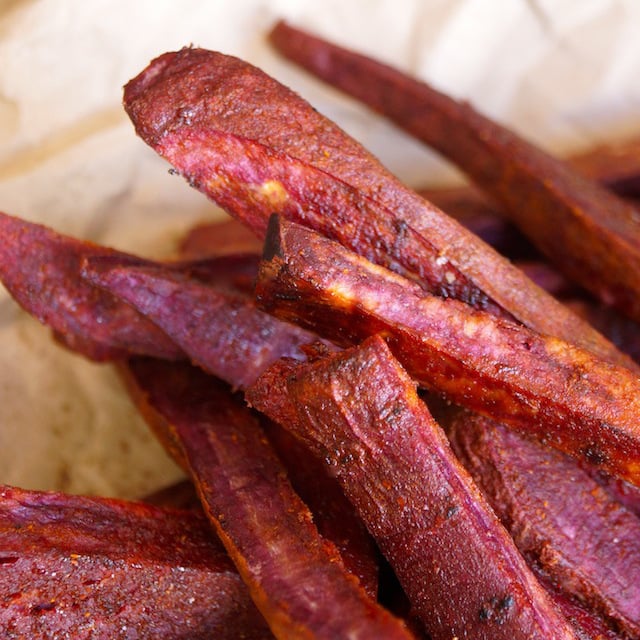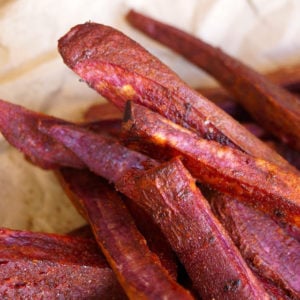 Purple Sweet Potato Fries
Truly a unique flavor combination, these pretty, roasted Purple Sweet Potato Fries are crispy with the scent of lemon and a touch of spice. They're a vegetarian, fantastic snack or side dish.
Instructions
Set oven. Preheat the oven to 425°F and adjust a rack to the center (or a bit above).

Combine everything except potatoes. In a small bowl, mix the oil with the lemon juice, chil ipowder, brown sugar, salt and pepper. Set aside.

Prep potatoes. Wash the potatoes very well and rub them dry with a towel. (You can peel them instead if desired -- I leave the skin as it's thin, tender and full of vitamins.)

Cut the pointed ends off each of the potatoes and then cut them into approximately ¼ inch sticks. Add them to a baking sheet and spread them out.

Combine potatoes with lemon mixture. Make sure the oil mixture is well blended and then drizzle it over the cut potatoes and use your hands to mix them, being sure they are all well coated (see below image). Move around the potatoes until they are in a single layer, and sprinkle with a bit of salt.

Roast and cool. Place the baking sheet in the preheated 425°F oven and roast for 15 to 20 minutes -- they should be sizzling and browning a bit on the bottoms. Use a metal flat-bottomed spatula and flip all of the potatoes over. Return the baking sheet to the oven and continue to roast until the bottoms are beginning to brown, about another 15 minutes.

Let them cool on the baking sheet and then serve as a side or snack.
NOTES
Calorie count is only an estimate.
NUTRITION
Calories:
215
kcal
|
Fat:
9
g
Have you tried this recipe?
I'd love to see it on Instagram! Tag me at @cookingontheweekends or leave a comment & rating below.
Save
Save
Save
Save