Rosemary Prosciutto Cheesy Idaho® Potatoes are gluten-free Funeral Potatoes -- a take on the classic, enhanced with punches of new flavors!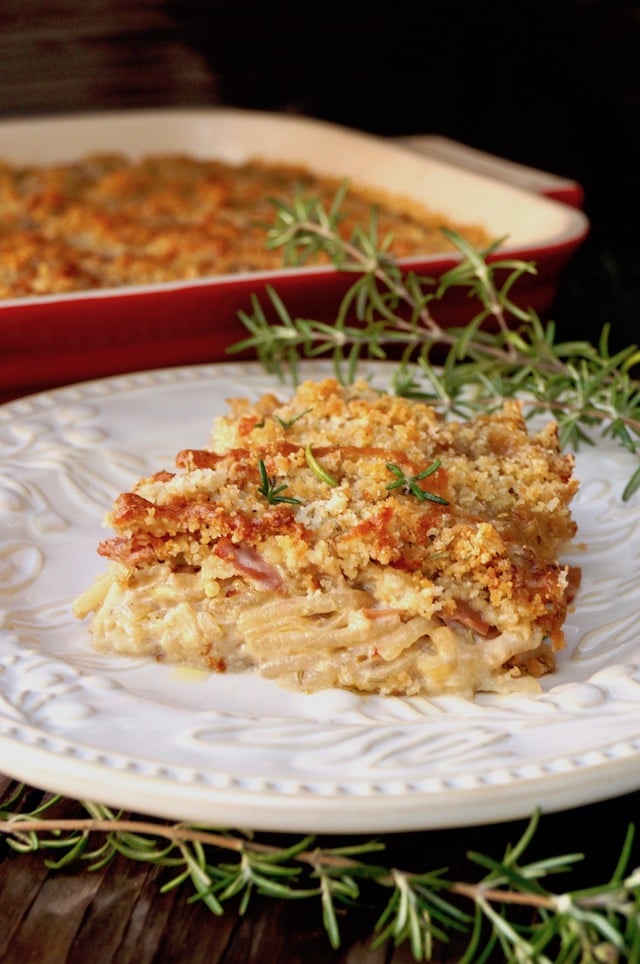 This post was sponsored by the Idaho Potato Commission. As you know, I love Idaho potatoes and I work with brands I truly like and use.
While they really are a comforting, yummy dish as they are — this recipe was created with a slightly healthier, unique take on traditional Funeral potatoes in mind.
What are Funeral Potatoes?
Truth is, until this project, I hadn't heard of them either. I always love an opportunity research traditional dishes and learn about them — and this one was quite interesting.
A Mormon and Southern dish, Funeral potatoes are a casserole typically consisting of hash browns, Cheddar cheese, onions, Cream of Chicken soup, sour cream, butter and corn flakes.
This dish is traditionally served by The Relief Society, after Mormon funerals. Since funerals are most often unexpected events, the dish came to be as they had to provide meals quickly -- funeral potatoes are not only a comfort food meal, but also one that can be prepared fast, without much labor or expense.
They are now also commonly served at all sorts of potlucks and other social gatherings.
This is a recipe for gluten-free Funeral Potatoes, and with aromatic rosemary, crispy prosciutto and caramelized onions, this richly flavored comfort food casserole is over-the-top!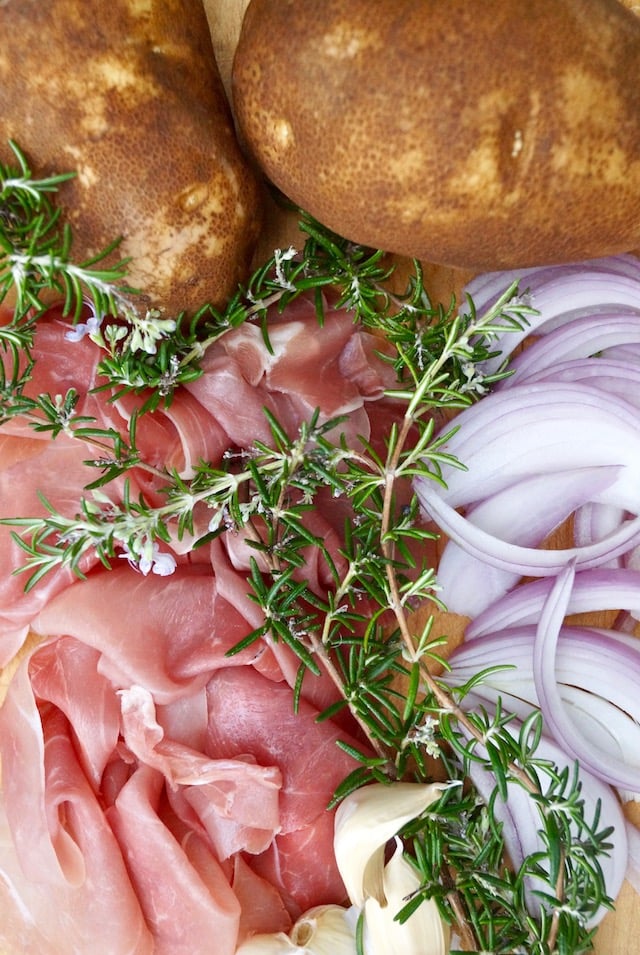 Of course the main ingredient is still potatoes — delicious Idaho® Russets, to be exact. And I've used them two ways.
Idaho Russet Potatoes Two Ways
First, grated into hash browns, and second, as a purée, blended with chicken stock, instead of Cream of Chicken soup. Not only does this make it possible for this to be gluten-free funeral potatoes, (if you also used gluten-free breadcrumbs), but it also lightens it up a bit without losing any of the rich creaminess.
The earthy pine-like flavor of the rosemary works its way throughout the entire dish, and it's so tasty with the somewhat salty prosciutto — both mixed into all of that cheesy-potato deliciousness!

Recipe Tips
If you're pressed for time, you can buy frozen hash browns and thaw them before adding them to the recipe. (Lamb Weston makes Idaho potato hash browns.)
You can also used dried rosemary, a smidge less than if using fresh.
Serving Suggestions

These Rosemary Prosciutto Cheesy Idaho® Potatoes can definitely be served on their own for an outstanding meal. I did just that tonight, in fact. That said, adding something fresh to brighten the plate would be lovely . . .
Enjoy!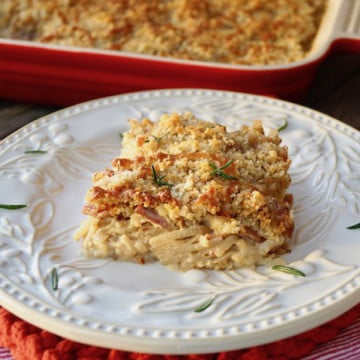 Rosemary Prosciutto Cheesy Idaho Potatoes
This is a rich, creamy and oh-so dreamy comfort food dish! A take on traditional Funeral potatoes, it's enhanced with a few punches of strong, savory flavors.*This can be a side or main course. It serves about 12 as a side, and 6 to 8 as a main.
Ingredients
2¾

pounds

Idaho Russet potatoes

1¼

cups

chicken stock

7

tablespoons

unsalted butter,

divided

1½

cups

onion,

thinly sliced

1

tablespoon

garlic,

minced

8

ounces

prosciutto,

thinly sliced and diced

2

tablespoons

fresh rosemary,

finely chopped, divided

1

cup

sour cream

2¼

cups

mild cheddar cheese,

grated, divided

½

cup

breadcrumbs

(or gluten-free breadcrumbs)
Instructions
Preheat the oven to 375°F, and adjust a rack to the center.

Fill a large bowl with cold water. Peel and grate the potatoes and add them to the bowl of water.

Add the stock to a medium-sized pot. Remove 1 ½ cups of the grated potatoes from the water, squeeze out as much liquid as possible with your hands, and add them to the stock. Place the pot over high heat and bring to a boil. Then cover, turn the heat to low, and simmer until the potatoes are soft, about 5 minutes. Pour this mixture into a blender and purée just until smooth, 5 to 10 seconds on high. (Alternatively, you can also use a hand immersion blender in the pot.) Set aside to cool.

Place a large sauté pan (about 14-inch), over medium heat, and add 2 tablespoons of the butter, onions and garlic. Stirring often, cook until the onions are soft, about 10 minutes. Mix in the prosciutto and 1 ½ tablespoons of the rosemary and sauté for another 3 minutes.

Pour the remaining grated potatoes into a strainer, and then squeeze out as much liquid as possible with your hands, adding them to the sauté pan as you go. Add 1 more tablespoon of the butter and mix everything together. Stirring often, continue sautéing until the potatoes begin to turn golden, about 10 minutes.

Pour the contents of the pan into a very large mixing bowl, and let it cool slightly. Add the the stock-potato mixture, sour cream and 2 cups of the cheese. Quickly stir to combine, season to taste with salt and pepper, and then pour this into a 9 x 13 x 2-inch baking dish. Set aside.

Melt the remaining 4 tablespoons of butter, and in a small bowl, combine it with the remaining ½ tablespoon of rosemary and the breadcrumbs. Sprinkle this evenly on top of the potato mixture, along with the remaining ¼ cup of cheese.

Place in the preheated 375°F oven and bake uncovered for 20 minutes. If it's not golden on top when it's done baking, you can place it under the broiler for about 30 seconds. Let it cool for at least 10 minutes before serving.
NOTES
Calorie count is only an estimate.
NUTRITION
Calories:
381
kcal
|
Carbohydrates:
26
g
Have you tried this recipe?
I'd love to see it on Instagram! Tag me at @cookingontheweekends or leave a comment & rating below.