Simple Perfect Roasted Kohlrabi delivers a powerful punch of natural sweetness in every bite. If you've ever wondered how to use Kohlrabi, and thought it might be daunting, this recipe is the place to start. Roasted with only salt, pepper and oil, this vegetarian side dish couldn't be easier or more delicious!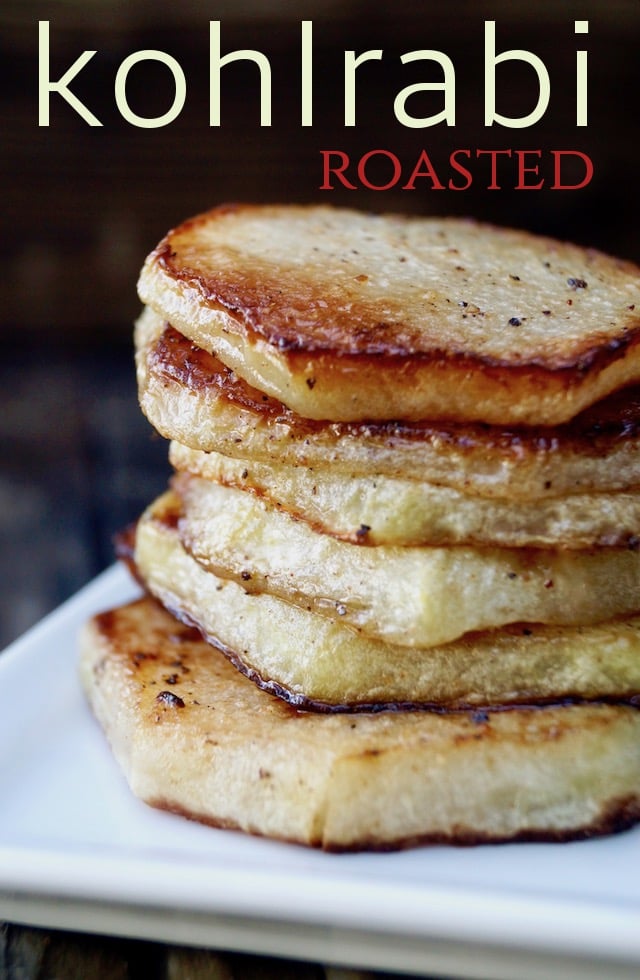 I don't always keep up with fashion trends. (GASP!) I do my best, but if I'm going somewhere special, I call in the troops — AKA, my stylish cousin — to find out "what the kids are wearing" these days. It's true!
Food trends, on the other hand — well, that's where I'm in the know!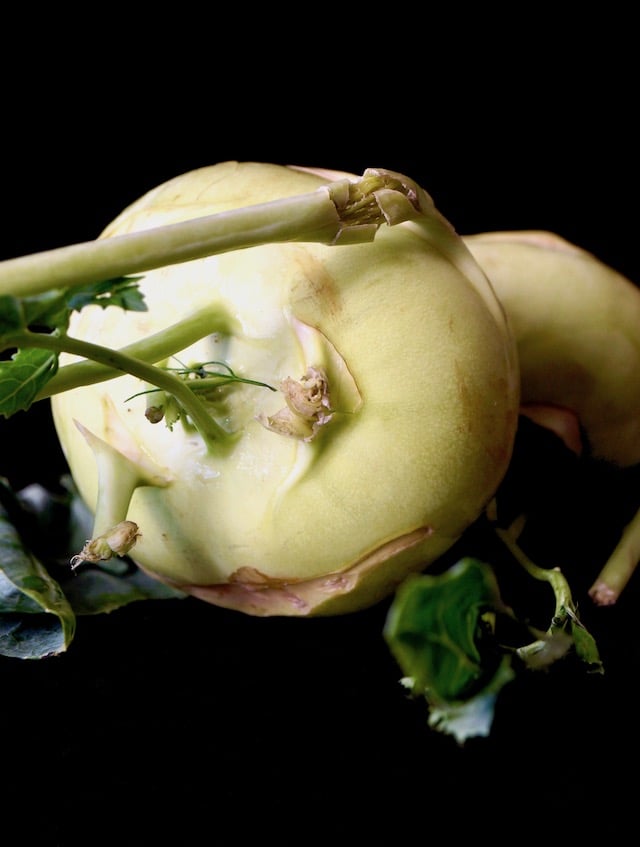 Having learned from Meilssa's Produce that Kohlrabi is going is one of the hottest specialty vegetables of 2018, I've been cooking up a storm with it. I liked it before, and now much more intrigued with it.
When we made Coconut Kohlrabi Lemon Soup last week, we talked about how incredibly versatile this unique vegetable is. There are so many different ways to use it.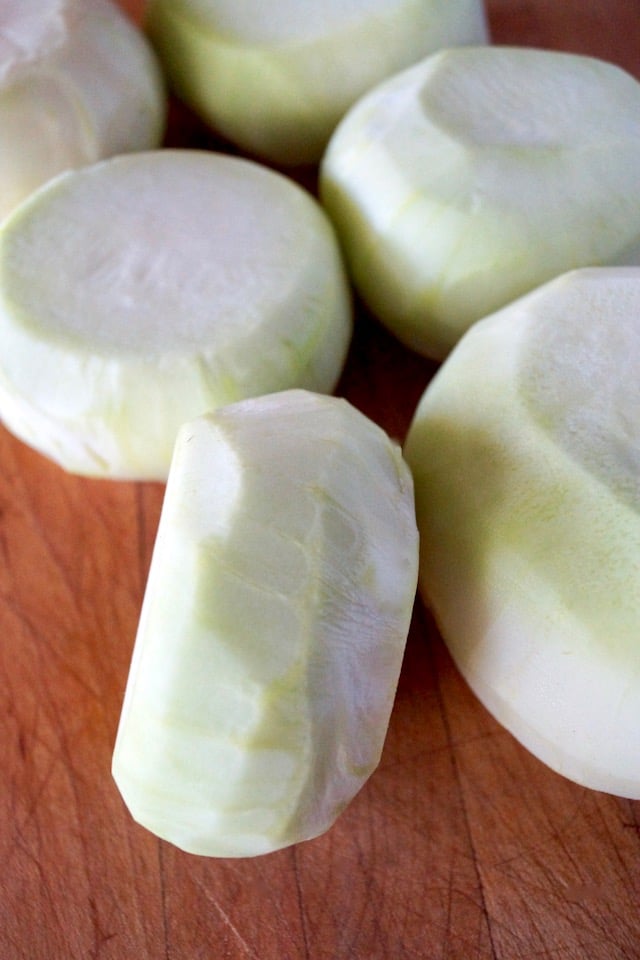 How to Use Kohlrabi
Roast it – As I mentioned above, if you've never worked with this interesting vegetable, I think Simple Perfect Roasted Kohlrabi, is the place to start. The result of this super easy recipe is a very, naturally sweet treat.
Purée it – It's delicious in soups and sauces.
Sauté it – this will have a similar result to roasting, as it will caramelize nicely bringing all of the natural sugars to the surface.
Eat it raw – It's wonderful in slaws, salads, or as a vehicle for delicious dips!
Spiralize it – A pretty way to serve it raw or cooked.
The greens are fantastic in a stir-fry, and you can use the stems in stocks and broths.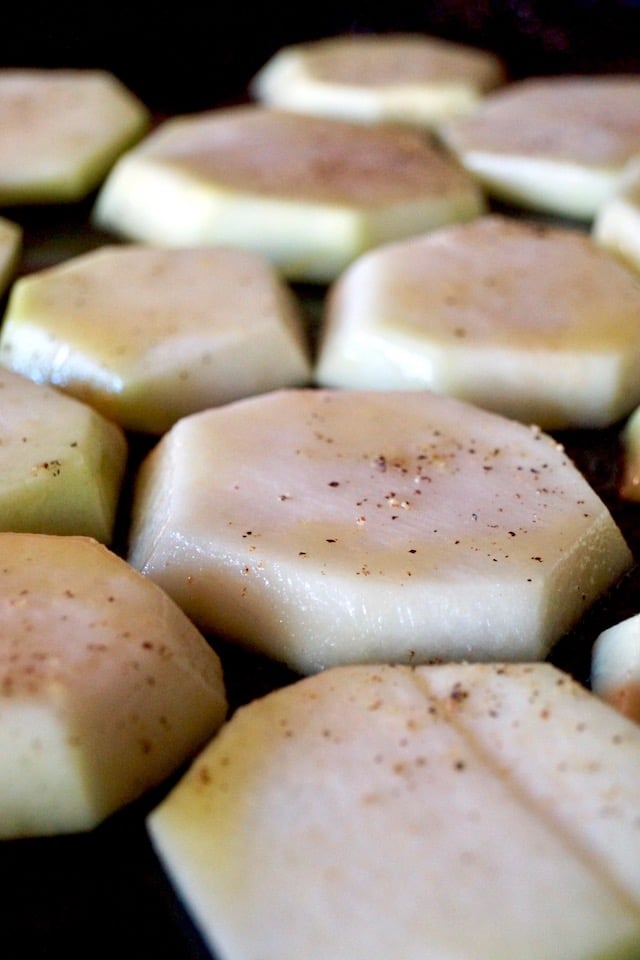 What Does Kohlrabi Taste Like?
In a word. Cabbage.
In a few words, when it's cooked, I think it tastes like a mix between green cabbage and cauliflower. They are all in the same family of vegetables, after all — along with radishes, turnips, broccoli, kale, Brussels sprouts, and more.
When Kohlrabi is raw, while it still has a cabbage-like flavor, the texture reminds me of a very crisp apple and jicama.
Look at how beautifully it caramelizes.  Perfect, indeed.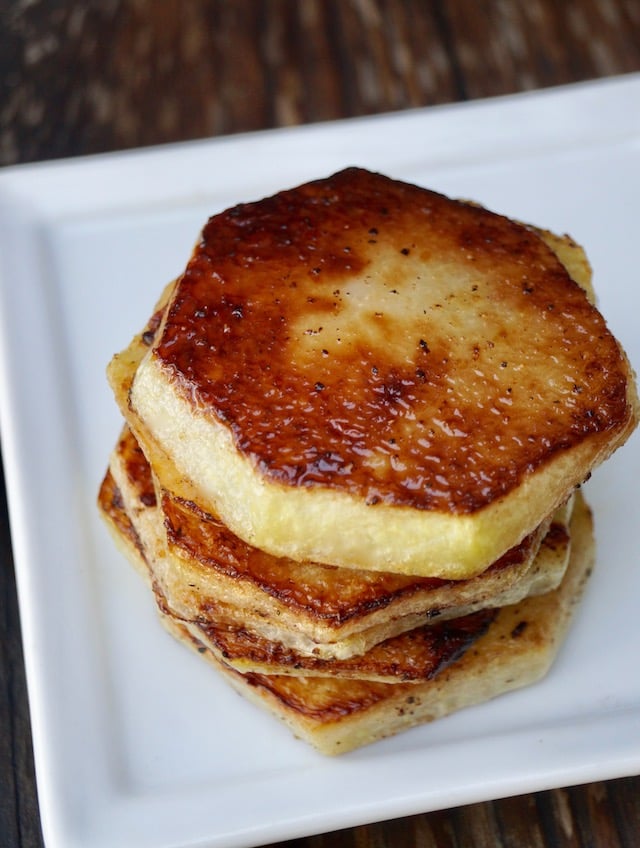 What to serve with Simple Perfect Roasted Kohlrabi: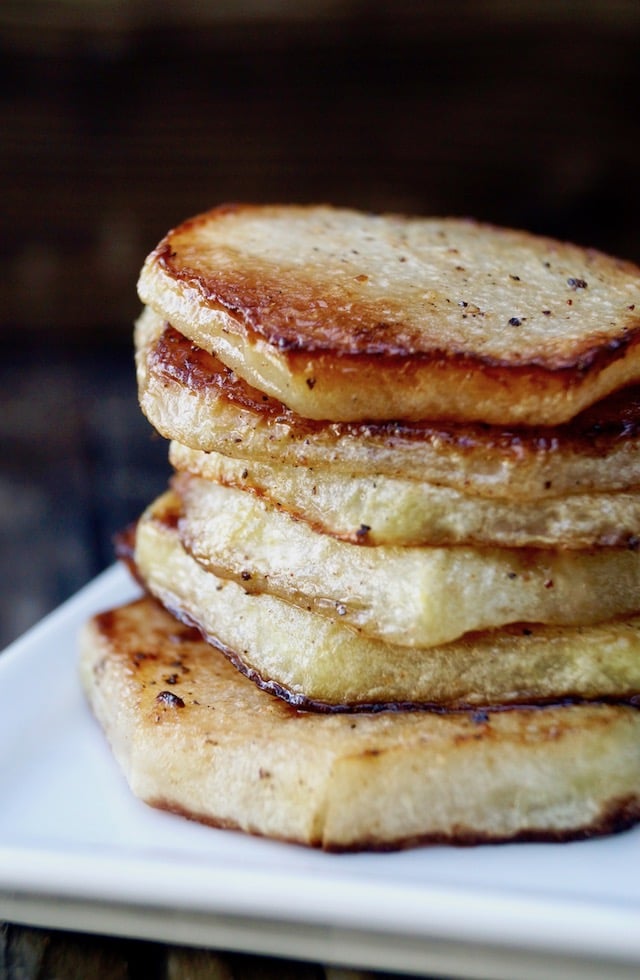 So even though I don't know what shoes you should be wearing, I do know you should be learning how to use Kohlrabi, and enjoying this oh-so-delicious recipe. 😉
Simple Perfect Roasted Kohlrabi
Roasted with only salt, pepper and oil, this vegetarian side dish couldn't be easier or more delicious!
Ingredients
4

whole

Kohlrabi

(about 3/4-pound each)

olive oil for the pan

sea salt and freshly ground black pepper
Instructions
Preheat the oven to 450 degrees F, and adjust a rack to the top third.

Cut off the stems and greens from the Kohlrabi (saving them for another use, like stock and/or a stir-fry), and then peel them. Cut about 1/2-inch off each end, and then cut them into approximately 1/2-inch slices, horizontally. It's important that they're not too thin!

Generously drizzle olive oil on a sheet pan and then dredge each Kohlrabi slice in the oil to coat both sides. (They should not be "swimming" in the oil — just well coated.) Season both sides with salt and pepper, arranging them on the pan with about an inch between them.

Place the sheet pan in the preheated 450 degree F oven and roast until golden brown on the surface, and tender on the inside, about 8 to 10 minutes on the first side, and about 4 to 6 on the second. You can test them with a fork -- it should slid out easily when they're done.