Kohlrabi Soup with Coconut and Lemon is rich, creamy and will soothe your soul. If you're feeling under the weather, it'll pick you up -- and if you're feeling great, it'll simply be an incredibly delicious, cozy bowl of soup you will love.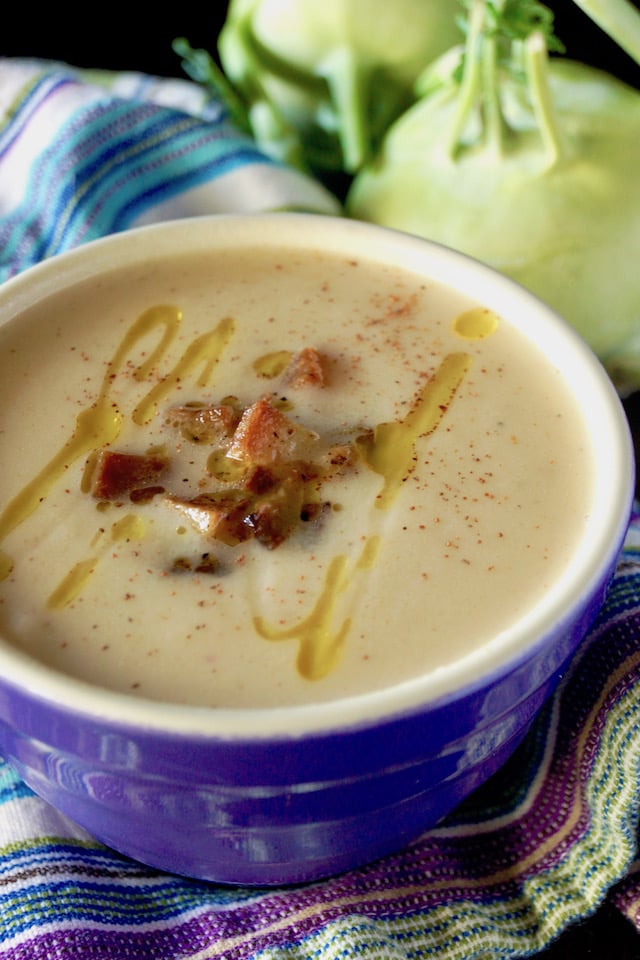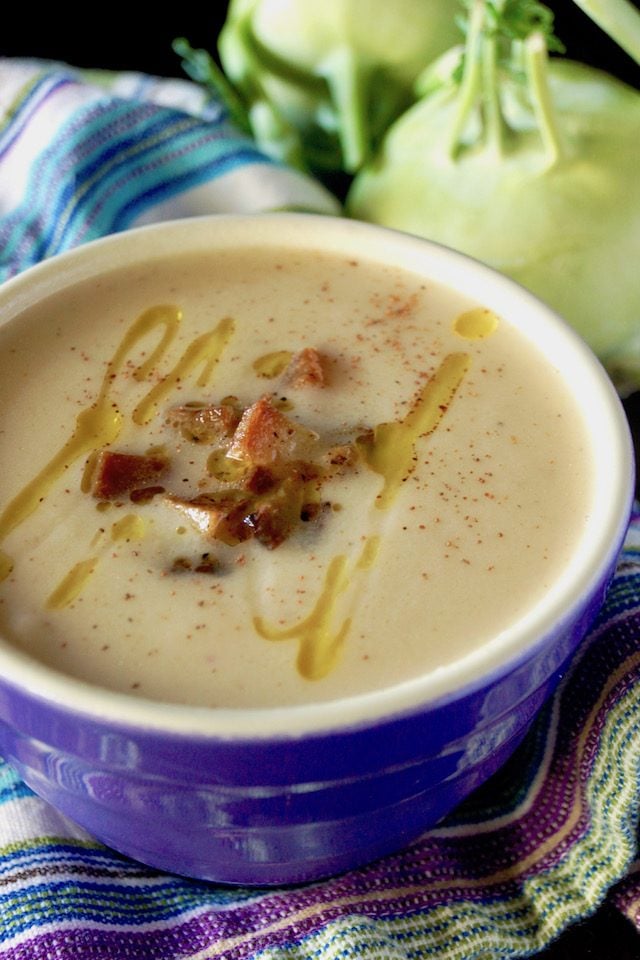 If you've been following Cooking On The Weekends for a while, you know that I've attended dozens of media events at Melissa's Produce over the years.
From cookbook authors and restaurant chefs, to produce experts and food stylists, it has kept me current in our always changing food world.
I especially look forward to an annual presentation about produce trends in the new year.
A few years ago it was the Shishito pepper. And the same year, "color in produce" was another trend.
For the last couple of years Kohlrabi has held a strong position in the top ten list of trending produce.
I'm sharing this vegetable through a luscious, rich and creamy Kohlrabi Soup.
The is a delicious and versatile vegetable — but, you might wonder what it is if you haven't seen or cooked with it before. So let's break it down.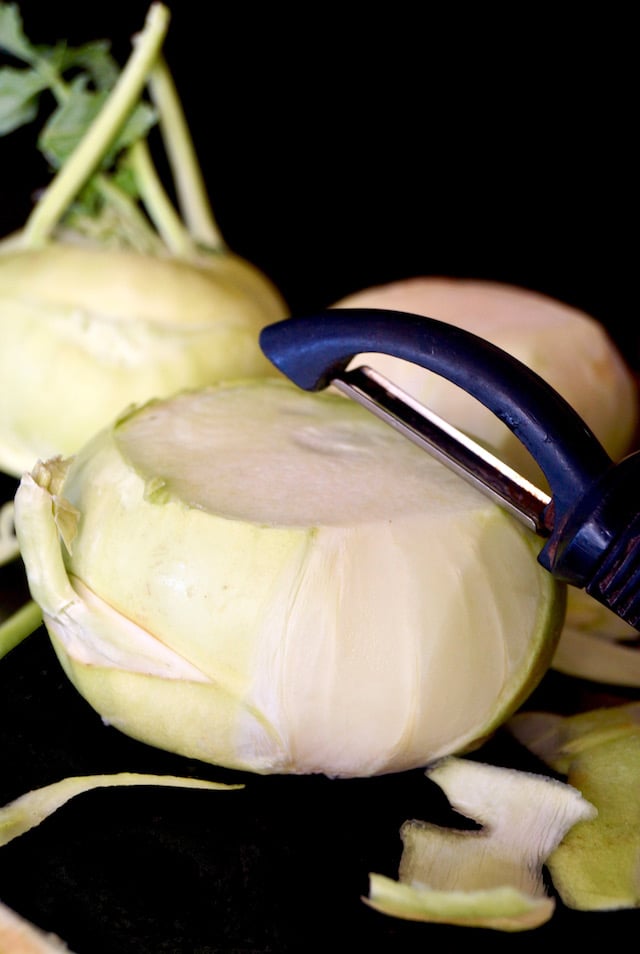 What is Kohlrabi?
Kohlrabi is a Cruciferous vegetable. Also included in this family of vegetables are cabbage, turnip, cauliflower, bok choy, broccoli, Brussels sprouts, horseradish and kale.
The name Kohlrabi comes from a combination of cabbage and turnip in German and Latin, respectively. "Kohl" means cabbage in German, and the word "rapa" means turnip in Latin.
Though it might look like it, Kohlrabi is not a root vegetable — the bulb grows above the ground -- and is actually an enlarged portion of its stem.
You can find green and purple Kohlrabi.
It can be eaten both raw and cooked and should be peeled before use.
When is it in season?
Kohlrabi can usually be found year-round, but it especially shines during the winter months.
What does kohlrabi taste like?
Many describe the flavor of Kohlrabi to be similar to broccoli stems — I think it tastes more like a mild cabbage when cooked, and almost like a very crisp apple, without the same level of sweetness, when raw.
I love Kohlrabi roasted at a high temperature or sautéed — these methods will bring out a lot of sweetness from caramelizing. It can also be steamed or fried.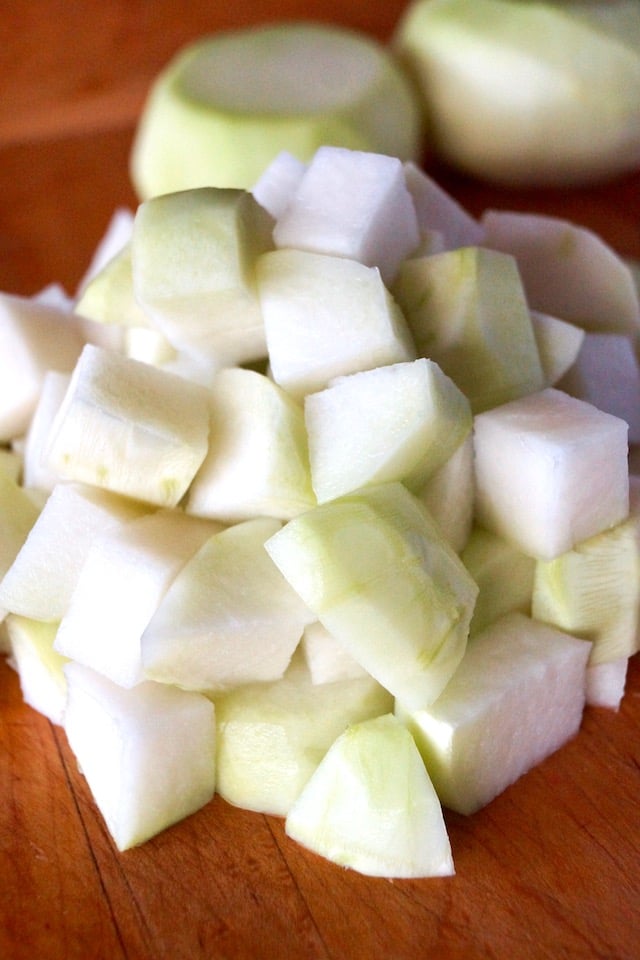 About this Kohlrabi Soup
For the soup, the kohlrabi is simmered and then puréed.
This is a vegan recipe and yet it's still incredibly rich and creamy!
Fresh lemon and coconut are fabulous together. They're a natural pairing with the kohlrabi, which can easily take on some of the other flavors, while still holding its own.
The soup has a mild cabbage flavor with a bit of tartness from the lemon. The coconut milk balances everything together perfectly.
The fresh herbs and touch of nutmeg warm it up, making it a very comforting bowl of soup.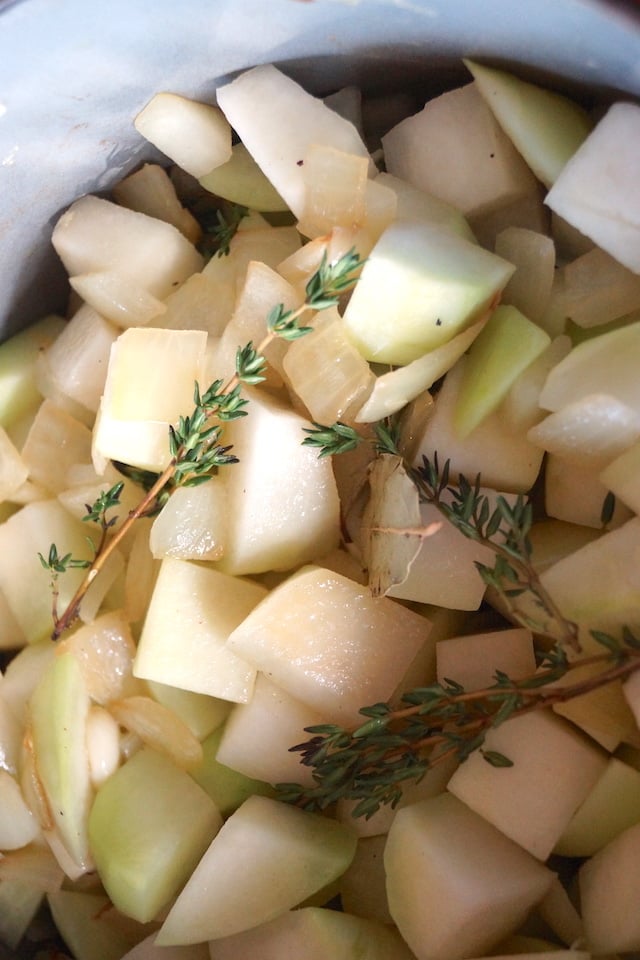 Recipe Tip
This soup is even better the next day, so it's a great one to make ahead of time.
The next time you see kohlrabi in the market, I hope you grab a few and try this lovely Kohlrabi Soup with Coconut and Lemon.
Enjoy!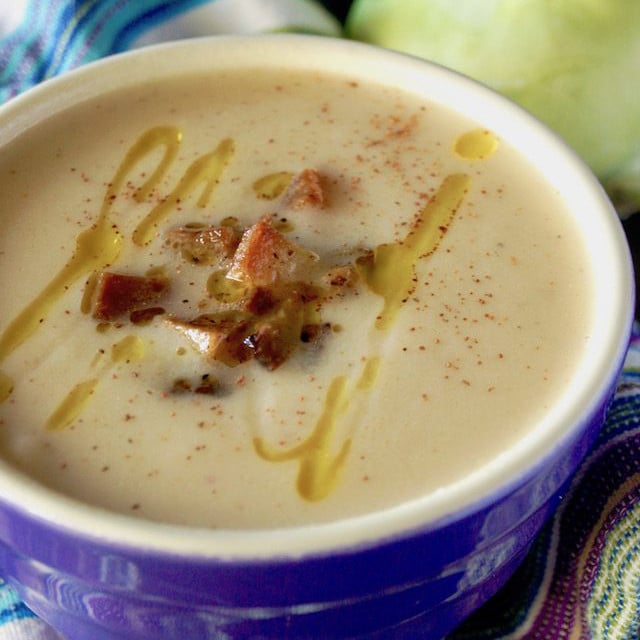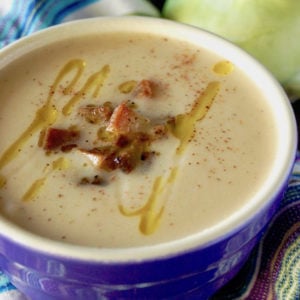 Coconut Kohlrabi Lemon Soup
A delicious vegan soup that's full of fresh flavors, and is as creamy as can be, without cream!

Ingredients
olive oil for the pans and garnish

2¾

pounds

Kohlrabi

(about 5 cups once chopped)

1

cup

onion

roughly chopped

1

tablespoon

garlic

roughly chopped, roots removed

¼

cup

white wine

¼

cup

lemon juice

freshly squeezed

3½

cups

vegetable stock

6

sprigs

fresh thyme

washed and died

3

bay leaves

1¼

cups

coconut milk

¼

teaspoon

nutmeg

2½

teaspoons

granulated sugar

sea salt and freshly ground black pepper
Instructions
Prep the kohlrabi. Trim the stems off the kohlrabi and the peel them — either with a vegetable peeler or a paring knife. (You can save the stems for another use, like making vegetable stock.) About ½ inch should be cut off each end, and then roughly chop them into approximately 1 inch cubes. These do not have to be pretty as they well be puréed later — the important thing is that all be about the same size, so they cook evenly. Remove about 1 cup of the chopped Kohlrabi and cut into a smaller dice. Set both aside, separately.

Cook onions, garlic and some of the kohlrabi. Coat the bottom of a large pot (approximately 4 quart), with olive oil and place it over medium-low heat. Add the onions and garlic and cook until soft, about 7 minutes. Then add the roughly chopped Kohlrabi (not the smaller dice), to the pot and stir to blend. Mixing often, saute for about 7 minutes.

Add wine, lemon juice, stock and herbs and cook. Add the wine, lemon juice, vegetable stock, thyme sprigs and bay leaves to the pot, and stir to blend. Turn the heat to high and bring to a boil. Then, cover the pot, turn the heat to low, and let it simmer until the Kohlrabi is soft, about 40 minutes.

Make the garnish. While the soup in simmering, coat the bottom of a small sauté pan with olive oil and place over medium-high heat. Add the small diced Kohlrabi and stirring often, cook until soft and golden, about 5 minutes. Season with salt and pepper, and set aside.

Blend. Remove the bay leaves! Then carefully pour the contents of the pot into a powerful blender and blend it's completely smooth, about 10 seconds. (Times will vary, depending on how powerful the blender is.)

Add coconut milk and seasonings. Pour the now puréed soup back into the pot and add the coconut milk, sugar and nutmeg. Stir to blend and then season to taste with salt and pepper. (Here's how.)

Serve. Serve each portion of the soup with a few pieces of the small diced, sautéed kohlrabi on top with a drizzle of olive oil.
NOTES
This recipe serves about 8 as an appetizer, and 4 as a main course soup.
Calorie count is only an estimate.
NUTRITION
Have you tried this recipe?
I'd love to see it on Instagram! Tag me at @cookingontheweekends or leave a comment & rating below.