Apricot Chicken Thighs are sweet and savory and made in one-pan. This is a delicious comfort food dish that's excellent for a busy weeknight and interesting and lovely enough for entertaining on the weekend.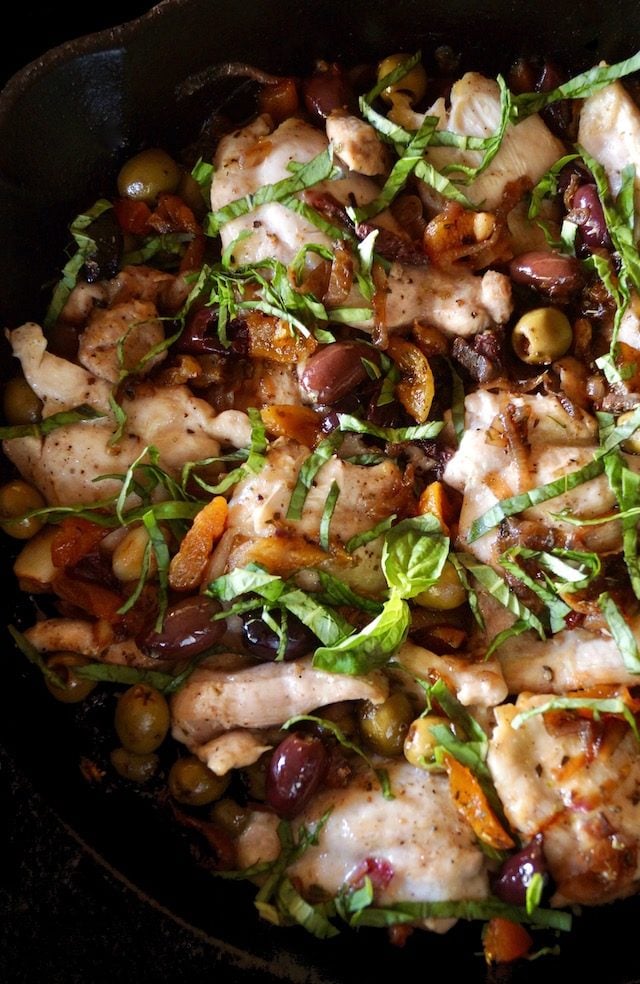 This apricot chicken skillet dinner is sweet, savory, hearty and so pretty!
The sweetness from the apricots is such a delicious contrasting flavor in the sauce with the briny olives. Add to that, caramelized onions, garlic, herbs, a generous splash of vermouth and succulent chicken, and watch out!
Jump to:
The Ingredients
(I often suggest brands I love and use — these are only suggestions and this is not a sponsored post.)
olive oil. I like this one.
boneless, skinless chicken thighs - Fresh raw chicken should be a light pink color with little to no odor, soft and moist.
shallots - Shallots are slightly more mild and delicate than red onions. Try to choose those that are firm, heavy for their size and without bruises.
garlic - Look for firm heads of garlic without any soft spots or green shoots, which are an indication it's old. (Raw garlic cloves should be firm without any dark spots.)
Kalamata Olives - Pitted.
Manzanilla olives - Pitted.
dried apricots - When you choose dried apricots for this recipe, they should be plump and soft. These are my favorites.
vermouth - Vermouth is fortified wine that includes botanicals, sugar, and spirits. It's the use of botanicals (herbs, spices, and bitter roots) that gives Vermouth a unique flavor.
dried oregano
honey
fresh basil - Look for perky bunches and avoid any brown, bruised or yellow leaves. The smaller the leaves, the more tender they'll be.
salt - I cook with Kosher salt. I prefer it for a few reasons: its larger flake size, it's less refined and usually doesn't contain additives, and it does a great job enhancing the flavor of foods without making them taste salty.
pepper - Preferably freshly ground.
(See recipe card below for quantities.)
Substitutions and Additions
I suggest a combination of Kalamata and Manzanilla, but you can use your favorite olive varieties.
Red onions can substitute the shallots, though they're a bit stronger in flavor.
The recipe calls for vermouth, but chicken with apricots is also fantastic with dry sherry. Or if you don't want to add either, substitute with more of the vegetable stock.
You can substitute fresh oregano for the dry if you'd like. Use about a third the amount.
You can use chicken breasts instead of the thighs if you prefer. You can use bone-in, though the cooking time will be longer. I prefer skinless in this recipe to prevent the sauce from being too greasy.
If you want to add a little heat to this dish, sprinkle red chili flakes on top.
How to Make it
This easy apricot chicken recipe is relatively quick to whip up . . .
- Sear the chicken in a very hot skillet with olive oil. Brown both sides and then remove it from the pan. Set aside.
- Then over medium heat, in the same skillet, sauté shallots, garlic, olives and apricots.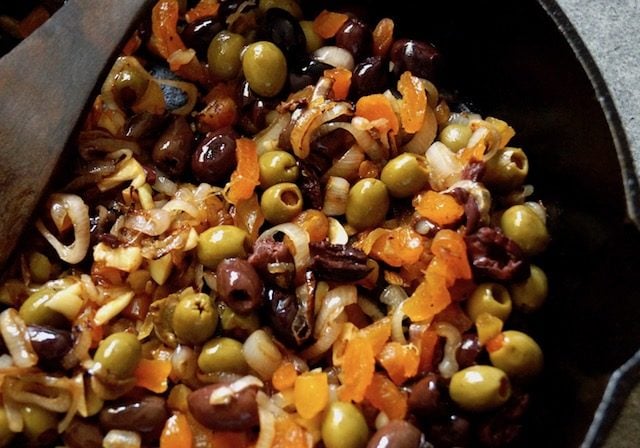 - Deglaze the pan with vermouth and when it has almost completely reduced, add the oregano. Season to taste with salt and pepper.
- Return the chicken to the pan and spoon some of the olive-apricot mixture on top. Reduce the heat to low, drizzle with olive oil and honey, and cover. Cook just until the chicken is cooked through.
(More detailed instructions are in the recipe card below.)
Recipe Tips
Make sure pan is very hot before you add the chicken to sear it. (You should hear a sizzling sound!) Otherwise, it won't brown as quickly or easily. In this first step of searing it, we're not cooking it through (that happens later).
Serving Suggestions
More Skillet Chicken Dinner Recipes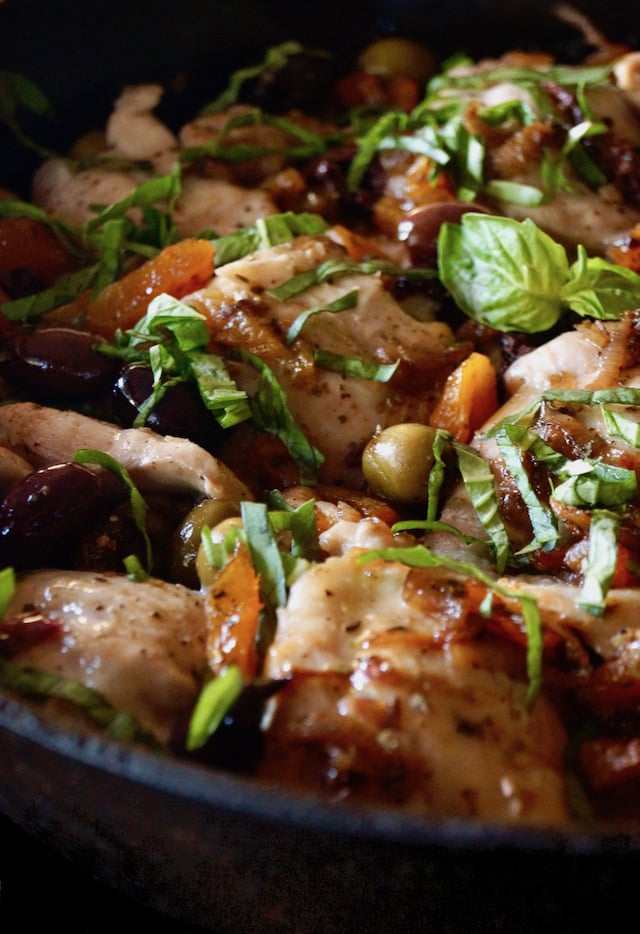 Making it Ahead
Ideally, Apricot Chicken should be served right after it's finished cooking. That's when the chicken will be at it juiciest. However, it's still excellent the next day. Let it come to room temperature and refrigerate in an airtight container, then to reheat it, set it out at room temperature for about 30 minutes, place it in a casserole dish in a 375°F oven just until it's hot, about 15 minutes.
Leftovers can be kept in an airtight container in the refrigerator for up to 5 days.
It can be kept in the freezer for up to 2 months in an airtight container of freezer bag with a bit of room for expansion.
I hope you love this apricot chicken as much as I do!
Enjoy!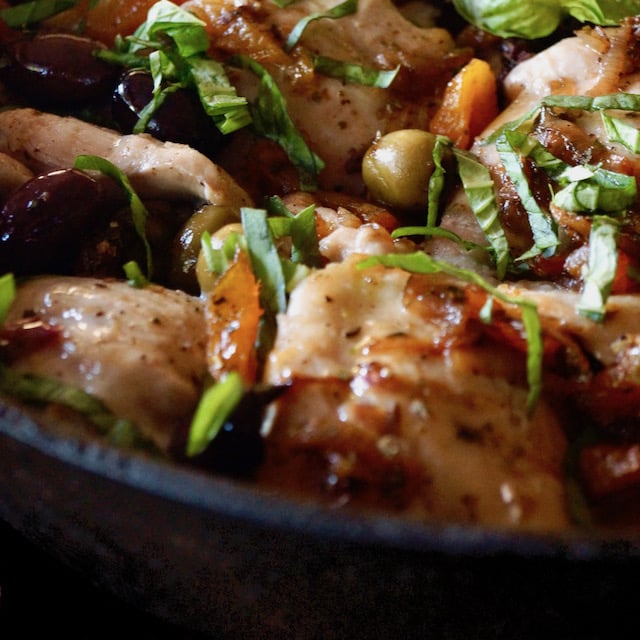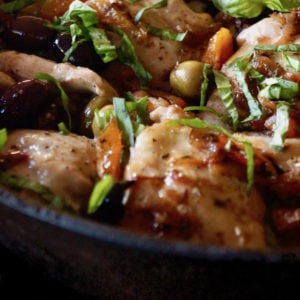 Apricot Chicken Recipe
This Apricot Chicken recipe is sweet and savory and made in one-pan. This is a delicious comfort food dish that's excellent for a busy weeknight and interesting and lovely enough for entertaining on the weekend.
Ingredients
3

tablespoons

olive oil,

divided

3

pounds

chicken thighs,

boneless, skinless

1

cup

shallots,

thinly sliced

2

tablespoons

roughly chopped garlic,

roots removed

¾

cup

pitted Kalamata olives

½

cup

pitted Manzanilla olives

½

cup

vermouth

1

tablespoon

dried oregano

1

tablespoon

honey

¼

cup

fresh basil,

washed and dried, roughly chopped

salt and freshly ground black pepper
Instructions
Add 1 tablespoon of the oil to a large skillet (cast iron is best). Place the pan over medium-high heat. Lightly sprinkle both sides of the chicken with salt and pepper and add them to the pan once it's very hot. Sauté just long enough to lightly brown, about 1 minute per side. (Do this in two batches if it's a tight fit.) Remove the chicken and set it aside on a plate covered with foil.

Turn the heat to medium-low and add the shallots. Stirring a bit, once they begin to soften, add the garlic and sauté for another couple of minutes. Add the olives and apricots and sauté, stirring often until everything begins to brown, about 4 minutes.

Move the pan away from the heat and add the vermouth. Turn the heat to medium-high and using a deglazing spatula, scrape any bits of the ingredients stuck to the bottom of the pan off, and into the mixture. Season to taste with salt and pepper. (Here's How to Season to Taste.) When the vermouth has almost completely reduced, stir in the oregano.

Return all of the chicken pieces to the pan, placing them more or less beneath the olive-apricot mixture. Reduce the heat to low, drizzle evenly with the remaining 2 tablespoons of olive oil and the honey, and cover. Cook just until the chicken is cooked through, about 10 minutes.

Sprinkle with the basil and serve.
NUTRITION
Have you tried this recipe?
I'd love to see it on Instagram! Tag me at @cookingontheweekends or leave a comment & rating below.
Cooking On The Weekends is a participant in the Amazon Services LLC Associates Program, an affiliate advertising program designed to provide a means for sites to earn advertising fees by advertising and linking to Amazon.com.