Brown Basmati Rice with Garlic Chicken is a hearty, healthy and delicious meal. It includes about cup of whole garlic cloves that have been roasted to perfection.
Inspiration
I sort of adore roasted garlic.
Not even sure why I threw the "sort of" in there. I absolutely adore roasted garlic!
I always roast a bunch of garlic at once to have on hand to cook with for a couple of weeks (and to spread on bread)! I just did a big batch so I've been thinking up new and delicious recipes.
In this Roasted Garlic Chicken recipe, the garlic transforms the chicken and brown Basmati rice into a delicious comfort food! I'm telling you, every bite will melt in your mouth.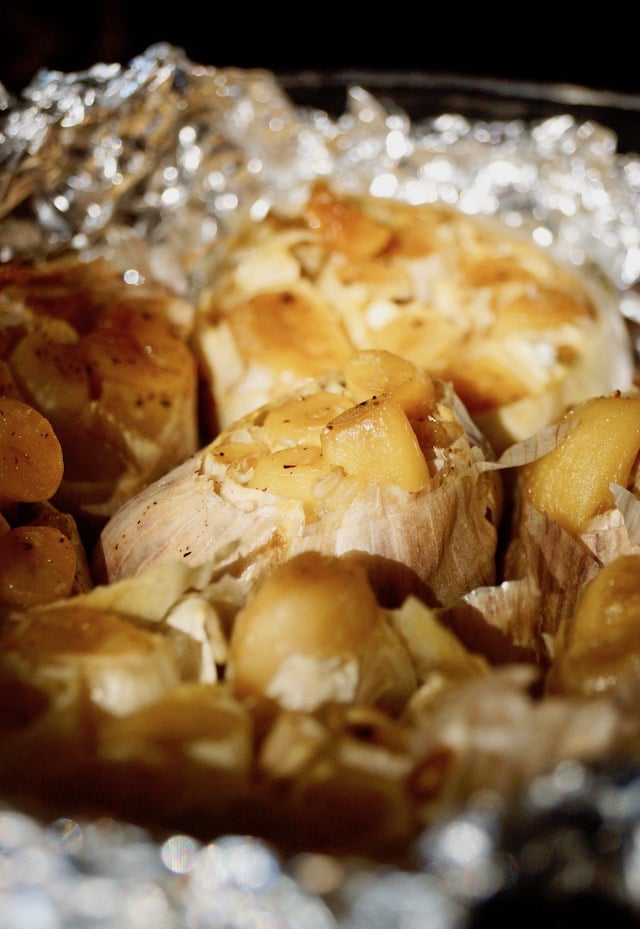 What is Basmati rice?
Although many countries now grow Basmati rice, it's originally from India and Pakistan.
Basmati is a very slender, long grain rice that's very aromatic.
Is basmati rice healthy? Like all rice, it's available in white or brown. And all brown rice varieties are essentially white rice without the husk, bran layer and germ removed. Brown rice is thought to be healthier because most of the nutrients are in these layers.
Brown Basmati rice has a lovey nut-like flavor that is wonderful with the roasted garlic and chicken. The combined flavors are so tasty together, and make for such a comforting meal.
Recipe Tips
Be sure to follow the instructions for the rice carefully. You have to partially cook it on the stove, before combining it with the other ingredients in the pan. The results of this method are wonderful!
I love the pan fried, whole roasted garlic cloves — they're a true treat. However, to save time, it will still be delicious, if you add them without frying them.
The fresh thyme is great in this recipe, but fresh oregano and rosemary would also work — or any combination thereof. (If you use rosemary, just use a bit less so it doesn't overpower any of the other flavors.)
The Roasted Garlic
While I love how the chicken becomes completely saturated with the wonderful garlic flavor — inside and out — I think my favorite part of this dish are those candy-like, roasted garlic cloves that I quickly pan fry. They go on top, inviting you to dig in. And so do those crispy bits of rice that stick to the sides of the pan. Yum!
I highly recommend having roasted garlic on hand at all times!
I hope you enjoy every last bite of this comforting Roasted Garlic Chicken with Brown Basmati Rice.
Brown Basmati Rice with Garlic Chicken
Brown Basmati Rice with Roasted Garlic Chicken is a hearty, healthy and delicious meal. It includes about 1/2 cup of whole garlic cloves that have been roasted to perfection.
Ingredients
3

cups

chicken stock

1½

cups

brown basmati rice

¼

cup

olive oil

2

teaspoons

lemon juice

1

(approximately 4-pound)

whole chicken,

cut up, bone-in, skin on

1

small bunch

fresh thyme

washed and dried

salt and freshly ground black pepper
Instructions
Preheat the oven to 375°F.


Pour the chicken stock into a medium-sized sauce pot, season it with salt and bring it to a boil. Add the rice, cover and cook for about 15 minutes. It won't be quite done, and some of the stock will not have been absorbed -- it will finish cooking later in the oven.


While the rice is cooking, use a fork to combine ¼ cup of the roasted garlic with the olive oil and lemon juice in a small bowl. Season to taste with salt and pepper. Loosen the skin of each piece of chicken and evenly distribute the garlic mixture beneath it. Then, season all of the pieces with salt and pepper. Set aside.

After the rice has cooked for 15 minutes, pour it, along with the stock into a 12-inch round, or 9 x 13 x 2-inch baking dish, and let it cool a bit more, until it's room temperature. Then add the chicken pieces to the baking dish. Add sprigs of thyme all over the dish — in the chicken skin, in the rice, and on top.  Drizzle with a bit of olive oil, cover with foil, and bake in the preheated 375°F oven just until the chicken is cooked through, about 45 minutes. 

Remove the foil cover after the first 30 minutes of the cooking time — this way it will nicely brown during the last 15 minutes. The rice and chicken should be done at the same time — if the rice needs a bit more time, remove the chicken, re-cover the rice, and cook until it's done. Season the rice generously with salt and pepper.

While the chicken is in the oven, add the remaining roasted garlic to a small sauté pan with a bit of olive oil, over medium-high heat. Sauté to brown the garlic, about 1 minute. (If possible, use a head of roasted garlic that's still intact and remove the individual cloves with a paring knife to keep them whole.)
Have you tried this recipe?
I'd love to see it on Instagram! Tag me at @cookingontheweekends or leave a comment & rating below.