Really good chicken recipe, indeed! This chicken is packed with bold, warm and comforting flavors, cooked to perfection, and it's also easy to prepare. There is one essential key to creating the best chicken. Read on . . .
Would you ever order a dish on a menu called, "Really Good Chicken?"
Here's the deal . . .
All I kept thinking while I was making and tasting this recipe was that it was really, really good chicken! Had I given this chicken a more traditional name, it would have been something ridiculously long like, "Warmly Spiced, Smoky, Tomato-Pepper and Balsamic Braised Chicken."
We all love really good chicken recipes, right?
What's in this really good chicken recipe?
Since all the title tells you is that it will be a delicious eating experience, here's a little more detail to whet your appetite . . .
dried, mild Hatch chile peppers
onion
garlic
tomato paste
sweet paprika
cinnamon
fresh tomatoes
balsamic vinegar
and of course, chicken
All of these flavors, combined with juicy chicken, are warm and comforting.
When to Serve It
While this chicken recipe is a wonderful comfort food for fall and winter, the abundance of fresh tomatoes makes it just as great a choice in the spring and summer. Just add a salad, and maybe some crusty bread and you're set.
Do you see how juicy and succulent that bite looks!?
Tips for Making the Best Chicken and More Recipes

These tips apply to all chicken recipes, not just the above.

Above everything, cook the chicken JUST until it's cooked through, and if possible, not a second longer. When chicken is tender and juicy, it's fabulous! When it's overcooked, it's dry and tough.
To make sure you don't overcook it, use the time given in chicken recipes as a guide.
Use a knife to cut into the thickest part of chicken towards the last third of the cooking time. You want to remove it from the oven as soon as it's no longer raw. Even if it's a little pink, that's okay. If it's cooked long enough, it can still be a bit pink, but you'll see texture, which indicates it's no longer raw.
Chicken continues to cook (at least 5 more degrees) after it's removed from the oven, while it's resting.
You can also test the internal temperature with a

meat thermometer

. The internal temperature of the thickest part of the chicken, should not be any higher than 165°F. This means it should come out of the oven between 155°F and 160°F! (Be sure the thermometer isn't touching a bone because this will result in an inaccurate reading.)
Simple Honey Lemon Roasted Chicken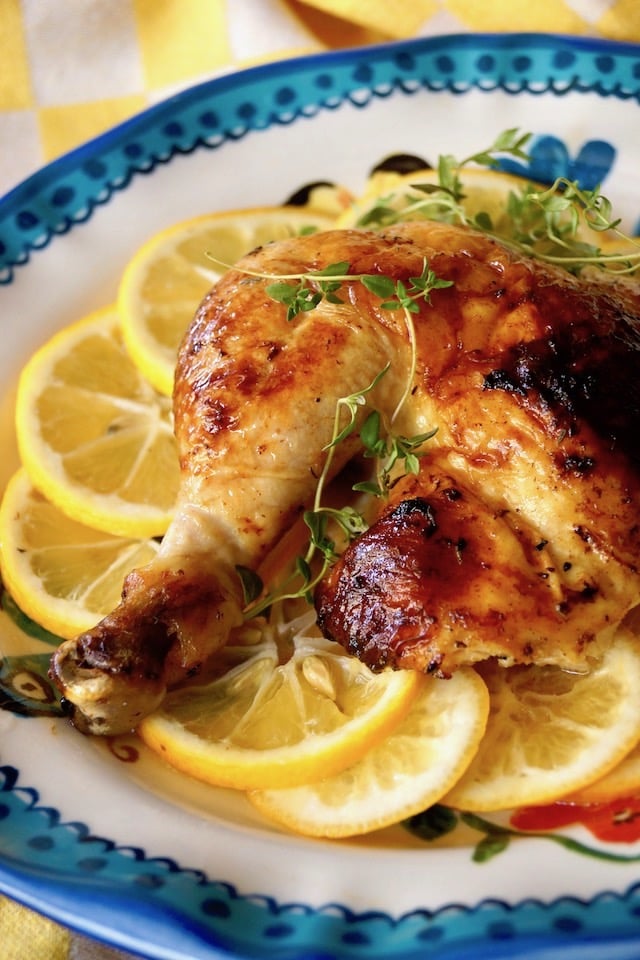 Chicken should always "rest" a good few minutes after it comes out of the oven. The resting times will vary, depending on if it's a whole chicken, cut up pieces, etc. This allow the juices to settle, which will make each bite juicier.
Sheet Pan Chipotle Chicken with Corn Salsa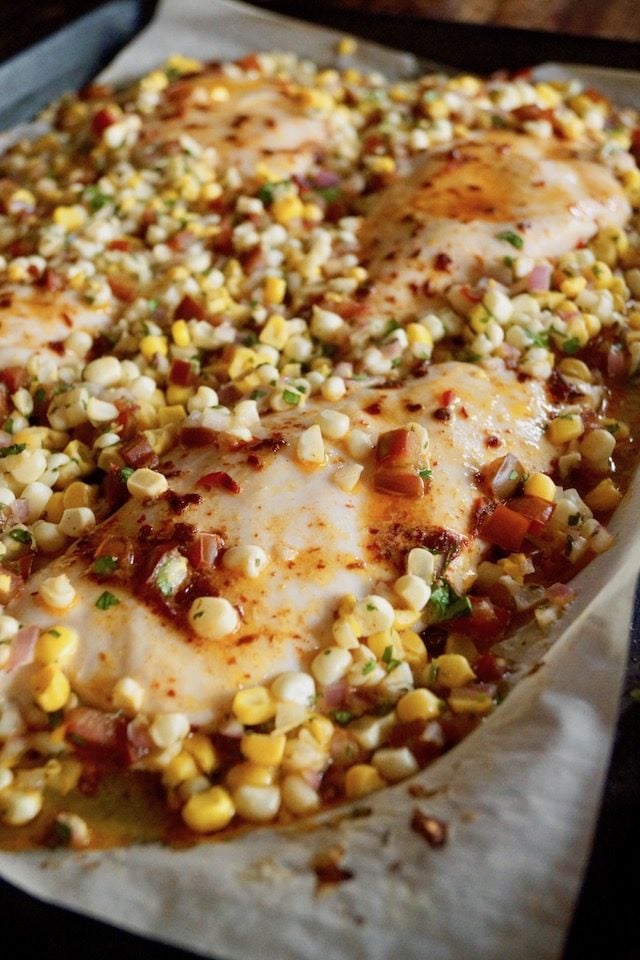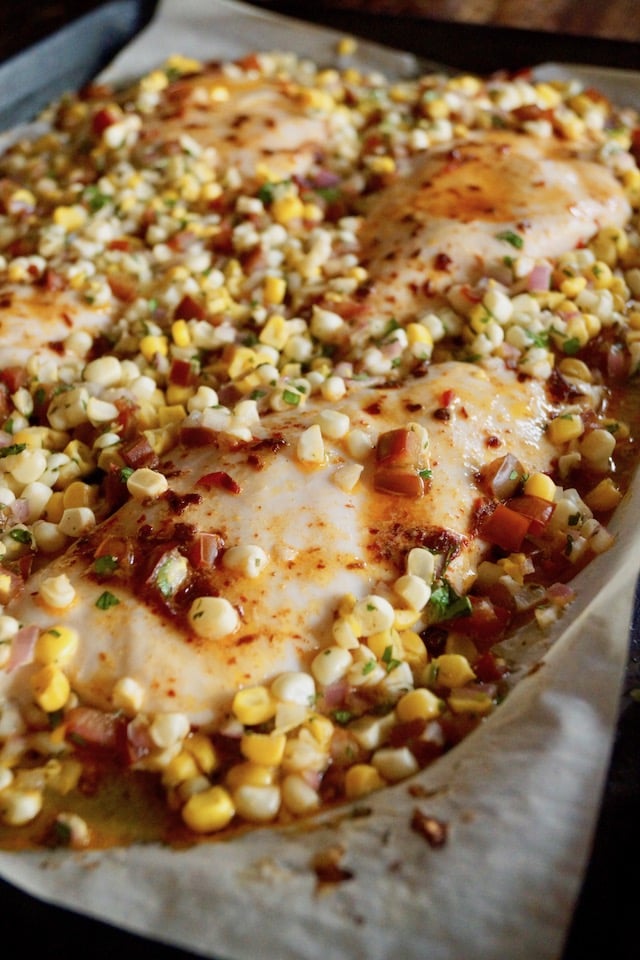 Be sure to season both sides of the chicken with salt and pepper before adding it to the recipe.
If it works for the recipe you're cooking, leave the chicken on the bone. Cooking times will be longer, but it will almost always produce a juicier product. Cooking it with the skin on will also help keep it moist. Sometimes I cook it with the skin on, and then remove it before serving. This is up to you.
Lemon Herb Chicken Under a Brick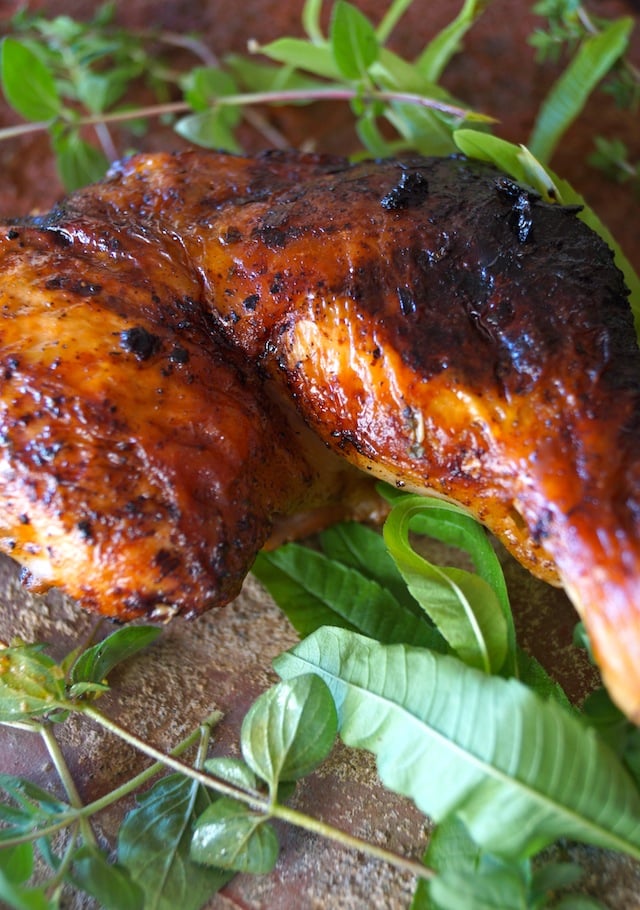 Of course marinating and/or brining chicken will add flavor, as will a sauce and whatever seasonings you use, but this doesn't supersede overcooking it. No matter how delicious the flavor, if it's overcooked, it won't be great.
All of these rules of thumb apply to all cooking methods. In this recipe, we're braising the chicken, but they also apply for roasting, sautéing, grilling, and so on.
I hope you enjoy all of these recipes. Including the Really Good Chicken Recipe. Seriously, it's really good!
update to Really Good Chicken Recipe – June 2019: This recipe was originally posted in 2014 and has been updated with new information and images.

Really Good Chicken Recipe
Course:
Condiments, Main Course
Keyword:
chicken for family dinner, good weeknight meal
Ingredients
4

dried mild Hatch or Anaheim chile peppers

olive oil for the pan

2 1/2

cups

yellow onion,

thinly sliced

1

tablespoon

minced garlic

1

tablespoon

tomato paste

2

teaspoons

sweet paprika

1

teaspoon

cinnamon

1 1/2

pounds

fresh tomatoes,

washed and dried, cut into fourths

1

tablespoon

balsamic vinegar

1

approximately (3 1/4-pound)

whole cut up chicken,

bone-in, skin-off

salt and freshly ground black pepper
Instructions
Bring a small pot of water to a boil, then reduce to low and add the dried peppers. Cover the pot and let them simmer for about 30 minutes. Then turn the heat off, keep the peppers covered and let them sit until they're soft. Another 30 minutes is sufficient, but the longer the better. When they're done, remove them from the pot but SAVE the cooking liquid! Remove the stems from the peppers and use your hands to open them and remove the seeds. (You can also use a small spoon or the back of a knife to gently scrape them off.) Set the prepared peppers aside.

While the peppers are hydrating, preheat the oven to 375°F, adjust a rack to the center.

Then coat the bottom of a large, deep, oven proof sauté pan with olive oil. Place it over medium heat, add the onions and garlic and sauté, stirring periodically, until the onions are caramelized and soft, about 15 minutes.

Then add the tomato paste, paprika and cinnamon and stir. If it seems dry, add a bit more olive oil. Sauté this mixture for a few minutes, until it's very aromatic and the tomato paste is beginning to brown.

Add the fresh tomatoes to a blender or food processor with the hydrated, seeded peppers and 3/4 cup of the cooking liquid. (Now you may discard the rest of the liquid.) Blend until smooth, and then pour this into the sauté pan with the onion mixture. Add the balsamic vinegar and stir to blend. Season with a bit of salt and pepper -- and then season with more (if necessary) to taste after the chicken is done. (Here's How to Season to Taste.)

Season both sides of the chicken pieces with salt and pepper and then arrange them in the pan, coating them as much as possible with the sauce and trying not to overlap them.

Place the pan in the preheated 375°F oven and braise just until the chicken is cooked through, about 40 minutes. At the halfway point, cover the pan lightly with foil. Try to remove the pan as soon as the chicken isn't pink anymore -- keep checking towards the end of the cooking time. (You can use a sharp knife to poke into the thickest part of one of the breasts to see if it's done.)

Let the chicken "rest" for a few minutes before serving. It's delicious over rice, pasta, or a nice chunk of rustic bread.
Cooking On The Weekends is a participant in the Amazon Services LLC Associates Program, an affiliate advertising program designed to provide a means for sites to earn advertising fees by advertising and linking to Amazon.com.