Tortilla Chip Crusted Pork Chops are served with Avocado Sauce, spiced with Mexican flavors and crisped to perfection. It's one of the most unique and delicious pork chop recipes I've made.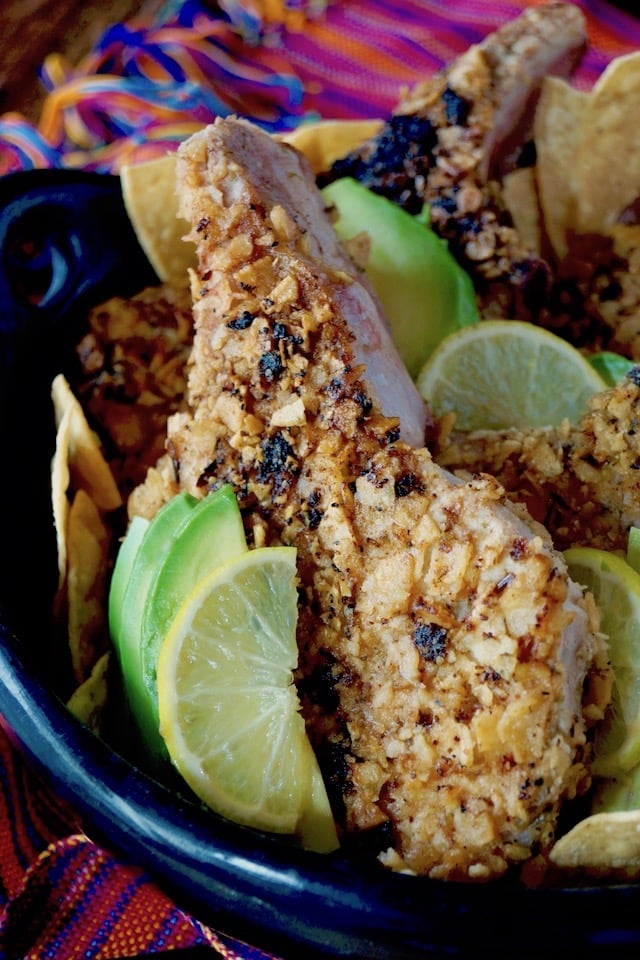 I like to mix up the proteins I serve throughout the week -- it's mostly chicken or fish, but I like to throw in pork or red meat from time to time.
Inspiration
As you might know, if you've been following Cooking On The Weekends for a while, my dad has been coming over for dinner quite often since my mom passed away about a year and a half ago. Although he only lives a few minutes away, and we see him a few times a week, these dinners are special.
He's the focus, spends quality time with the kids, and gets to eat a home cooked meal much like those that my mom prepared regularly.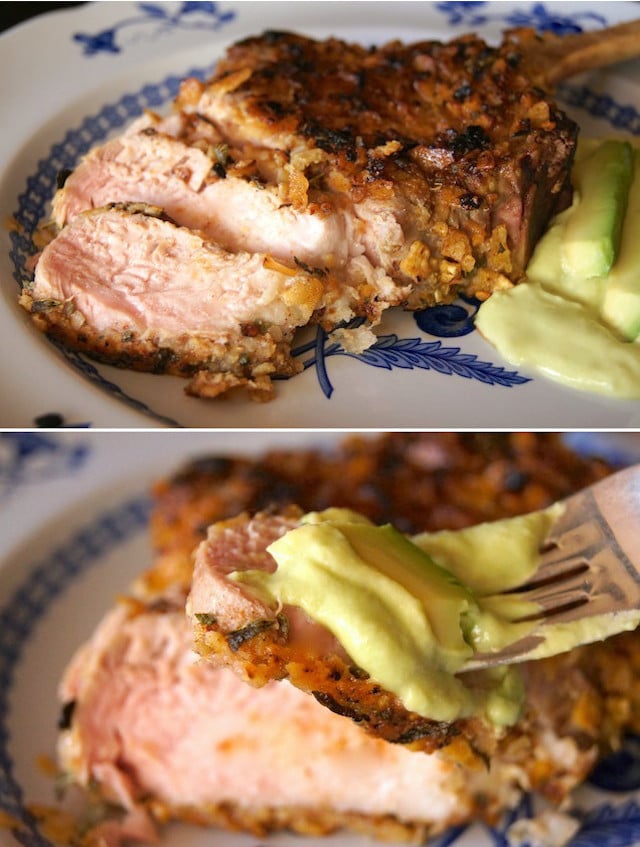 My dad is a super adventurous eater. He's the kind of guy who would try an insect without hesitation.
That said, he's pretty traditional when it come to what's on his plate for dinner. And by that I mean, he likes to see a protein, a starch and a vegetable.
He especially likes pork chops, so this past Thursday I served these Tortilla Chip Crusted Pork Chops. We had them with Mexican Poblano Rice Pilaf, a salad, and of course the delicious Avocado Sauce.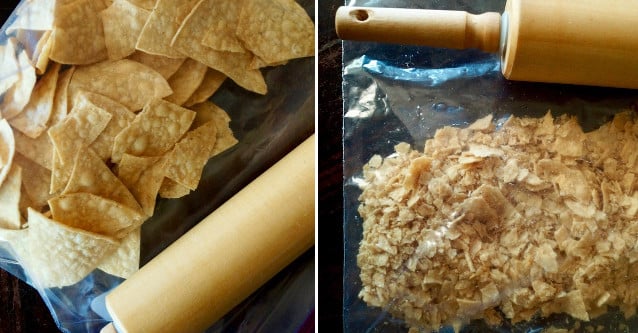 While this recipe for Tortilla Chip Crusted Pork Chops is impressive and looks like it might have taken a lot of time, it's actually quick, easy and perfect for a weeknight dinner.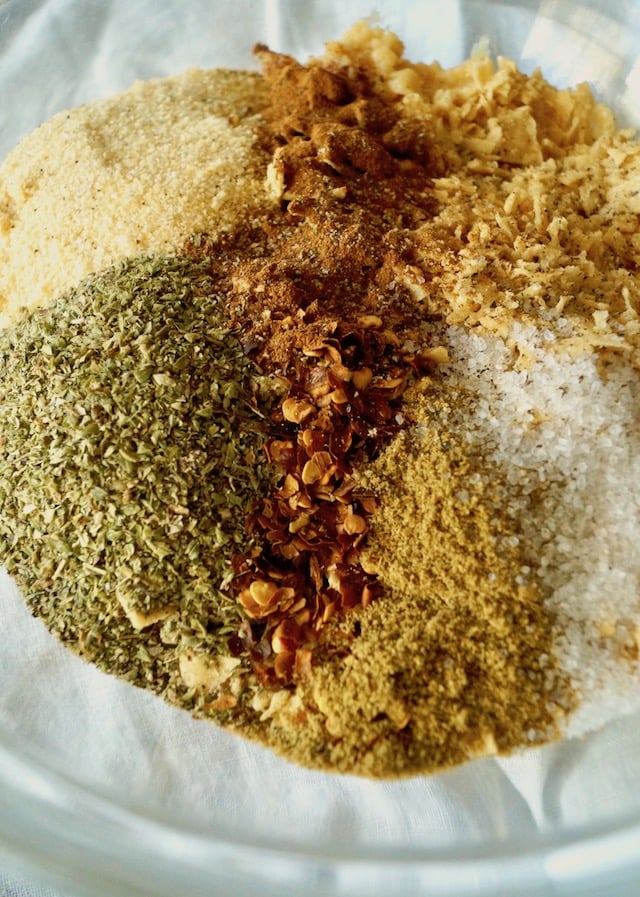 Tortilla Chip Crusted Pork Chops are Gluten-Free
Since my son is gluten-free, tortilla chips are a fantastic way to create a "crust" with a gluten-free ingredient, that everyone will love.
And this one is full of aromatic, tasty spices and cooks to a crispy perfection.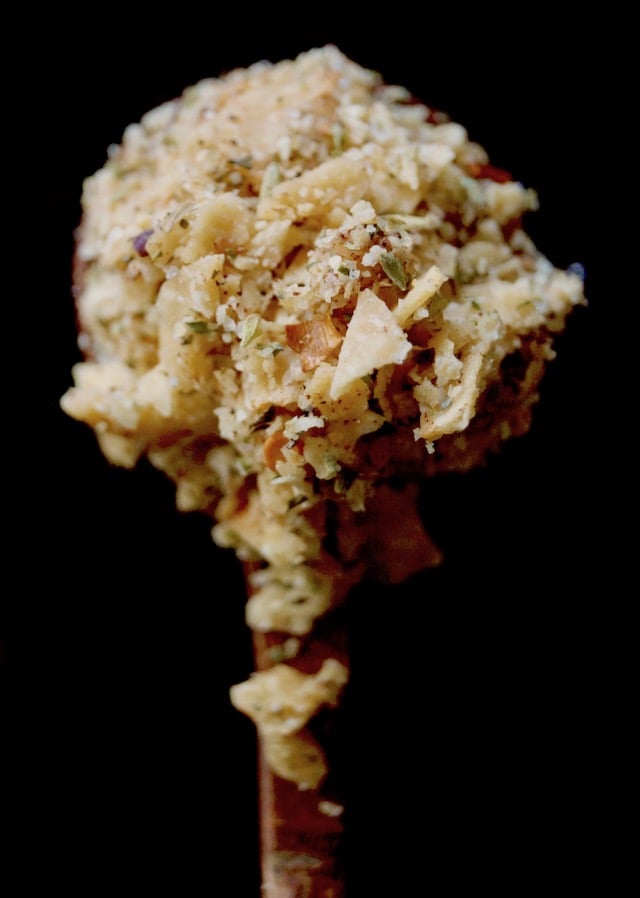 How to Make Them
As I said, this recipe is easy. There are five very simple steps:
Crush the chips.
Mix the spices into the chips.
Dip each pork chop in a slightly beaten egg.
Press the egg-coated pork chops into the spiced chip mixture.
Cook.
(See recipe details below.)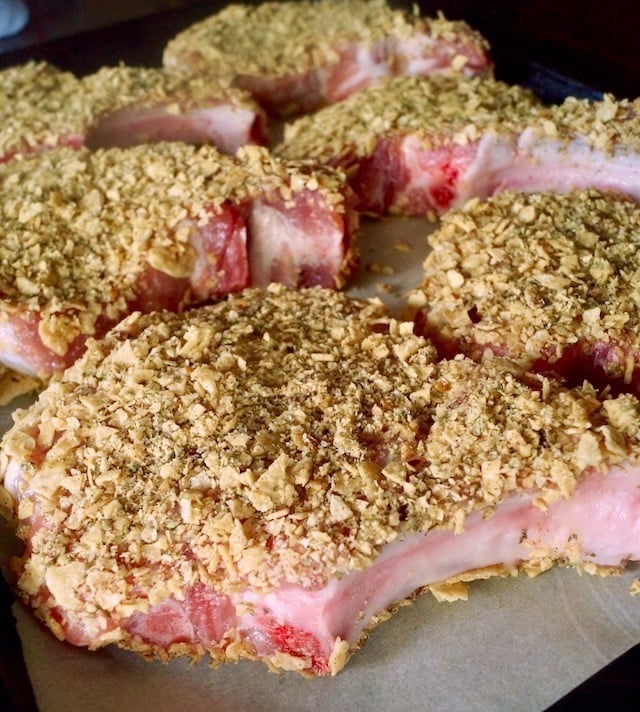 The Avocado Sauce is rich, smooth and flavored with lime and cumin. It's divine!
You might just find you'll make an extra batch to keep on hand for a quick snack with chips or raw vegetables.
Enjoy every last bite of these Tortilla Chip Crusted Pork Chops. I hope this becomes one of your go-to pork chop recipes.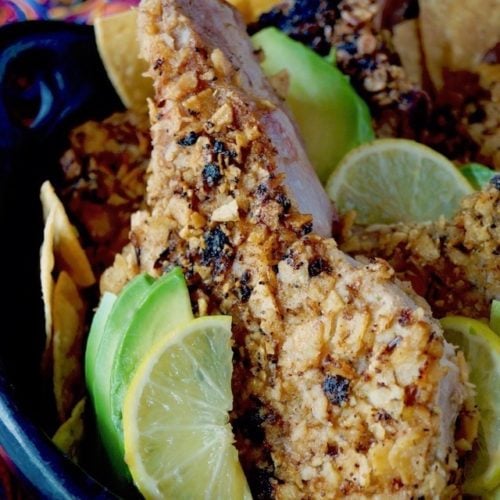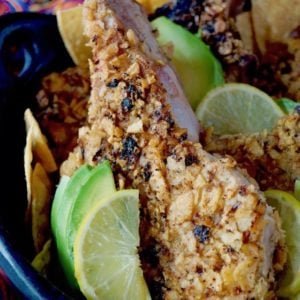 Tortilla Chip Crusted Pork Chops
Tortilla Chip Crusted Pork Chops with Avocado Sauce are spiced with Mexican flavors and crisped to perfection.
Ingredients
4

approximately (8-ounce)

bone-in pork chops
For the crust
1½

cups

crushed corn tortilla chips

(see notes)

1½

tablespoons

granulated onion

1½

tablespoons

dried oregano

1½

teaspoons

fresh garlic,

minced

¾

teaspoon

cinnamon

½

teaspoon

ground cumin

¼ to ½

teaspoon

dried chile flakes

(use more or less depending on how much heat you like)

½

teaspoon

salt

freshly ground black pepper

1

egg

olive oil for the pan
For the sauce
½

cup

mashed avocado

(about 1 medium-large avocado)

2

tablespoons

sour cream

1

tablespoon

freshly squeezed lime juice

½

teaspoon

sugar

¼ + ⅛

teaspoon

sea salt

¼

teaspoon

ground cumin

a few slices avocado and lime for garnish

(optional)
Instructions
Prep the pork. Trim any excess fat off of the pork chops and set them aside on a large plate.

Make the crust. In a small bowl, combine the crushed tortilla chips with the dried onion, oregano, garlic, chili flakes, cinnamon and salt. Then grind a couple of turns of black pepper into the mix and combine. Add the mixture to a large, shallow bowl and set aside.

In another large, shallow bowl, beat the egg with a fork until it's well blended.

Coat the chops. Dip each pork chop into the egg to thinly coat both sides, then immediately press each side into the chip mixture, being sure it sticks well and covers the meat completely. Set the coated pork chops on a dry plate.

Cook. Coat the bottom of a medium-sized sauté pan with olive oil and place it over medium-high heat.

Once the pan is very hot, add the coated pork chops. You should hear a sizzling sound when they hit the pan -- if you don't, wait! For the crust to form properly, you need the pan to be very hot.

Turn the pork chops over when the bottom crust is golden brown, about 2 minutes. Now turn them over and sauté for another couple minutes, then turn the heat to low, cover, and let them finish cooking, 8 to 10 minutes.

Make avocado sauce. While the pork is cooking, combine all of the avocado sauce ingredients in a small bowl, use a fork to blend until it's as smooth as possible.

Serve. Serve the pork chops hot, with the sauce at room temperature and garnish with a few slices of avocado.
NOTES
To crush the tortilla chips, put them in a heavy-duty zip-lock bag, seal it, and roll a rolling pin over them. You can also use your hands, or the bottom of a small sauté pan to crush them. And if you're making a larger quantity, you can a food processor.
Calorie count is only an estimate.
NUTRITION
Have you tried this recipe?
I'd love to see it on Instagram! Tag me at @cookingontheweekends or leave a comment & rating below.
Cooking On The Weekends is a participant in the Amazon Services LLC Associates Program, an affiliate advertising program designed to provide a means for sites to earn advertising fees by advertising and linking to Amazon.com.