Bistec Encebollado Salvadoreño (Steak and Onions), bursts with rich, delicious flavors. From Alicia Maher's cookbook, Delicious El Salvador, it makes for a hearty, scrumptious dinner!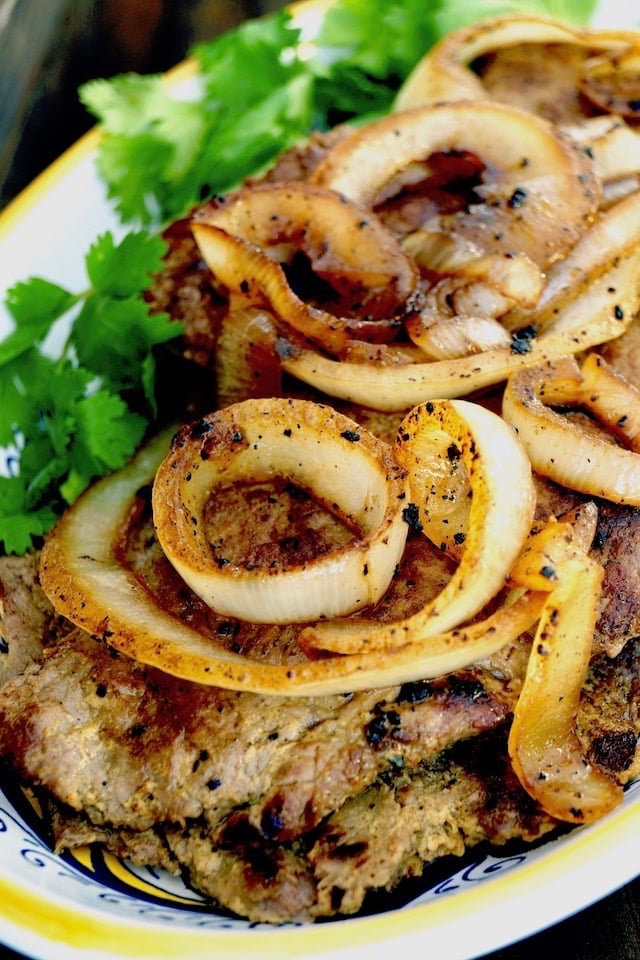 A while ago I was fortunate enough to be invited to Melissa's Produce for a cookbook signing and demo with the lovely Alicia Maher. She's the author of Delicious El Salvador and Sabores Deliciosos.
Alicia taught us how to make Bistec Encebollado, an amazing Salvadoran meat recipe.
Alicia was born and raised in El Salvador. It's her mission to "preserve, rescue and document authentic Salvadoran recipes for her children, future generations, and food lovers everywhere."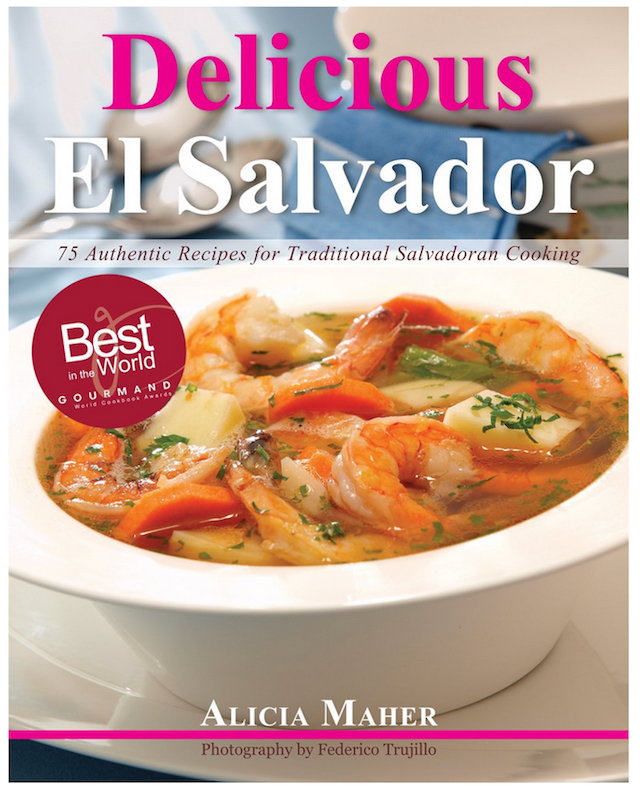 About Alicia Maher
Among other awards, in 2014, Delicious El Salvador won the Gourmand Award for Best First Cookbook in the World. In the world!
Every year the Gourmand World Cookbook Awards honor the best food and wine books, printed or digital. Books from 205 countries participate.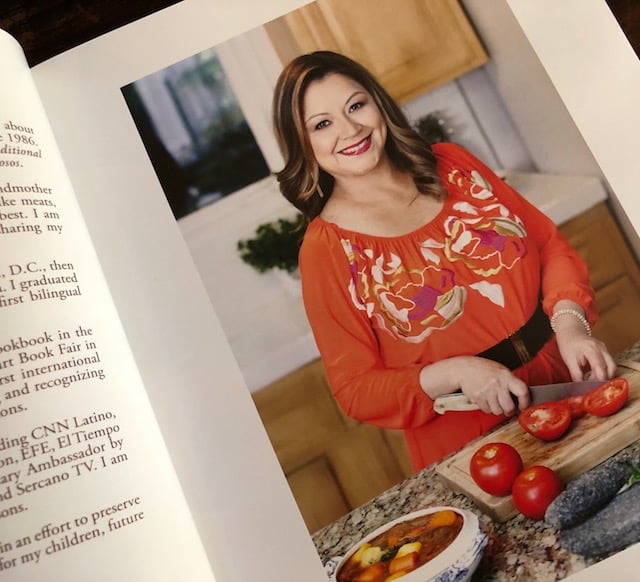 Alicia was also a contributor to The Immigrant Cookbook, representing the millions of Salvadoran immigrants living in the US.
The Delicious El Salvador Cookbook
There are 75 recipes in Delicious El Salvador and there are gorgeous photographs of each one, most of which were taken on location, in San Salvador.
I've always loved Salvadoran food, so I was super excited about this event. While Alicia was signing my book, I asked her if she has Salvadoran restaurants she would recommend. Without skipping a beat, she said, "in my kitchen, at home." And fittingly, Delicious El Salvador is a guide to authentic Salvadoran home cooking.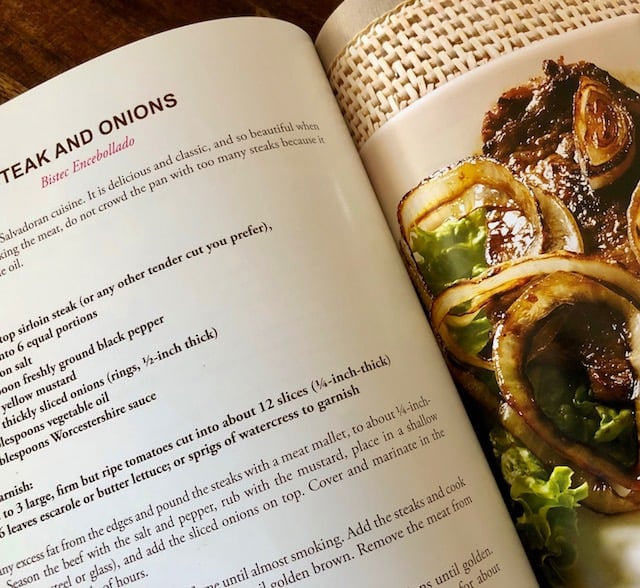 You could feel Alicia's passion for her country as she talked about the food and demonstrated recipes.
Bistec Encebollado Salvadoreño
While she was demonstrating how to make this delicious Salvadoran recipe, (page 112), I decided that's what I'd be making for dinner that night.
A staple of Salvadoran cuisine, Alicia described Bistec Encebollado as delicious, classic, easy for a busy night, and one of the best Salvadoran meat recipes ever. All true!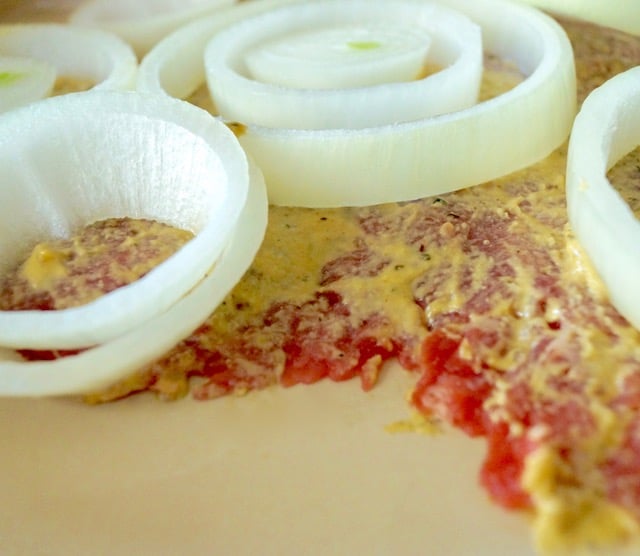 It was the onions that really lured me in. My mom would have loved this dish, and wouldn't have even had to say "double the onions, please." 🙂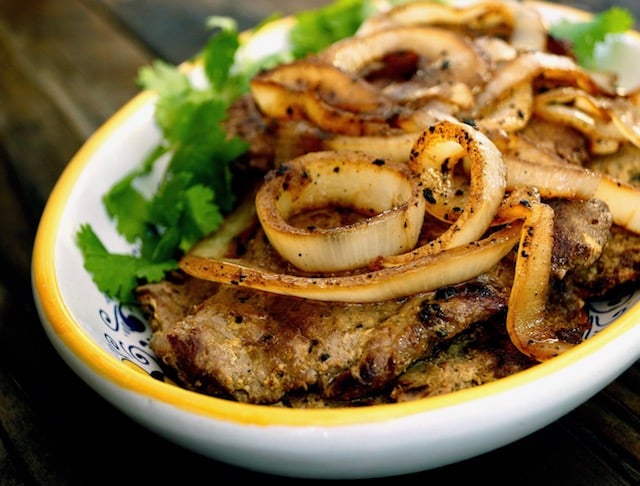 You can find out more about Alicia Maher on her site, Delicious El Salvador.
This is not a sponsored post. I was a guest to Alicia Maher's cookbook signing and demo at Melissa's Produce where I was given a copy of Delicious El Salvador.
I hope you try this Bistec Encebollado recipe, and love it as much and my family and I did!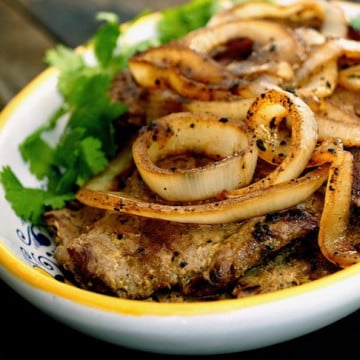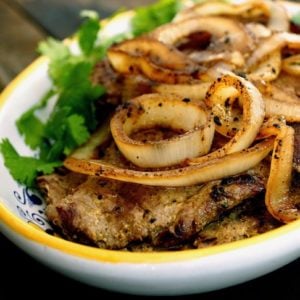 Bistec Encebollado Salvadoreño (Steak and Onions)
From Alicia Maher's cookbook, Delicious El Salvador, this recipe is bursting with delicious flavors and makes for a hearty, scrumptious dinner!
Ingredients
2

pounds

top sirloin steak (or any other tender cut you prefer),

sliced into 6 equal portions

1

teaspoon

salt

¼

teaspoon

freshly ground black pepper

½

cup

yellow mustard

1

cup

onion,

thickly sliced (rings, ½-inch-thick)

3

tablespoons

vegetable oil

4

tablespoons

Worcestershire sauce
Garnish
2 to 3

large

tomatoes (firm but ripe),

cut into about 12 slices (¼-inch-thick)

6

leaves

escarole or butter lettuce; or sprigs of watercress
Instructions
Prep steak and marinate. Trim any excess fat from the edges and pound the steaks with a meat mallet, to about ¼ inch thick. Season with he salt and pepper, rub with the mustard, place in a shallow dish, and add the  sliced onions on top. Cover and marinate in the refrigerator for a couple of hours.

Sauté steak. In a large skillet, heat the oil over a high flame until it's almost smoking. Season the steaks with the salt and pepper, and add them to the skillet. Cook on each side for about 1 minute, turning once, until golden brown. Remove the meat from the skillet and set aside in a serving dish.

Sauteé onions. Reduce the flame to medium high, and in the same skillet with the oil remaining from cooking the steaks, fry the onions until golden, 8 to 10 minutes. Reducing the flame to low, add the Worcestershire sauce and cook the onions for about another 20 seconds. Remove skillet from the stove.

Assemble and serve. Top the steaks immediately with the onions and pan juices, then garnish before serving with the sliced tomatoes and greens of your choice.
NOTES
Calorie count is only an estimate.
NUTRITION
Have you tried this recipe?
I'd love to see it on Instagram! Tag me at @cookingontheweekends or leave a comment & rating below.
Cooking On The Weekends is a participant in the Amazon Services LLC Associates Program, an affiliate advertising program designed to provide a means for sites to earn advertising fees by advertising and linking to Amazon.com.