My Spicy Sriracha Burger Recipe is served with a tangy Lime Aioli and caramelized onions. Just one bite will knock your socks off!
I think "epic" sums up this Spicy Sriracha Burger recipe perfectly. In my humble opinion, of course. 😉
Imagine perfectly spiced meat with a handful of Asian flavors, topped with caramelized, sweet onions, and drizzled with a creamy, delicious Lime Aioli.
Now imagine all of this between two soft, toasted buns. It simply doesn't get better!
What's in the bruger?
Try not to salivate as you read through this ingredient list:
low sodium soy sauce
fresh garlic
fresh ginger
honey
salt and pepper
And in the Aioli?
Mayonnaise
garlic
ginger
lime juice
honey
Are you hungry yet?
When to Serve the Sriracha Burger
We all tend to love burgers at summer barbecues, but they are just as much a hit any time of year. They're great for a busy weeknight dinner or weekend dinner party.
Recipe Tips for Spicy Sriracha Burgers
Feel free to adjust the amount or Sriracha sauce if your prefer more or less heat.
The instructions tell you to use a cast iron skillet. I love making these on cast iron or a grill because I really like the smoky, char flavor they impart. You can make them in any skillet, though.
This recipe is also delicious with ground chicken or turkey.
If you're making the burgers on a grill, you can slice the onions thicker, and throw them on, too.
The Burger Bar
When I serve burgers, I usually set up a "burger bar" of sorts. It's the best way to ensure everyone gets exactly what they want, and it's fun.
The burgers go on one platter and on a second platter, I have crispy lettuce, avocado and tomato slices.
The aioli goes in its own serving bowl with a spreader, and the onions go in another bowl with tongs.
And . . . dont gasp, I almost always put out the ketchup, because no matter how fancy, interesting or unique the burger is, someone will always be happy to see the familiar ketchup.
I hope you love this Spicy Sriracha Burger recipe and the Lime Aioli as much as I do!
More delicious recipes with Sriracha sauce: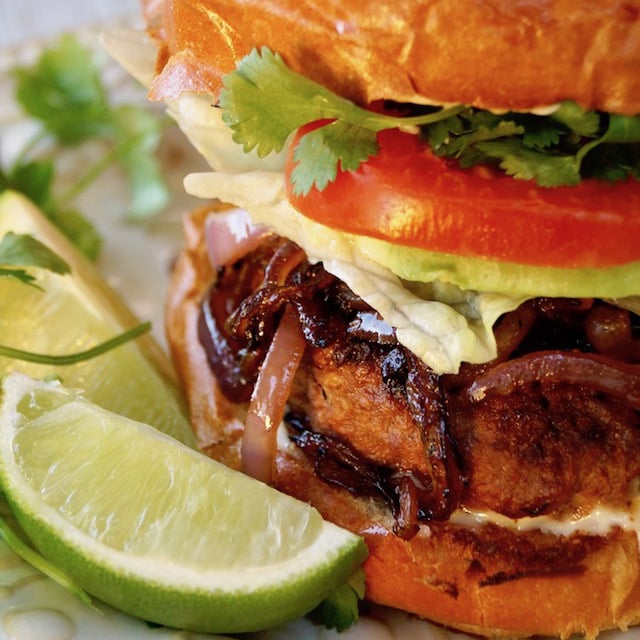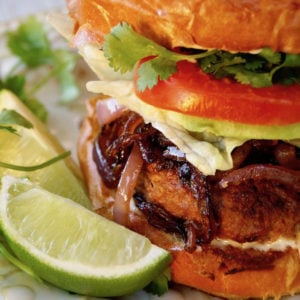 Spicy Sriracha Burger Recipe
My Spicy Sriracha Burger Recipe is served with a tangy, Asian Spiced Lime Aioli and caramelized onions. Just one bite will knock your socks off!
Ingredients
For the onions
1

cup

red onion,

thinly sliced

salt and freshly ground black pepper
For the Lime Aioil
⅓

cup

mayonnaise

1½

teaspoons

fresh garlic

minced

½

teaspoon

fresh ginger

minced

1½

teaspoons

lime juice

½

teaspoon

honey

¼

teaspoon

salt
Add-ons
large leaves of crispy lettuce (like Iceberg)

cilantro leaves

roughly chopped

tomatoes,

thinly sliced

avocado,

sliced thinly

your favorite hamburger buns
Instructions
For the onions
Coat the bottom of a large cast iron skillet with grapeseed oil and place it over medium-high heat. Add the onions and cook, stirring a bit, until they are brown and crispy, about 5 minutes. Season them to taste with salt and pepper. Set the onions aside and do not wash the pan.
For the burgers
In a small bowl, use a whisk or a fork to combine the Sriracha, soy sauce, honey, garlic, ginger, and salt. Add the beef to a large mixing bowl and pour in the Sriracha mixture. Use your hands or a large spoon, to mix everything together. Only mix until it's combined.

Shape the meat into 4 evenly sized burgers.

Heat the same pan where you cooked the onions, and add a little more grapeseed oil. When the pan is very hot, add the burgers. You should hear a sizzling sound — if you don't, wait! You won't get a nice "crust" on the burger if it's not hot enough. Cook for about 4 minutes, then flip the burgers over and reduce the heat to medium-low. For medium rare, cook for about another 5 minutes or until the desired doneness. Place the cooked burgers on a plate and cover with foil.
For the Lime Aioli
Mix all of the ingredients together in a small mixing bowl. Set aside in the refrigerator.

To serve, set up a burger bar. Put the burgers and burger buns on platters. (Toast the buns if you'd like.) Arrange the lettuce, avocado and tomato slices on another platter. Spoon the Lime Aioli into a small bowl and put the onions in another. Add serving utelsils and the bar is set up.
NOTES
Calorie count is only an estimate.
NUTRITION
Have you tried this recipe?
I'd love to see it on Instagram! Tag me at @cookingontheweekends or leave a comment & rating below.
Cooking On The Weekends is a participant in the Amazon Services LLC Associates Program, an affiliate advertising program designed to provide a means for sites to earn advertising fees by advertising and linking to Amazon.com.