Black Garlic Pappardelle Pasta highlights the unique and delicious flavor of the often mysterious black garlic. This is a beautiful, vegetarian, main course dish that will wow everyone. Black garlic recipes are becoming more popular, as more people are learning about the super cool ingredient. 
I've known about black garlic for a long time, but we only met a few years ago -- and I might just be in love.
Since I'm a chef and feel I should know these things, it is with some embarrassment that I admit to you, that I originally thought black garlic was another garlic variety that simply was black.
It makes sense though, right? 😉
What is black garlic?
Black Garlic is common garlic that is aged for anywhere from a month to many months, as it's fermented under high heat.
This special process transforms the garlic into a very dark brownish-black color.
It also creates a soft texture and sweet taste while it removes the strong smell and sharpness.
What does black garlic taste like?
It has a similar creamy consistency to regular roasted garlic, though slightly more firm.
The flavor is somewhere between a raisin and mild balsamic vinegar. Imagine a molasses-like richness with tangy garlic undertones.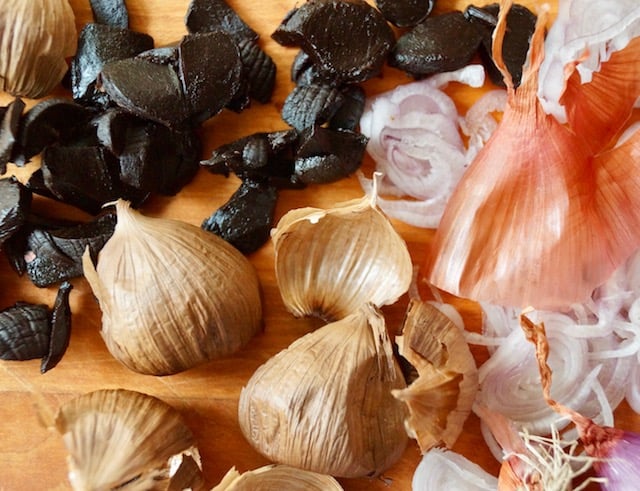 What else is in this Black Garlic Pasta recipe?
This is a fairly simple recipe. The black garlic brings so much flavor and should be the star. In addition to the garlic and pasta, here's what you'll need:
olive oil
shallots
white wine
butter
That's it!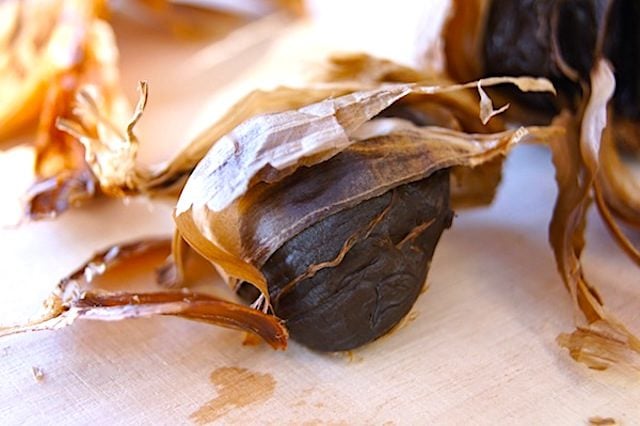 Tips for Black Garlic Recipes
Most black garlic recipes don't use quite as much as I do in this black garlic pasta. With such a delicious not-too-strong flavor, I think it should really be highlighted as the star ingredient. I think it's the perfect amount.
I like keeping the garlic in large pieces, so I roughly chop it.
If you prefer smaller bites of the garlic, finely chop it. Tasting it before you use it in a recipe will help you make this decision.
How to Peel Black Garlic
You should treat black garlic the same way you would roasted garlic. Peel the cloves carefully if you want to keep them whole.
Use a paring knife to make a slit in the skins to help you do this, if the they aren't coming off easily.
Where to buy black garlic?
You might find black garlic in the specialty section of the produce department at your local market. Most higher end markets will have it (Whole Foods, etc.), and I often see it at Trader Joe's.
If you can't find it, and want to see what it's all about, you can order it here.
How to Use Black Garlic
Obviously, I love it in pasta dishes.
Black garlic can be super finely chopped or puréed and used in sauces, dressings, or even to spread on bread.
Here's a delicious idea . . . mash it with a fork, mix it with softened butter, and baste a roasted chicken with it.
Add roasted chicken and a handful or two of spinach to this Black Garlic Pasta recipe, for an even heartier meal.
You can also make just the sauce and protein to it -- I think white fish, shrimp or chicken would all be fabulous.
I hope you enjoy this dish as much as my family and I do!
More black garlic recipes:

Black Garlic Pappardelle Pasta Recipe
This recipe highlights the unique and delicious flavor of black garlic. This is a beautiful, vegetarian, main course dish that will wow everyone!

Ingredients
1

pound

dry Pappardelle pasta

(see notes)

about 3

tablespoons

olive oil,

for the pasta and the pan

½

cup

black garlic cloves

(about 2 heads)

¾

cup

shallots,

thinly sliced

¾

cup

dry white wine

3

tablespoons

unsalted butter

about 1

tablespoon

chives for garnish (if desired),

washed and dried, finely chopped
Instructions
Cook the pasta. Cook the pasta in a large pot of boiling, salted water until it's al dente. (Al dente means "to the tooth." The pasta should be tender, but with a bite to it.) Drain the pasta, toss with a bit of olive oil, cover and set aside.

Prepare the black garlic. Peel all the black garlic and then roughly chop it, keeping it in relatively large chunks.

Make the sauce. Coat the bottom of a medium to large sauté pan with olive oil, and place it over medium heat. Add the shallots and cook until they are soft and beginning to brown, about 4 minutes. Add the black garlic and toss it with the shallots. Then add the wine, turn the heat to high, and let it reduce by about ⅓. Add the butter and swirl the pan around until it's melted into the wine. Season generously to taste with salt and pepper. (Here's how.)

Assemble. Add the cooked pasta to the pan with the sauce and very gently, toss everything together. (If the pan isn't big enough, pour everything into a large bowl to mix it.)

Adjust the seasonings and garnish. Season to taste again if necessary, sprinkle with the chopped chives (if desired), and serve.
Notes
I'm a huge Pappardelle fan, but feel free to use any pasta shape you like.
Have you tried this recipe?
I'd love to see it on Instagram! Tag me at @cookingontheweekends or leave a comment & rating below.
Cooking On The Weekends is a participant in the Amazon Services LLC Associates Program, an affiliate advertising program designed to provide a means for sites to earn advertising fees by advertising and linking to Amazon.com.