Whipped Meyer Lemon Butter Recipe is a lovely, rich and creamy, vanilla-laced spread. It's delicious on warm toast and it could practically frost a cake!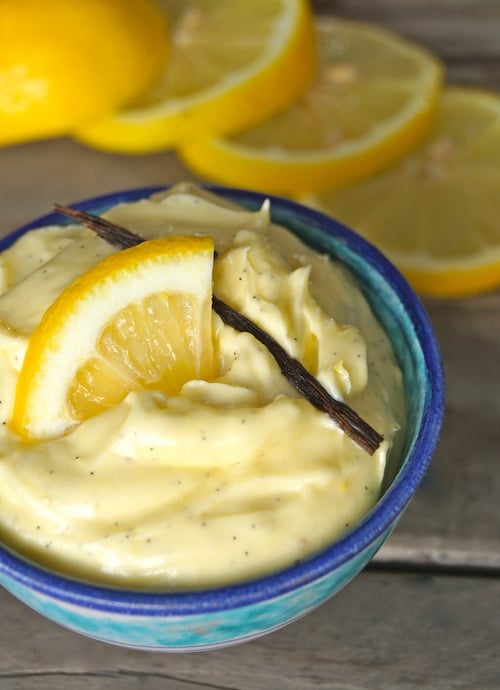 Inspiration for Whipped Lemon Butter
Do you ever wish you had something more interesting and fun to spread on you morning toast? I sure do. (Yep, these are the riveting things on my mind. True.)
I love breakfast and brunch and I'm always thinking up new unique recipes for spreads to serve with scones, bagels and muffins.
This, my friends, is simply luscious. It's subtly sweet, lemony, and scented with the beautiful fragrance of vanilla. It's a compound butter, like no other!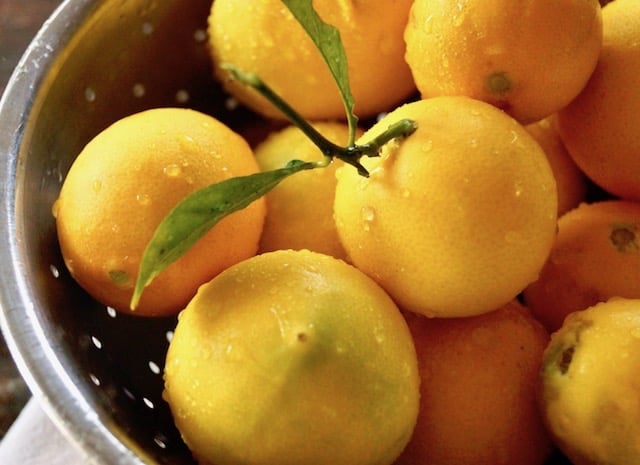 What is a compound butter?
A compound butter is simply a butter that has had other flavors added to it. The possibilities are endless!
And since it's Meyer lemon season I created this Whipped Meyer Lemon-Vanilla Butter Recipe!
If I were you I'd serve this at a casual brunch with warm scones, pastries or brioche.
Or I might even serve it at a fun BBQ, melted over corn on the cob hot off the grill. That's just me, though. Do with it what you please. 🙂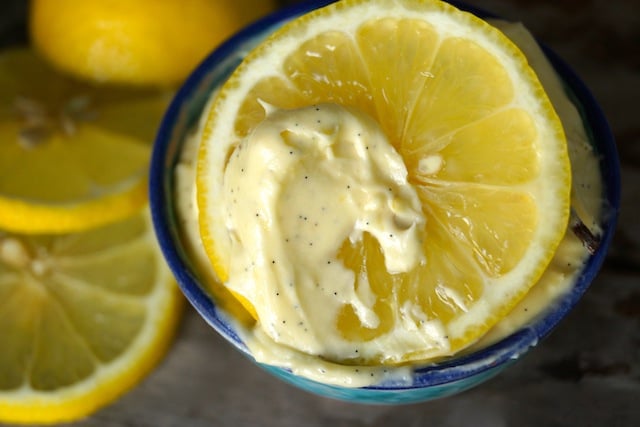 Recipe Tip
Meyer lemons are my favorite because they're a bit sweeter, less acidic and thinner-skinned than regular lemons. However, you can use any lemon you'd like!
In the mood for more lemon recipes?
More delicious lemon recipes:
And if you want to try other compound butters, here are three more recipes.
Enjoy every last spread of this delectable Whipped Meyer Lemon Butter with Vanilla!
If you try this butter, or any of my other recipes, I'd love to hear what you think about it in the comments below. You can also follow me on Facebook, Instagram and Pinterest to see more of my mouth-watering recipes!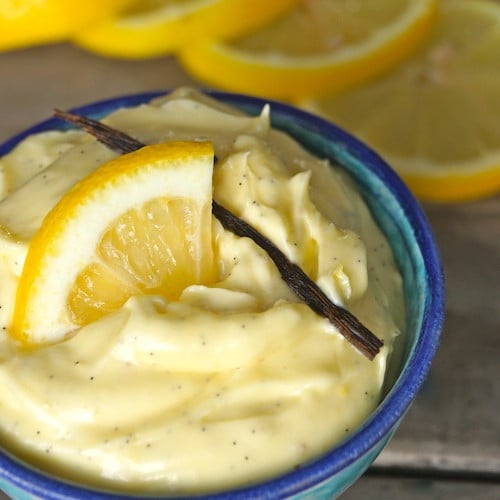 Whipped Meyer Lemon-Vanilla Butter Recipe
Whipped Meyer Lemon Butter Recipe is a lovely, rich and creamy, vanilla-laced spread. It's delicious on warm toast and it could practically frost a cake! Please note that more than half of the prep time is inactive.
Makes ½ cup / Serving size: about 2 teaspoons

Ingredients
4

ounces

unsalted butter

zest of 1 small Meyer lemon

(see notes)

2

teaspoons

fresh Meyer lemon juice

(see notes)

pinch

salt and granulated sugar
Instructions
Melt the butter in a small sauce pan over low heat.

Use a paring knife to slice open the

vanilla pod

, lengthwise. With the back of the knife, scrape the vanilla beans directly into the saucepan with the melted butter. (Save the pod to make

vanilla sugar

.)

Add the lemon zest, lemon juice, pinch of salt and sugar and stir to blend.

Turn off the heat, cover, let the mixture sit for about 15 minutes, and then pour it into small, but deep, mixing bowl.


Place the bowl in the refrigerator just until the mixture begins to solidify, about 5 minutes.

Use an

electric mixer

with the whisk attachment, or a hand held whisk to whip the butter until it's smooth and light. This should take about 2 minutes with the electric mixer on high, and closer to five with the hand held whisk.

Serve while it's soft. (If you refrigerate it between uses, let it soften to room temperature before you serve it.)
NOTES
If you don't have Meyer lemons, it will still be delicious with another variety.
NUTRITION
Have you tried this recipe?
I'd love to see it on Instagram! Tag me at @cookingontheweekends or leave a comment & rating below.
Cooking On The Weekends is a participant in the Amazon Services LLC Associates Program, an affiliate advertising program designed to provide a means for sites to earn advertising fees by advertising and linking to Amazon.com.