Packed with chunks of sweet summer apricots and beautiful aromatic basil, this Basil Apricot Preserves recipe is one you'll make again and again.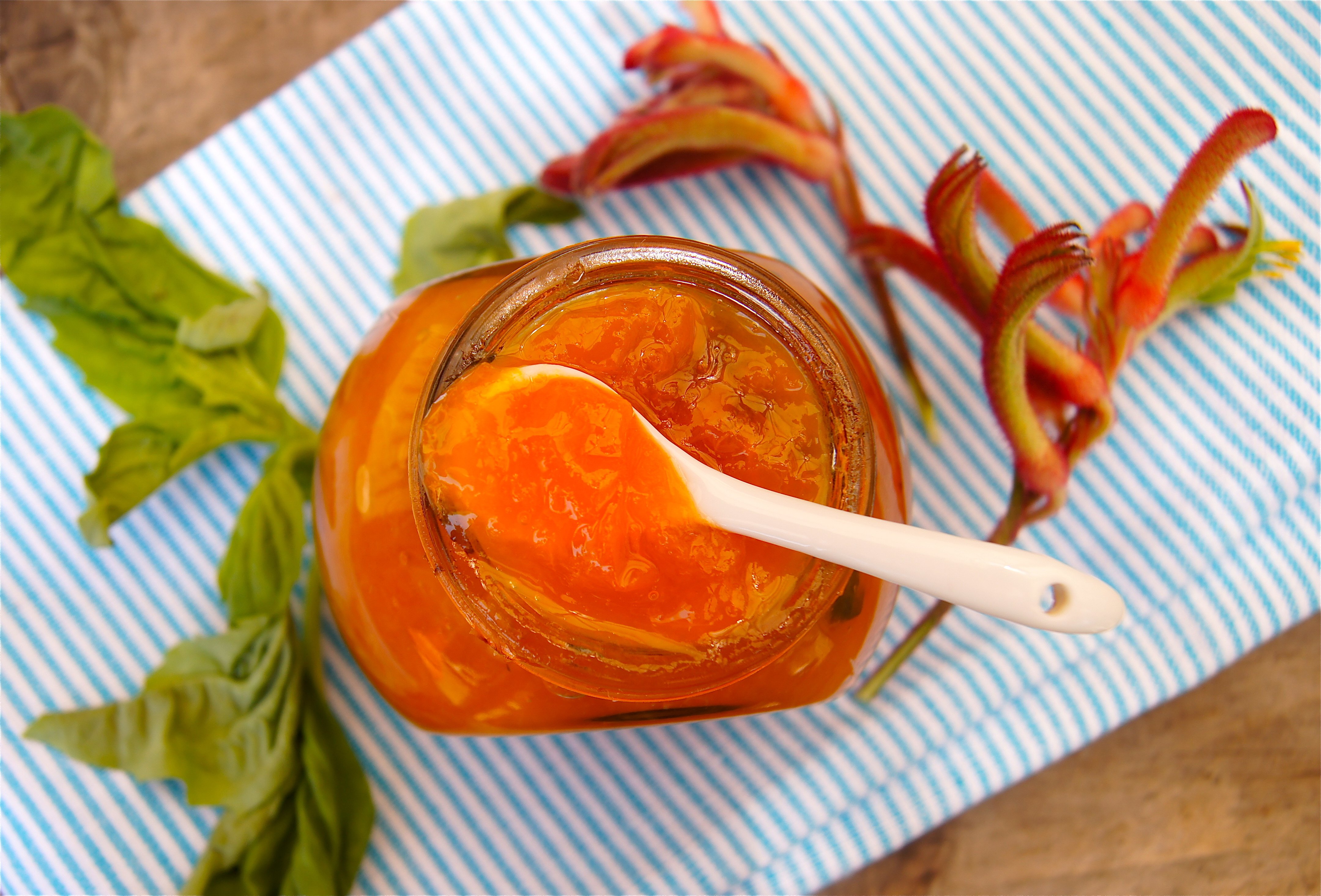 Having a childhood friend like my friend Aimée meant not only lots of great fun memories, but also many of my best food memories.
Aimee's connection to some of my most delightful culinary memories is already noted in my recipes for Roasted Tomato Poblano Salsa, Roasted Garlic, The Ultimate Stuffed Artichoke, and Chocolate Chip Peanut Butter Bars -- but I can't stop there.
Inspiration for Basil Apricot Preserves Recipe
You see, Aimée's grandmother, Peggy, made the best apricot preserves I've ever had! And I don't use the word best lightly!
These preserves were full of big, soft bites of whole or halved (I'm still not sure) apricots -- every mouthful was full of fruit chunks. Never mind a piece of toast, I'd just dig into the jar with a spoon.
It was something that around this time every year, would just appear in her kitchen. Aimée's family really should have been hiding it from me!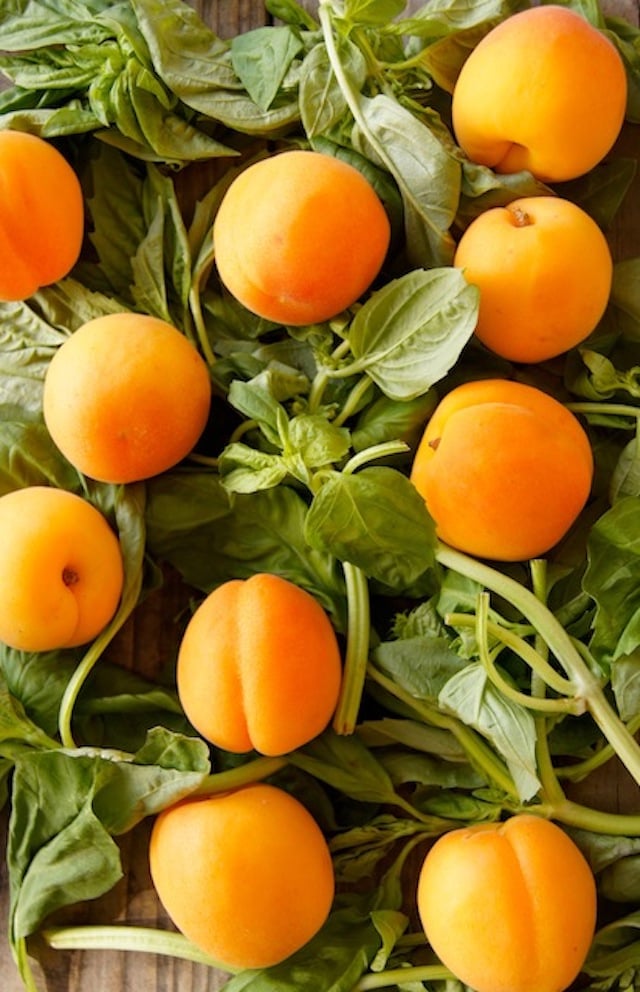 Apricot season is now! It typically begins in May and extends through August. If you have a tree, you'll have plenty of apricots to make these preserves.
This recipe is not quite Peggy's, but it's close. (She never used basil, but I had to "make it my own," as they say on American Idol ;-))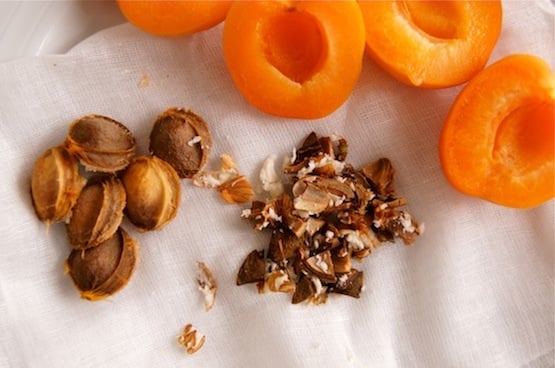 What's the Difference Between Preserves, Jam and Jelly
The differences are all about the consistency of the fresh fruits used.
Preserves. Preserves contain fresh fruit in the form of chunks. (This is my favorite, and it's why I love this Basil Apricot Preserves recipe so much!)
Jam. In jam, the fresh fruit is puréed.
Jelly. When making jelly, fruit juice is used.
How to use Basil-Apricot Preserves

Breakfast. It's delicious with a little butter on toast.
Dinner. I think it's fabulous served with pork chops or grilled chicken.
Dessert. You can glaze cake layers with it!
Have fun with this weekend cooking project. It's a good one!
Enjoy every last spread of the oh--so-delicious Basil Apricot Preserves recipe!
More sweet fruit condiments: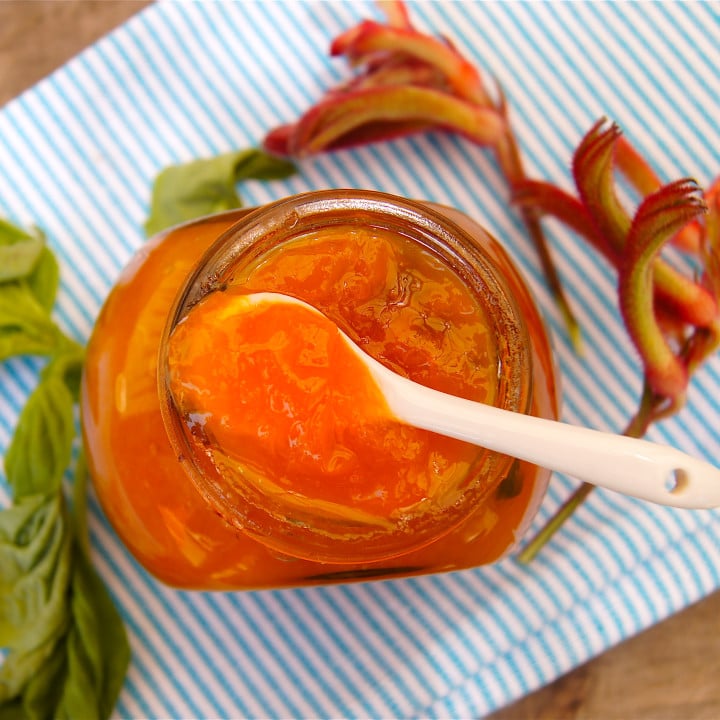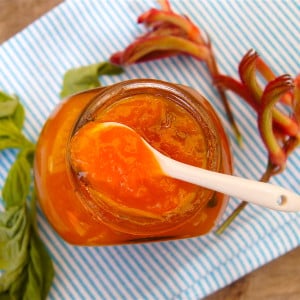 Apricot-Basil Preserves Recipe
Packed with chunks of sweet summer apricots and beautiful aromatic basil, this is a recipe you'll make again and again.*Makes about 1 ½ cups
Ingredients
1

pound

fresh apricots

¼

cup

water

1

cup

granulated sugar

1

cup

loosely packed fresh basil leaves
Instructions
Gently wash the apricots and cut them in half. Discard all but 3 of the pits.

Wrap the 3 saved pits in cloth and smash them with a meat mallet or the bottom of a small sauté pan, just enough to break them open. Wrap the crushed pits in cheesecloth and tie it with butchers twine. (Use two layers of the cheesecloth, and no more than 3 pits.) Adding this bundle will add a lovely and subtle almond flavor to the finished preserves. Set aside.


Add the water, sugar, and basil leaves to a medium-sized, heavy-bottomed pot (do not use an aluminum or un-coated cast iron pot).

Heat just until the sugar has dissolved and then add half of cut apricots and the cheesecloth bundle of crushed pits. Simmer for 30 minutes, stirring every 10 minutes or so. (I don't like to mash the fruit, because I like to end up with big chunks in the preserves.) Add the remaining half of the cut apricots and simmer for another 30 minutes, again, stirring from time to time.

Remove the cheesecloth with the crushed pits, and let the preserves cool completely before refrigerating.
NUTRITION
Have you tried this recipe?
I'd love to see it on Instagram! Tag me at @cookingontheweekends or leave a comment & rating below.
Save