This Yakisoba Okonomiyaki recipe is bursting with umami flavors. It's a super hearty, rich, utterly delicious Japanese comfort food.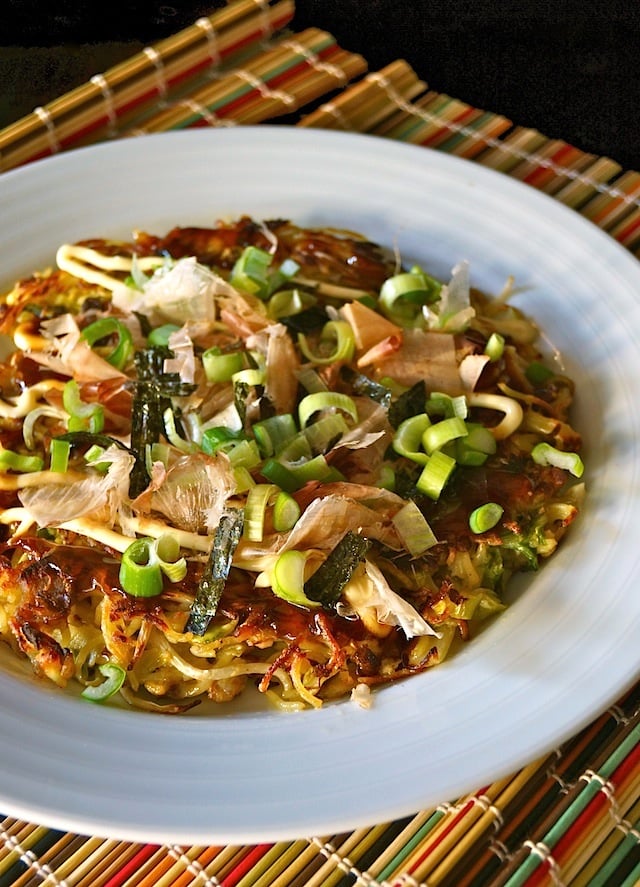 One of my favorite restaurants is Wann-Japanese Izakaya (in Seattle), and my favorite dish there is Okonomiyaki, the Yakisoba Omelet. It was what inspired me to make it.
What is Okonomiyaki?
Okonomiyaki is a Japanese savory pancake that contains a wide variety of ingredients. Okonomi is Japanese for as you like, and I took that quite literally.
This is my rendition of a Yakisoba Omelet.
Although I've included almost all of the traditional ingredients, I'm not claiming it's authentically Japanese -- in fact I know it's made quite differently. It's simply my best shot at replicating one I tasted and loved.
The Ingredients
To make this recipe easier for you, the Japanese ingredients are both described, and linked to a picture of what they look like, and where you can purchase it.
(In Japanese cuisine, these are very common ingredients and should all be readily available in most Japanase markets, if you have one near you. (Nijiya is my favorite in Los Angeles, and you can find several other locations here.)
Yakisoba noodles - Yaki is Japanese for grilled and Soba is Japanese for noodles, so this is literally grilled noodles. Yakisoba omelets are typically made with egg noodles.
Tenkasu - This is tiny scraps of tempura, which is crunchy bits of deep fried flour batter.
Katsuobushi - This is bonito flakes. It's dried, fermented, and smoked Skipjack tuna. Katsuobushi has a distinct umami flavor, and beautifully moves about when added to the top of a hot dish as a garnish.
Tororo Kombu - These are thin and long, dried shavings of Kombu that has been softened in vinegar. Kombu is a type of edible kelp that is often the basis of seasoning in Japanese cuisine, and like Katsuobushi, it brings an irreplaceable umami flavor to the dishes it's added to.
Okonomi sauce - This is best described as a thicker version of Worcestershire sauce mixed with a little honey.
Mirin - A sweet cooking rice wine. It's similar to sake, but with a lower alcohol content and higher amount of sugar. It's slightly syrupy, and is one of the most important condiments in Japanese cooking.
Japanese mayonnaise -- It's very similar to American mayonnaise, but it's slightly richer and sweeter.
Kizami Nori - Nori is roasted seaweed, and you can buy it in sheets that are typically used for making sushi rolls. Kizami Nori is shredded Nori sheets.
Other ingredients include:
pork
scallions
cabbage
eggs
bean sprouts
grapeseed oil
Yakisoba Okonomiyaki recipe is truly magical, and watch out because it's very hard to stop eating.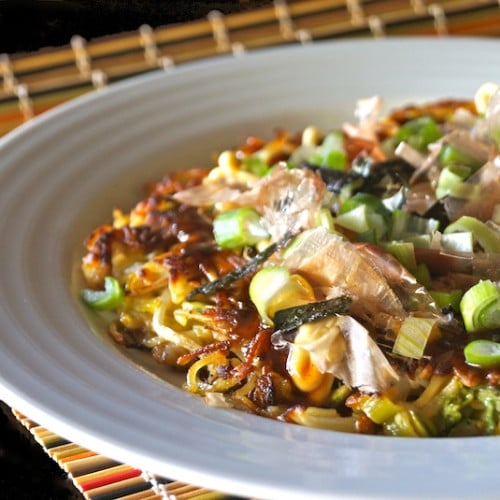 Yakisoba Omelet (Okonomiyaki) Recipe
This Yakisoba Okonomiyaki recipe is bursting with umami flavors. It's a super hearty, rich, utterly delicious Japanese comfort food.*The serving size is 4 to 8, because the recipe makes 4 (10-inch) pancakes -- and each one could be a whole meal, or shared as a side or appetizer.
Instructions
Add the pork belly to a large sauté pan and place it over medium heat. Once it's cooked through (after about 3 minutes), add about ¾ of the scallions and all of the cabbage. Stir to blend and cook only long enough to wilt the cabbage completely, about 4 minutes. Remove from the heat to cool to room temperature.

Add the fresh Yakisoba noodles to a very large mixing bowl, using your hands to separate them. Add the bean sprouts and the cooled pork-cabbage mixture. Toss to blend.

Add 4 tablespoons of the Katsuobushi to a a mortar and pestle and grind until it becomes fine powder. If you don't have a mortar and pestle, you can tear it into smaller pieces (it's okay if it's not a powder). Add this to the bowl with the noodles. Now use your fingers to tear the Tororo Kombu into smaller pieces and add this to the mixture as well. Set aside.

In a small bowl whisk the eggs with 3 tablespoons of the Okonomi sauce and the Mirin. Once the mixture is smooth, drizzle it over all of the entire noodle mixture. Use your hands or two large spoons to mix everything together. Everything should be well coated with the eggs. Set aside.

Line two baking sheets with a double layer of paper towels and generously coat the bottom of an approximately 10-inch, non-stick sauté pan with grapeseed oil, and place it over high heat. Once it's very hot, add about 2 cups of the noodle mixture and use a flat-bottomed spatula to gently press it into a pancake, just about the size of the bottom of the pan. Turn the heat to medium-high, and brown the bottom, about 5 minutes. To flip it over, place a plate that's larger than the diameter of the pan, upside down on top, and then invert it onto the plate. (Use pot holders!) Then you can easily slide it from the plate back into the pan on its other side. Brown this side as well, about another 4 minutes. There should be enough of the noodle mixture to make 4. As you remove each one from the pan, place them on the paper towel-lined baking sheets to drain a bit.

Drizzle each omelet with some of the remaining Okonomi sauce, and the Japanese mayonnaise (roughly ¾ teaspoon of each). Then, divided evenly amongst the 4 omelets, sprinkle the remaining scallions, remaining Katsuobushi, and the Kizami Nori.
NUTRITION
Have you tried this recipe?
I'd love to see it on Instagram! Tag me at @cookingontheweekends or leave a comment & rating below.
Cooking On The Weekends is a participant in the Amazon Services LLC Associates Program, an affiliate advertising program designed to provide a means for sites to earn advertising fees by advertising and linking to Amazon.com.