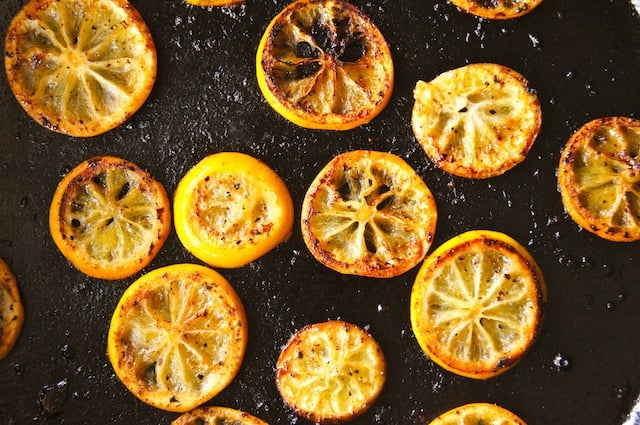 My cousin laughed the other day when I asked her if she'd like any citrus.  I could have been more specific I suppose, but at the moment, in my mind, citrus may as well be its own food group!
Blood oranges, Satsumas, Sumos, Pixies, limes and lemons are constantly inspiring me lately.  I simply can't get enough, so I've been working these fantastic and delicious fruits into most of my recipes these days.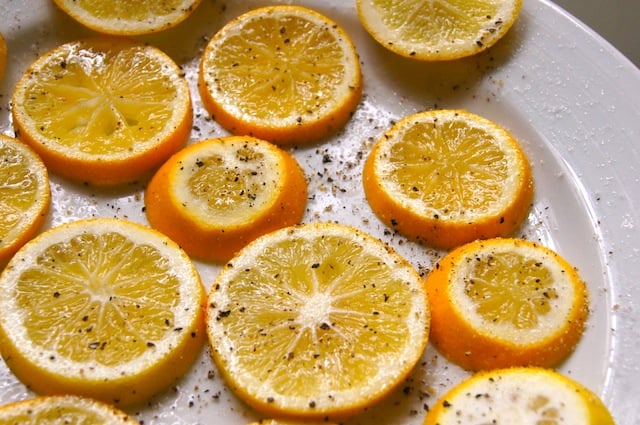 This beautiful salad is one of my favorite citrus creations this year.  The inspiration came from a bag of Meyer lemons my dad brought over from his tree.  I was staring at them — admiring them, if you will — when I realized how fun it would be to sauté them!
The results of this idea were delicious!  The lemons caramelized a bit, making them sweeter and less pungent, but still quite lemon-y.
P.S. I'm certainly not excluding grapefruit, Pomelos, Finger limes, or any other citruses I left out, but it was starting to feel like a run-on sentence! 😉
Fried Meyer Lemon Ceasar Salad Recipe
Please note that the "prep time" does not include making the croutons -- click on the crouton link for those instructions.
Ingredients
For the fried lemons:
3 Meyer lemons
Sea salt and freshly ground black pepper
Olive oil
For the dressing:
5 finely chopped anchovies
1 tablespoon minced garlic
2 teaspoons Dijon mustard
2 tablespoons white balsamic vinegar
1 tablespoon fresh lemon juice
1 tablespoon honey
2 tablespoons extra virgin olive oil
Sea salt and freshly ground black pepper
For the salad:
1 head Romaine lettuce, washed, dried and roughly chopped
1 cup shaved Parmesan
Instructions
For the fried lemons:
Wash, dry, and thinly slice the lemons -- placing them on a large plate as you go. You should get about 8 slices per lemon, and they should be about ⅛-inch thick.
Coat the bottom of a large sauté pan with olive oil, place it over medium-high heat, and place one layer of paper towel on a large plate.
While the pan is preheating, sprinkle both sides of the lemons with salt, pepper and sugar. This should be a light sprinkling, but enough to season each slice well.
Once the pan is very hot, add the lemon slices and sauté until the bottoms are golden brown, 2 to 3 minutes. Use a tiny spatula to gently flip the slices and brown the other side, again for 2 to 3 minutes.
Place the sautéed lemons slices on the towel-lined plate to cool.
Cut each slice into fourths -- you can stack a few at a time to do this. Set aside.
For the dressing:
In a small bowl, combine the anchovies, garlic, mustard, vinegar, lemon juice, and honey. Mix to blend.
Very gradually, pour in the oil, whisking all the while to blend it evenly.
Season to taste with salt and pepper and set aside.
For the salad:
In a large salad bowl, mix the lettuce with the Lemon-Garlic Croutons, Parmesan and the fried lemons.
Just before you're ready to serve, toss the salad with the dressing.
Notes
Of course you can use any lemon variety you'd like, but Meyer lemons are the best for this because of their thin skin. (And they're delicious!)
Not sure exactly how to "season to taste?"
Click here to learn
].
Nutrition Information
Serving size:
Serves 4 to 6