Quick and easy to bake and super delicious, this Persimmon Gingerbread Recipe is packed with soul-warming spices. Whether you serve this as part of your Christmas breakfast or as an afternoon snack, it will become one of your favorite persimmon recipes!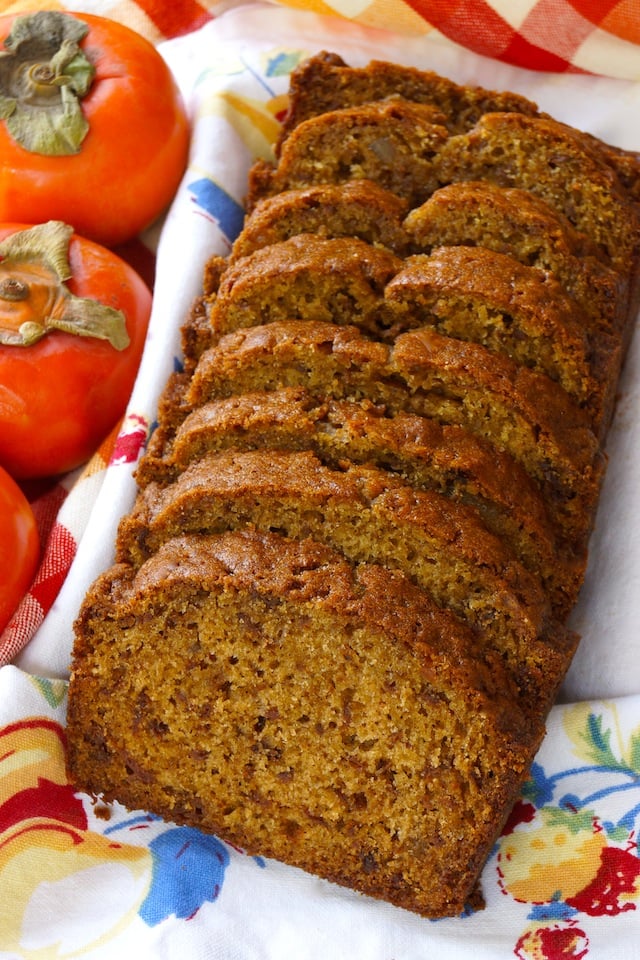 It's so that weekend.
That weekend to be relaxed and lazy.  Maybe you won't even get out of your pajamas. There's nothing wrong with that!
It's that weekend to bake.  To bake an amazingly delicious dessert bread, like this Persimmon Gingerbread, that is.
A dessert bread full of warming spices that make the whole house smell good.  Personally, I can't think of anything better.  And this Persimmon Gingerbread Recipe is all that, and then some.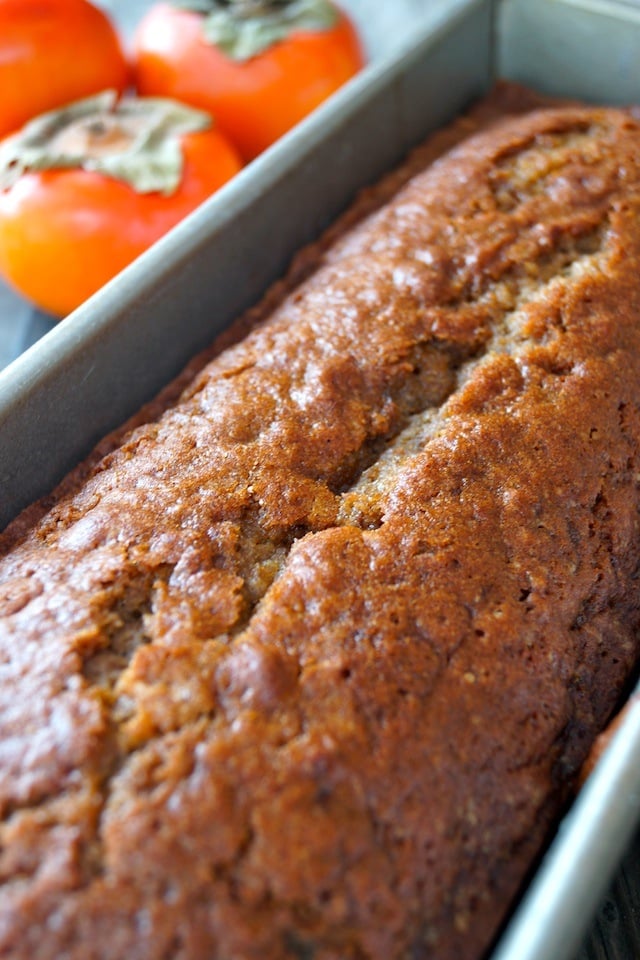 Persimmon recipes are so delicious with aromatic, warming spices.  When the bread bakes, the spices might even make their way out a crack in a window, thereby making the whole street — possibly even the neighborhood — smell delightful and delectable! Nothing better, I tell you.
It's a treat to experience this.  It's the essence of fall and winter baking.
I especially love quick breads like this because they involve no yeast or kneading.  Hence the "quick" in quick bread. You throw this together and get it in the oven inside of 20 minutes.
I made this Persimmon Gingerbread the night before I wanted to serve it — I left it covered lightly with foil overnight, and it was ideal the next morning.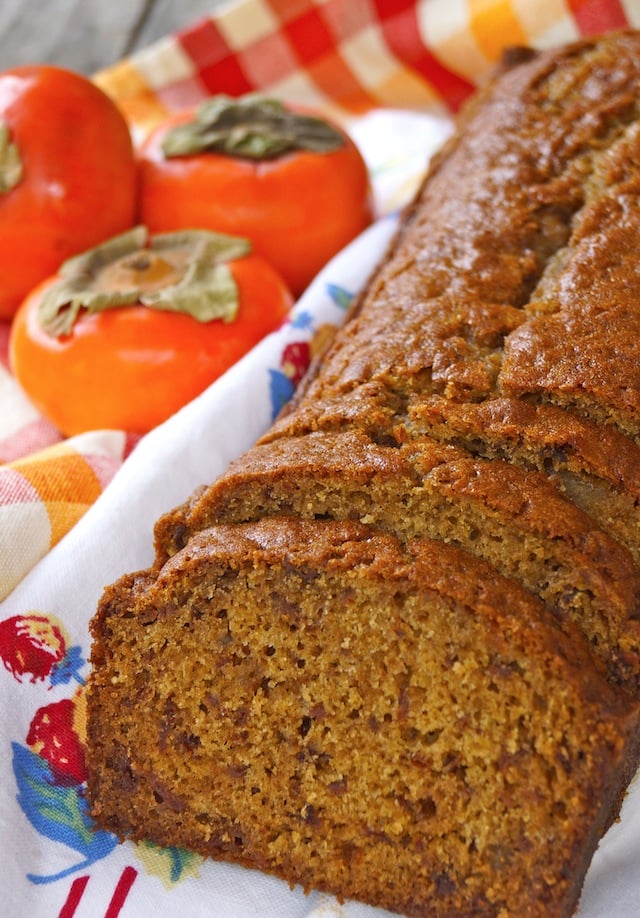 Christmas is in just 5 days, after all.  This is one of my favorite persimmon recipes so I hope you'll try it to share with your family and friends.  Maybe even make an extra loaf or two for last minute gifts.
Enjoy every slice.
And if you're here because persimmons, here are a few savory persimmon recipes for you:
Persimmon Gingerbread Recipe
Ingredients
3 to 4

large Fuyu or Cinnamon persimmons

1 1/2

teaspoons

baking soda

1 1/2

cups

brown sugar

3/4

cup

olive oil

2

large eggs

1

large egg yolk

1 1/2

tablespoons

finely grated fresh ginger pulp

1

tablespoon

vanilla

1 1/4

teaspoon

ground cinnamon

3/4

teaspoon

ground cloves

3/4

teaspoon

ground ginger

3/4

teaspoon

salt

2

cups

all-purpose flour

1/2

cup

finely chopped crystallized ginger
Instructions
Place a rack in the center of the oven and preheat to 350 degrees F. Grease an approximately 11-inch loaf pan with a light coating of olive oil. (It's easiest to do this with a pastry brush -- or dab the oil on a paper towel to spread it around.) Set aside.

Slice the leaf ends off of the persimmons (just a 1/2-inch or so), then use a vegetable peeler or paring knife to peel them. Use either a hand held grater or a food processor with the grater attachment, to grate them. (You will need 1 1/2 cups.)

Now add 1 1/2 cups of the grated persimmon to a bowl and add the baking soda. Mix to blend and set aside. (The baking soda with thicken the liquid derived from grating the fruit.)

In a large mixing bowl, combine the brown sugar with the olive oil and mix to blend. Then add the eggs and egg yolk and mix again. Once it's smooth, stir in the fresh ginger, vanilla, cinnamon, cloves, ground ginger, and salt.

Fold in the flour and mix just until it's fully incorporated. Then fold in the grated persimmon and crystallized ginger.

Pour the batter into the prepared loaf pan and bake in the 350 degree F preheated oven until it's golden brown, set, and beginning to crack on top, about 30 minutes.

Let it cool in the pan for at least 30 minutes before serving.
Save
Save
Save
Save
Save