This rich and delicious, Gluten-Free Chocolate Zucchini Cake, with a divine, soft texture, is so good that it doesn't even need a frosting or glaze. It's perfect as is!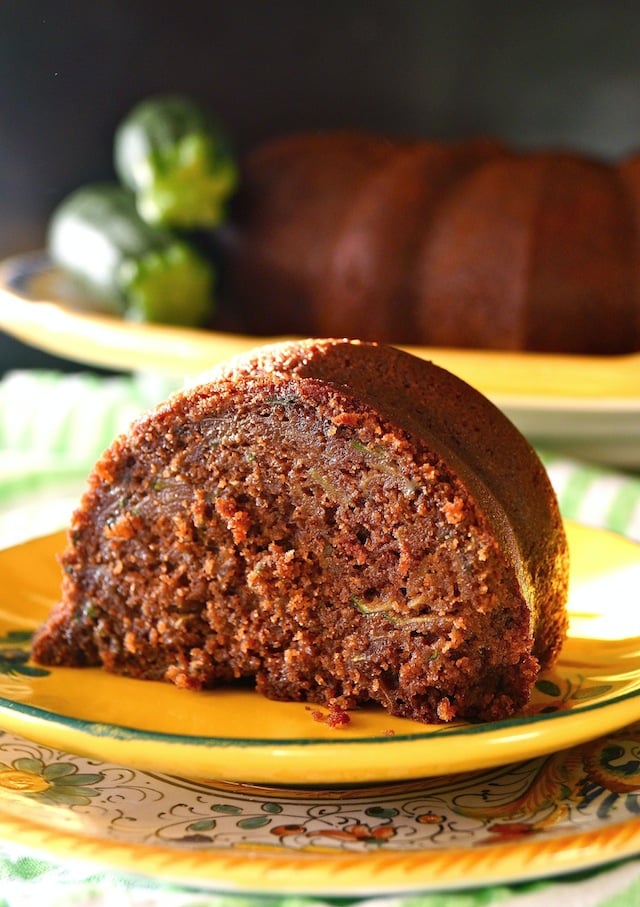 Do zucchini breads and cakes taste like zucchini?
Nope, not really — but, here's the deal, zucchini is naturally moist and in many ways it's similar to oil in its baking characteristics, so it makes for a moist, luscious cake!
If you have a summer garden, it's very likely you have more than enough zucchini on your hands.  So I'm told, anyway. 😉
We do have a summer garden, but no zucchini this year — my 12-year-old agriculturist has planted peppers and tomatoes!  (Garden recipes for those coming soon.)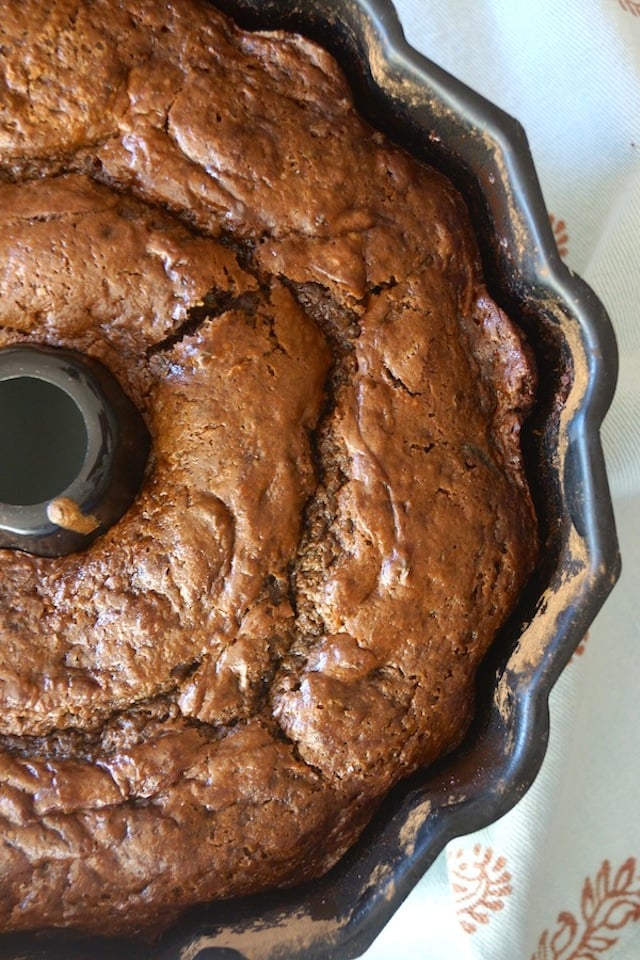 If you've been following my recipes for a while, you know one of my boys has Celiac Disease, which is why I make so many cookies and other desserts sans gluten.
He told me last night that this Chocolate Zucchini Cake is his new favorite.  And he's a tough crowd, so I know you and your friends and family will love it too!
I hope you'll try it!  And not just if you have an abundance of zucchini in your garden.
It's okay to run out to get a couple at the store, too.
Enjoy!

Gluten-Free Chocolate Zucchini Cake Recipe
Ingredients
1 cup (2 sticks) plus 1 tablespoon unsalted butter, melted, divided
⅔ cup plus 1 tablespoon cocoa powder, sifted, divided
1½ cups gluten-free all-purpose flour
1½ teaspoons baking powder
1 teaspoon baking soda
1½ cups granulated sugar
4 large eggs
1 tablespoon vanilla extract
1 teaspoon salt
1 cup sour cream
2¾ cups grated zucchini
Instructions
Preheat the oven to 350 degrees F and adjust a rack to the center.
Add 1 tablespoon of the melted butter to a 10-inch bundt pan and move it around and so it's completely coated. (Using a pastry brush or your hands will help.) Then sprinkle 1 tablespoon of the cocoa powder as evenly as possible over the butter. Set aside.
In a medium-sized mixing bowl, combine the remaining ⅔ cup cocoa powder, gluten-free flour, baking powder, and baking soda. Stir until everything is evenly incorporated and set aside.
In a large mixing bowl, use an electric mixer to beat the eggs, sugar, vanilla and salt together. Mix on high until it's a thick and pale yellow, about 2 minutes. Once it's blended add the sour cream and mix until it's smooth.
Gradually fold the dry ingredients into the wet, mixing just until everything is well incorporated.
Now fold in the remaining 1 cup melted butter.
Use your hands to "ring out" the zucchini, to remove some of the liquid -- only what seems to drip off easily. Fold the zucchini into the batter and then immediately pour into the prepared bunt pan.
Place in the preheated 350 degree F oven until the cake no longer jiggles when the pan is moved, and it's starting to crack on top, about 35 minutes.
Let it cool in the pan for about 10 minutes, then invert it on a large platter. Let it cool for about an hour before serving.
Save