The success of Cacique Inc. is due greatly in part to their four pillars logo that represents family, quality, integrity and authenticity. This is their foundation, and their products are absolutely wonderful!
This is a sponsored post by Cacique Inc. and Society Culinaria. And as always, all opinions are my own.
One of my Cacique creations are Potato Chorizo Hand Pies, and they are incredibly delicious!
Who knew there could possibly be so many delicious products – and so much family love – behind this awning in a building in La Puente, CA?
Last month I had the unique opportunity to spend some time at the Cacique headquarters, along with a few other food bloggers.
How Cacique Began
It all began a little over 40 years ago, when Jennie and Gilbert de Cardenas Sr. immigrated to the U.S. hoping to provide for their family. Shortly thereafter, de Cardenas Sr. saw an opportunity to to make cheese.
When he first tasted others' Queso Fresco in the U.S., he knew he could do better.  And so he did. Very early on he began selling the cheese out of coolers in the trunk of his teal green Pontiac, store to store in downtown Los Angeles.
Today
Now it's this very cheese that is the number one Queso Fresco in the U.S. and it's in the top ten of all cheeses here!  Cacique is also the largest fresh cheese maker and the number one brand of Mexican-style cheeses, chorizos, and cremas.
Its success is due greatly in part to their four pillars logo that represents family, quality, integrity and authenticity.
Cacique is still owned and run by the de Cardenas family -- Jennie and Gilbert's four children: Gil, Ana, Maria, and Antonio.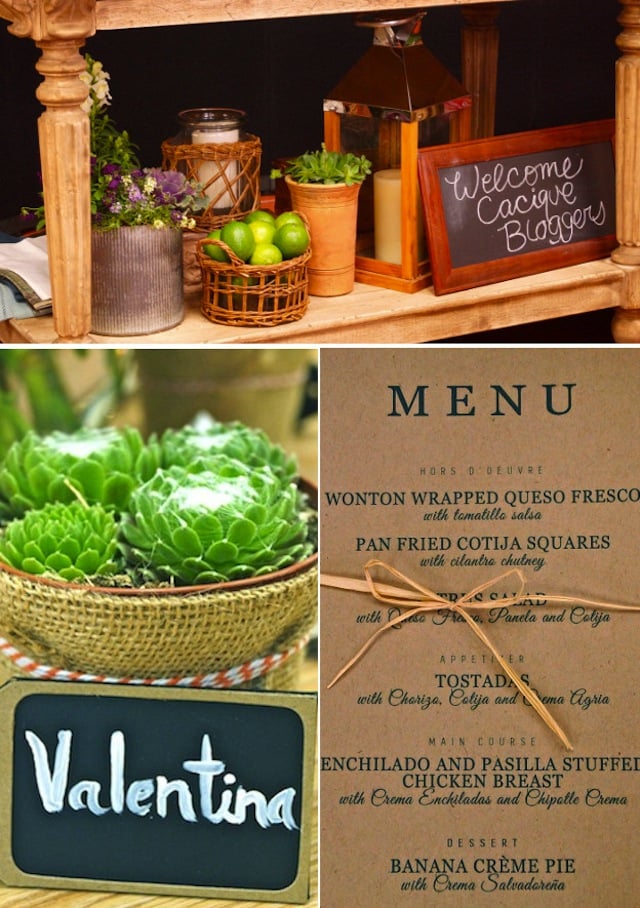 We were greeted with an incredibly warm welcome from the family and several of the delightful team of Cacique employees.
All of them are unbelievably passionate about what they do -- it's the epitome of "a labor of love" at the Cacique headquarters.
Cacique Products
While I have been eating Cacique Cotija and Queso Fresco for years, I had no idea there were so many different products. From  the cheeses and chorizos, to the cremas and yogurt smoothies -- we learned about all of them.
Their history, the flavors, textures, the best ways to enjoy them, and more.  (Below are only some of their products.  You can see and learn about all of them here.)
One of the highlights was hearing from Enrique Botello, the director of marketing.
He opened by telling us that you can taste the quality in their cheeses. "You have to use the best milk for the best cheese," he said.  He the read the ingredients on one of the packages, "milk, sea salt, and enzymes." That's it!
How awesome is this . . . it only takes two to four days to get from the cow to the store! That's how fresh it is.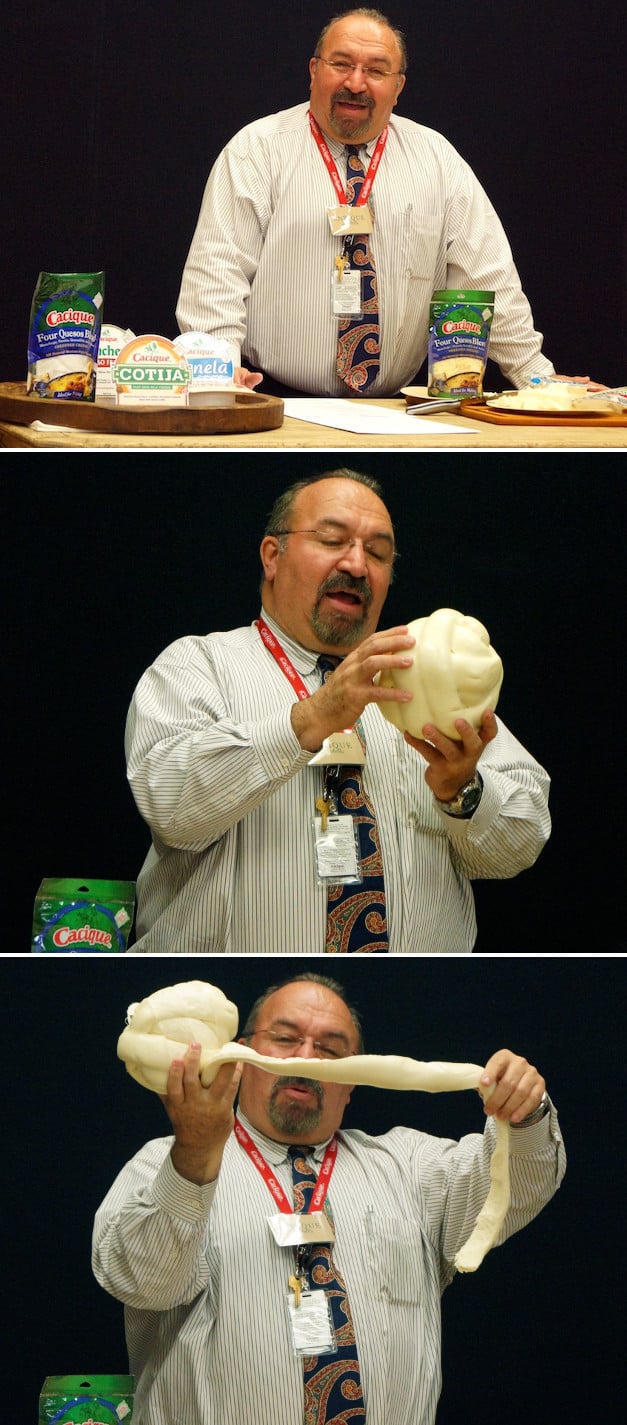 Queso Oaxaca
Above, Botello is demonstrating how to take apart a "knot" of Queso Oaxaca, which tastes similar to Mozzarella and behaves like American string cheese. He told us how kids love doing this and that the big thing is to see "how thin you can go." 🙂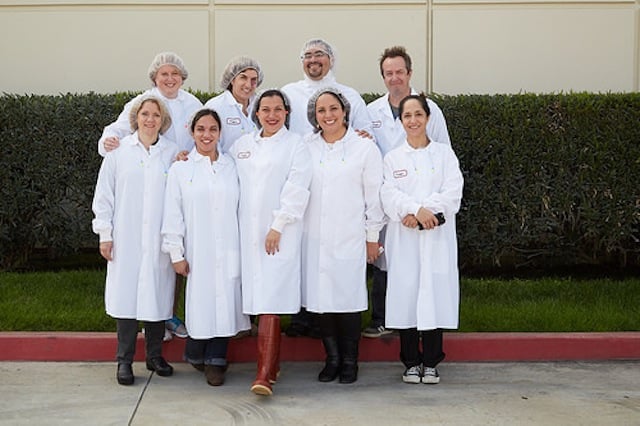 We were able to walk through the plant to see the products being made and packaged, where they follow the very strict rules regarding sanitation to a T.
After the plant tour we were treated to an amazingly delicious lunch prepared by Chef Claud Beltran. So I had my second scrumptious six-course cheese meal from him. California milk = quality cheese. And it all comes together.
You can find fantastic recipes using Cacique products here, and you can find out where to get the products near you, here.  Enjoy!
Oh and here are some wonderful descriptions of each product.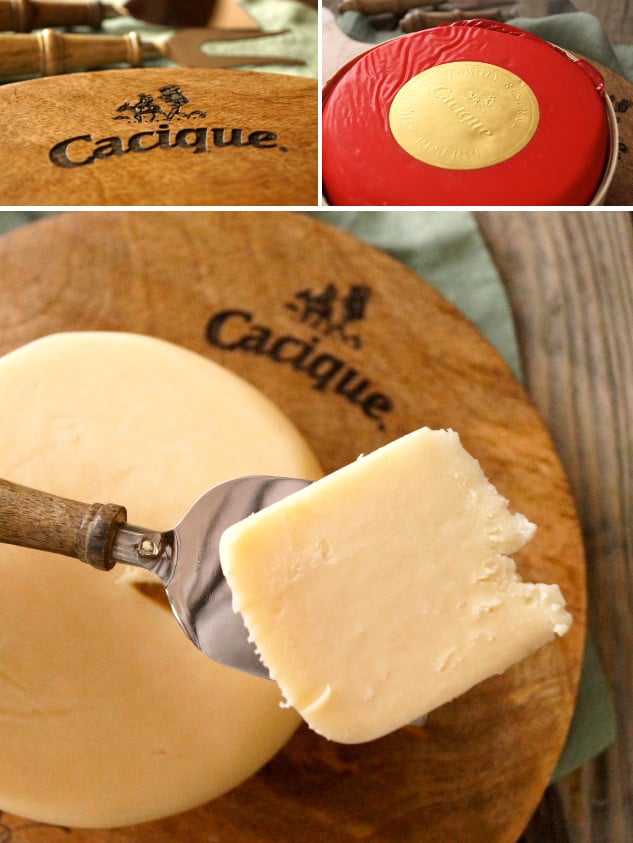 A big thank you to everyone at Cacique for a truly lovely event, and to Nicole and Ericka for orchestrating all of it so beautifully.
Save