This Prickly Pear Vinaigrette is full of lemony, raspberry-like flavors, and it's subtly sweet. Prickly pear recipes are so unique and delicious, and this one will elevate any salad!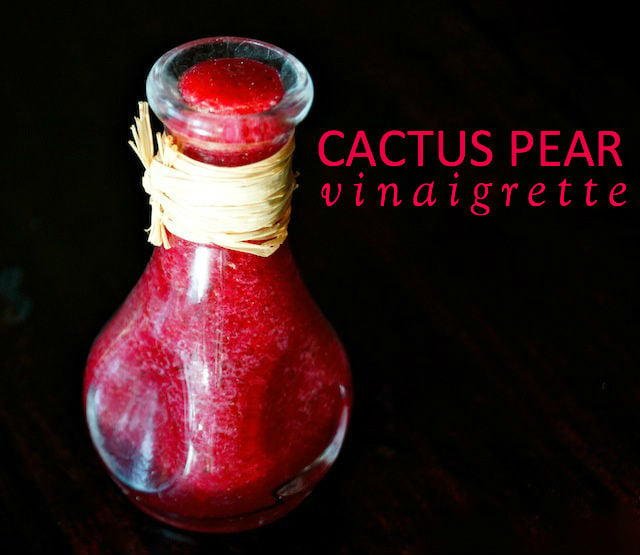 This might just be the most beautiful vinaigrette I've ever made. (Did you even know a vinaigrette could be beautiful?)
You didn't think I was just going to show you How to Eat and Juice Prickly Pears without providing any Prickly Pear recipes for them, did you? 😉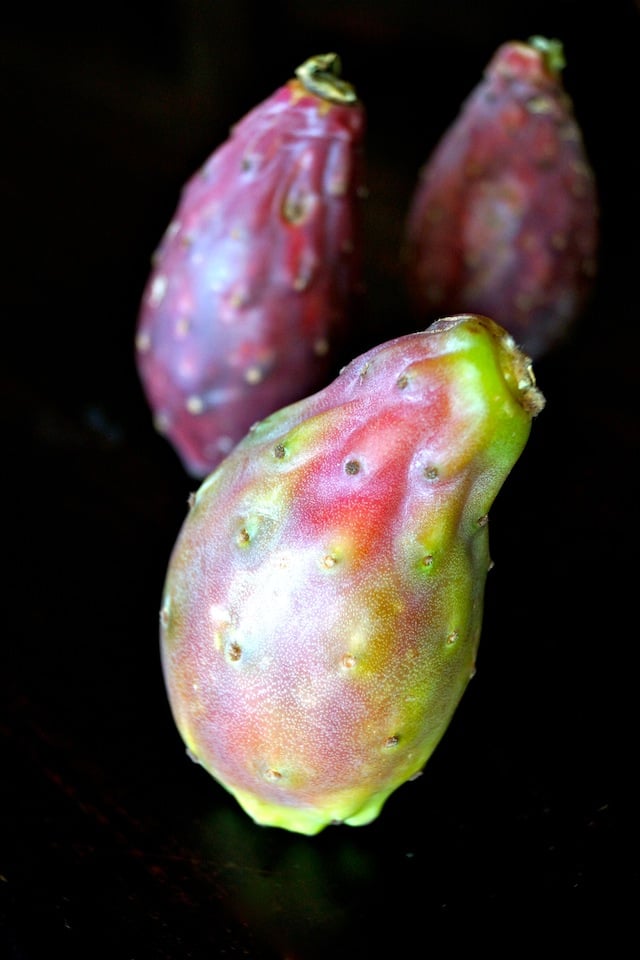 Let's review . . .
What are Prickly Pears?
Also called Cactus Pears, Cactus Figs, or Tuna fruit, they're native primarily to the southwestern United States, Mexico, other Latin American countries, as well as in Africa, Australia and the Mediterranean -- where there is a lot of sun and heat.
Prickly Pears are not actually a member of the pear family. They were given this name only because the they resemble pears in shape and size.

The plants they come from have very sharp, needle-like spikes and colorful flowers.
The pads on the same plant as the Prickly Pears are also edible. They're called Nopales.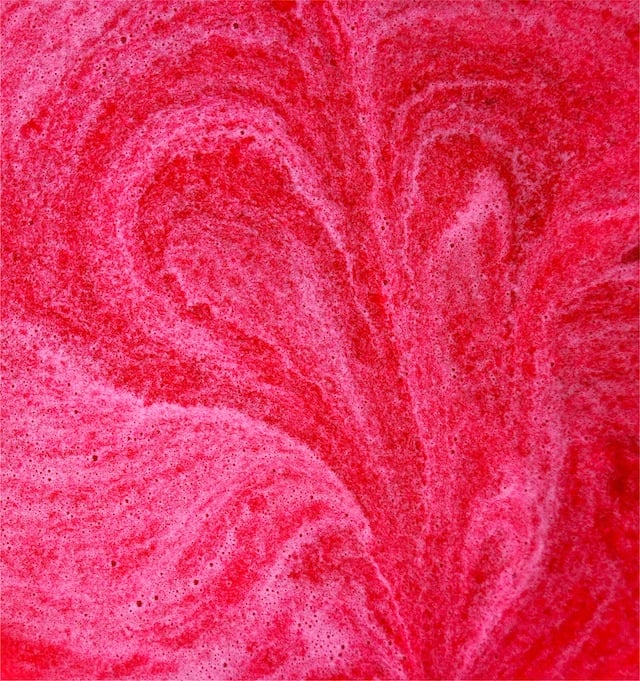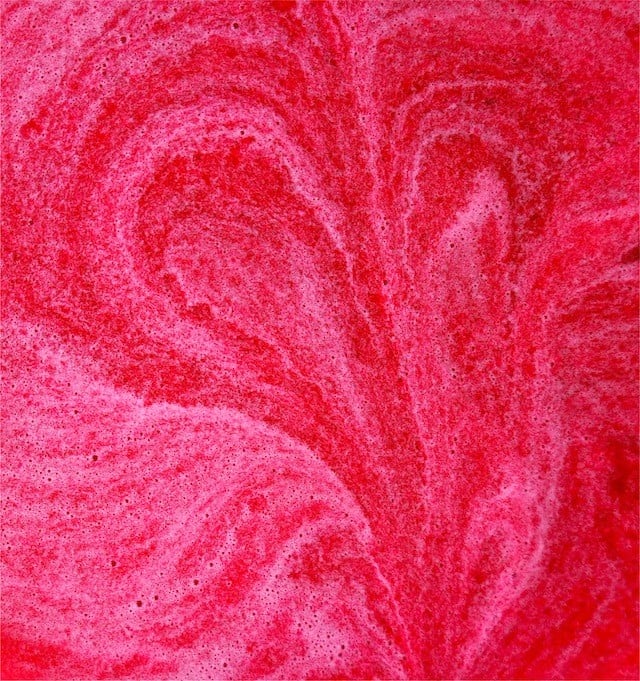 What do Prickly Pears taste like?
Not only is it a stunning magenta color, but the flavor is lovely. It's lemony, raspberry-like and quite sweet.
Prickly Pear Vinaigrette will turn your greens, vegetables and other fruits, into a dreamy deliciousness!
Below is a Papaya-Avocado Salad with the Prickly Pear Vinaigrette drizzled over it. Lovely!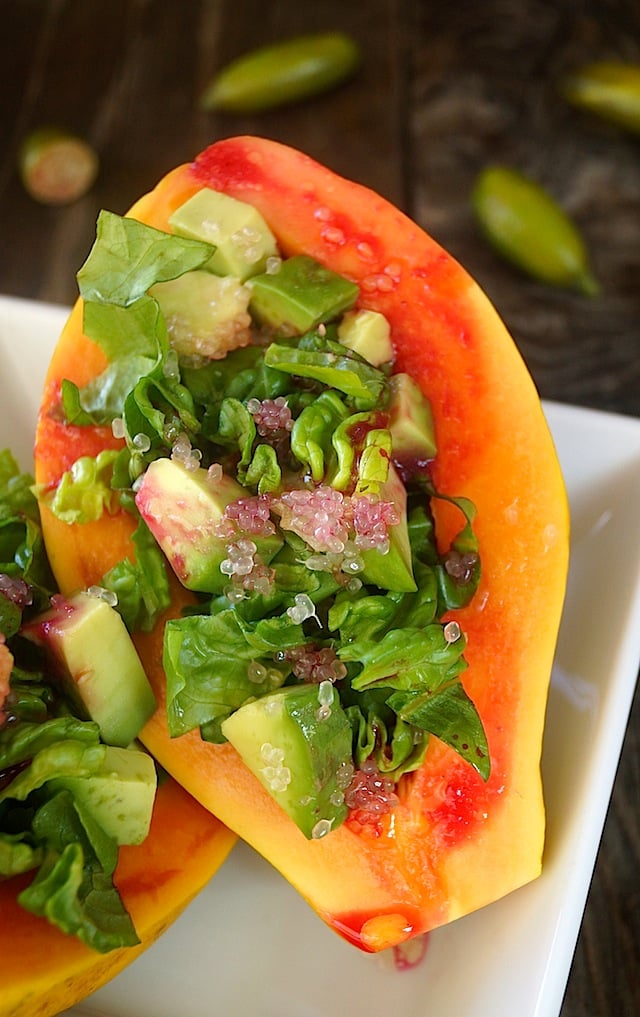 More Ways to Use this Vinaigrette
Not only is this a fabulous salad dressing, but it can also be used as a marinade or a sauce for fish and chicken. Imagine a bit drizzled over grilled shrimp. Yum!
How long will it keep?
The vinaigrette can be stored in an airtight container in the refrigerator for about two weeks.
More Prickly Pear recipes:
Thank you to Melissa's Produce for the Prickly Pears for recipe testing.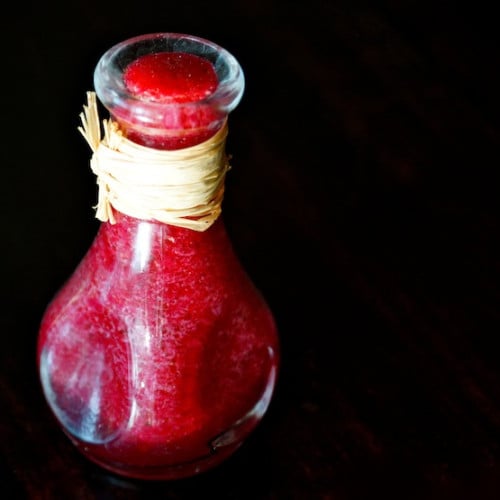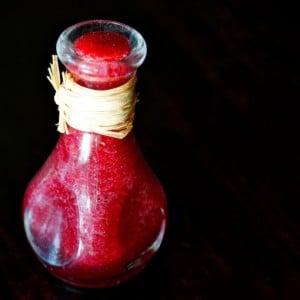 Prickly Pear Vinaigrette
This Cactus Pear-Lemon Vinaigrette is full of lemony, raspberry-like flavors, and it's subtly sweet. Delicious over almost any salad!Makes about 1 cup
Instructions
Place a fine mesh strainer in a slightly larger mixing bowl and set it aside.

Peel and cut the cactus pears into quarters (

heres how

). Then add them to a blender and pulse until you have a smooth purée.

Pour the cactus pear purée into the strainer and, use the back of a large mixing spoon to help you drain all of the liquid into the bowl. (All of the tiny seeds will be held back in the strainer.) Get as much of the juice as possible -- you will need approximately ⅔ cup.

Add the lemon juice, vinegar and seasonings to the juice and mix. Then gradually whisk in the oil.
NUTRITION
Have you tried this recipe?
I'd love to see it on Instagram! Tag me at @cookingontheweekends or leave a comment & rating below.
Save