You didn't think I was just going to show you How to Cut and Eat Cactus Pears without providing any recipes for them, did you?
This might just be the most beautiful vinaigrette I've ever made.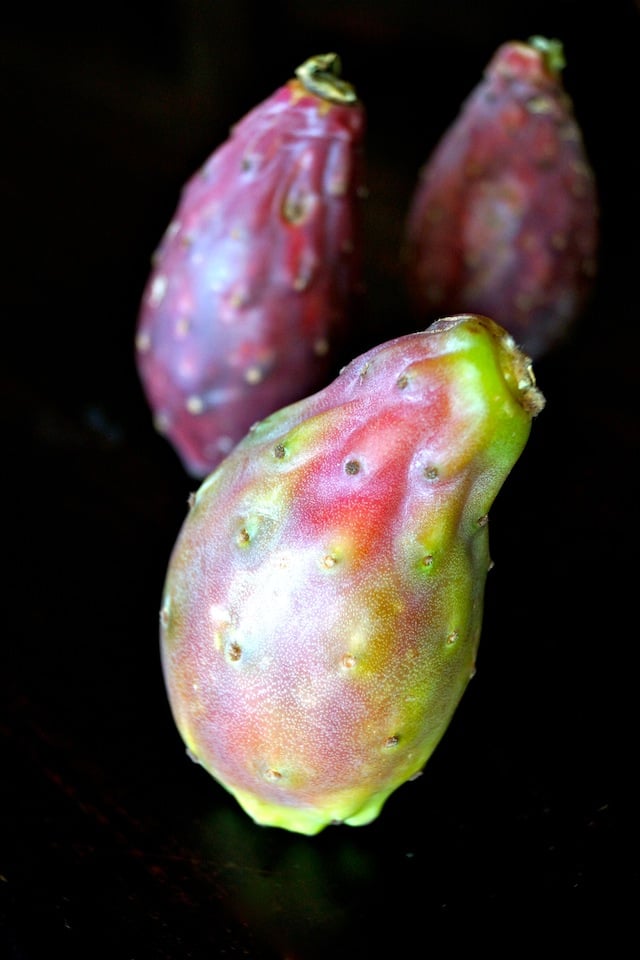 (Did you even know a vinaigrette could be beautiful?)
Not only is it a stunning magenta color, but the flavor is lovely – lemony, raspberry-like and subtly sweet.  It will turn your greens, vegetables and other fruits, into a truly dreamy (and of course, beautiful!) salad.
Thank you to Melissa's Produce for the Cactus Pears for recipe testing.
Cactus Pear-Lemon Vinaigrette Recipe
Makes about 1 cup
Ingredients
3

cactus pears

¼

cup

fresh lemon juice

1

tablespoon

red wine vinegar

¼

teaspoon

each: sea salt

freshly ground black pepper and granulated sugar

2

tablespoons

extra virgin olive oil
Instructions
Place a fine mesh strainer in a slightly larger mixing bowl and set it aside.

Peel and cut the cactus pears into quarters (

heres how

). Then add them to a blender and pulse until you have a smooth purée.

Pour the cactus pear purée into the strainer and, use the back of a large mixing spoon to help you drain all of the liquid into the bowl. (All of the tiny seeds will be held back in the strainer.) Get as much of the juice as possible -- you will need approximately ⅔ cup.

Add the lemon juice, vinegar and seasonings to the juice and mix. Then gradually whisk in the oil.
Save