This delicious Spicy Persimmon Preserves recipe can be served with dozens of foods — from sandwiches and grilled chicken, to toast and ice cream!
Before we get into the Spicy Persimmon Preserves recipe, I have to brag about my son — not something I typically do here, but it's relevant today. 🙂
He made me the most beautiful cutting board out of walnut wood!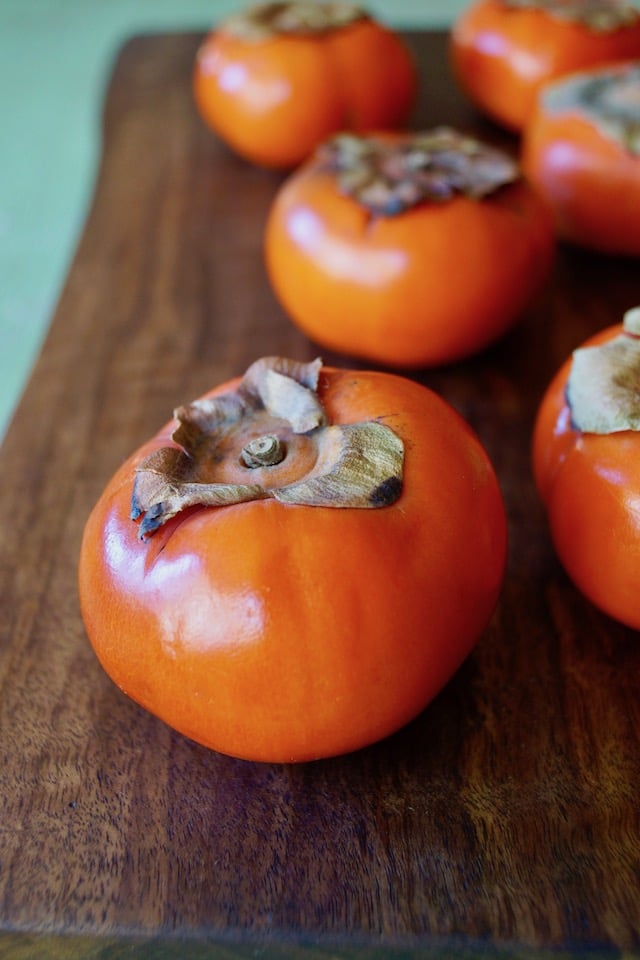 He just turned 15 yesterday, and last week spent a few days with my incredibly talented cousin, who can build houses and cars, and just about everything in-between.
Just look at that grain.
My cousin has a "shop" where he works and plays with metal and wood and has been sharing his skills with my son.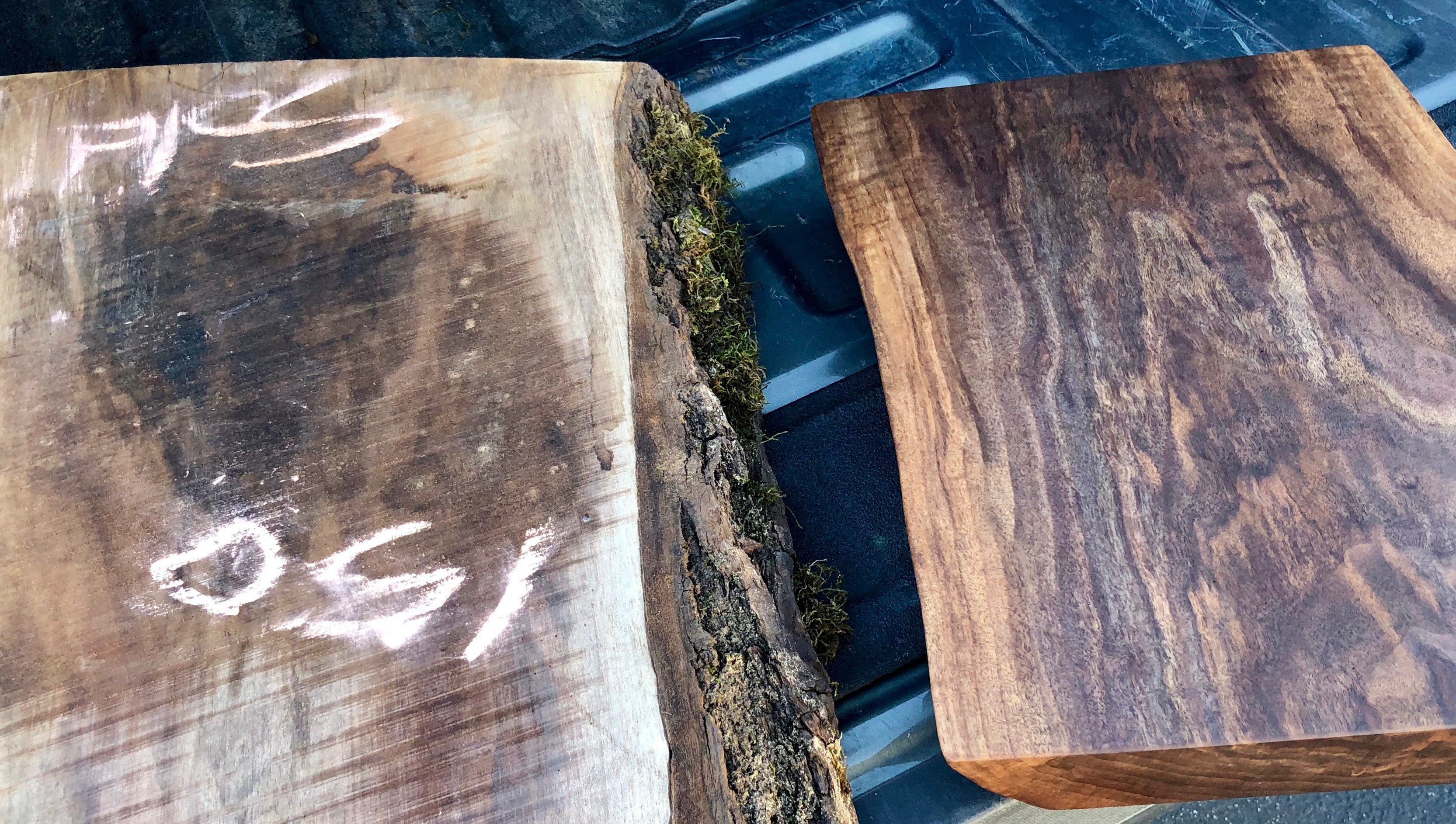 After about 7 hours of hard work, my son turned what looked like the wood on the left into what's on the right. Do you see the moss growing!?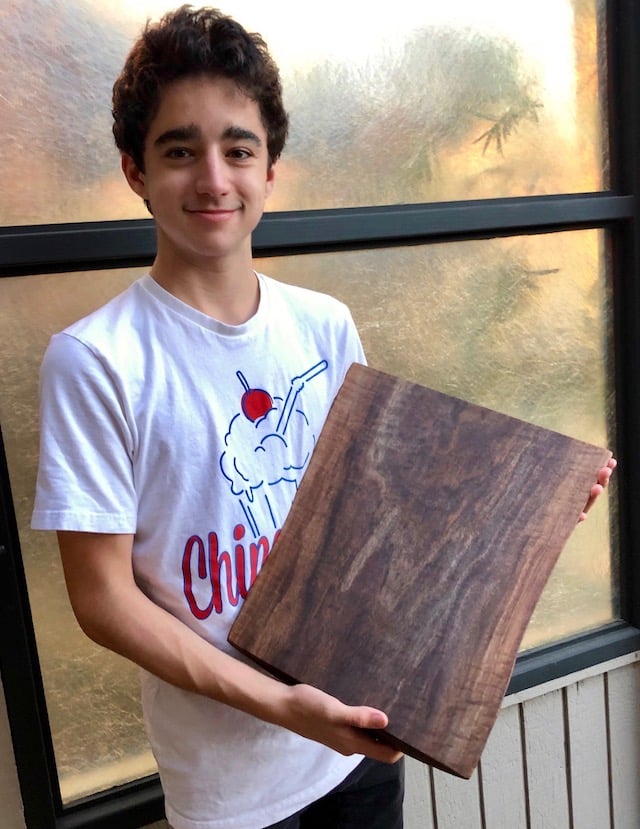 To say I love my new cutting board is an understatement. Not only is it functional (I've already been chopping up a storm on it), but it's also gorgeous!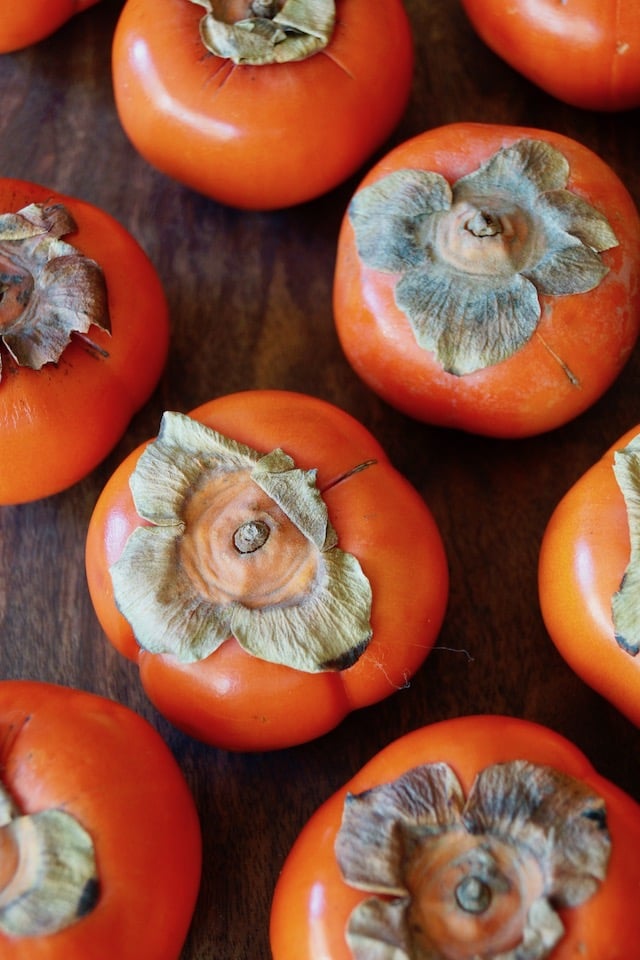 Inspiration
He thought I might want to use it in my food photos and he was so right. After looking at it for a minute, I was already imagining persimmons on it.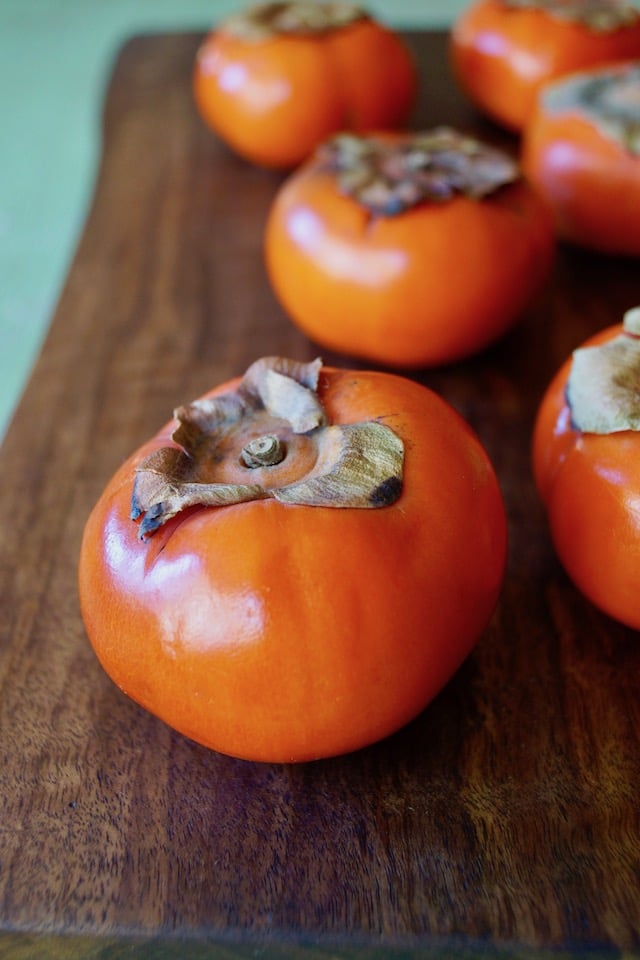 And that's what led me to this Spicy Persimmon Preserves recipe. Well that, and that everyone seems to be loving cheese boards lately. 🙂
What are preserves?
Preserves are a mixture of fruit and sugar, cooked together. The fruit in preserves is usually cut into chunks or in some cases left whole.
Fuyu persimmons are great for this recipe because they hold their shape very well.
Click here to find out the difference between preserves and jams.
What to serve with Spicy Persimmon Preserves
When I made this, I knew I wanted to serve it as part of a "build-you-own-sandwich" board. Both to show off my new cutting board, and for a fun, easy lunch.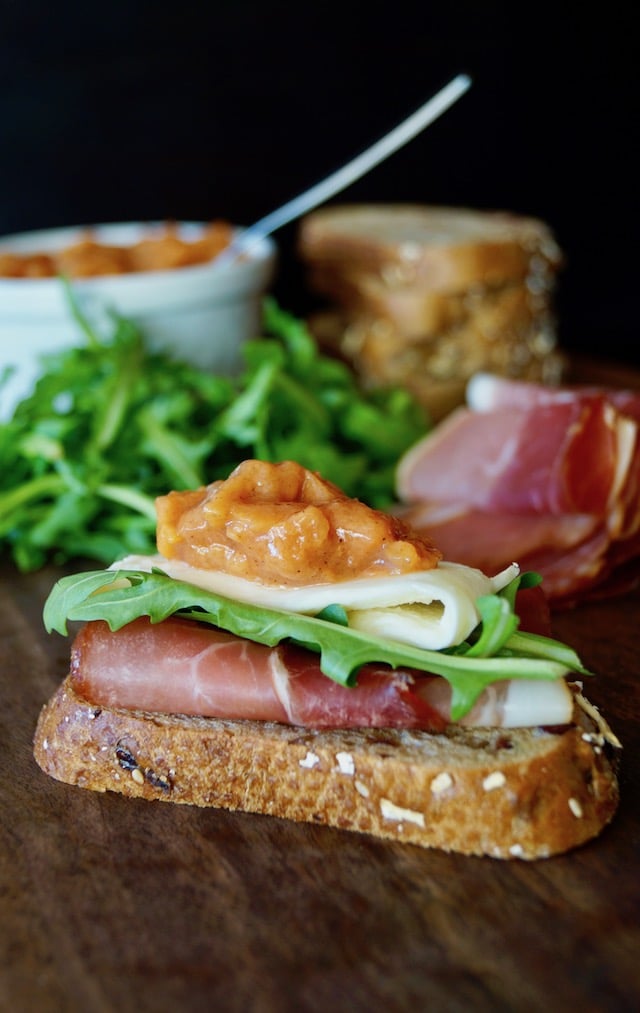 The Spicy Persimmon Preserves were especially tasty with prosciutto, brie and arugula, with cranberry bread.
You could also easily turn this into the best grilled cheese sandwich!
This is also lovely on warm toast or a muffin with your morning coffee or tea.
The heat in the recipe makes it somewhat reminiscent of a chutney, making it great with grilled chicken.
And you can even warm it up and spoon it over vanilla bean ice cream. Yum!
How do you make Spicy Persimmon Preserves?
The fruit is peeled and sliced and then mixed with a touch of chili paste, cinnamon, sugar, salt and water. Then it's cooked. (Detailed recipe is below.)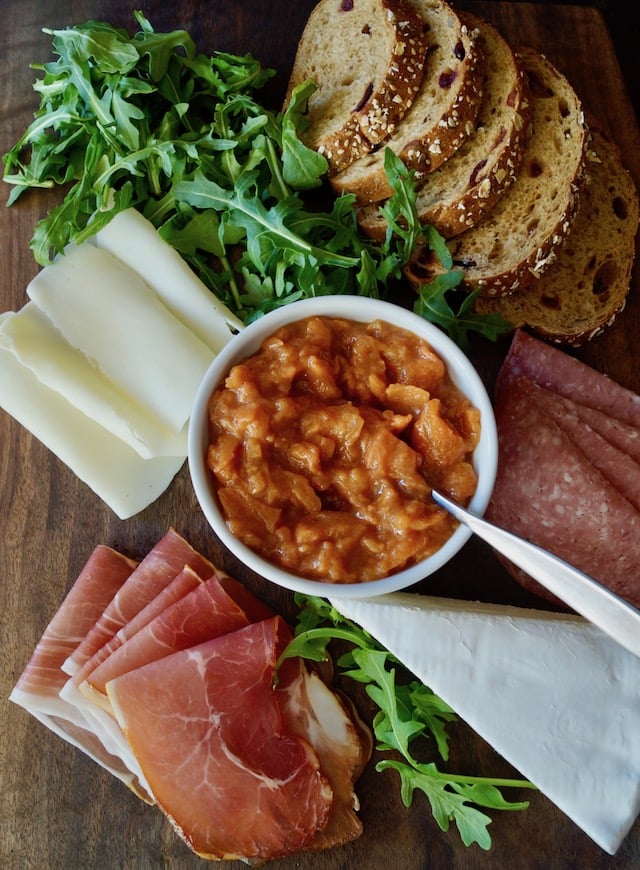 I hope you enjoy the preserves however you decide to serve them.
More recipes with persimmons:
If you try Spicy Persimmon Preserves, or any of my other recipes, I'd love to hear what you think about it in the comments. You can also follow me on Facebook, Instagram and Pinterest to see more mouth-watering recipes!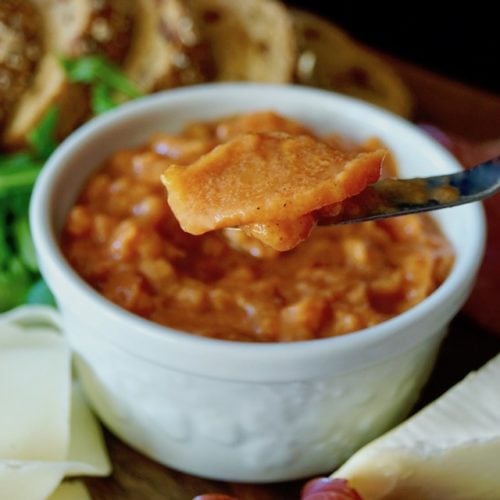 Spicy Persimmon Preserves
This recipe can be served with dozens of foods -- from sandwiches and grilled chicken, to toast and ice cream!Makes about 2 cups / Serving size: about 2 tablespoons

Ingredients
1½

pounds

Fuyu persimmons,

peeled and thinly sliced into rounds that are then halved

¼

cup

water

2

tablespoons

granulated sugar

1

tablespoon

lime juice

1

teaspoon

chili paste

(I like Sambal Oelek)

½

teaspoon

ground cinnamon

pinch of salt
Instructions
Mix everything together in a medium-sized pot.

Place over high heat to bring to a boil. Immediately reduce the heat to low and simmer, uncovered, until the fruit is very soft and liquid has thickened, about 40 minutes. You can either leave the fruit as is, of smash it a bit with a fort, to break it into slightly smaller pieces.

Let it cool and serve. (The preserves can be stored in a tightly sealed container in the refrigerator for up to 3 weeks.)
Notes
Calorie count is only an estimate.
Have you tried this recipe?
I'd love to see it on Instagram! Tag me at @cookingontheweekends or leave a comment & rating below.
Cooking On The Weekends is a participant in the Amazon Services LLC Associates Program, an affiliate advertising program designed to provide a means for sites to earn advertising fees by advertising and linking to Amazon.com.