Caramelized Onion-Bacon Cranberry Honeynut Squash is one of the prettiest & most delicious Thanksgiving side dish recipes!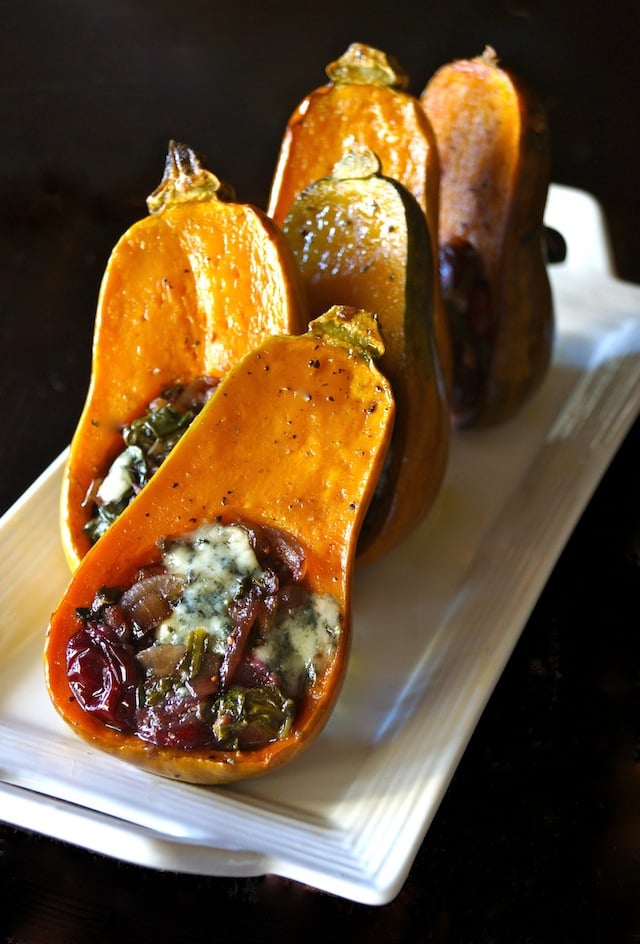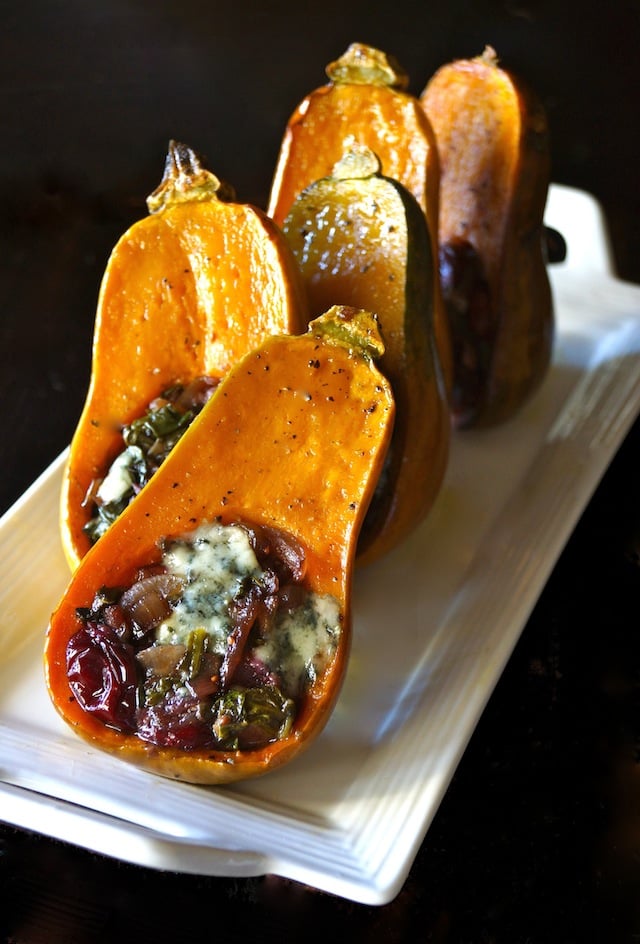 However you may be feeling after this crazy election week, I'm guessing you're still hungry, and we all still need to eat!  So let's carry on in the kitchen, shall we?
We can perhaps even begin to plan our Thanksgiving menus.  It's never too early. Just ask my mom.
My mom would set the table a couple of weeks out.  And she'd begin caramelizing onions for the stuffing one week out.  The whole house would smell amazing! 🙂
Let's get started!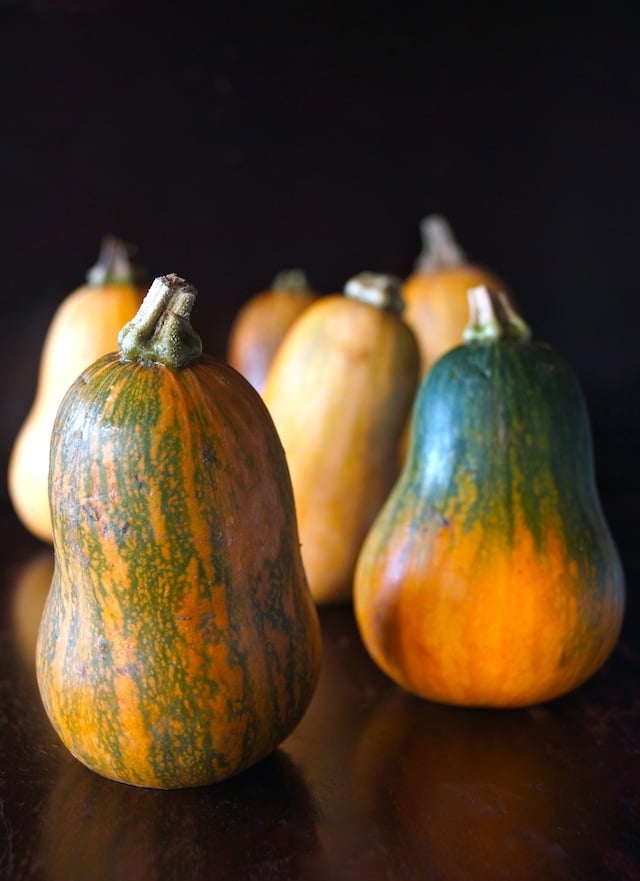 What is a Honeynut Squash?
Honeynut squash are mini (AKA adorable!) Butternut squash.
These winter squash are about ½ to ¾-pound each, just a few inches tall, and have a super delicious sweet flavor.
Honeynut squash have only been around since about 2007, and in Farmers Markets since about 2015.
You can read about the (brief) history of the honeynut squash here

.
I fell in love with them at first sight.  Really, I had to get them and cook with them.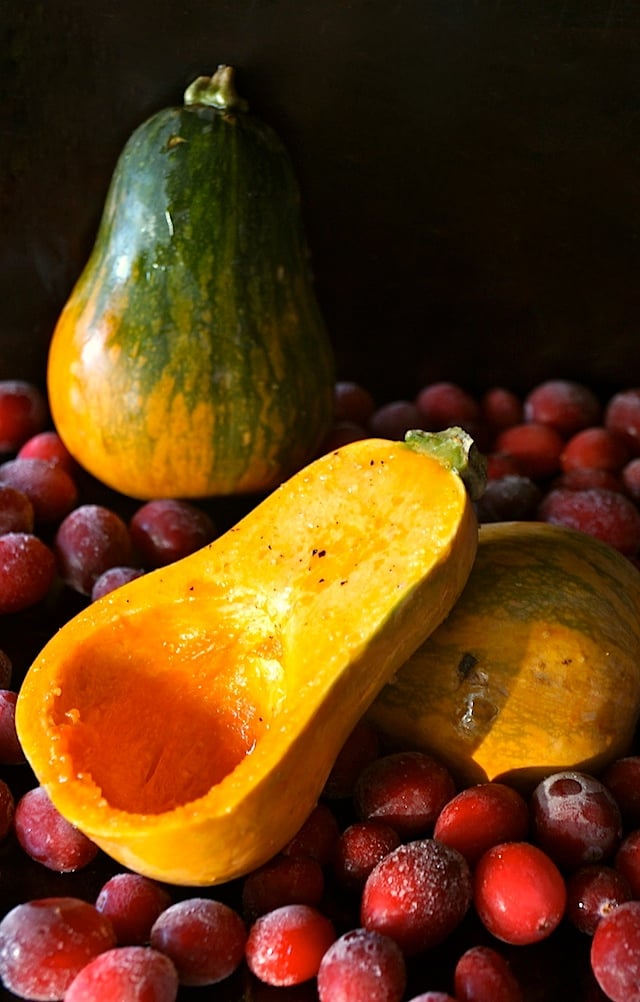 Please remember to stop and admire the beauty of your ingredients.  It's like stopping to smell the roses.  Just look at those colors!
This recipe is perfect for either a side dish, or a beautiful first course.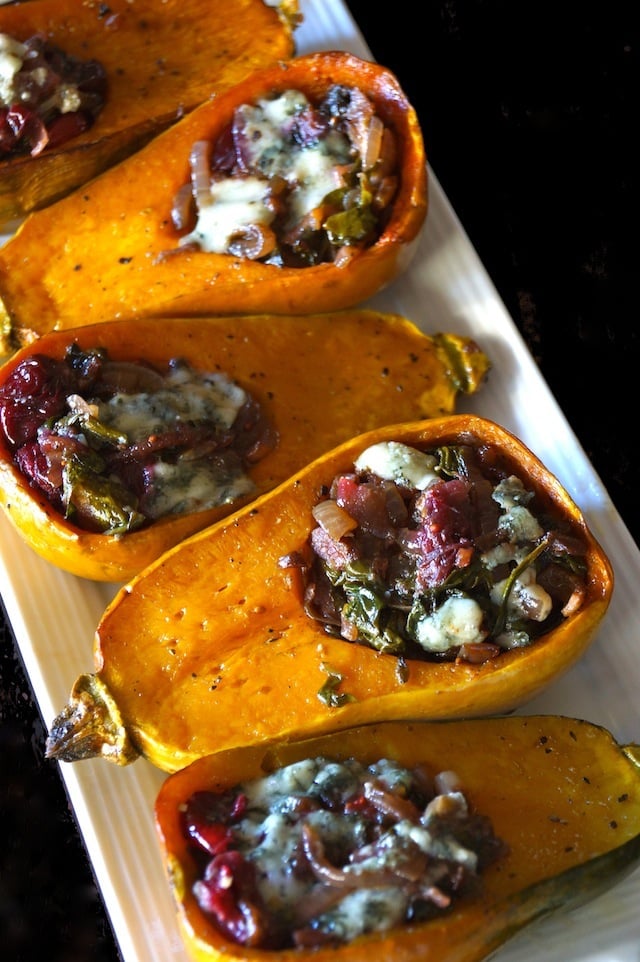 And it's simply a stunning recipe for any occasion during the fall and winter months.  It exudes warmth and is bursting with seasonal flavors.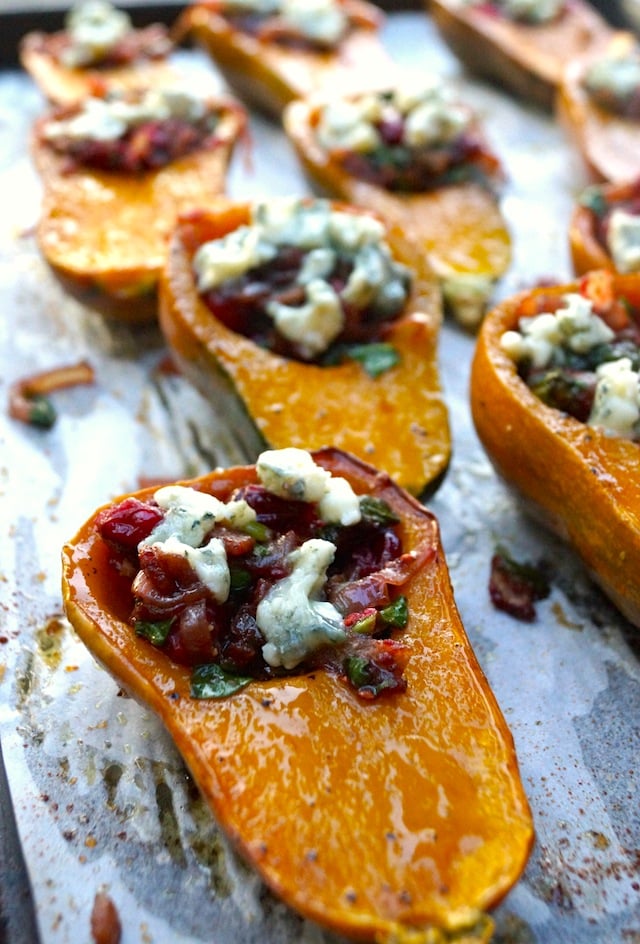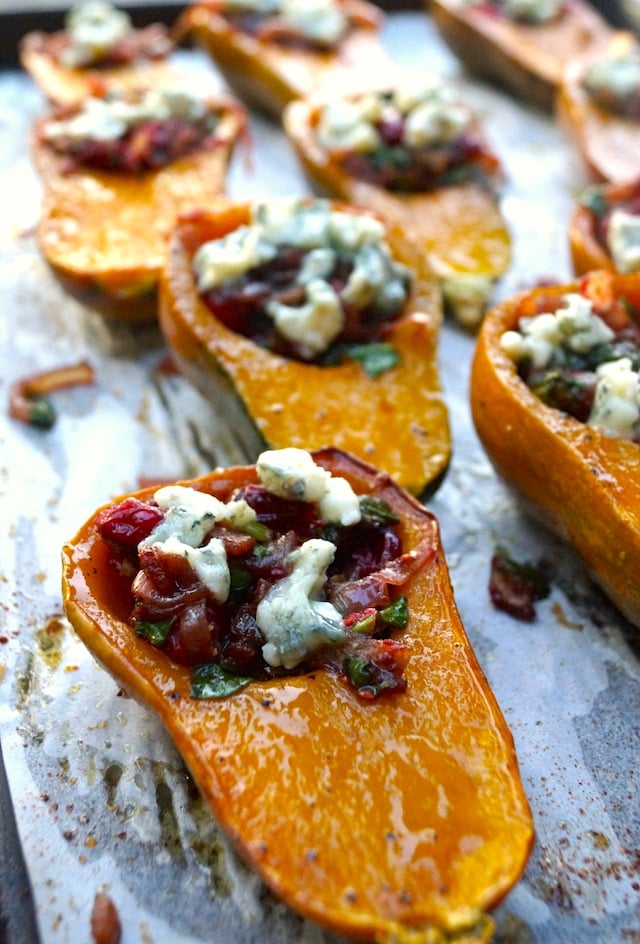 Not only will these darling Cranberry Honeynut Squash dress up the table — but, they're also packed with a unique blend of ingredients, ranging from sweet and spicy to buttery and rich to tangy and earthy.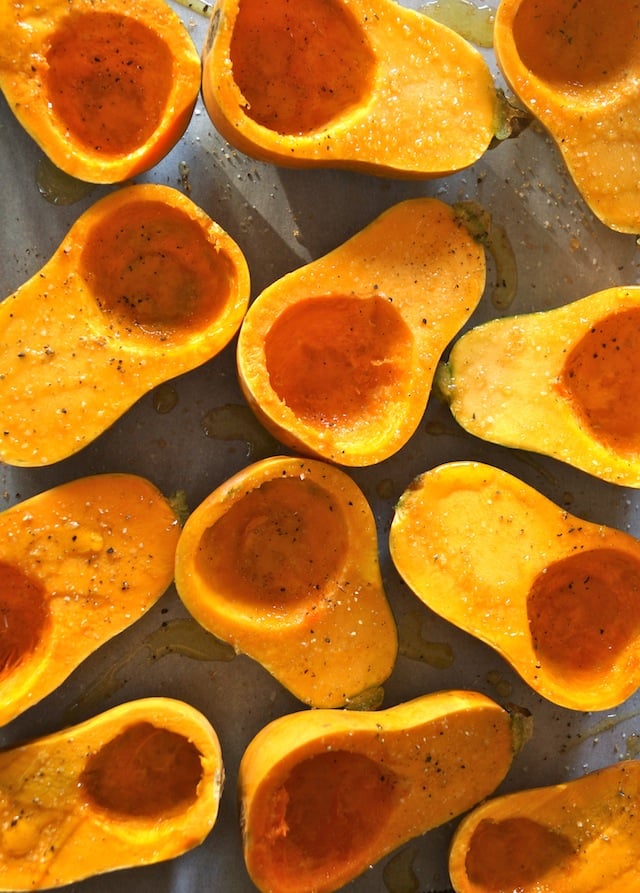 Imagine all of that in one bite!
You can get Honeynut squash at Trader Joe's. Right now!
And at other major grocery stores, ask the produce manager about them — specialty sections will likely have them now and during the next couple of months.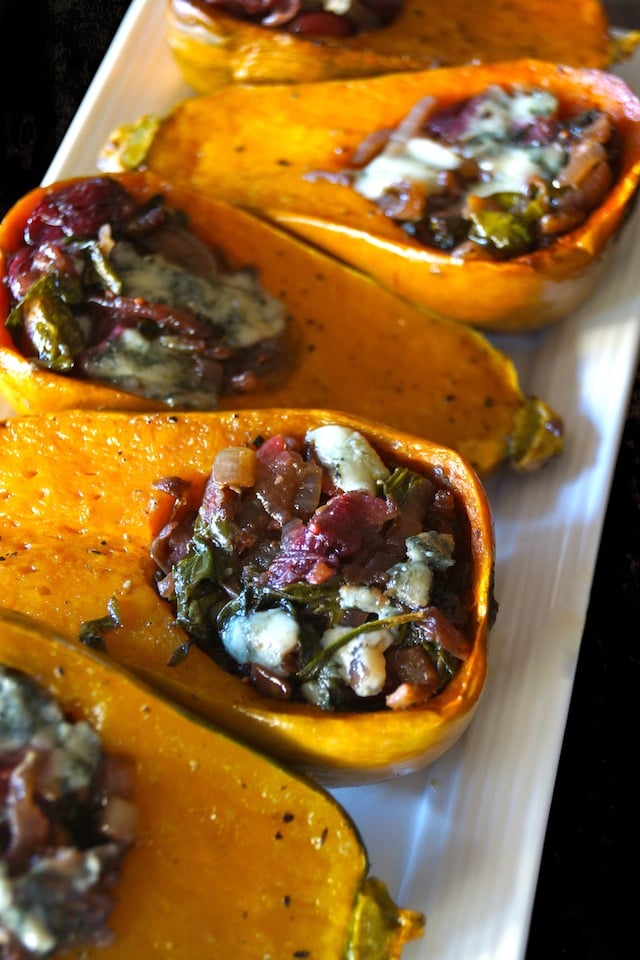 I hope you'll consider serving this Caramelized Onion-Bacon Cranberry Honeynut Squash for Thanksgiving, or really anytime in the fall or winter months.
Enjoy!
Caramelized Onion-Bacon & Cranberry Honeynut Squash Recipe
Caramelized Onion-Bacon Cranberry Honeynut Squash is one of the prettiest & most delicious Thanksgiving side dish recipes!
*Please take a minute to read through the instructions before you begin cooking -- it's a good idea to get the filling cooking first.

Keyword:
gluten-free Thanksgiving recipes, Thanksgiving Side Dishes
Ingredients
6

(approximately 1/2-pound)

Honeynut squash

olive oil for the pan and for drizzling

1

tablespoon

brown sugar,

divided

3

strips

bacon

2

cups

yellow onion,

thinly sliced

1

teaspoon

garlic,

minced

1/4

teaspoon

ground nutmeg

1/4

teaspoon

ground cloves

pinch

of cayenne pepper

1

cup

fresh cranberries

(frozen and thawed is okay)

1 1/2

cups

spinach leaves

washed and dried, roughly chopped

2

tablespoons

Roquefort cheese,

crumbled

salt and freshly ground black pepper
Instructions
Preheat the oven to 425 degrees F and adjust a rack to the center.

Cover a sheet pan with parchment paper and set aside.

Wash and dry the squash, and then cut them in half, lengthwise. Remove the seeds and any stringy membranes with a spoon, and place them, round side down on the parchment-lined sheet pan.

Drizzle the squash generously with olive oil and then sprinkle them lightly with salt and pepper, and 1 teaspoon of the brown sugar. Turn them over, round side up, on the sheet pan.

Roast in the preheated 425 degree F oven until the thickest portion of the squash is very tender, about 30 minutes. (A fork should slide in and out very easily.)

Remove the sheet pan from the oven, set aside, and turn the heat down to 375 degrees F.

While the squash is roasting, place the bacon in a large sauté over medium heat. Cook until it's golden and crispy, a few minutes per side. Set it aside on a double layer of paper towels to drain.

Add the onions and garlic to the pan. (If there isn't a thin layer of bacon grease in the pan, add a bit of olive oil.) Sauté, stirring frequently, until the onions are soft and golden, about15 minutes.

Add the nutmeg, cloves, cayenne and cranberries. Turn the heat to medium-low, and cook until the cranberries are very soft and broken into smaller pieces, about 15 more minutes. (If the cranberries are soft but not broken, you can help them along with a fork.)

Add the spinach and cook until it's wilted, about 2 minutes.

Crumble the bacon into tiny pieces and add it to the sauté pan. Stir and then season generously to taste with salt and pepper, and add the remaining 2 teaspoons of brown sugar. (

Here's How to Season to Taste.

)

Turn the squash halves over, so the opening is facing up, and evenly divide the mixture among them, filling each one as much as possible. Now use your fingers to break the Roquefort into tiny pieces, and evenly distribute it on top of each one.

Place the sheet pan in the preheated 375 degree F oven and heat just to melt the cheese and bring the flavors together, about 6 minutes.

Serve!
Save
Save
Save
Save
Save
Save