Cheddar Grilled Cheese Bagel Breakfast Recipe with Serrano-Bacon Caramelized Onions and Egg — it's a mouthful, I know.
As is this breakfast!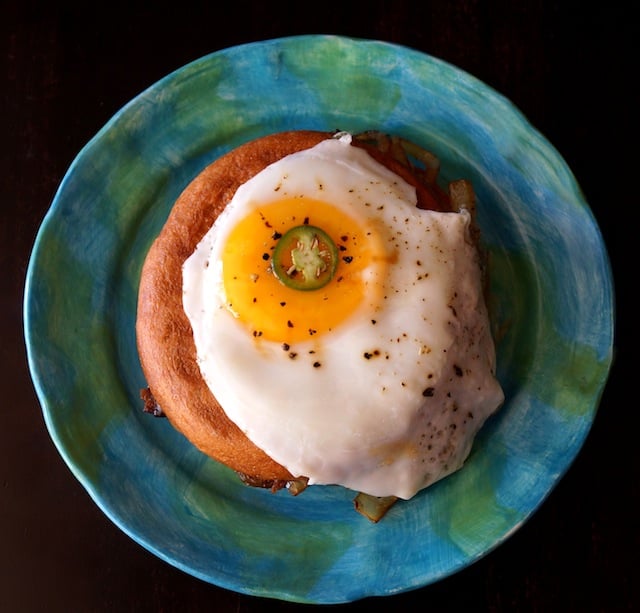 Might just be the best mouthful ever!  It's epic. There's no other way to describe this sandwich.
(Plus, that's what my 8-year-old always says when something in amazing.)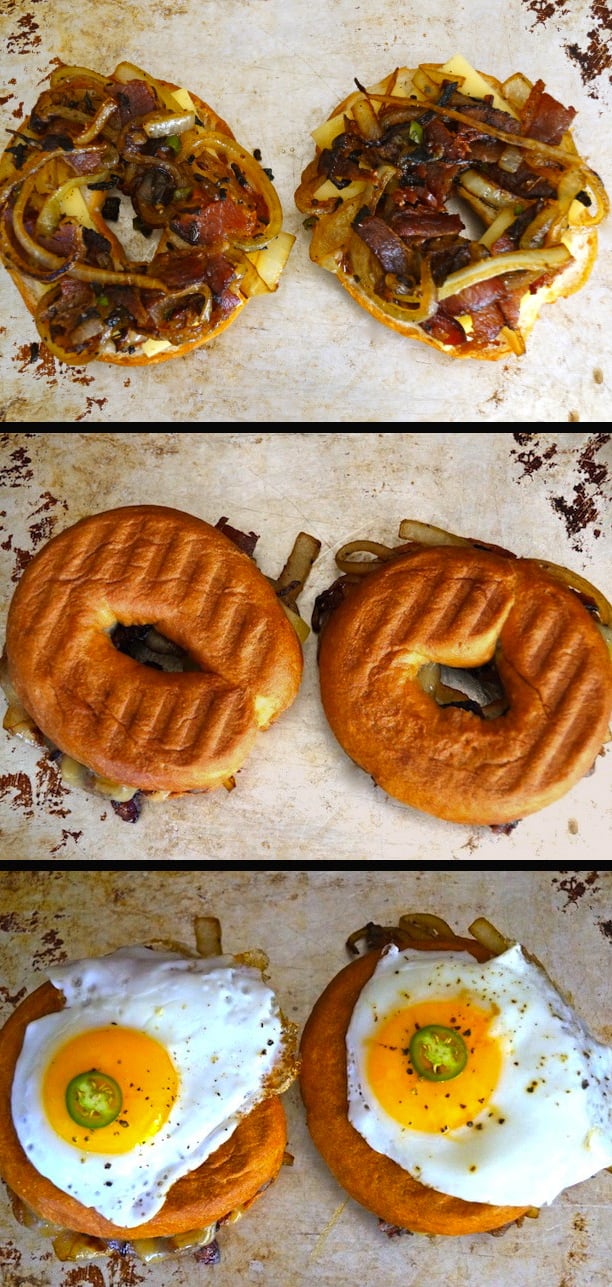 So we'll get right to it, shall we?
Enjoy!
Cheddar Grilled Cheese Bagel Breakfast Recipe with Serrano-Bacon Caramelized Onions and Egg
Ingredients
2

strips applewood smoked bacon

1

cup

thinly sliced brown onion

2 to 3

tablespoons

finely chopped

seeded Serrano chile pepper (alter the measurement based on the amount of heat you like, and taste the pepper first to see how hot it is)

2

plain or egg bagels

sliced in half horizontally

2

tablespoons

maple syrup

About 4-ounces white Cheddar cheese

my favorite is Kerrygold Aged Cheddar, cut into 12 small slices to fit amongst the 4 bagel halves

2

large eggs
Instructions
Place a double layer of paper towels on a plate and add the bacon to a medium-sized sauté pan. Place the pan over medium heat and sauté the bacon until it's crisp, about 7 minutes. Transfer it to the paper towel-lined plate to drain. Crumble the bacon, add it to a small mixing bowl and set aside.

Add the onion and Serrano pepper to the pan with the bacon fat and sauté over medium-low heat, stirring periodically, until the onions are well caramelized, about 10 minutes.

Place the 4 bagel halves, round side down on a clean, dry surface and drizzle each one with about ½ tablespoon of the syrup.

Then add about 3 slices of the cheese to the bottom 2 bagel halves.

Divide the bacon-onion mixture evenly between the 2 halves and top them with the remaining cheese slices and the top 2 bagel halves.

You can now grill the sandwich on a grill, in a sauté pan, or in a panini press. (If you use a pan or stove-top grill, usehigh heat, and a flat-bottomed metal spatula to firmly press down on the sandwich, then turn the heat to low and cover the pan with a lid or foil until the cheese has melted, about 4 minutes or so.)

While the sandwich is cooking, use the same pan you cooked the onions in to fry 2 eggs. (If necessary, add a bit of olive oil to the pan and crack the eggs into it. Sauté just until cooked, about 4 minutes.)

Carefully place 1 fried egg on top of each grilled bagel sandwich and sprinkle with a bit of salt and pepper.

Serve!
Save
Save
Save