Coconut Pandan Crème Brûlée is an unexpected, unique and delicious dessert! Pandan paste is an interesting and lovely ingredient that gives this silky smooth custard is pretty celadon green color. And a pandan dessert is always a fun way to wow guests.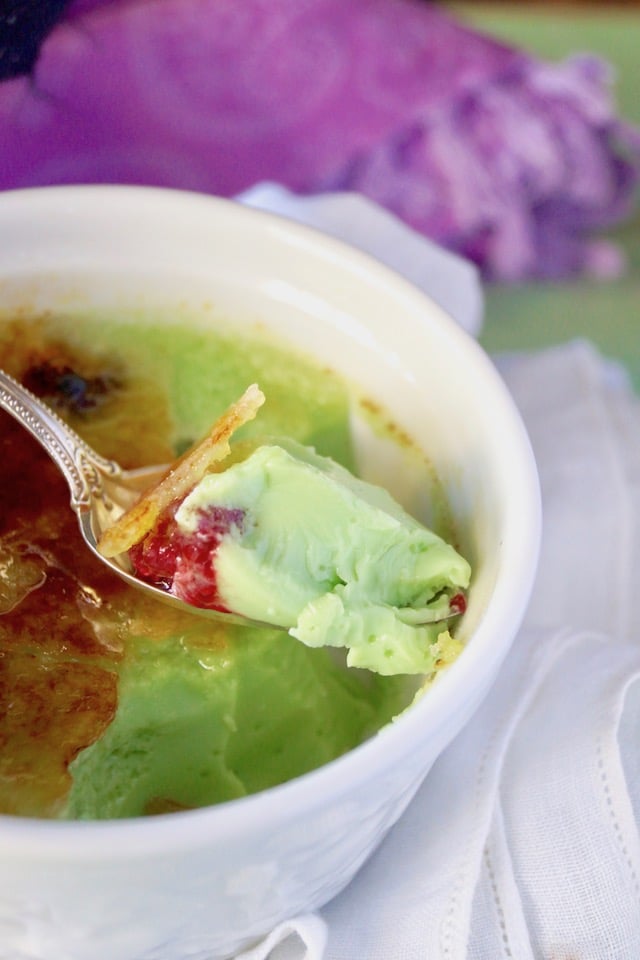 Disclaimer: This is not a typical crème brûlée. There are two main reasons for this. One, it does not include heavy cream. And two, whole eggs are used instead of just yolks. I use coconut milk and. Therefore, the texture will be different from what you might expect. It's still rich and creamy, though! 🙂
Inspiration for Coconut this Pandan Dessert
Ever since I made the Meyer Lemon Flan, I can't seem to stop making custards. I can't get enough of the beautiful, velvety texture, rich creaminess, and the flavor possibilities seem endless.
And a pandan dessert is so much fun!
The Difference Between Flan and Crème Brûlée?
Both are custards, but instead of the thin caramel sauce layer for flan, sugar is hardened on the top surface to form a crust on crème brûlée.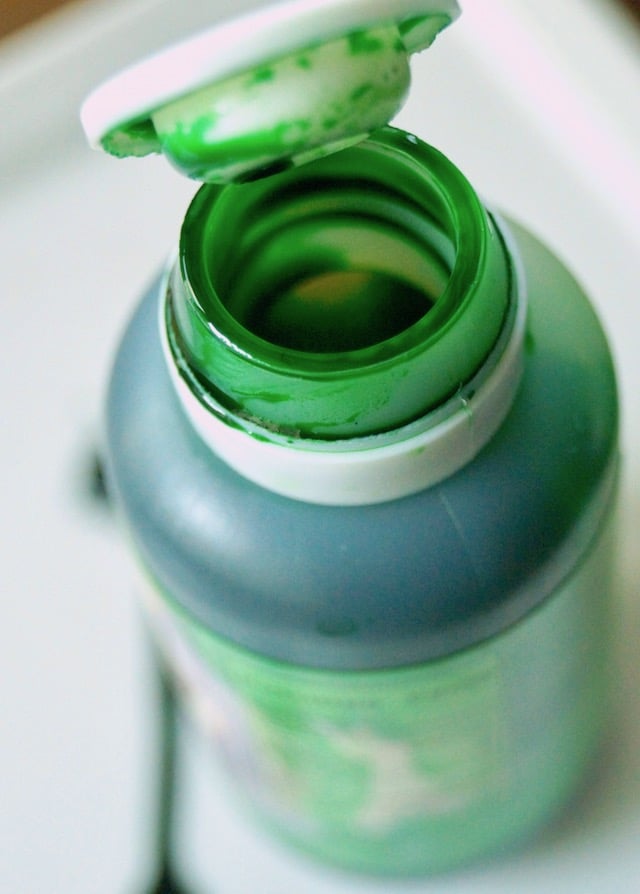 What is Pandan?
Pandan is a tropical plant that grows in Southeast Asia.
To use pandan, the leaves are made into a paste (or extract) which gives foods a very pretty and quite striking green color.
Many people think that pandan is to Asia what vanilla is to the Western world, though with a completely different scent and taste.
The pandan leaves are also often used in the way banana leaves are used to wrap things like chicken or sticky rice.
What does Pandan taste like?
Pandan has a subtle nutty-floral flavor.
In Southeast Asia, pandan leaves are used to give their unique taste and aroma to some savory dishes, but mainly it is used as a paste or extract to flavor pandan desserts and drinks.
I've had my bottle of pandan paste for years now, and haven't experimented with it in a while. I've always heard it pairs well with coconut -- in fact, in Asia, I believe in desserts, it's most commonly paired with it.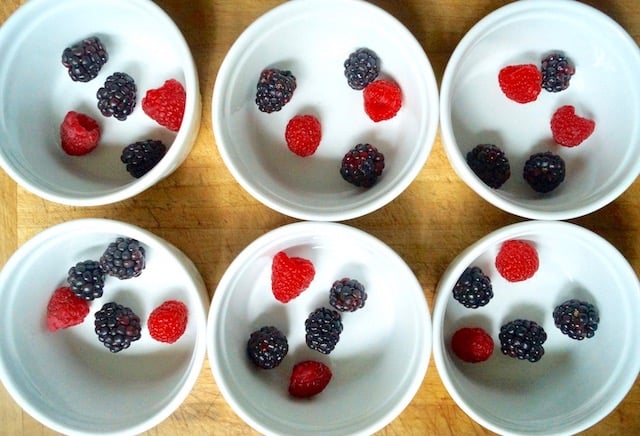 Fresh berries are hidden inside the custard.
So with my current custard obsession, wanting to use my neglected bottle of pandan paste, and thinking of how it would be oh-so-dreamy with the flavor of coconut -- this recipe for Coconut Pandan Crème Brûlée was born.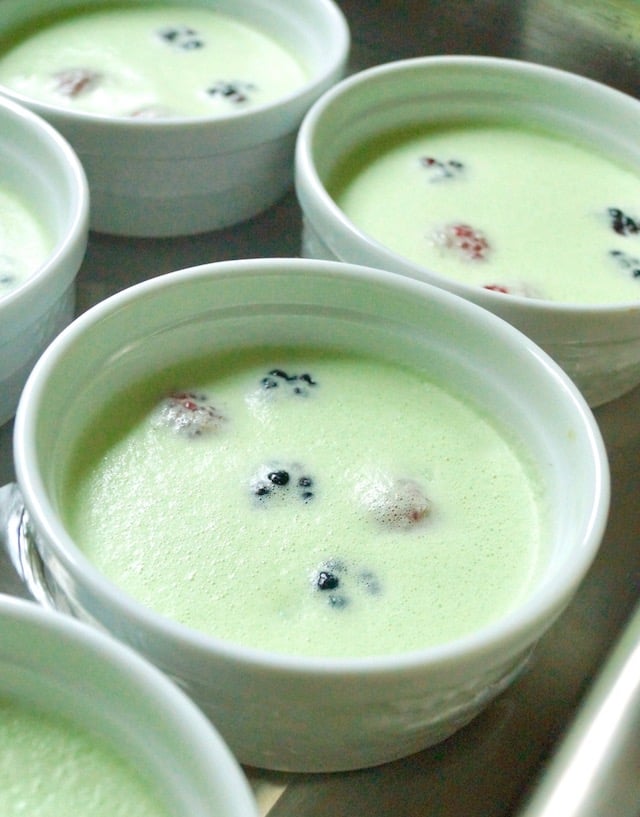 The custard cooks in the oven, in a water bath, to help achieve a silky smooth texture.
What's in this Coconut Pandan Crème Brûlée Recipe?
eggs*
coconut milk**
vanilla
berries
sugar
pandan paste
sweetened condensed milk
*As mentioned above, crème brûlée is typically made with only the yolks of the eggs. This recipe is unusual in that the whole egg is used.
**As mentioned above, in a typical crème brûlée or flan, whole milk or heavy cream is used.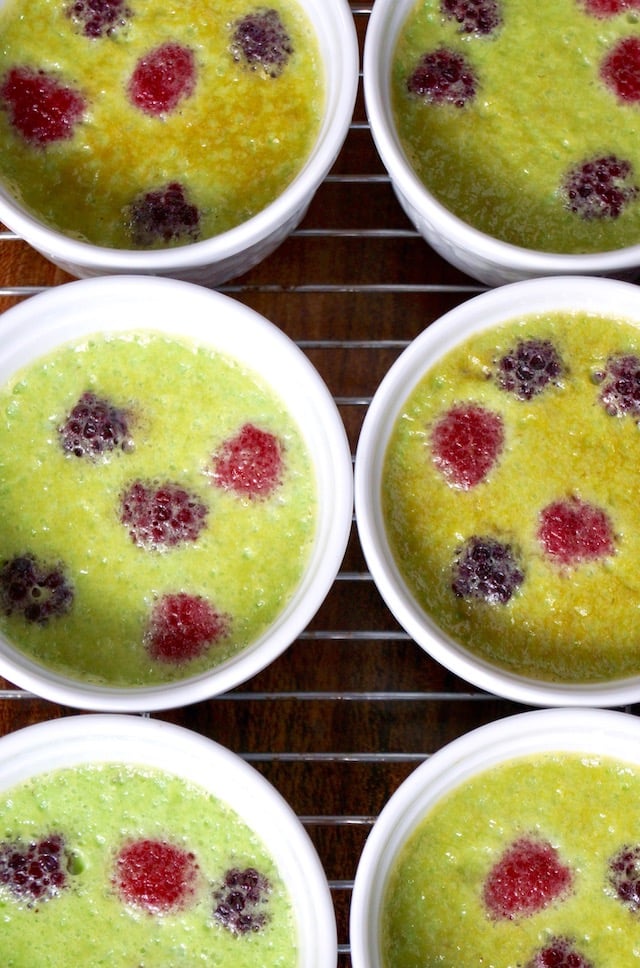 The flavor from the pandan paste is natural combination with the coconut in this lovely pandan dessert.
I love the flavor of the berries, and it's a delightful surprise for anyone taking their first bite.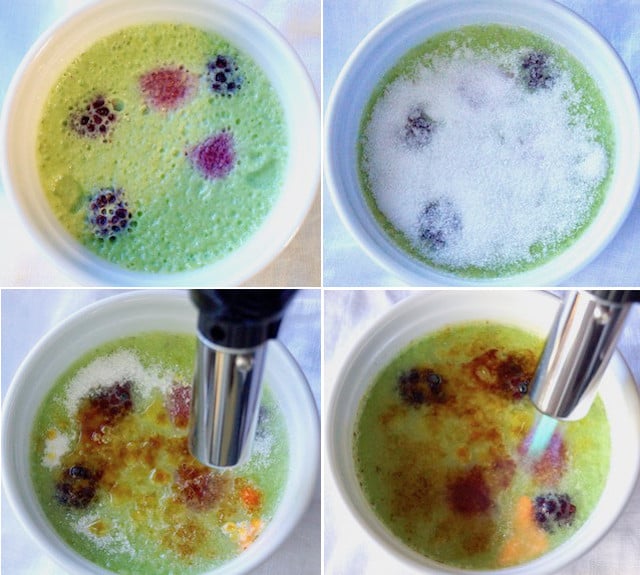 Can you make crème brûlée without a kitchen blow torch?
Yes! If you don't have a kitchen blow torch, you can place the sugar coated custards under a broiler. (Both methods are explained in the detailed recipe below.)
I think there's a little better control with the torch because you can direct the flame exactly where you want it to go. If you think you'll make crème brûlée more than once, which I'm guessing you will, then it's a great tool to have. Small kitchen torches range from about $12 to $40. (See examples below the recipe.)
I hope you love this pandan dessert as much as I do!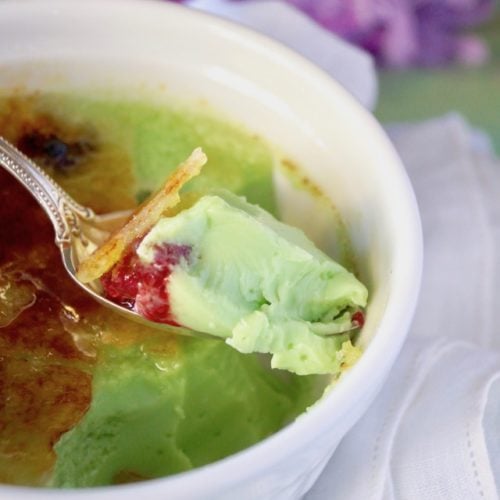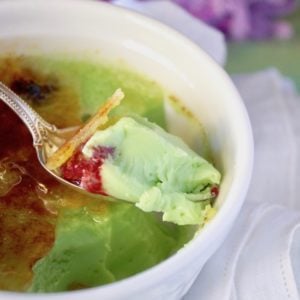 Coconut Pandan Crème Brûlée Recipe
This crème brûlée is unexpected, fun and utterly delicious! Pandan paste is an interesting and lovely ingredient that gives this silky smooth custard is pretty celadon green color.*The serving size is generous and (theoretically) one can be shared between two people. You can also use smaller ramekins if desired. (You could for example use 4-ounce ramekins for about 10 smaller portions.)

Ingredients
about

2 dozen

fresh berries (such as raspberries, blackberries and/or strawberries),

gently rinsed and dried

1¼

cup

unsweetened coconut milk

1

(14-ounce) can

sweetened condensed milk

6

large

eggs

2

teaspoons

pure vanilla extract

¼ to ½

teaspoon

Pandan flavored paste

(use the full amount for a more vibrant green)

6

tablespoons

granulated sugar
Instructions
Preheat the oven to 350°F.

Add all of the ingredients, except the granulated sugar, to a blender and blend until smooth, about 10 seconds. Directly from the blender, pour an even amount the mixture into the prepared ramekins.

Add enough hot water to the roasting pan, to come halfway up sides of the ramekins. (This is called a water bath, and adds moisture to the oven, which keeps the custard from becoming rubbery or cracking.) Bake the custards in the preheated 350°F oven just until they no longer jiggle, about 40 to 50 minutes.

Carefully remove the ramekins from the water bath and place them on a cooling rack. Let them cool there for about 90 minutes. Then individually cover each one with plastic wrap and place them in refrigerator for at least 3 hours, and ideally overnight.

Remove them from the refrigerator and lightly coat each custard with an even layer of the sugar, about 2 teaspoons each. Use a small blow torch to brown the sugar to create a crust. Simply turn it on medium-high and evenly go around until all the sugar has caramelized to a pretty golden brown. Don't worry if some areas are darker than others. (If you don't have a torch, you can use the broiler. Place the custards on a baking sheet, and adjust a rack so it's directly under the flame. Broil them just until the sugar is golden, about 1 minute.)

Serve immediately!
NOTES
If you would like to make coconut Crème Brûlée without the pandan, simply omit the pandan. Easy! 🙂 
NUTRITION
Have you tried this recipe?
I'd love to see it on Instagram! Tag me at @cookingontheweekends or leave a comment & rating below.
Cooking On The Weekends is a participant in the Amazon Services LLC Associates Program, an affiliate advertising program designed to provide a means for sites to earn advertising fees by advertising and linking to Amazon.com.