This Meyer Lemon Flan recipe is as smooth as velvet. With the fresh flavor of lemon in every rich and creamy bite, this is the perfect dessert to finish a meal.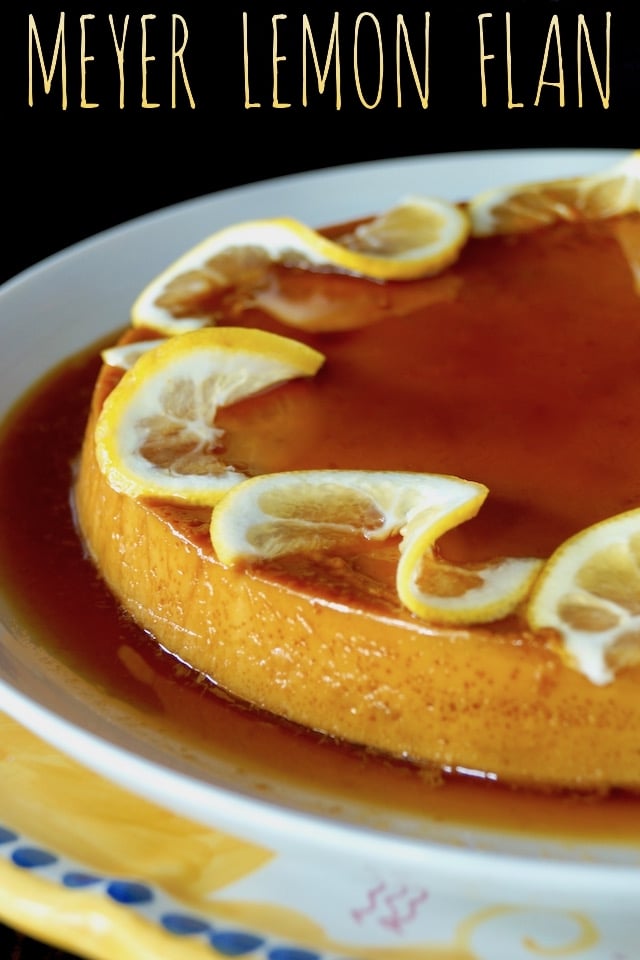 Inspiration
When I create new recipes, it's often with my mom in mind. It's not a conscious decision, it just happens that way. Many of my ideas stem from her cooking, but many are also from things I remember her saying about food. Let's not forget how she always ordered "double the onions."
Outside of chocolate, which was her strong number one, my mom loved flan and lemon desserts. Enter: Meyer Lemon Flan Recipe.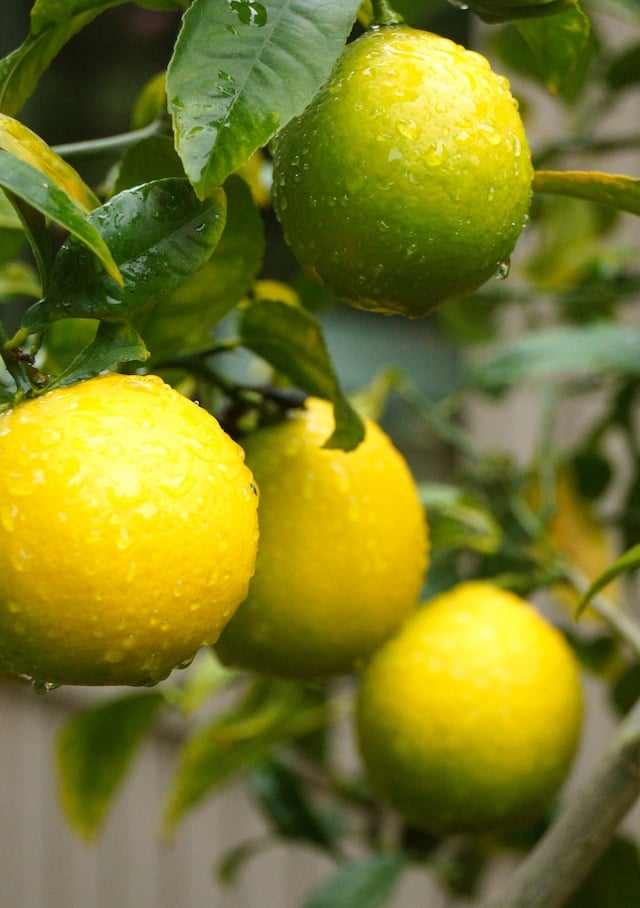 Meyer lemons are in season right now! (If you can't get them where you live, regular lemons will work too.)
Before I share my recipe I have to tell you exactly how my mom would order flan in a restaurant. Exactly.
My mom: "I would like the flan, but I have a question first."
Waiter/waitress: With hesitation, "okay . . ."
My mom: "Is it smooth?"
Waiter/waitress: "Well . . . I think it's smooth."
My mom: "I mean like velvet smooth?
Waiter/waitress: Looking nervous and maybe a little annoyed: "I believe it's quite smooth."
My mom: "If it's at all like sand on the beach, I don't want it. I understand if it is, but I only want it if it's as smooth as velvet."
I think nine times out of ten, she was pleased.
What is flan?
Flan, also called Crème Caramel, is a custard dessert with a layer of caramel sauce on top.
Flan is found in recipes as far back as ancient Rome. The Romans had an abundance of eggs, and consulting the Greeks' knowledge of of cooking, they developed new recipes, one of which was a custard-like, savory concoction known as flan.
This made its way to Spain where it became a sweet custard generally made with caramelized sugar.
It's thought that Columbus bought the richness of flan to America, and now almost all of Central and South America love flan, and it has become especially popular in Mexico where it's made in almost every kitchen.
How are Flan and Crème Brûlée different?
Crème brûlée is also custard, but instead of the thin caramel layer, sugar is hardened on the top surface to form a crust.
The below photos will help you when you're making this recipe.
top: sugar, sugar after it has cooked for about 7 minutes | bottom: cooked sugar poured into cake pan
I love the way this Meyer Lemon Flan turned out, and I hope you enjoy it as much as I did! The texture is indeed as smooth as velvet, and I know my mom would have loved it.
A couple more of my favorite lemon desserts: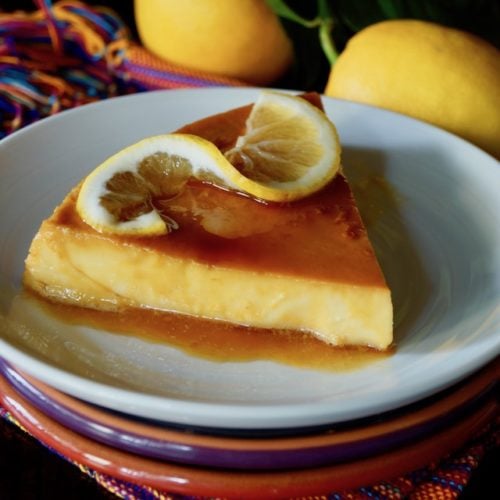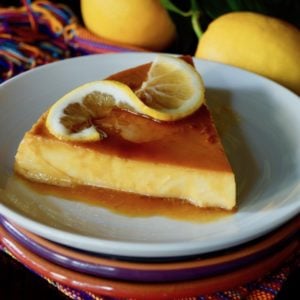 Meyer Lemon Flan Recipe
This Meyer Lemon Flan is as smooth as velvet. With the fresh flavor of lemon in every rich and creamy bite, this is the perfect dessert to finish a meal.
Ingredients
¾

cup

granulated sugar

1¼

cup

low-fat or whole milk

1

(14 ounce) can

sweetened condensed milk

6

large

eggs

2

tablespoons

Meyer lemon zest

¼

cup

Meyer lemon juice

1

tablespoon

pure vanilla extract

thin lemons slices for garnish,

if desired
Instructions
Preheat the oven to 350°F.

Add the sugar to a medium-sized sauce pot, and place it over medium-high heat. Watch it carefully and do not stir. Once the sugar begins to melt and becomes an amber color, swirl the pot every so often, gently until the sugar has completely dissolved. This will take about 5 to 10 minutes, and it will be a medium amber color at this point. Immediately pour in a 9 x 2-inch cake pan (or pie dish, or special flan pan) and quickly swirl it around to coat the bottom. The goal is to cover the entire bottom, but don't worry if it doesn't quite make its way to the edges, as it will melt again in the oven.


Add the milk, sweetened condensed milk, eggs, lemon zest, lemon juice and vanilla to a blender. Blend until it's smooth, about 5 seconds. (You can also use an electric mixer and a mixing bowl to do this.)

Place the prepared pan in a large roasting or baking pan. Pour the egg mixture into the cake pan, over the caramel coating. Add enough hot water to the roasting/baking pan, to come halfway up sides of the cake pan. (This is called a water bath, and adds moisture to the oven, which keeps the flan from becoming rubbery or cracking.)

Loosely cover the cake pan with foil, and bake flan in the preheated 350°F oven in the water bath until it no longer jiggles, 50 to 60 minutes. Carefully remove the cake pan from the water bath and place it on a cooling rack. Let it cool there for about 90 minutes. Then place it in the refrigerator for at least 3 hours, and ideally overnight.

Run a knife along the edges of the pan to loosen it. Place a flat platter, that's larger than the cake pan upside down on top. Then holding the two together, invert the flan onto the platter.

Add lemon slices if desired and serve!
NOTES
Please note that if you use a special flan pan, the cooking time might be longer as the diameter is smaller, and the flan will be taller.
NUTRITION
Serving:
0
g
|
Calories:
164
kcal
Have you tried this recipe?
I'd love to see it on Instagram! Tag me at @cookingontheweekends or leave a comment & rating below.
Cooking On The Weekends is a participant in the Amazon Services LLC Associates Program, an affiliate advertising program designed to provide a means for sites to earn advertising fees by advertising and linking to Amazon.com.