Garlic Rosemary Pork Chops are everything you'd want in a hearty, flavor-packed meat course. Super aromatic, crispy on the outside, and succulent on the inside, you'll keep going back for more.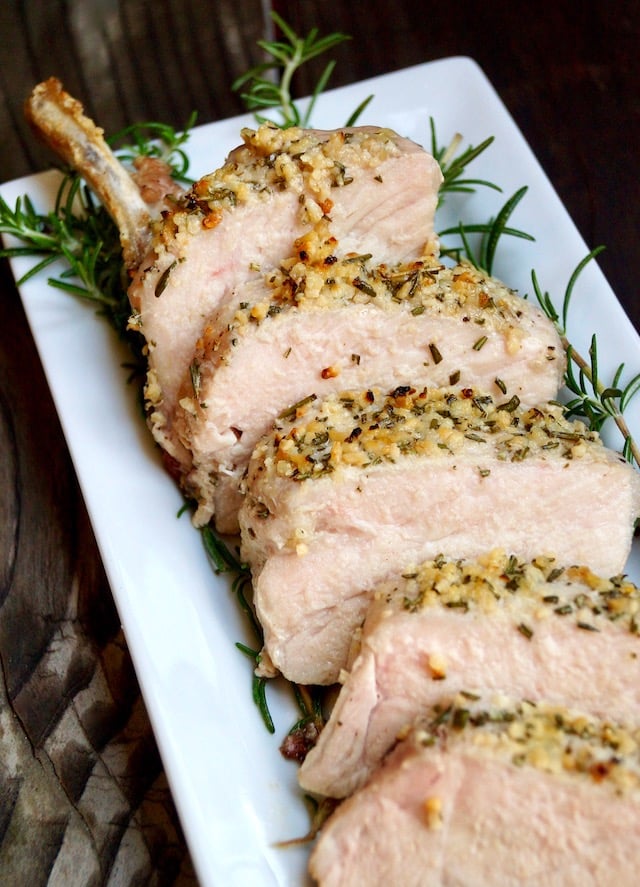 Pork chops are one of those foods that are super easy and quick to make, and very impressive for guests. Win-win.
These crowd-pleasing Garlic Rosemary Pork Chops are as great for a dinner party as they are for a busy weeknight dinner.
They're super flavorful, juicy and tender.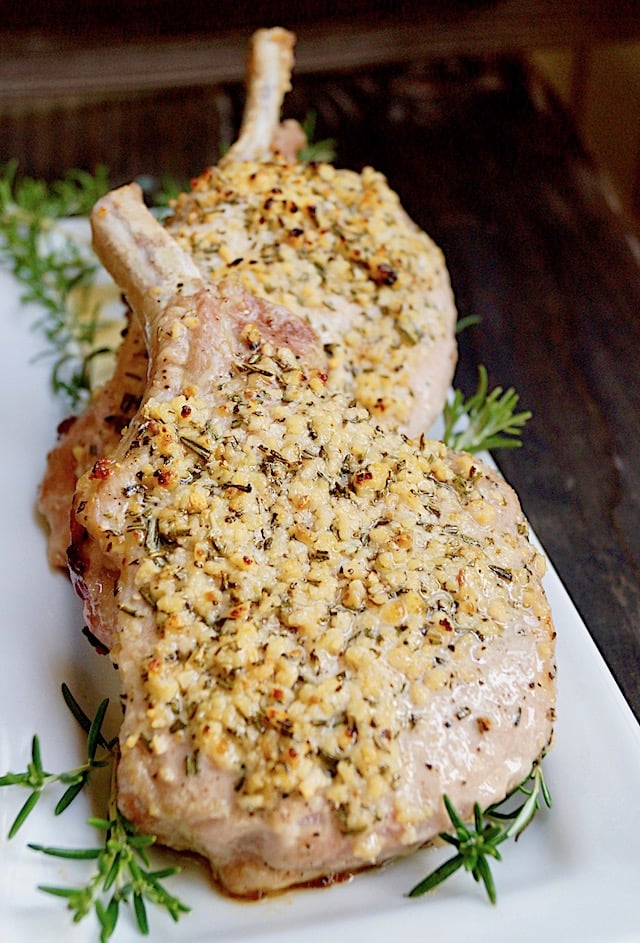 What's in this recipe?
fresh garlic
fresh rosemary
Parmesan cheese
pork chops
salt, pepper
olive oil
Just a handful of simple fresh ingredients!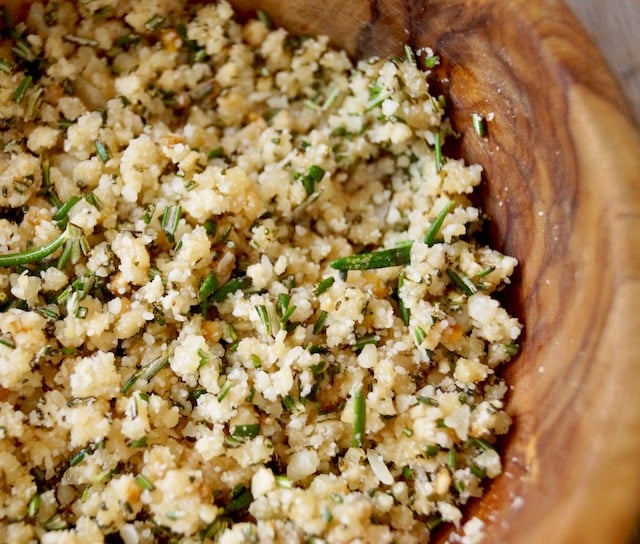 How to Make Them
You won't believe how easy this recipe is! There are just a few steps.
- Mix the garlic, rosemary and Parmesan together, and then spread it on the pork chops.
- Sear the pork chops on the stove.
- Bake in the oven.
(More detailed instructions are below.)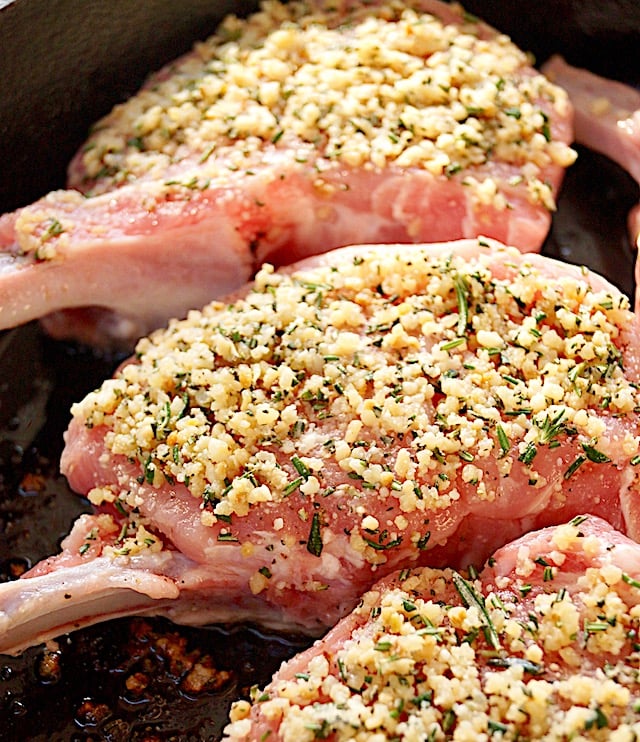 What to Serve with Garlic Rosemary Pork Chops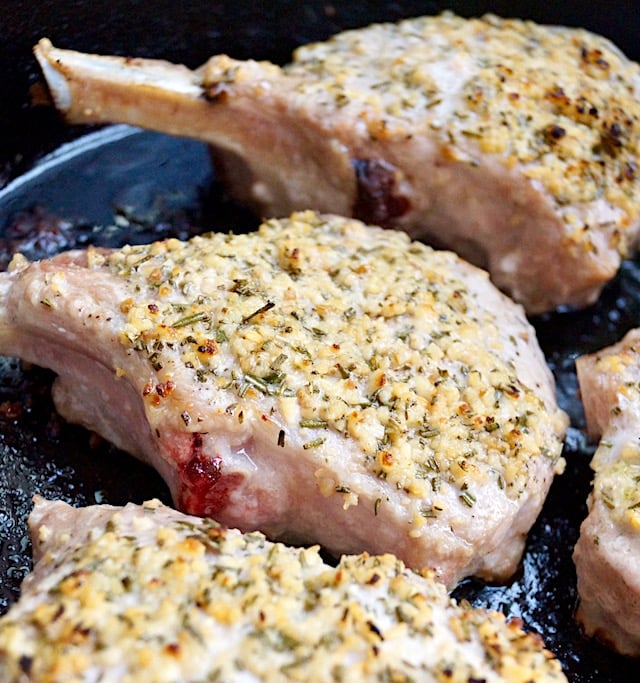 Can you make them ahead?
You can make the topping up to one day ahead of time, keeping it in a tightly sealed container in the refrigerator. The pork chops should be seared and finished in the oven as close to serving time as possible.
I hope you love these Garlic Rosemary Pork Chops as much as my family and I do!
More delicious pork chop recipes: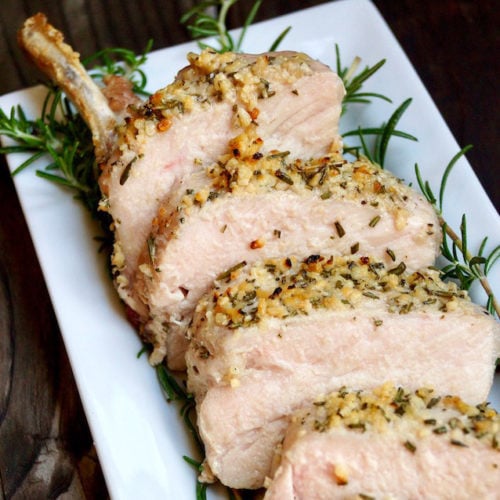 Rosemary Garlic Crusted Pork Chops
These pork chops are everything you want in a hearty, flavor-packed meat course. Super aromatic, crispy on the outside, and succulent on the inside, you'll keep going back for more!
Ingredients
¼

cup

fresh garlic,

minced

1

tablespoon plus 1 teaspoon

Parmesan cheese,

finely grated

1

tablespoon

fresh rosemary,

finely chopped

¼

teaspoon

salt

1

tablespoon plus 1 teaspoon

olive oil for the pan (and more for coating the pan),

divided

4

approximately (8-ounce)

pork chops,

bone-in, about 1-inch thick

freshly ground black pepper
Instructions
Preheat the oven to 375°F.

Make the topping: In a small mixing bowl, combine the garlic, Parmesan cheese, rosemary and salt.

Assemble: Season both sides of the chops with salt and freshly ground black pepper. Then use a flat-bottomed, small spatula to spread ¼ of the garlic mixture on one side of each pork chop. It should be a smooth, even layer that coats the entire surface.

Sear: Coat the bottom of a large oven safe skillet (cast iron is perfect), with olive oil. Place it over medium-high heat. When the pan is very hot, add the chops, topping side up. If you don't hear a sizzle, the pan is not hot enough yet. Wait for the sizzle! Sear the chops to brown the bottoms, about 2 minutes.

Bake: Drizzle about a teaspoon of olive oil on top of each one. Place the pan in the preheated 375°F° oven and bake just until the chops are cooked through, about 15 minutes. The internal temperature should be close to 140°F.

Broil if necessary: If for some reason the garlic crust hasn't become golden brown by the time the pork is cooked, place the pan under the broiler for about 30 seconds or so. (Watch it carefully so it doesn't brun.)

Rest: Let the chops rest for about 10 minutes, covered with foil, before serving.
NOTES
Calorie count is only an estimate.
NUTRITION
Have you tried this recipe?
I'd love to see it on Instagram! Tag me at @cookingontheweekends or leave a comment & rating below.
Cooking On The Weekends is a participant in the Amazon Services LLC Associates Program, an affiliate advertising program designed to provide a means for sites to earn advertising fees by advertising and linking to Amazon.com.