Oh my goodness, this Caramelized Apple Brie appetizer recipe is so dreamy! Packed with fresh flavors and comforting textures, you won't be able to get enough! The melted brie combined with the sweet apple will lure anyone in.
On Sunday, my kids had a couple of (hungry) friends over. Since everyone had been eating Thanksgiving leftovers for a few days, I thought I'd mix it up a little.
When I looked in the refrigerator, behind the turkey and stuffing, I spotted a nice wedge of brie cheese. I immediately thought of creating a new, delicious brie melt recipe.
Hmm? What would the kids like on top of delicious melting brie? And, perhaps more importantly, what would I like? My goal is generally to make recipes that are loved by both kids and adults alike.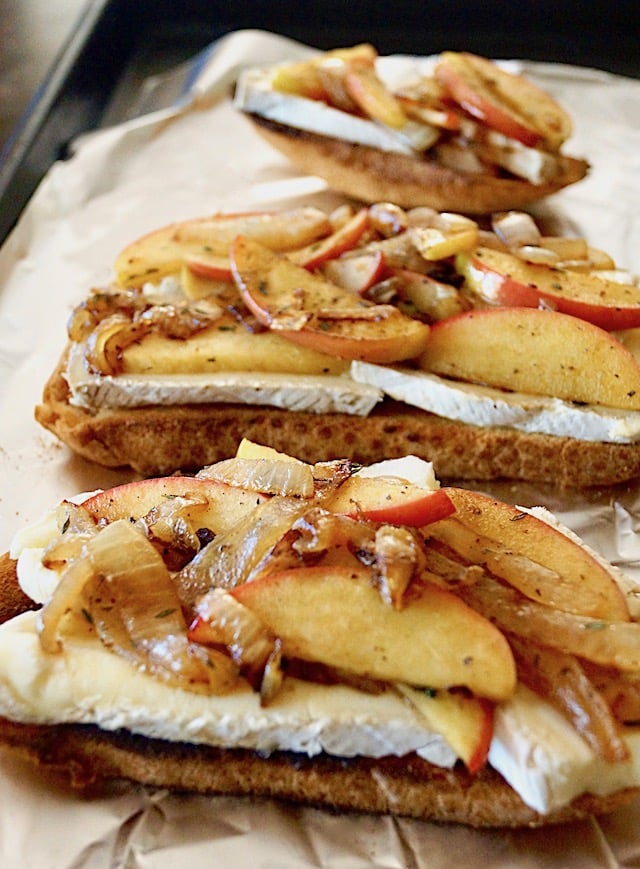 My fruit and onion bowls on the counter were pretty full, and I knew right away the red skin of the apples would be a pretty addition. And beyond that, I knew caramelizing onion and apple would be super tasty! Furthermore, I was certain everyone would love it!
And so the Caramelized Apple Brie Melt Recipe was born. This apple brie appetizer can totally suffice as lunch too!
I was going for a sweet and savory vibe, but I also wanted to give it an extra bite — something with subtle heat. I decided that all it would take to add this bit of punch to the brie melt recipe, was a clove of garlic. Not to use directly in the onion-apple mixture, but directly on the bread.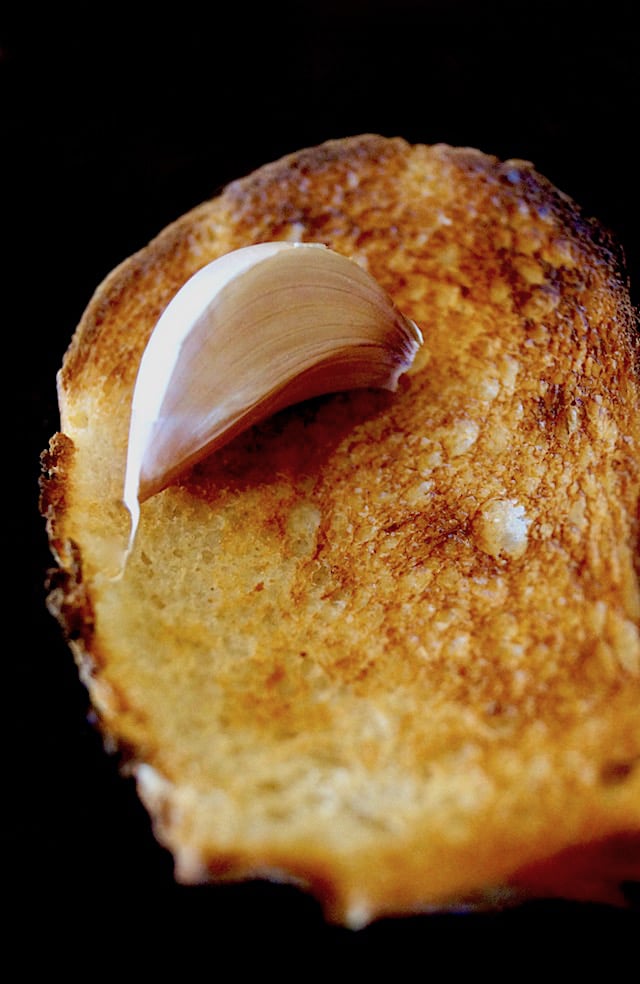 Once Sourdough bread is toasted it's firm enough to work as a "grater" for the garlic. A peeled clove rubbed along its surface will become softer as it moves, leaving its delicious juices behind to flavor the bread.
The fresh thyme leaves brighten it up, and the final touch on the apple brie melt recipe is a drizzle of honey — just enough to bring it all together and make it extra special.
So this Caramelized Onion Apple Brie Melt Recipe was lunch for the kids, and yes, they devoured it. I did too. Success!
And you know what would be excellent for the holidays?
This apple brie appetizer would also be lovely for Thanksgiving. You can also use a thin baguette and slice it into small rounds, instead of the large slices of Sourdough.
Enjoy every last bite!
Caramelized Apple Brie Melt Recipe
Packed with fresh flavors and comforting textures, you won't be able to get enough!
Cuisine:
American, French
Keyword:
appetizers for parties, great for Thanksgiving
Ingredients
2

large slices

Sourdough bread

1

large

garlic clove,

peeled

olive oil for the pan

1

cup

yellow onion,

thinly sliced

1

teaspoon

fresh thyme leaves

1

cup

firm apple (Fuji, Honey Crisp),

thinly sliced

salt and freshly gound black pepper

8

ounces

firm brie cheese

1

tablespoon

honey
Instructions
Preheat the oven to 375 degrees F, adjust a rack to the center, and line a baking sheet with foil.

Place the the toasted slices of bread on the foil-lined baking sheet. Then with a good amount of pressure, rub each piece with the garlic clove — the toasted bread should "grate" it a bit, flavoring the surface. Set aside.

Coat the bottom of a medium-sized sauté pan (approx. 10-inch) with olive oil, and place it over medium heat.

Add the onion, and stirring often, cook until golden, about 7 minutes. Then add the thyme and apples. Again, stirring often, cook until the apples are becoming soft and golden, about 4 minutes. Season to taste with salt and pepper. (Here's How to Season to Taste.)

Cut the brie into slices thin enough to cover each piece of toasted bread on the baking sheet. Then top each one with an equal portion of the onion-apple mixture.

Place in the preheated 375 degree F oven and bake just to melt the brie, about 4 minutes.

Crack a little more pepper on top if desired, and then drizzle each one with a bit of the honey. Serve immediately.