This Gluten-Free Brownie Cake is super rich, chocolatey, creamy and light. It's somewhere between a dense brownie and an airy cake — it's out of this world!  If you're searching for the best gluten-free brownies, your search has ended!
Please don't think I'm being a snob or anything, but I have a pet peeve when it comes to gluten-free labeling – it's when things that are inherently gluten-free are labeled gluten-free.  Let me explain . . .
Gluten-Free Labeling
My oldest son was diagnosed with Celiac Disease when he was 5, so I've spent a number of years in the gluten-free world. On many packages, I really appreciate and need strong labeling. With Celiac, there's no messing around -- no cross contamination allowed!
I take this seriously -- my son has his own toaster, butter, cream cheese, etc. If there's something that may come into contact with "gluten-full" products, he has his own container of it . . . because even a butter spreader can return crumbs to the butter container!
More and more people are finding they have sensitivities or allergies to gluten, and there are also people who simply feel it's healthier to go without.
As the gluten-free diet became more popular, I started to see things like chocolate chips, nuts, and even some produce being labeled as gluten-free. These things never contained gluten! An almond? Really? Chocolate? Come on. And produce!? Don't even get me started. (Some chocolate bars and perhaps nuts, could have the issue of shared equipment or facilities, actually. In which case, it's necessary and important.)
I think for people who are less informed about being gluten-free, this is confusing. And many years ago, when my son was just starting a gluten-free life, that person was me.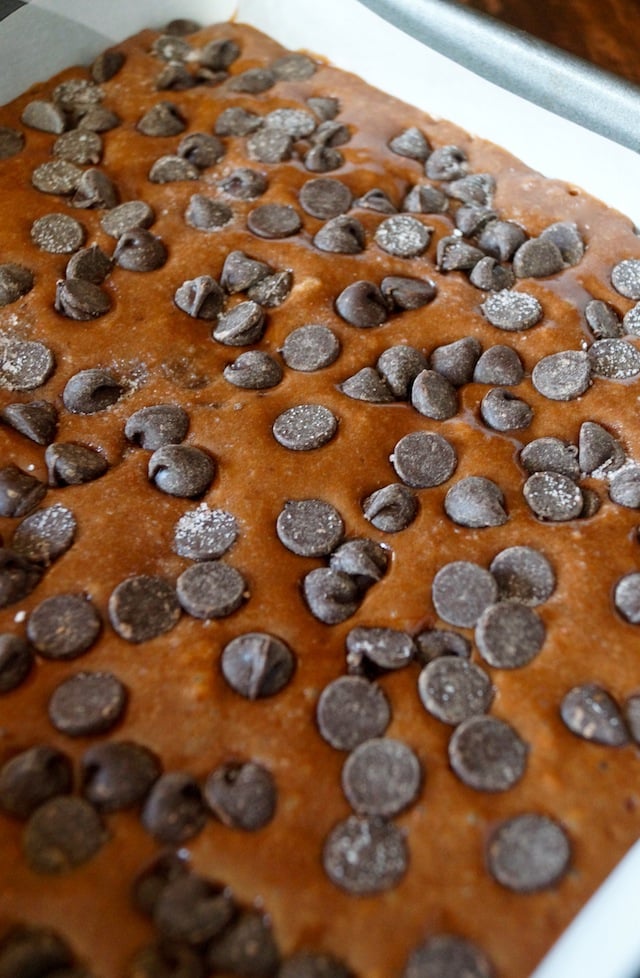 I'll never forget being in a health food store and seeing the chocolate chips labeled gluten-free, and being worried that I'd been giving "regular" chocolate chips to my son. I went home and researched all of the brands of chocolate chips I'd been using, only to find out that of course none of them had gluten in them.
And now, to return to the main reason you're here . . . for my gluten-free brownies! This oh-so-delicious gluten-free brownie cake recipe is my new favorite!
What does this Gluten-Free Brownie Cake taste like?
This Gluten-Free Brownie Cake tastes super rich, chocolaty and creamy. The texture is somewhere between a dense, fudgy brownie and a light, airy cake.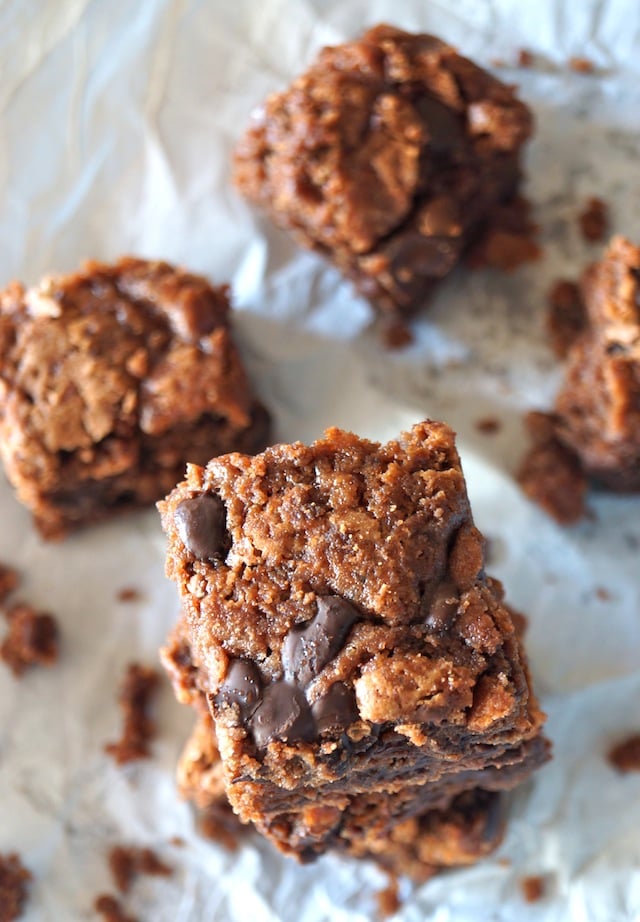 Much like product labels, there are recipe labels, provided by their authors. Based on how I feel about package labels, it won't surprise you that I typically only label recipes as gluten-free when they're not inherently gluten-free.
There are Two Categories of Gluten-Free Recipes
There are those that are inherently gluten-free – like salads (sans croutons), and those that are usually made with gluten and require substitutions, like cookies and cakes. So today's gluten-free brownie cake recipe gets the label.
Phew, that was a lot. I hope you're still here, still hungry!
And I hope you're in the mood for what I hope might be the best gluten-free brownies you've ever tried!
Please enjoy every last crumb of the Gluten-Free Brownie Cake!
More Gluten Free Chocolate Brownie Recipes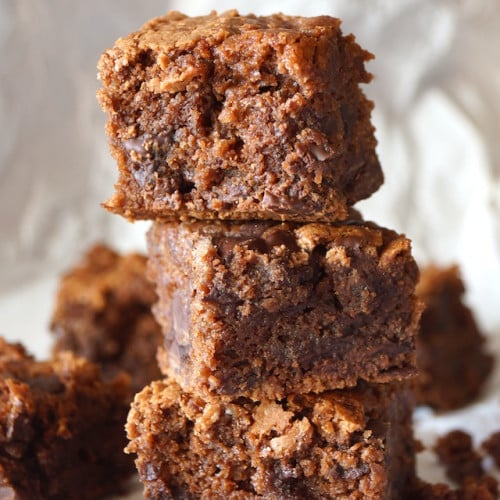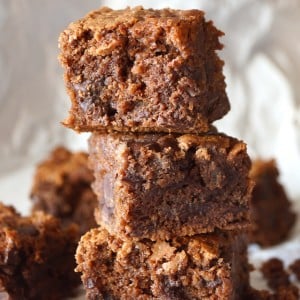 Gluten-Free Brownie Cake Recipe
This is somewhere between a dense brownie and an airy cake — it's out of this world! If you're searching for the best gluten-free brownies, your search has ended!
Ingredients
¾

cup

unsalted butter,

cut into large chunks

2¾

cups

semisweet chocolate chips,

divided

1

tablespoon

pure vanilla extract

1

cup

gluten-free 1 to 1 baking flour

1½

teaspoons

baking powder

1

teaspoon

coarse sea salt

divided

3

large eggs

¾

cup

granulated sugar

½

cup

sour cream
Instructions
Preheat the oven to 350°F, and line a square (8 X 8-inch) baking pan with parchment paper. (Use a large piece that will cover the sides and cut slits in each corner so that it will lay flat.)

Add the butter, 1 cup of the chocolate chips, and the vanilla to a small saucepan, and place it over low heat. Once all of the butter has melted, mix everything together and set it aside, off of the stove, to cool to room temperature.

In a large mixing bowl, combine the gluten-free flour with the baking powder and ¾ teaspoon of the salt. Set aside.

In medium-sized mixing bowl, combine the eggs with the sugar and using an electric mixer, whisk until it's thick and pale yellow, about 3 minutes on high. (You can also use a hand whisk -- just with a little more muscle.)

Add about half of the cooled chocolate mixture to the eggs and sugar and mix to blend. Then add the rest, and mix again.

Mix in the sour cream, and then add this to the larger bowl with the dry ingredients. Mix until you no longer see dry areas and then fold in 1 more cup of the chocolate chips.

Pour this into the prepared baking pan and then evenly sprinkle the top surface with the remaining ¼ teaspoon of salt and the remaining ¾ cup of chocolate chips.

Place in the preheated 350°F oven until the center no longer jiggles when you move the pan, about 40 minutes. (You can test for doneness by sticking a wooden skewer in the center of the cake -- it should come out clean when it's done.)

Let he cake cool to room temperature in the pan and then you can gently pull it out by holding onto the parchment paper.

Cut into 25 even squares and serve. (I like them small, but you can cut them into bigger pieces if you'd like, of course.)
NOTES
Nutritional information is only an estimate.
NUTRITION
Calories:
276
kcal
|
Carbohydrates:
25
g
|
Protein:
3
g
|
Fat:
18
g
|
Saturated Fat:
11
g
|
Polyunsaturated Fat:
1
g
|
Monounsaturated Fat:
5
g
|
Trans Fat:
0.3
g
|
Cholesterol:
48
mg
|
Sodium:
131
mg
|
Potassium:
190
mg
|
Fiber:
3
g
|
Sugar:
17
g
|
Vitamin A:
297
IU
|
Vitamin C:
0.1
mg
|
Calcium:
44
mg
|
Iron:
2
mg
Have you tried this recipe?
I'd love to see it on Instagram! Tag me at @cookingontheweekends or leave a comment & rating below.
Cooking On The Weekends is a participant in the Amazon Services LLC Associates Program, an affiliate advertising program designed to provide a means for sites to earn advertising fees by advertising and linking to Amazon.com.