This Sweet Corn Ice Cream recipe is a seasonal favorite. With grilled corn, this is a very unique, rich and delicious treat. It's exactly what you have to make for your next summer barbecue. Trust me, it'll be a huge hit!
I was inspired to make this ice cream after a trip to Seattle a while back, where I ate at some incredible restaurants.
Here are reviews I wrote about a handful of my favorites.
At Matt's in the Market restaurant, I had Grilled Corn Ice Cream for dessert.
When the waiter mentioned it, he could barley get the words out before I said, "yes please!" I mean, c'mon, Grilled Corn Ice Cream!
The pastry chef was gone for the day so I created this recipe based on how I thought it might have been made. It's quite close, I think.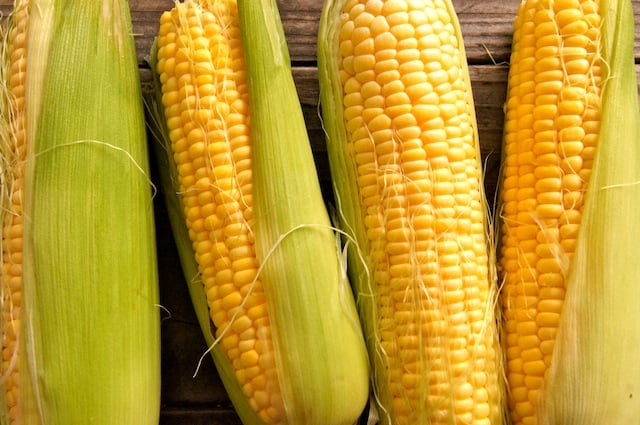 It's amazing! In my humble opinion. 😉
As it turns out, sweet summer, sun kissed corn lends itself to ice cream, and other desserts. It's rich and creamy in and of itself so when you add a little cream and sugar, it simply puts it over the top.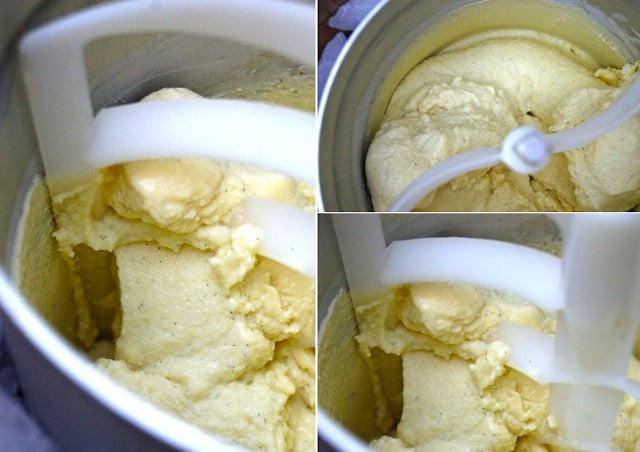 What's in Grilled Corn Ice Cream?
fresh corn
olive oil (yep, that's right — olive oil!)
heavy cream
low fat milk
vanilla
egg yolks
sugar
bacon for garnish (don't judge!)
I've never been one to enjoy bacon in, on, or near my desserts (gasp!), but this one seemed to be calling for a delicate sprinkling of it.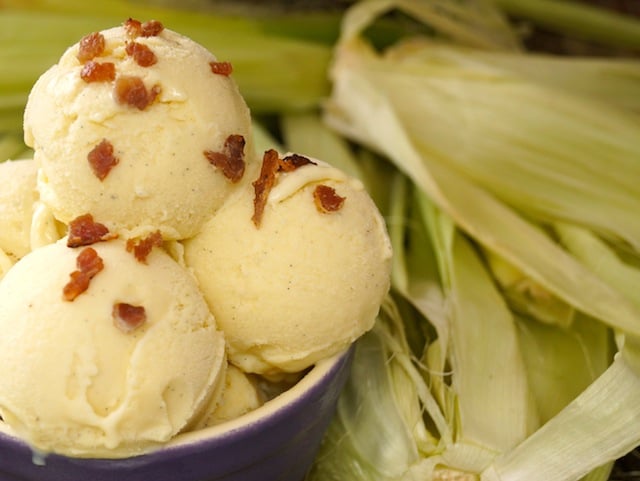 Recipe Tips and Substitutions
I love the subtle smoky flavor of the grilled corn — however, you can also use roasted or steamed corn. Steamed would be my last choice — it would still be very tasty, but the corn flavor wouldn't be quite as strong.
As I mentioned, the bacon garnish seemed like the perfect topping for this ice cream, and it works very well. If you're not into it, feel free to skip it.
I hope you every last scoop of this delectable Sweet Grilled Corn Ice Cream recipe!
---
At the same restaurant, Matt's in the Market, I also got my inspiration for my Compressed Watermelon Salad (pictured below) — another fabulous summer treat.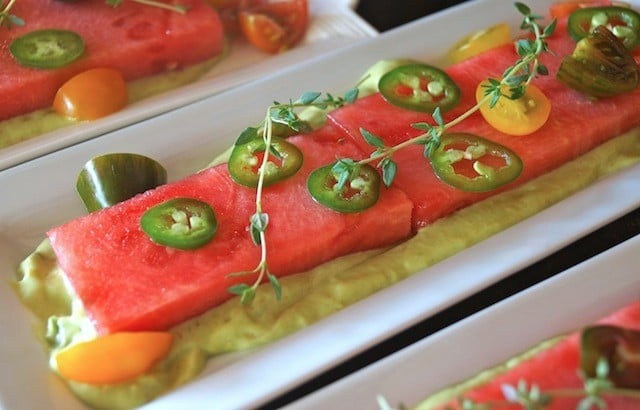 More unique ice cream recipes: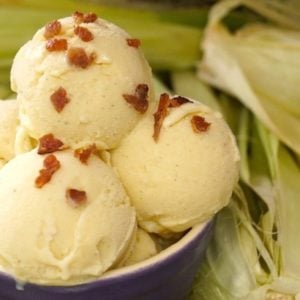 Corn Ice Cream Recipe
This seasonal Grilled Corn Ice Cream Recipe is unique and interesting, rich and creamy, and oh-so-dreamy!*Makes 1¼ quart
Ingredients
3

ears

fresh corn

2

teaspoons

olive oil

2

cups

heavy cream

4

cups

low fat milk

pinch

salt

1

medium-large

vanilla pod

6

large

egg yolks

¾

cup

granulated sugar

2

strips

cooked bacon,

crumbled
Instructions
Grill the corn. Preheat a stove-top grill (or outdoor BBQ) over medium-high heat, and rub each ear of corn with olive oil. Once the grill is very hot, place the corn on it. You should hear a sizzling sound when it hits the grill—if you don't, it's not quite hot enough yet. Slightly char each side of the corn -- when it's done, it should be tender and nicely browned. Set aside to cool and measure the remaining ingredients.

Blend the corn with the cream. Once the corn has cooled enough to handle, use a Chef's knife to remove the kernels and add them to a blender. Now use the back of paring knife to scrape the corn cob clean -- adding everything directly to the blender-- including as much corn "juice" as possible. Add the cream to the blender and blend into a purée, about 10 seconds. Pour this mixture into a large sauce pot and add the milk and pinch of salt.

Heat, steep and cool. Use a paring knife to slice open the vanilla bean vertically. Then with the back of the knife, scrape the vanilla beans into the pot, and add the emptied pod as well. Place the pot over medium heat. Bring almost to a boil, but not quite. Cover and let it steep and come to room temperature for at least 2 hours.

Whip the eggs and sugar. In a large mixing bowl, use an electric mixer to whip the egg yolks with the sugar. Mix until it's thick and pale yellow. When you drizzle it with a spoon, it should rest for a second or two before sinking back into the rest of the mixture -- this is called the "ribbon stage."

Combine the egg mixture with the other ingredients. Strain the milk mixture and then add about half of it to the bowl with the yolks, and whisk to blend. Then add the rest and blend again.

Cook. Pour everything into the pot and over medium-low heat, stirring almost constantly with a wooden spoon, cook until it becomes a beautiful custard, about 15 minutes. The moment you see that's it's thickened, remove the pot from the heat, pour it into a large mixing bowl and let it cool completely -- at least 4 hours and ideally overnight. (If cooling overnight, let it come to room temperature, cover it tightly with plastic wrap, and refrigerate.)

Churn and freeze. Transfer to an ice-cream maker, and freeze according to the machine instructions.

Serve with a small sprinkling of the bacon.
Notes
Calorie count is only an estimate.
Have you tried this recipe?
I'd love to see it on Instagram! Tag me at @cookingontheweekends or leave a comment & rating below.
Cooking On The Weekends is a participant in the Amazon Services LLC Associates Program, an affiliate advertising program designed to provide a means for sites to earn advertising fees by advertising and linking to Amazon.com.